Active Ingredients per Sachet:
Heat-treated Enterococcus Faecalis FK-23 Extract & Bifidobacterium Longum BB536 (170 billion), Silk Peptides 30mg, Dietary Fiber, Inulin, Oligosaccharide, Champignon Extract, Vitamin B2
Take 1 sachet with 250ml of room temperature or cold water.
Stir water first, then slowly add 1 sachet into the water.
Continue stirring until contents is completely dissolved.
For weight management or detox purpose
Take 1 sachet before lunch or dinner
For constipation concerns
2 sachets daily (taken separately) for the first 3 months, then 1 sachet daily for every month after. Between every 3-4 months, take 2 sachets daily (taken separately) for a month, then switch back to 1 sachet daily.
What are the considerations for selecting an inner cleansing supplement?
When selecting an effective inner cleansing formula, one should consider the bacteria strain & quality, viability of the bacteria to withstand heat and acids, meaningful colony forming units and presence of other nutrients. CHŌ Renew is a superior inner cleansing formula that exceeded the above criteria in delivering high strength probiotics and other nutrients to support overall
immunity, vitality and skin health.
How is CHŌ Renew different from other similar products in the market?
Unlike other products that contain only probiotics and/or prebiotics that are easily destroyed by harsh stomach acids and high temperatures, CHŌ Renew is a high potency inner cleansing formula that contains 170 billion patented and most researched probiotics – heat-treated FK-23 Bacteria and high strength Bifidus Bacteria BB536, both bacteria strains are highly stable to survive harsh stomach acids to reach the intestine intact. It also contains synergistic ingredients such as prebiotics and dietary fibre for detoxification as well as skin-loving pure silk peptides to promote clarity of skin from inside out.
How does CHŌ Renew help strengthen my immunity?
CHŌ Renew is formulated with high strength lactic acid bacteria that are compatible to our body to help inhibit the growth of bad bacteria and promote a clean and healthy gut environment. As 70% of body's immune cells resides in the intestine, maintaining a clean and healthy gut environment is crucial in keeping optimal immunity.
How can CHŌ Renew benefit my skin complexion?
Friendly bacteria help to cleanse the intestines of toxins and waste which would otherwise be circulated around the body; resulting in inflammation on the skin surface. CHŌ Renew contains 170 billion Lactic Acid Bacteria to actively detoxify the gut. In addition, it also contains pure Silk Peptides which support skin repair and improve skin clarity and hydration.

Is CHŌ Renew a laxative, is it safe for long-term consumption?
Laxative eases bowel movement with near-immediate effect but does not treat the cause of constipation. In fact, it can cause side effects such as dehydration. CHŌ Renew is not a laxative but a supplement - a safe and long-term solution to regulate and improve bowel movement by balancing the intestinal environment. It is recommended to consume CHŌ Renew on a regular
basis.


CHO Renew is a proprietary intestinal health formula that contains 170 billion patented Lactic Acid Bacteria (LAB) – FK-23 and Bifidus Bacteria BB536; two of the most studied beneficial bacteria which are naturally found in our intestines.
| | |
| --- | --- |
| | High Strength |
| | Functional Dose |
| | Heat-treated |
| | Stomach Acid Resistant |
| | Highly Stable |
| | 3x More Effective than Live Probiotics in Supporting Immunity |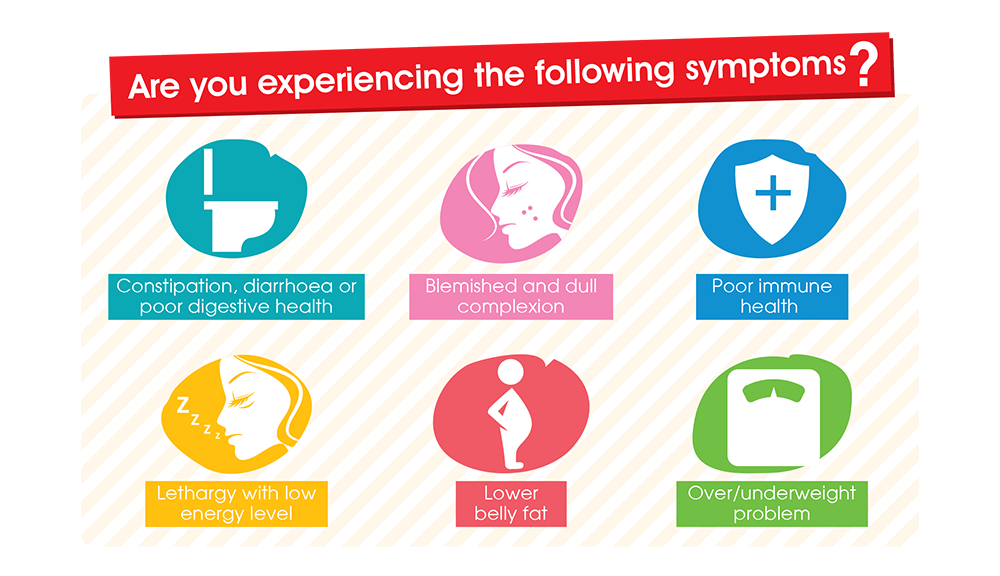 Use these self-help checks to find out if it's time for a Gut Detox?

Do you wake up feeling sluggish in the morning and stay lethargic throughout the day? Your body may need a good cleansing to flush out body waste and toxins.

Does your breath smell? Bad breath is a sign of an imbalanced gut flora and poor intestinal health.
Is your skin dull and sallow? Do you get breakouts easily? Do you have skin allergies or redness?

Do you fall sick easily or take a long time to recover from illnesses?

A simple stool check daily will give you a good indication of your intestinal health.

Poor intestinal health is the root cause of many chronic diseases. Be sure to spring clean your gut to remove accumulated intestinal waste. Detoxification restores the gut flora balance to facilitate healthy bowel movement and promote overall wellness.
A Clean Intestine is the Key to Good Health
Healthy intestines with a balanced gut flora high in good bacteria is critical for good intestinal health, immunity and overall well-being. There are three types of bacteria in our intestine - good, bad and neutral bacteria.

Probiotics Become Increasingly Important as You Age
Did you know that your gut flora was formed right after you were born? After birth, your body starts to encounter good and bad bacteria and begins to build your immune system. As you grow, your gut bacteria serves as a barrier protecting your body from the bad bacteria and pathogen you come across.
The percentage of good bacteria in our intestine declines with age. It has been shown in recent research that by the time one reaches their 60s, the significant drop in the number of bacteria in their gut, will make one more susceptible to gastrointestinal infections and bowel conditions like Irritable bowel syndrome.
CHO Renew: High Strength 170 Billions Probiotics for best intestinal health support
CHO Renew is specially formulated with 170 billion patented Lactic Acid Bacteria (LAB)-FK-23 and Bifidus Bacteria BB536, two of the most studied beneficial bacteria which are naturally found in our intestine.

LAB are most beneficial and fast colonizing probiotic sources, and when consumed in adequate amounts have been shown to aid digestion and re-balance gut flora, providing relief from the following health issues related to poor gut health:

• Poor gastrointestinal health
• Traveler's Tummy caused by changes in diet when traveling abroad
• Post antibiotics treatment
• Poor digestion and bloating
• Irregular bowel movements
The Winning Combination of CHO Renew

170 Billion Probiotics - Highest And Most Potent In The Market
i. Patented Heat-treated FK-23 Lactic Acid Bacteria
• Fully heat resistant and highly stable to survive heat and harsh stomach acid, to reach the intestines intact
• Cultivated from pharmaceutical proprietary heat treatment method
• Scientifically proven to be 3 times more powerful than live probiotics in supporting strong immunity
• Effectively remove accumulated intestinal waste and restore gut flora balance

ii. Patented Bifidus Bacteria BB536
• Resident bacteria which will not be rejected by the body
• One of the most researched probiotics in the world
• FDA GRAS certified in USA, 2009
• Resistant to stomach acidity, allowing it to reach the intestine intact
• Improves intestinal environment, supports bowel regularity and reduces allergic symptoms

Premium Prebiotics (Inulin & Oligosaccharide)
• Food for probiotics to grow, multiply and thrive in the gut
• Works best when combined with probiotics to achieve maximum health benefits

Pure Silk Peptides
• Contain constituent amino acid of Natural Moisturising Factor (NMF) in skin
• Support skin repair, improve skin firmness and hydration level

Essential Dietary Fiber
• Soften stools to ease bowel movement and support excess fat removal
• Bind toxins up to 10 times its weight
CHO Renew – Better Intestinal Health,
Immunity and Complexion
• Clean Intestine. Removes toxins and accumulated wastes. Restores and improves good bacteria in the intestine for healthy gut flora.
• Reduce constipation and diarrhoea. Regulates bowel movement to reduce constipation or diarrhoea, and improve digestion.
• Jumpstarts sluggish system. Reduces bad breath, improves immunity and increases energy levels.
• Clear skin. Improve complexion, clear blemishes and acne. Promotes overall radiance and smootheness.

Comparison of CHO Renew with
other intestine health supplement
Clinically Proven Benefits of CHO Renew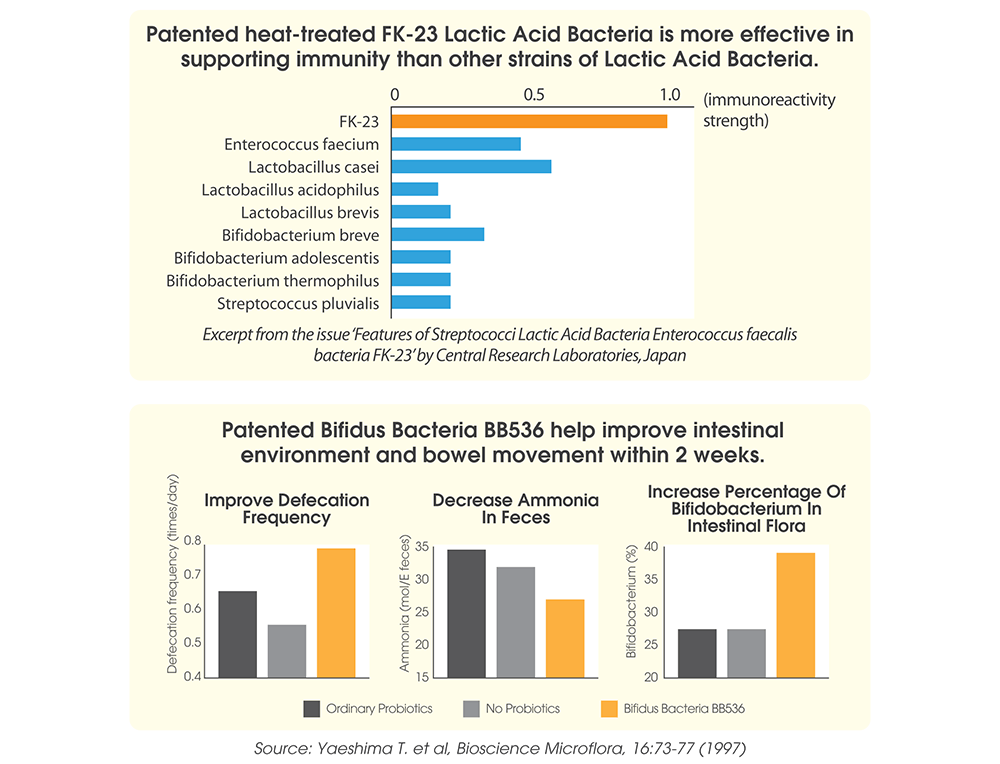 Other clinical researches:
1.Terada, A. et al (2004). Effects of the consumption of heat-killed Enterococcus faecalis EC-12 preparation on microbiota and metabolic activity of the faeces in healthy adults. Microbial Ecology in Health and Disease; Vol 16. (4). pp. 188-194
2. Namba K. et al. (2010). Effect of Bifidobacterium longum BB536 administration on influenza infection, influenza vaccine antibody titer, and cell-mediated immunity in the elderly. Biosci. Biotechnol. Biochem; Vol 74. (5). pp 939-945
3. Kageyama T. et al. (1984). The effect of Bifidobacterium administration in patients with leukemia. Bifidobacteria Microflora; Vol 3. (1). pp 29-33
4. Kim. H.et al. (2012) Dietary silk protein, sericin, improves epidermal hydration with increased levels of filaggrins and free amino acids in NC/Nga mice. Vol 108. (10). pp 1726-1735.
Content: 4.5g x 15 sachets