The Very Best of Health, Beauty & Wellness from Japan
Through intensive efforts and innovation studies with AFC Japan, Lifestream Group has co-developed the existing unique and top-class product range in Singapore. This is distinctly different and superior from AFC Japan products found in Japan, or other countries.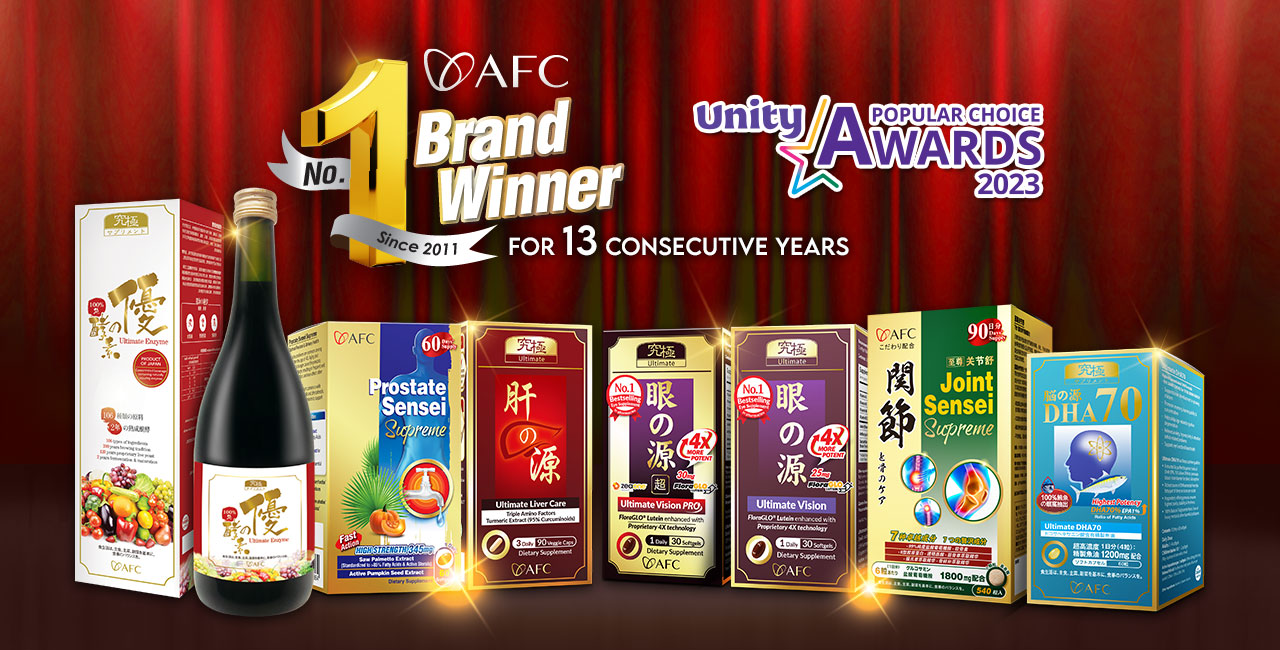 Highest Quality Control & Safety Standards
Together with a highly skilled and reputable research and development team, AFC Japan also ensures stringent quality control parameters during every stage of the production. This includes the formula derivation, ingredient testing and quality control. AFC Japan also conducts stringent inspections to ensure every product batch is of the highest quality possible. This includes obtaining certificates of origin, manufacturing procedures, quality specifications, clinical trial data and more academic data.
Distribution Channels
With over 314 distribution points island wide that includes the major pharmaceutical chain stores and leading ecommerce platforms. In Singapore, AFC products retains top-of-mind awareness across all customer groups with its excellent health, beauty and wellness products.
Annual Roadshow and Events
Leader in Anti-ageing & Nutritional Science
AFC-HD AMS Life Science partnered with Japan Preventive Medical Laboratory Co. Ltd for unique product innovation and use of advanced technology, which has pioneered AFC Japan's position as a strong category leader in the health & wellness industry, a brand name trusted by consumers.
Milestones
1969 Founded Asayama Shoji in Shizuoka City
1975 Asayama Shoji Co. Ltd was incorporated, to enhance its dietary supplement business
1980 The dietary supplement business spun off into a separate company, named Mioh Foods Co. Ltd
1982 The special dietary supplement mail order sales division, Asayama Family Club (current AFC) was established. Asayama Shoji Co. Ltd established a new plant attached to an office in Toro, Shizuoka City, and relocated its head office to the office in Toro.
1994 Mioh Foods Co. Ltd built a new plant attached to the head office and offered general OEM manufacturing capability.
1995 The Japan Preventive Medical Laboratory was founded to promote research and product planning of dietary supplements.
2001 Asayama Shoji Co. Ltd changed name to AMS Life Science Co. Ltd concurrently with the completion of its new plant in Toyoda, Shizuoka City. The cosmetics division was founded, obtained a business license, started to develop and produce its own cosmetics products.
2004 Japan Preventive Medical Laboratory Co. Ltd founded Kenko TV Co. Ltd as its affiliated company.
2005 AMS Life Science Co. Ltd formed its Tokyo office
The second plant of AMS Life Science Co. Ltd and call center at the head office of AFC Co. Ltd were set-up.

The head office plant of AMS Life Science Co. Ltd was granted GMP certification for the manufacturing of dietary supplements by JHNFA.

Japan Preventive Medical Laboratory Co. Ltd's test production facility was completed.
2007 Appointed Lifestream Group Pte Ltd as its sole distributor for Singapore and SEA markets
Honzo Pharmaceutical Co. Ltd was established. Their production and sales of Ethical Kampo formulation, non-proprietary drug and health care products were highly successful and the company diversified into medical business.

The company acquired majority stake in Shojikimura Co. Ltd, which has a retail and wholesale business of organic foods, and added to the AMS group.

Hanamai Co. Ltd was added to the group 2008 The company entered into a contract of capital and business alliance with Takara Holdings Inc.
2008 The company entered a contract of capital and business alliance with Takara Holdings Inc.
2009 Acquired Moriya Co. Ltd to become AFC Moriya Co. Ltd, largest retail chain of 117 outlets in pharmaceuticals and cosmetics.
2010 AMS Life Science Co. Ltd changed its name to AFC-HD AMS Life Science Co. Ltd.
2011

AFC Japan engaged the internationally acclaimed master of product design Saihei Makinami to revamp the AFC logo based on the corporate values of safety and dedication to customers' health and youth. The new logo symbolizes the ring of happiness and contentment connected by nurturing hearts, and "constantly creating future". This new brand logo was officially adopted
on 1 Sept, 2011.