Total Flavonoids >3mg/g
Artepillin-C >0.25%
Honey, Brazilian Green Propolis Extract, Distilled Water, Peppermint.
Shake well. Spray into mouth by pumping top 2-3 times as needed. Avoid spraying into eyes.
Warning:
May cause allergic reactions on people who are allergic to propolis. Consult health care professional regarding use during pregnancy or lactation. Keep out of reach of children.
AFC Brazilian Green Propolis Spray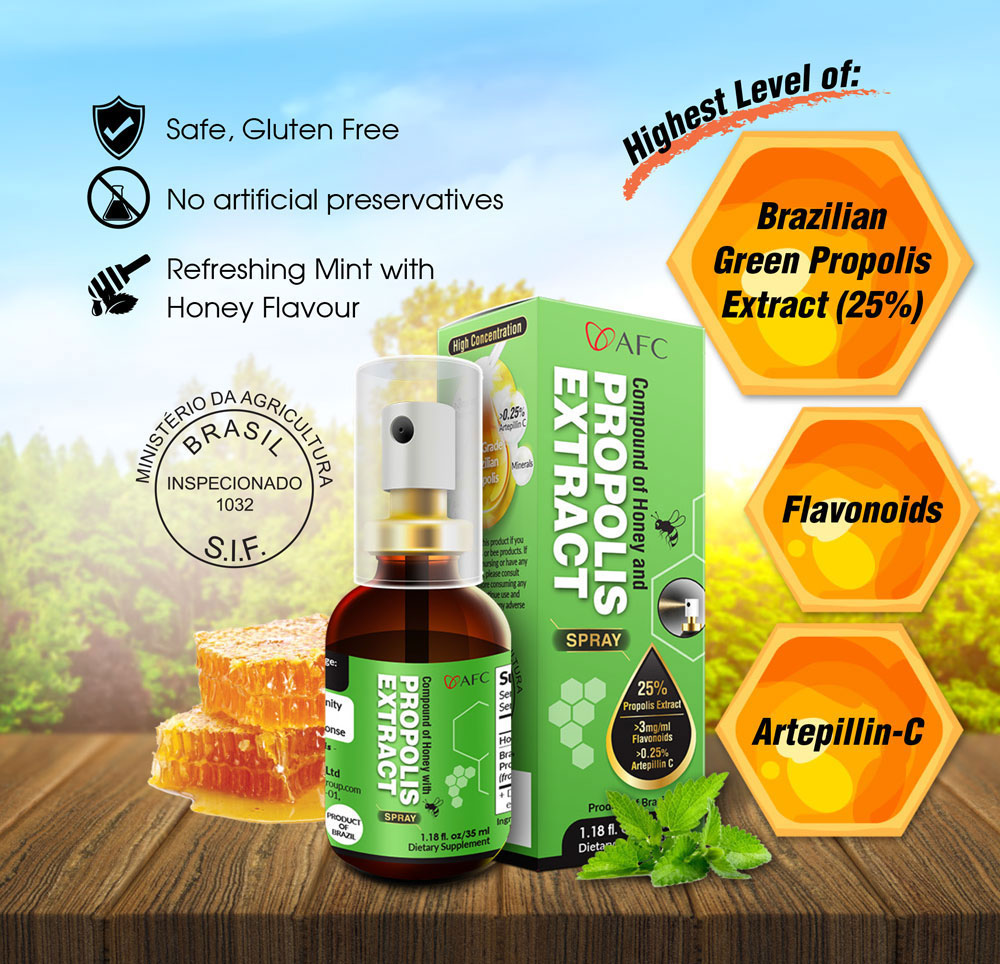 Nature's Remedy for Good Immune Health
Employing the latest extraction method, Brazilian Green Propolis contains the highest concentration of flavonoids. It is free from chemicals and preservatives.
Highest quality from the best source
The sources of Propolis can be found in various regions including Brazil, Australia, Europe, the United States and China. AFC Brazilian Green Propolis is 100% collected from Brazil Minas Gerais, away from industrial or agricultural chemical pollution. This region is home to a unique plant species (Baccharis dracunculifolia) which produces the best grade of propolis with the highest level of flavonoids and Artepillin-C. Extracts of Brazilian green propolis possess antioxidant, antibiotic, antiviral, anti-inflammatory and antibacterial properties. Therefore, propolis has been extensively used in food, beverages, and dietary supplements to improve health and reduce the risk of diabetes, inflammatory, and heart diseases. AFC Brazillian Green Propolis can be taken orally to relieve flu, cough, inflammation, sore throat or applied externally for wound healing and mouth ulcer.
What is so special about AFC Brazilian Green Propolis?
The grade of propolis is dependent on its botanical origins and the type of bees that produce it. The Minas Gerais forests are densely populated with rosemary (Baccharis dracunculifolia) and eucalyptus-type trees from which high-quality green propolis can be produced. AFC Brazilian Green Propolis is collected from the unexpanded leaf buds of Baccharis dracunculifolia plant by the Africanised honeybee. Only this bee specie has the capacity to produce Brazilian Green Propolis with concentrated Artepillin-C, a powerful constituent not found in propolis from other regions. Artepillin-C has strong anti-bacterial fighting properties. AFC Brazilian Green Propolis is also certified by Brazil's Federal Inspection Service (S.I.F.) Brazil's food quality guarantee by Ministry of Agriculture in Brazail that make sure all foods meet the quality, integrity and sanitation requirements.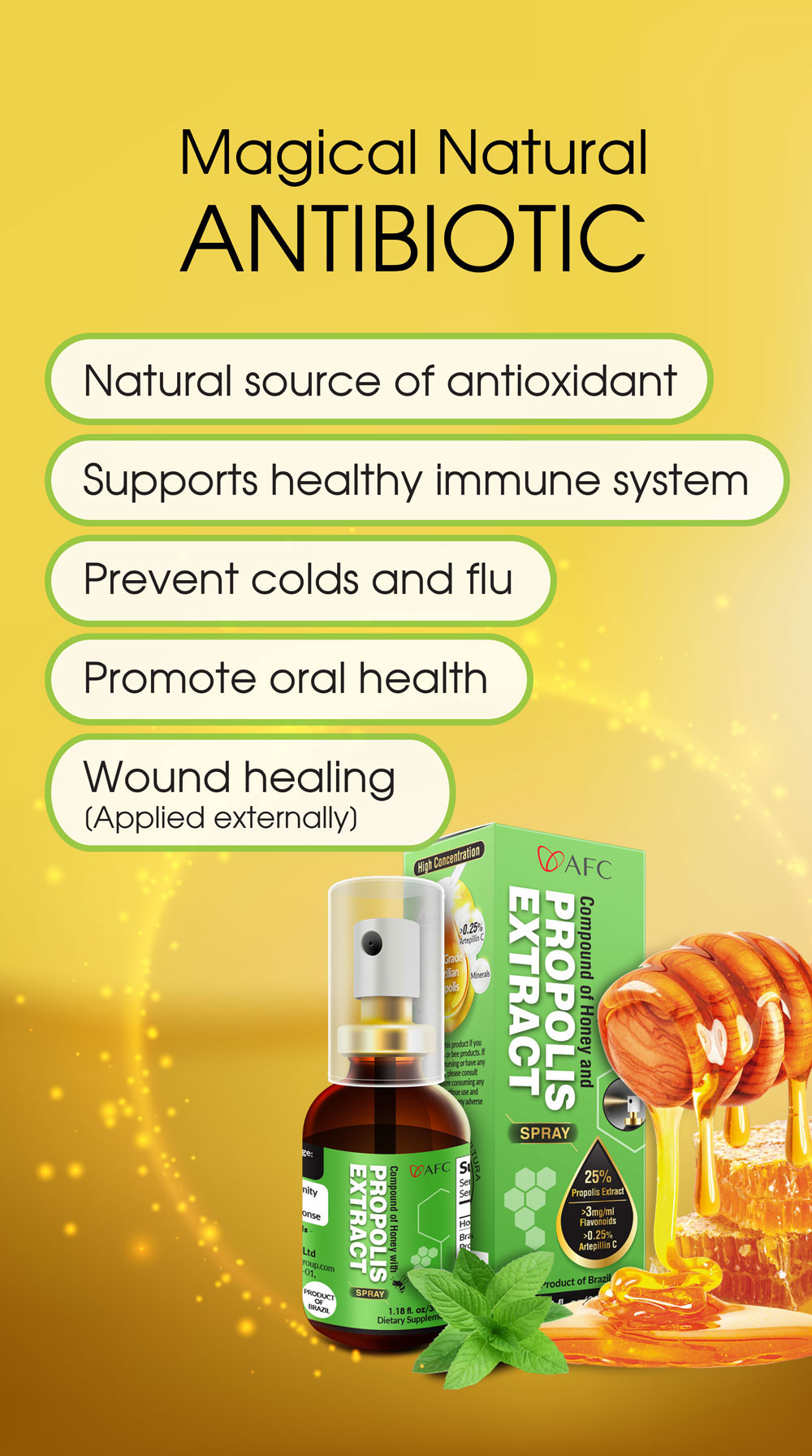 Innovative technologies preserve the nature of propolis
Brazilian Green Propolis is produced in AFC Japan's GMP-certified facilities using the latest technologies to produce the finest quality end product. The bio-active constituents and sterility of Propolis are preserved using state-of-the art four-step extraction: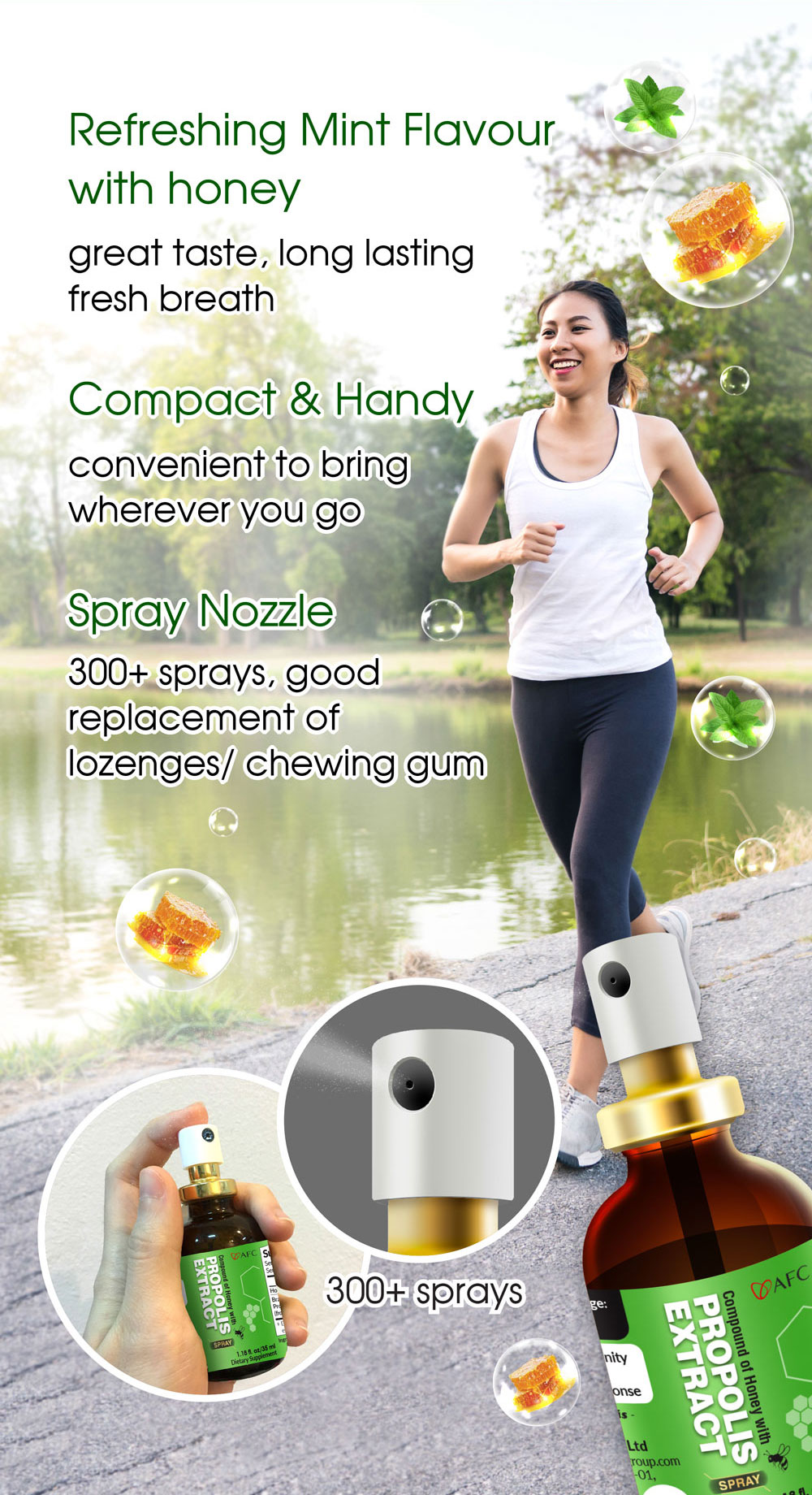 Well-documented traditional use, well-researched scientific studies
In ancient Rome, Propolis was used as a drug to reduce swelling and relieve pain. The medicinal properties of Propolis are well-documented in "Naturalis Historia" – the largest encyclopedia of ancient world, and in the book "Regarding Medical Matters" by the Dioscorides, the famous physician of ancient Rome. In South Africa and the former USSR, Propolis is also widely used for various health applications including healing, and treatment of tuberculosis and lung problems. In ancient Egypt, Propolis was used to treat infections and swelling, and to accelerate hair growth.
The traditional usage of Propolis has been backed with scientific evidence, from research journals documenting its health benefits and application uses. In Japan, Brazilian Green Propolis is extensively used in foods and beverages with the aim of improving health and immunity. A research conducted by the University of Sao Paulo and published at Jan 2011 demonstrated the promising antioxidant effect of Brazilian Propolis against oxidative stress of UV on skin. More recently, the 14th International Congress of Immunology 2010 presented research on the effects of Brazilian propolis in ameliorating severity of collagen-induced arthritis.
Functions:
Natural relief from flu, cough, and sore throats
Natural antibiotic and anti-viral properties. May boost effectiveness of prescription antibiotics
Support healthy immune system
Natural source of antioxidant
Promote Oral Health
Promote wound healing
Content: 35ml