Active Ingredients:
Orange Oil, Dipotassium Glycyrrhizate, Laminaria Japonica Extract, Prunus Yedoensis Leaf Extract, Taurine , Allium Sativum Extract, Anthemis Nobilis Extract, Arctium Lappa Root Extract, Arnica Montana Flower Extract, Hedera Helix Leaf Extract, Lamium Album Flower Extract, Nasturtium Officinale Extract, Pinus Sylvestris Cone Extract, Rosmarinus Officinalis Leaf Extract, Calendula Officinalis Flower Extract, Centaurea Cyanus Flower Extract, Matricaria Chamomilla Flower Extract, Hypericum Perforatum Flower Extract, Tilia Cordata Flower Extract, Royal Jelly Extract, Lysine HCl, Glutamic Acid, Glycine, Serine, Valine, Leucine, Histidine HCl, Sodium Aspartate, Threonine, Alanine, Isoleucine, Phenylalanine, Arginine, Proline, Tyrosine
Other Ingredients:
Water, Sodium Cocoyl Glutamate, Cocamidopropyl Betaine, Glycerin, Butylene Glycol, Cocamide MEA, Polyquaternium-10, Phenoxy- ethanol, Sodium PCA, Citric Acid, Methylparaben, Sodium Hydroxide, Pentasodium Pentetate, Allantoin, Disodium Inosinate, Disodium Guanylate
How to use?
Wet hair, massage into entire scalp, rinse well. Gently blot hair with towel.
Use 1 to 3 pumps for each wash, one bottle lasts 2-4 months.
For best results, follow with Shokaigan Intensive Hair Growth Tonic.
Storage Recommendation
Shokaigan Intensive Scalp Therapy Shampoo is not added with preservative, thus, proper storage condition is important to maintain the product quality. Please avoid direct sunlight, extremely hot or cold temperature and high humidity. You may pour out Shokaigan Shampoo into smaller bottle for daily use. Keep the remaining shampoo in recommended storage area and refill when needed.
How soon can I see results?
SHOKAIGAN is a scientifically advanced formulation with superior regenerative properties. Its benefits can be experienced from your first wash. Gain fuller hair that's softer to the touch in just 2 weeks. Hair grows at a rate of 1cm to 2cm a month, and it takes about 90 days to replace hair that has been shed – do allow about three months to see noticeable results. In six to eight months, new hair would have grown to cover your problem area, depending on the severity of the hair loss condition. Hair loss conditions vary across individuals, and some may take a longer time to note results.
After achieving desired results, should I stop using SHOKAIGAN?
Hair growth is an ongoing cycle – it is important to maintain good scalp health to keep hair loss at bay, as well as to prevent hair loss from reoccurring. Regular use of SHOKAIGAN serves to encourage the hair renewal process by prolonging the growing phase (anagen) and giving your hair cycle a much needed boost.
How often should I use SHOKAIGAN?
It is advisable to wash your hair daily with SHOKAIGAN Intensive Scalp Therapy Shampoo, and follow with SHOKAIGAN Intensive Hair Growth Tonic twice daily.
What else can I do for better results?
Massage helps to improve scalp circulation, increasing the supply of nutrients to your hair follicles. For best results, treat yourself to a 3-minute massage during shampoo and tonic application, concentrating on problem areas. Massage helps activate the active ingredients in SHOKAIGAN and improve circulation, aiding deeper penetration.
Is the shampoo suitable for coloured or chemically treated hair?
Yes! SHOKAIGAN Intensive Scalp Therapy Shampoo is made from a blend of 10 key amino acids – one of which is Betaine. Betaine helps enhance and maintain the elasticity of chemically treated hair. Together with the rest of the ingredients, the formula even improves the feel of your hair – leaving it moist, silky smooth and full of body.
Is it best to use the shampoo and tonic together?
Certainly! SHOKAIGAN shampoo and tonic were formulated as a two-step system to reinforce the mutual benefits. The shampoo gently deep-cleanses clogged follicles and rebalances scalp pH levels, without any harsh petrochemical surfactants that strip away hair's natural oils. Unlike mass market shampoos which are too alkaline for scalp health, SHOKAIGAN Intensive Scalp Therapy Shampoo is perfectly suited for hair's natural pH of 4.5 to 5.5. Once unclogged, the active ingredients of SHOKAIGAN Intensive Hair Growth Tonic are able to penetrate deeper, promoting optimal regeneration right from the hair follicles.
Is SHOKAIGAN suitable for both men and women?
Yes! SHOKAIGAN contains Swertia Japonica extract, a key ingredient which helps to block the formation of the Dihydrotestosterone (DHT), a hormone that discourages hair growth. DHT is predominantly derived from testosterone, which explains why men tend to experience hair loss much earlier than their female counterparts. For men, testosterone levels peak when they reach puberty, increasing the risk of hair loss and hair thinning. In younger women, the female hormone estrogen balances DHT levels. But as a woman ages and estrogen levels dip, the DHT imbalance causes excessive hair loss and thinning hair. This is a common condition that affects women nearing menopause.
Why is the tonic classified as a quasi drug in Japan?
In Japan, consumer hair care products classified as quasi-drugs are regulated under the Pharmaceutical Affairs Law. Quasi-drugs are defined as products that exert mild actions on the human body and contain effective key ingredients. SHOKAIGAN Intensive Hair Growth Tonic stimulates new hair growth with key ingredients like a proprietary blend of Yarrow and Sage extract to boost mirco-circulation and Swertia Japonica Extract to reduce hair loss.
Are there any side effects?
SHOKAIGAN is an all-natural and 100% safe formulation made from a powerful blend of botanicals. It is suitable for everyone, both men and women alike.
Is SHOKAIGAN suitable for those with dandruff, flaking or an itchy scalp?
Shokaigan Shampoo and Tonic set are suitable for all hair types, including dandruff and inflammation. Dandruff can form when the scalp is too dry or too oily. A fungus called pityrosporum ovale, which lives naturally on the scalp, has been implicated in the development of dandruff. Excess production of sebum (the natural oil secreted from glands in the skin) fuels the growth of this fungus. This explains why dandruff often starts in puberty when hormonal changes occur, and why the incidence is higher in those with oily scalps.
The flakes that you see could also be caused by inadequate rinsing after shampooing, resulting in build-up/ residue which irritates the scalp and causes itchiness. Seborrhoeic eczema is another condition that causes itchy and flaky patches on the scalp. This tends to be more severe than simple dandruff because the skin and glands become inflamed. Please resist the temptation to scratch excessively as it may damage the scalp and aggravate the hair loss problem.
For best results, please use SHOKAIGAN shampoo together with the tonic daily as recommended. SHOKAIGAN tonic is made up of the botanical extracts from more than 20 plants. One of which is Sage Leaf extract, which has strong antibacterial properties to combat dandruff and reduce inflammation. It is ideal for use on sensitive scalp and skin. In addition, SHOKAIGAN shampoo is able to gently deep cleanse the scalp to restore the optimum pH level (4.5 to 5.5) for healthy scalp health to prevent undesirable bacteria or fungi infection.
Hope for hair
Tashiko Asahi, Kyoto
Like many Japanese women, I take pride in my appearance, checking that I look well-groomed and presentable before stepping out of the house - hair in place and a bit of make-up on. A women's hair is indeed her crowning glory and having a trick, full head of hair is definitely something to be proud of.
However, along with the irritability and hot flushes that come with menopause, I was saddened to note that I was also losing more hair than usual - after a shower, the drainage area would be clogged with hair. After a while, I was shocked to discover that at certain angles; you could even see my scalp and some sparse patches. Losing my hair greatly affected my self-confidence and after a while, I began to avoid mirrors because they proved too depressing. To cope with the loss of hair, I took to wearing a hairpiece or hat to cover up the balding areas and help my hair look fuller.
The turning point came when I was at a tea gathering. After taking off my hat, my friend's young daughter stared curiously and innocently asked,"Auntie Tashiko, why do you have so little hair?" That was when I knew I had to do something about my problem.
Over the years, I've tried many hair treatment products. Unfortunately, none of them were able to improve my condition. Worse, some of the treatments even dried out my hair. I tried to put my hair loss problem down to a natural condition that came with age, but it was hard when friends my age or a few years older were sporting thick full heads.
Sharing my hair loss woes with my good friend, she let me in on her secret: SHOKAIGAN Intensive Shampoo and Tonic. Like me, she once experienced thinning hair - losing many precious strands each time she brushed her hair or after a shampoo. Using the products together and faithfully massaging her scalp with the tonic twice a day helped encourage new hair growth, reduce hair fall and even improve the texture of her hair. As skeptical as I was, I had to try it out for myself and I'm glad I did!
The shampoo leaves a nice refreshing sensation after rinsing out, and I was amazed how it left my hair feeling silky smooth - all without which is very welcome during hot summer months, where temperatures in Kyoto can be as high as 39°C!
A few months later, my friends were amazed at how much fuller my hair seemed. Perseverance paid off handsomely - and after 8 months of using SHOKAIGAN, I now feel like I'm back in my 30's! I have not only regained my hair, but my confidence too!
And the best birthday present of all was from the same little girl, who came to my little birthday tea. After wishing me "Happy birthday ", she reached out to touch my hair and beamed, "Auntie, your hair is so pretty now."
"After a week, I noticed that my hair didn't fall as much as it used to. After using it every day for few weeks, I was happy to hear friends and relatives comment that my hair looked fuller... Even the texture has improved so much! Today, I've never been happier to look into the mirror and see a head full of hair again!"
- Toshiko Asahi, Kyoto, Japan
I now have a full head of hair and no longer wear a wig!
"For the past few years, I wore a wig to go out - it was the only way I could stop feeling so self conscious of my thinning hair and bald spots. Wearing a wig was very uncomfortable and often left me hot and bothered. After a few weeks of using SHOKAIGAN, I could feel my hair becoming fuller. I now have a full head of hair and no longer wear a wig - SHOKAIGAN lets me enjoy life and feel proud of my hair. It works for my husband too!" - Kayo Sato. Tokyo, Japan
Unity Popular Choice 2012 Winner
Guardian Health & Beauty Award 2010 Preferred Choice
Revolutionary breakthrough shampoo to gently deep cleanse, remove sebum, unclog hair follicles and regulate scalp pH
The new SHOKAIGAN Intensive Scalp Therapy Shampoo EX is now being approved as Quasi drug in Japan. It is a clinically proven formula to prevent premature hair loss, dandruff, scalp inflammation and strengthen hair from the root. Made from a powerful blend of 15 amino acids, licorice root extract and natural plant extracts, the gentle yet effective formula deep cleanses without harsh chemicals and primes the scalp for a fuller healthier hair growth.
Scientifically formulated to:
| | |
| --- | --- |
| | Prevent further premature hair loss and reduce thinning |
| | Rich in 15 amino acids that drastically moisturize and promote hair growth |
| | Reconstitute thin or weak hair for added strength and volume |
| | Strengthen hair shaft for added density |
| | Remove sebum buildup and unclog hair follicles for healthier hair growth |
| | Regulate and balance scalp pH level |
| | Prevent dandruff and scalp itchiness |
Experience the proven efficacy of SHOKAIGAN Intensive Scalp Therapy Shampoo EX
Benefits:

Removes sebum buildup and unclogs hair follicles for new hair growth

Balances scalp pH with anti-inflammatory effects to relieve itch and dandruff

Strengthens hair from the root for more resilience and helps to reduce hair loss

Improves and retains moisture in hair for smoother, healthier hair

Suitable for all hair types and daily use

Suitable for both men and women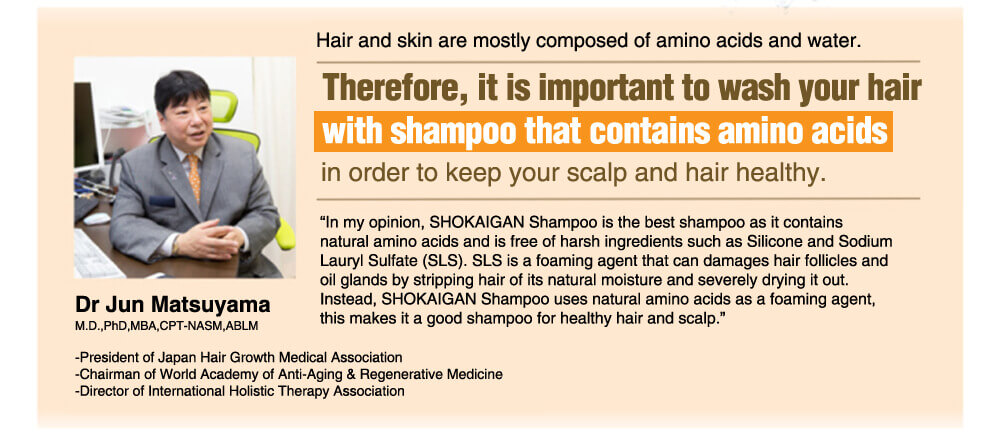 Windows Media Video in English Subtitle
Contents: 700ml – lasts up to 3 months!
Free from Sodium Lauryl Sulfate, petrochemical surfactants, silicon, fragrance or colouring