Ingredients
Each serving of two capsules contains more than 60% Total Polysaccharides (Beta-Glucans)
Proprietary Blend Mushroom Extract
Agaricus blazei, Trametes versicolor, Ganoderma lucidum, Grifola frondosa, Lentinula edodes, Cordyceps sinensis and Cordyceps militaris
600mg
Proprietary Blend Mushroom Complex
Agaricus blazei, Trametes versicolor, Ganoderma lucidum, Grifola frondosa, Lentinula edodes, Cordyceps sinensis and Cordyceps militaris
400mg
Strictly no fillers, additives, colourings, preservatives or starch.
Recommended Dosage
Health Maintenance: 1 to 2 capsules daily
For Cancer Patients
Before & During Treatment: 9 capsules daily (3 capsules, three times daily)
During Remission: 2-4 capsules daily
For those who have difficulty swallowing, please open the capsule(s) and pour the content into water and drink it immediately.
Complementary Health Products
LABO Nutrition Bioactive Organic Cordyceps Ultra
Supporting the functions of all major organs. It strengthens the overall body and speeds recovery from a weaken immune system, and thus mitigating the negative effects of chemo/radio therapy.
AFC Brazilian Green Propolis Extract 25%
Natural antibiotic that fights off the viruses and bacteria that invade cancer patients. Their lower immunity increases their susceptibility to infections. Brazilian Green Propolis contains Artepillin-C which has anti-tumour effect proven by scientific research.
Direction of Use for Complete Adjuvant Therapy
| | | |
| --- | --- | --- |
| Recommended Products | Before & During Therapy | Remission Stage |
| 1) Bioactive Organic BRM | 2 capsules, three times daily | 2 capsules, one to two times daily |
| 2) Bioactive Organic Cordyceps Ultra | 2 capsules, 2 times daily | 2 capsules daily |
| 3) Brazilian Green Propolis Extract | 1 ml, three times daily | 1 ml daily |
"BRM 360° helped me regain my health, I can work again."
Maryann Albores, 36, Domestic helper

In January 2015, I discovered several lumps around my breast area, at the same time, I experienced pain that was so excruciating; I couldn't work and had to lie down most of the time.

I consulted the doctor but could not get a clear diagnosis and the problem persisted for a few months. When my employer gave me BRM 360° to try, I was very surprised to see results after only two weeks! The bigger lumps on my breast shrunk and the smaller lumps have disappeared completely. The pain has lessened too, I feel more energetic now and is able to do household chores without feeling tired easily.
Thanks to this wonderful product called BRM360
Lionel Lye
My mother who is 72 years old was diagnosed with Stage 4A of Nasal Pharynx Carcinoma (commonly called Nose Cancer) 5 months ago. It was discovered by doctors when she was warded for chronic depression. At that time, the family was in a dilemma whether to proceed with cancer treatment, comprising chemo and radiotherapy recommended by doctors, as her mental and physical faculties were rather weak. As prognosis was dire, we had no choice but to proceed as recommended. After undergoing two cycles of chemotherapy, my mother became extremely weak, completely immobile and bedridden. She was sustained by a feeding machine through a peg (tube feed through stomach). At this point, doctors decided to terminate cancer treatment and recommended a discharge for home palliative care. I then decided to seek alternative cure or at least alleviate my mother's illness through Traditional Chinese Medicine that I've briefly heard from acquaintances. Thankfully through my research, I came to know about BRM 360. Today, I'm happy to share that my mother is well & fully mobile after taking BRM360 for 3 months, apart from anti-depressants prescribed by doctors. She is still unable to eat normally and have to rely on peg feed as the cancer may have caused permanent damage to her swallowing function. However she is no longer dependent on the feeding machine and able to enjoy the outdoors. She has also regained her mental health. I would consider her recovery somewhat a miracle, thanks to this wonderful product called BRM360. Lionel Lye (Sxxxx904G) Singapore
There is no more cancer in my body
Tom Yip, 72, Retired Vet

I discovered I had Stage 3 Nasal Cancer just one week after my 71st birthday celebrations. The doctor prescribed 35 rounds of radiotherapy. After hearing about my condition, my friend's son recommended Lifestream supplements to us. A month before I commenced my first radiotherapy session, I took 2 capsules of BRM360۫, 2 capsules of Cordyceps Stroma and 1ml of AFC Brazilian Green Propolis, three times a day before meals. I kept up this routine throughout my treatment. Thankfully, I did not feel much pain or discomfort from the therapy. Towards the last few sessions, I experienced very mild side effects like a slight sore throat, as compared to other patients my age, who collapsed after four treatments. My appetite was good and my sleep cycle was undisrupted; I did not fall sick at all during the treatment process. The latest PET and CAT scans confirmed that there is no more cancer in my body.
BRM360º helped her tide through her most difficult period
Madam Ng passed her regular pap-smear and breast examination last September 2005. However, she felt sick and noticed a much heavier blood loss during her menstruation in March 2006. After consultation with a polyclinic doctor, she was immediately referred to KK Hospital. The doctors did a CT scan and suspected she was suffering from stage 1 cervical cancer. Biopsy and tests done in June 2006 revealed that she had stage 3 cervical cancer (子宫内膜癌) instead.

As cancer cells were also found in her lymph nodes, she had to undergo 6 sessions of chemotherapy, and a further 18 days of intravenous drip at home. Thereafter, another 25 sessions of daily radiotherapy were prescribed.

Mdm Ng was recommended Lifestream Cordyceps Stroma during this period by a fellow patient in the hospital. She started consuming 4 Cordyceps Stroma capsules daily from June 2006 to ease her convalescence.

In early July 2006, she began to consume an additional 6 capsules of BRM360º daily to strengthen and prepare her body for the trying series of chemotherapy and radiotherapy that were to follow. She commenced her first chemo session on 19 July 2006. Apart from some nauseating discomfort on her first session, her body was able to withstand the 6 chemo sessions so well that many fellow patients mistook her as a visitor at the hospital on several occasions. After her chemo sessions, she had minimal weight loss and was able to maintain her overall radiance. She visited her relatives in Malaysia just after the chemotherapy and they were unable to tell that she had cancer and even commented that she looked much better than before. Mdm Ng is wrapping up her radiotherapy sessions, which she has commented is "a breeze" other than the long journey to and fro the hospital daily. She is very grateful to Lifestream for her Cordyceps Stroma and BRM360º, which has helped her tide through her most difficult and darkest moments.
May Ng shares her cancer story
Given a New Lease of Life with BRM360
Kim is a full time homemaker and a mother of two. Miraculously, Kim has managed to win the battle against cancer, not once, but twice between 2006 and 2007.

In March 2006, Kim suffered a great loss when her mother passed away due to heart congestion problem. Kim had high blood pressure all along and started to experience regular bouts of breathlessness during that time and she worry that she might have the same problem as her mother.

In May 2006, when Kim was admitted to ER for a sudden bout of breathlessness, doctor discovered she had unusually low haemoglobin count and she was also having abnormally heavy menses. Kim was referred to KK Hospital for a thorough examination and her world was turned upside-down, when her medical report showed that she had 1st stage endometriosis cancer. Kim had a hysterectomy and her ovaries and one lymph node found near the womb surgically removed.

In April 2007, Kim went to see the doctor for a persistent cough and doctor discovered a lump on the right hand side of her neck. The 3mm growth was surgically removed and a biopsy confirmed that the cancer has spread through the lymphatic system to 4th stage. Kim and family were given the devastating news that she had only 6 months to a maximum of 2 years life span remaining. She was prescribed 6 cycles of chemotherapy. However, after the first dose of chemotherapy Kim was overcome by the side effects. She could not open her eyes, felt weak and nauseous, lost her appetite and her hair started to fall off in patches. Immediately the next day, she sought a second opinion with a different doctor from Mount Elizabeth who conducted a blood test for her and advised her to stop her chemotherapy as no cancer biomarkers were found after the surgery. Subsequently, Kim asked to be transferred from KK Hospital to National Cancer Centre Singapore (NCCS) and has been going there on a regular basis for screenings and health check up.

Since her first encounter with cancer, her daughter has been buying a myriad of health supplements for her. Kim has tried many products which include expensive Lingzhi cracked spores and exotic Cactus drink, but none of it was particularly useful. Until her cancer relapse in April 2007, she was introduced to Lifestream BRM360⁰ by her daughter's friend and she has been taking 6 capsules daily ever since. To strengthen her overall health, she is also taking 4 capsules of Lifestream Cordyceps Stroma daily. Kim said of all the products she has tried, Lifestream's medicinal mushrooms has benefitted her the most, in fact when she showed BRM360⁰ to her doctor in NCCS, she was encouraged by the doctor to continue taking it. With a second victory against cancer under her belt, Kim realizes the important of a proper diet complemented with the right supplements; she has continued to take Lifestream Cordyceps Stroma and BRM360⁰ for maintenance till today.
Research proven health benefits of Bioactive Organic BRM:
Bioactive Organic BRM is made with ultra-concentrated and purified extracts of 7 well-researched nutraceutical mushrooms, each of which provides diverse health benefits.
The following are extracted from published clinical studies, in-house studies, and/or case studies and are for reference purposes only. This does not imply that the product from Lifestream Group Pte Ltd is claimed to replicate the same results produced in the studies. This information is not a substitute for professional medical advice, diagnosis, or treatment. If you have any questions about a medical condition, please consult your physician or other qualified healthcare providers. Any statements or claims made have not been evaluated by the relevant regulatory bodies and are not intended to diagnose, treat, cure, or prevent any disease.

By using the Site, you agree that you have read and acknowledge the above and the Terms of Use for this Site.

1. Yunzhi (Turkey Tail) (https://www.lifestreamgroup.com/bioactive-organic-yunzhi-ultra)
Complement cancer treatments
In this animal test, mice were treated with 3 doses of natural anticancer glucan extracted from yunzhi (turkey tail) (40, 100, 200 mg/kg body weight) for 9 days. Results showed a significant increase (p < 0.01) in relative spleen and thymus weight and a decrease (p < 0.01) in tumor weight at the doses of 100 and 200 mg/kg, as well as an increase in immune cell activity (macrophage phagocytosis). Spleen and thymus are important immune system organs. Besides, in vitro study showed the glucans extracted from turkey tail reduced proliferation of S-180 murine Sarcoma cancer cell line. These findings suggest anti-tumor activity of Turkey tai's glucan via its immunomodulation activity.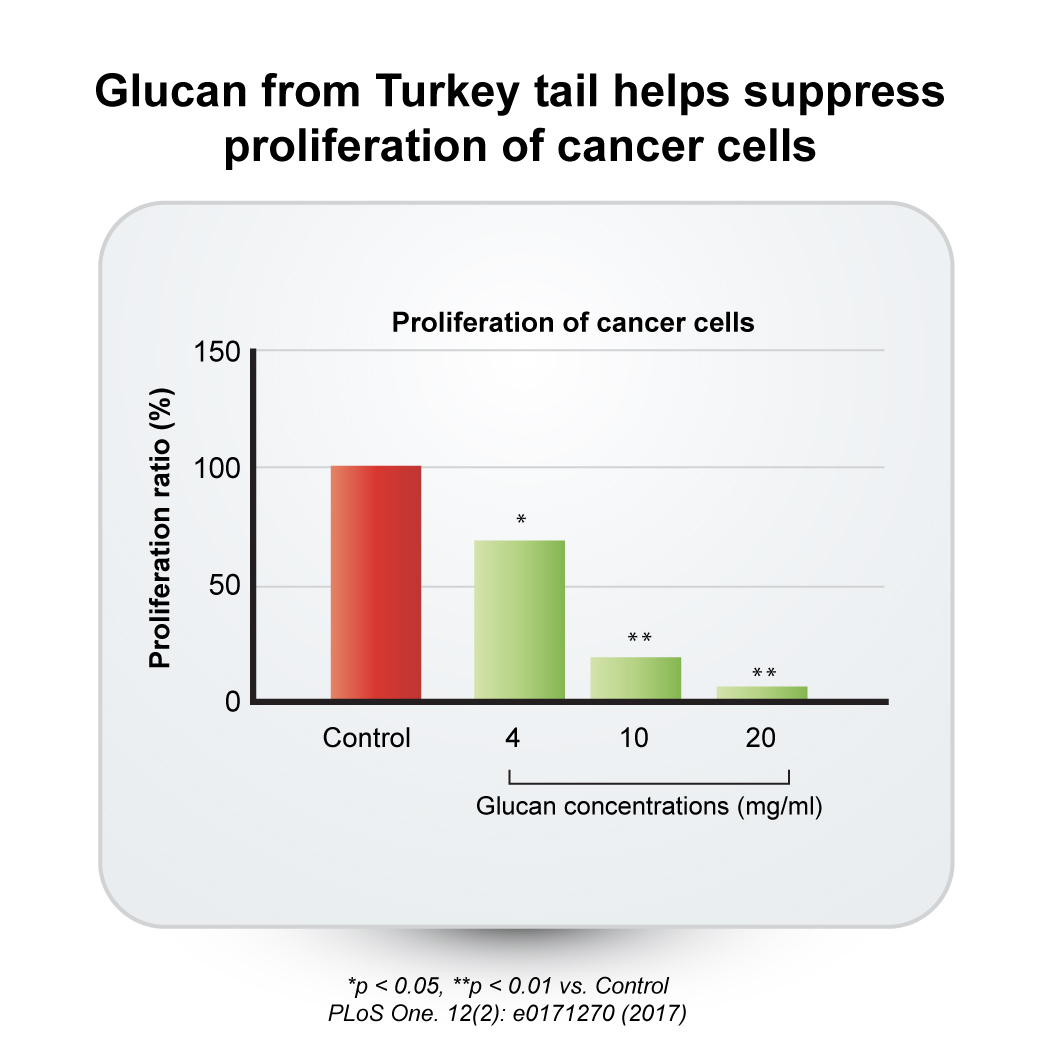 Manage bacterial infection
Yunzhi (turkey tail) is one of the most researched medicinal mushrooms for its medicinal properties. This mushroom has been suggested to provide protection against bacterial and viral infections. When the body is invaded by invaded by bacteria or viruses, B cells (a specific type of white blood cells) produce antibodies. Yunzhi (turkey tail) encourages the body to produce more B cells in a process known as B-cell activation, thereby protecting the bodies from infections.

In bacterial infections, Staphylococcus aureus is a major bacterial human pathogen that is frequently found in the upper respiratory tract and on the skin. It causes a wide range of clinical manifestations, such as boils and painful rashes. Salmonella infection is another common bacterial disease that affects the gastrointestinal tract. Salmonella enterica is known to cause inflammation of gastrointestinal tract, enteric fever and blood poisoning in humans worldwide.

In this in vitro study, yunzhi (turkey tail) extract was found to suppress the growth of Staphylococcus aureus and Salmonella enterica. This suggests that yunzhi (turkey tail) extract can potentially be used to develop nutraceuticals or drugs effective against pathogenic microorganisms.
Improve gut health
The gut hosts about 100 trillion live microorganisms that promote normal gastrointestinal function, fights off infection and regulates the immune system. The gut wall houses 70% of the cells that make up the immune system. Hence, keeping a healthy balance of beneficial bacteria in the gut is crucial for maintaining a strong immune system. Like most mushrooms, turkey tail contains prebiotics, that helps nourish good bacteria in the gut and maintain healthy digestion.
In this clinical trial, 22 healthy volunteers were orally administered 3600 mg polysaccharopeptide (prebiotic) from turkey tail (PSP) or control for 8 weeks. Their stool specimens were analysed over the 8 weeks. Consistent with its activity as a prebiotic, the group administered with PSP observed beneficial changes in gut bacteria and suppressed growth of the possibly problematic Escherichia coli (E. coli) and Shigella bacteria. These findings suggest that yunzhi (turkey tail) may be helpful in keeping a balance of gut bacteria and thus, improving overall health.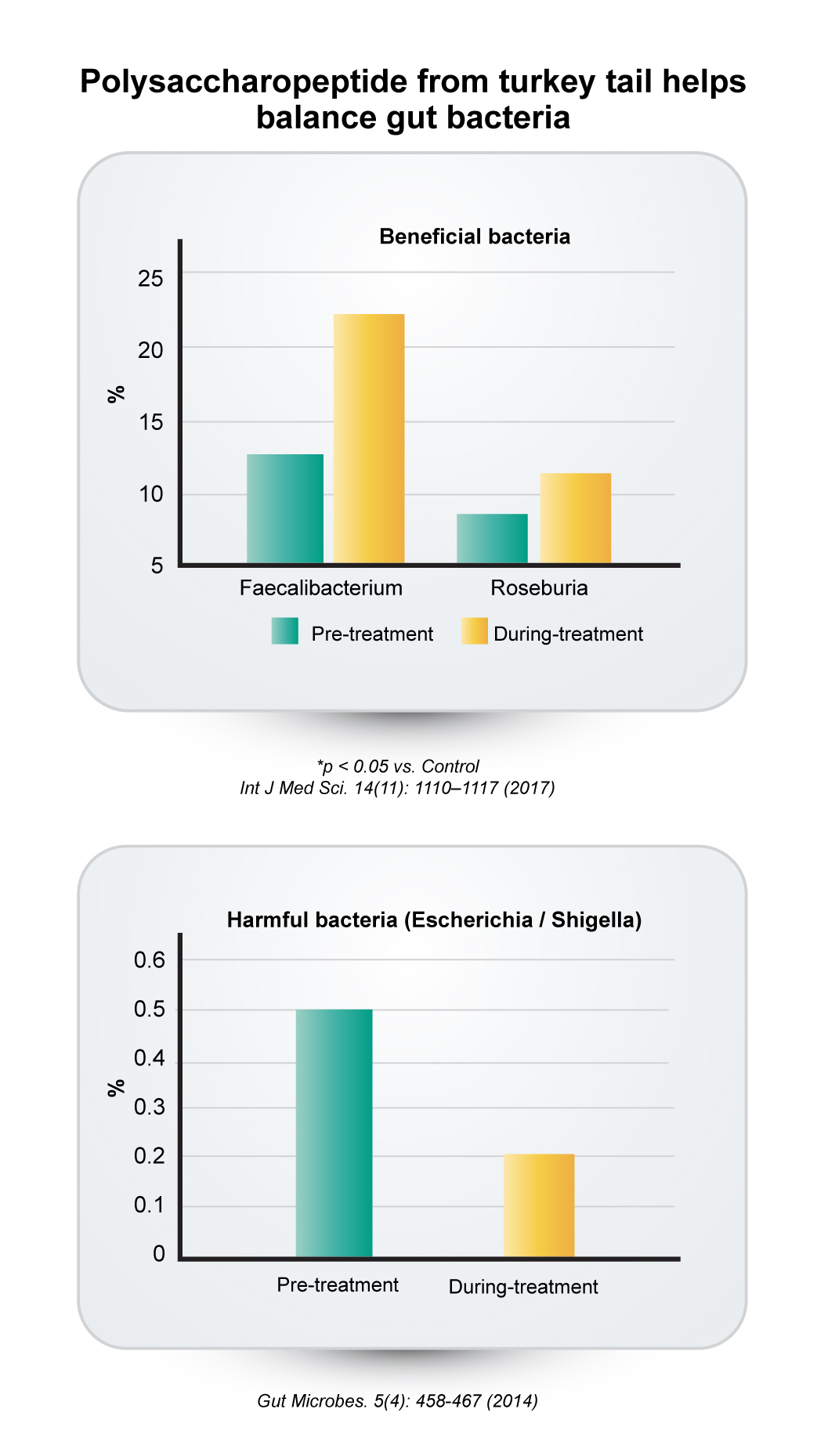 2. Reishi or Lingzhi (Ganoderma lucidum) (https://www.lifestreamgroup.com/bioactive-organic-lingzhi)
Boost Immune System
Reishi or Lingzhi (Ganoderma lucidum) is a well-known medicinal mushroom in China and Japan for its immunomodulatory and anti-tumor effects. It provides a broad spectrum of immunostimulating activities, as well as anti-inflammatory and anti-allergic activities.
In this clinical trial, male football players on a 28-day "living high-training low" (LHTL) trial were orally administered placebo or Ganoderma lucidum for 6 weeks and their CD4+/CD8+ ratio were determined. CD4+/CD8+ ratio is a reflection of immune health. A normal ratio is between 1 and 4. This ratio tends to decrease if the immune system's defense against pathogens become weaker.
Due to simultaneous stimuli of physical activity and exposure to hypoxia (low oxygen), a significant decrease in CD4+/CD8+ ratio following the 28-day trial compared to the baseline was observed in placebo group. Nonetheless, oral administration of G. lucidum could help ameliorate the variation of the CD4+/CD8+ in LHTL training. These findings suggest that G. lucidum support healthy immunity of athletes exposed to stressful conditions.

Fight Fatigue
Chronic fatigue syndrome is a group of physical and mental disorders that can reduce quality of life and daily routine of the sufferers. Currently, there is no medical treatment available for the disorders. In Traditional Chinese Medicine, body fatigue, mental fatigue, weakness and stress are indications of Qi and blood deficiency. Reishi or Lingzhi (Ganoderma lucidum) is commonly used to nourish and tonify Qi and blood. Besides, Reishi could also help manage insomnia, dream-disturbed sleep and anxiety.

In this clinical trial, 50 volunteers with chronic fatigue syndrome were orally administered placebo or daily dose of 2g (0.5g four times a day) Ganoderma lucidum extract before meals and bedtime for 12 weeks. The volunteers were then asked to respond to SF-12 questionnaires for quality of life and score the levels of fatigue and VAS, before and 4, 8 and 12 weeks after the first dose. Compared to placebo, G. lucidum extract resulted in a significant increase in quality of life and a decrease in VAS scores. Lower VAS scores indicate better quality of life. In addition, satisfaction of volunteers with 12-week G. lucidum extract was significantly higher than those taking placebo. These findings suggest that G. lucidum could be potentially effective in the treatment of fatigue and improve quality of life in those suffering from chronic fatigue.
Potentially Protect against Abnormal Cell Growth
Clinical research has shown the beneficial effects of Reishi or Lingzhi (Ganoderma lucidum) as an alternative adjuvant therapy in cancer patients, which could be attributed to its stimulatory effect on the host immune system and enhancement in tumor response. Polysaccharides and triterpenoids are the main components of Reishi that have anti-tumor activating properties on different kinds of immune cells (macrophages, T lymphocytes, natural killer cells, dendritic cells), as well as initiating cytokine production.
Study 1: Colorectal tumor
In this clinical trial, patients with colorectal tumor (adenoma) were orally administered Ganoderma lucidum mycelia extract(1.5 g/day) for 12 months and cancer-preventive effects were determined. Administration of G. lucidum extract resulted in decreased number and size of adenomas, whereas control group observed an increment of both number and size of adenomas. These findings suggest that G. lucidum could potentially suppress the development of colorectal adenomas in the large intestines.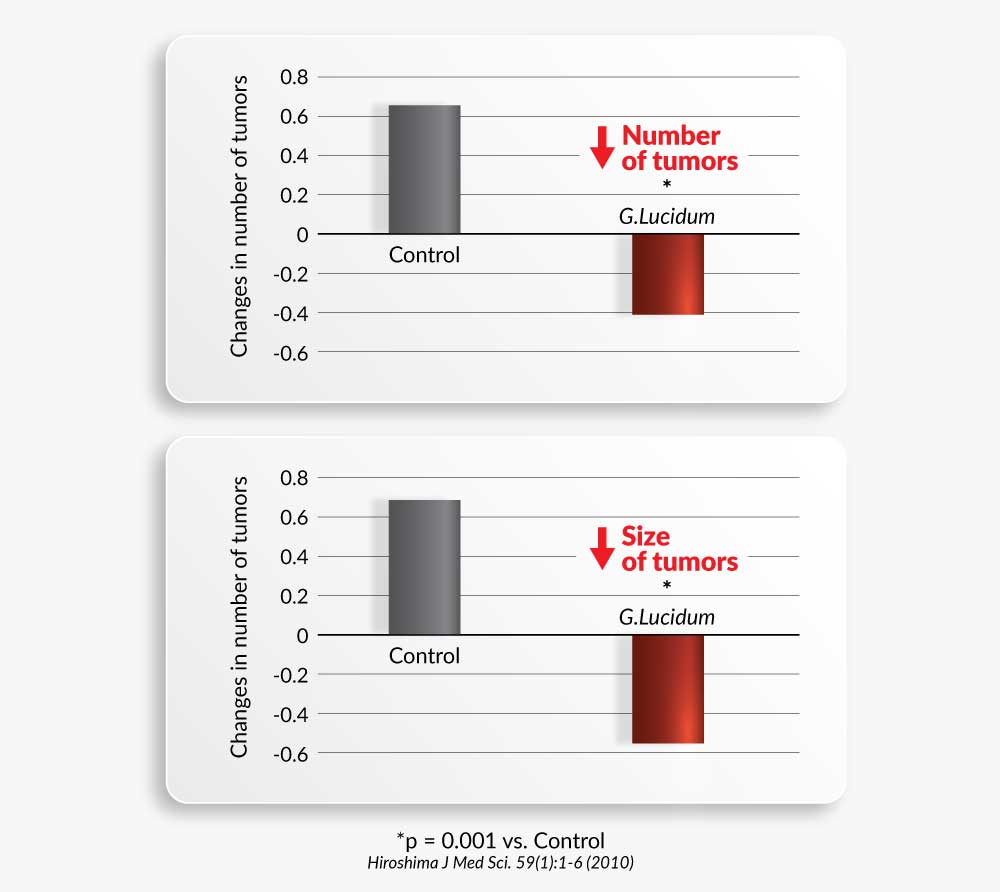 Study 2: Prostate cancer
In this in vitro study, the effects of Ganoderma lucidum polysaccharides on human prostate cancer cells were investigated. Results showed that G. lucidum polysaccharides suppressed prostate cancer cell growth and migration. These findings suggestthat G. lucidum polysaccharides may act as a tumor suppressor with potential applications in prostate cancer therapy.
Support Healthy Blood Lipids
Reishi or Lingzhi (Ganoderma lucidum) has been consumed for its broad medicinal properties in Asia for over 2000 years. It is said to influence the heart and is becoming increasingly popular in western countries as a complementary therapy for cardiovascular health.
In this clinical trial, 26 patients with borderline elevations of blood pressure and/or cholesterol were orally administered 1.44g Ganoderma lucidum daily or placebo for 12 weeks. Compared to baseline, administration of G. lucidum resulted in a decrease of triglyceride and increase of HDL-cholesterol, but not with placebo, suggesting its beneficial effects to blood lipids and cardiovascular health.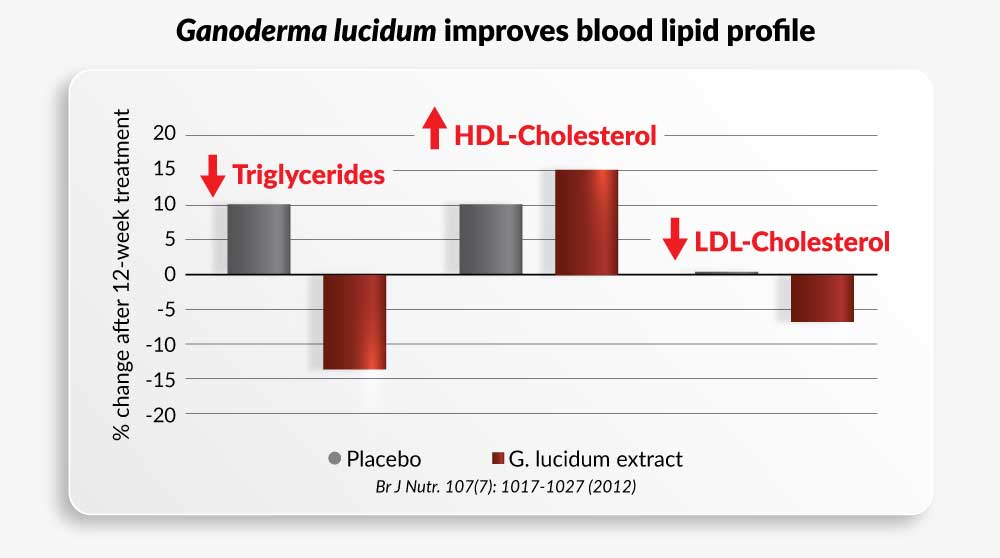 Improve Liver Health
Reishi or Lingzhi (Ganoderma lucidum) is widely known in the treatment of chronic liver disease with little or no side effects, attributed to its antioxidant, anti-inflammatory and hepatoprotective properties. Among many bioactive compounds in Reishi, triterpenoids and polysaccharides in Reishi have been proven to suppress fatty liver, hepatitis (liver inflammation) and liver fibrosis.
In this clinical trial, 42 healthy middle-aged (40-54 years old) volunteers with mild liver dysfunction (elevated GOT and GPT, as well as fatty liver) were orally administered Ganoderma lucidum after lunch or dinner for 6 months. Consumption of G.lucidum significantly improved the total antioxidant capacity (TEAC) and reduced oxidative stress markers TBARS and 8-OH-dG. Ultrasonic examination also showed a notable alteration on hepatic condition by reversing from mild fatty liver condition to normal condition. These findings suggest the antioxidation and liver protective nature of G. lucidum by effectively curbing oxidative stress.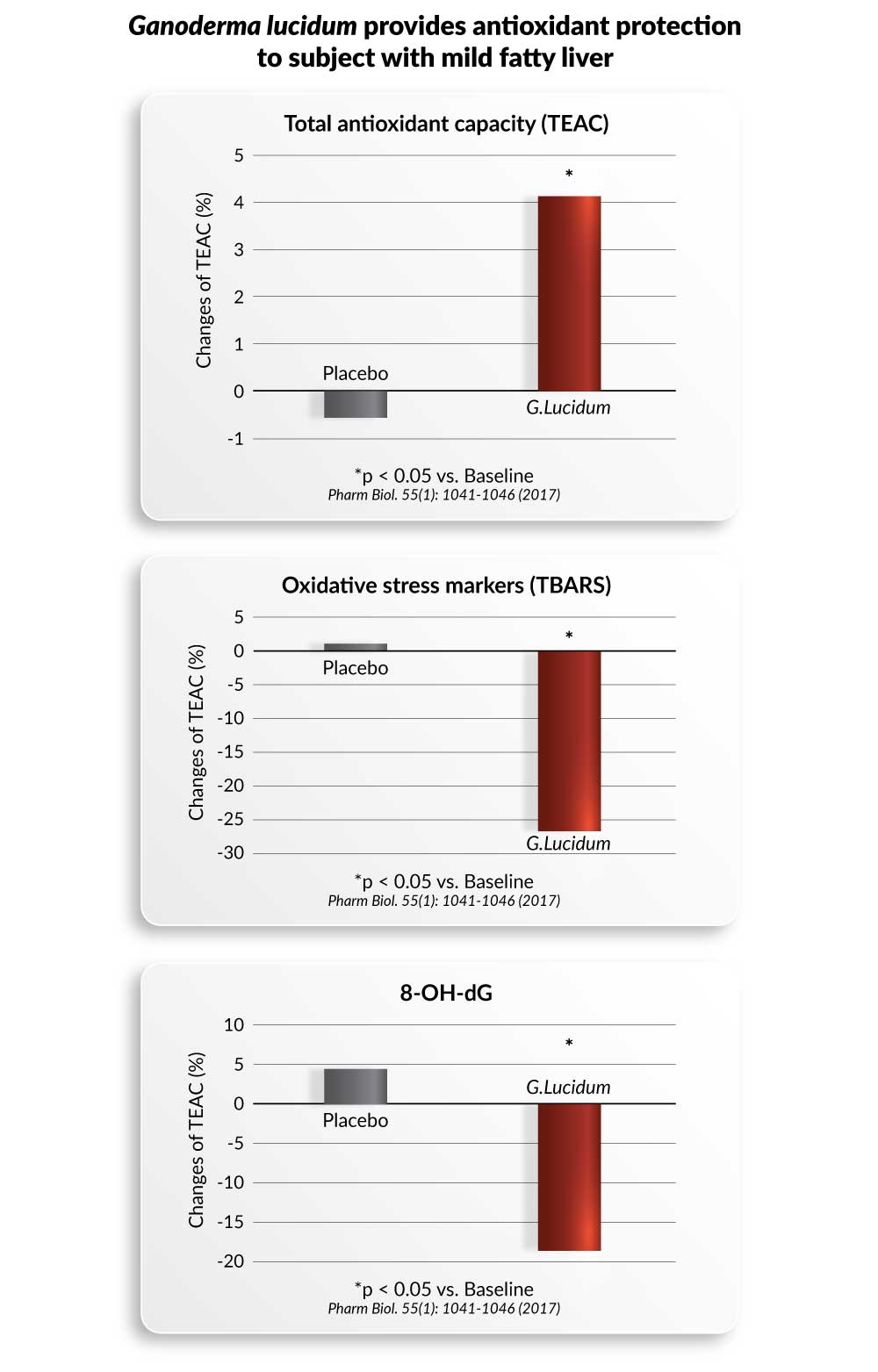 3. Cordyceps sinensis (https://www.lifestreamgroup.com/bioactive-organic-cordyceps)
Improve Physical Performance
Cordyceps is known to boost cellular energy levels by increasing the body's adenosine triphosphate (ATP) production, which is indispensable for delivering energy to the muscles. The increase of oxygen helps improve sports performance.
Study 1:
In this double-blind placebo-controlled prospective clinical trial, 20 healthy elderly (age 50 – 75 years old) were orally administered either 3 Cordyceps sinensis capsules (each 333 mg, 0.5% polysaccharides) or 3 placebo capsules 3 times daily with water or food for a total of 12 weeks. Maximal incremental exercise testing was performed on a stationary cycle ergometer using breath-by-breath analysis at baseline and at the completion of the study.
Administration of cordyceps for 12 weeks resulted in significant improvement in metabolic and ventilatory (breathing and oxygenation of the blood) thresholds, while no significant changes were observed for subjects in the placebo group. This study suggests that supplementation with Cordyceps sinensis improve exercise performance and may contribute to wellness in healthy elderly.

Study 2:
36 healthy men in their 20s were administered cultured Cordyceps sinensis or placebo for 2 weeks and their effects on exhaustive running were compared. Supplementation of the cordyceps resulted in increased energy generation and anti-fatigue effects, suggesting the efficacy of cordyceps in improving performance and endurance during this prolonged exercise.
Support Healthy Immune System
Cordyceps is known to regulate the immune system. It promotes strong immunity by stimulating cells and specific chemicals in the immune system. In addition, Cordyceps also balances immunity and works bi-directionally. It has suppressive effects on overactive immune response. Cordyceps would boost underperforming immune system by increasing the production and activity of white blood cells as well as suppress overactive immune system by regulating the production and activity of white blood cells.
In this in vitro study, the immune-modulating effect of Cordyceps sinensis extract on natural killer cells as well as B and T lymphocytes were determined. Cordyceps extract was found to stimulate proliferation of splenocyte (white blood cells in the spleen) and enhance IFN-ɣ cytokine production in the mouse splenocytes, which plays a crucial role in host defense systems against microbes and viruses. Furthermore, the Cordyceps extract also enhanced the killing activity of natural killer cell lines which plays important roles in immunity against viruses, indicating its immune-modulating activity. The findings suggest the potential use of Cordyceps sinensis extract to boost healthy immune function.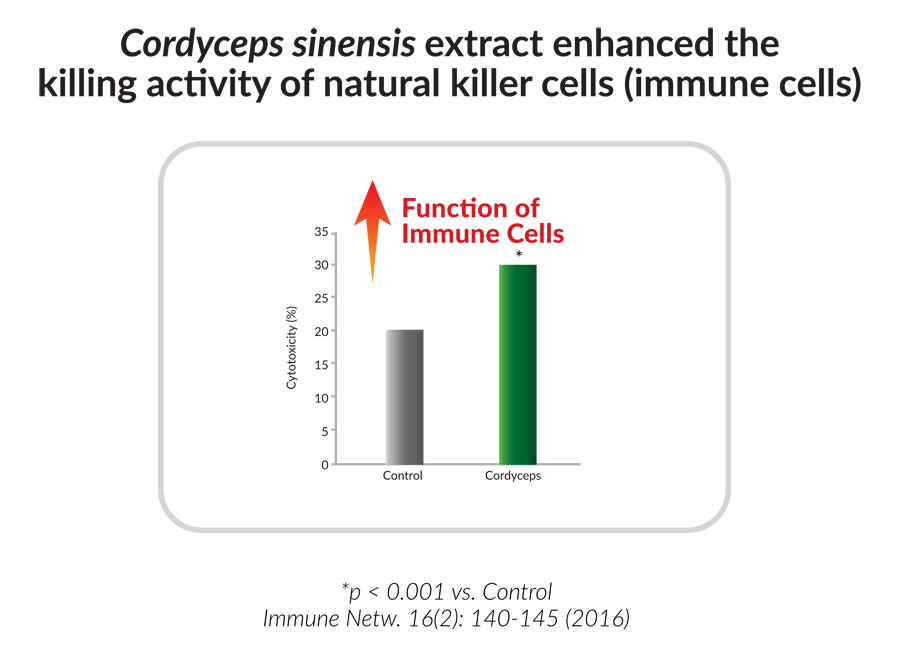 Support Healthy Respiratory System
Cordyceps sinensis has been used for centuries as a tonic to support lung health.
4. Agaricus blazei Murill (ABM) (https://www.lifestreamgroup.com/bioactive-organic-abm-ultra)
Protect against Infection
Agaricus blazei Murill (ABM) is a biologically active medicinal mushroom that has been used in traditional medicine and as a health food for prevention against infection and a range of diseases. ABM is rich in immunomodulating polysaccharides and beta-glucans, it helps to stimulate the immune cells, strengthen the immune system to help ward off pathogens.
In this animal test, Agaricus blazei Murill (ABM) extract or control was orally administered to some mice prior to infecting them with moderately virulent Streptococcus pneumoniae. Results showed that ABM extract protected the mice against S. pneumoniae, as shown by reduced bacteria in their blood as well as increased survival rate of the mice. This immune protection was suggested to be due to the involvement of ABM in native immune system. These findings suggest that ABM extract may be useful as a natural remedy to protect against bacterial and possibly other infections in humans.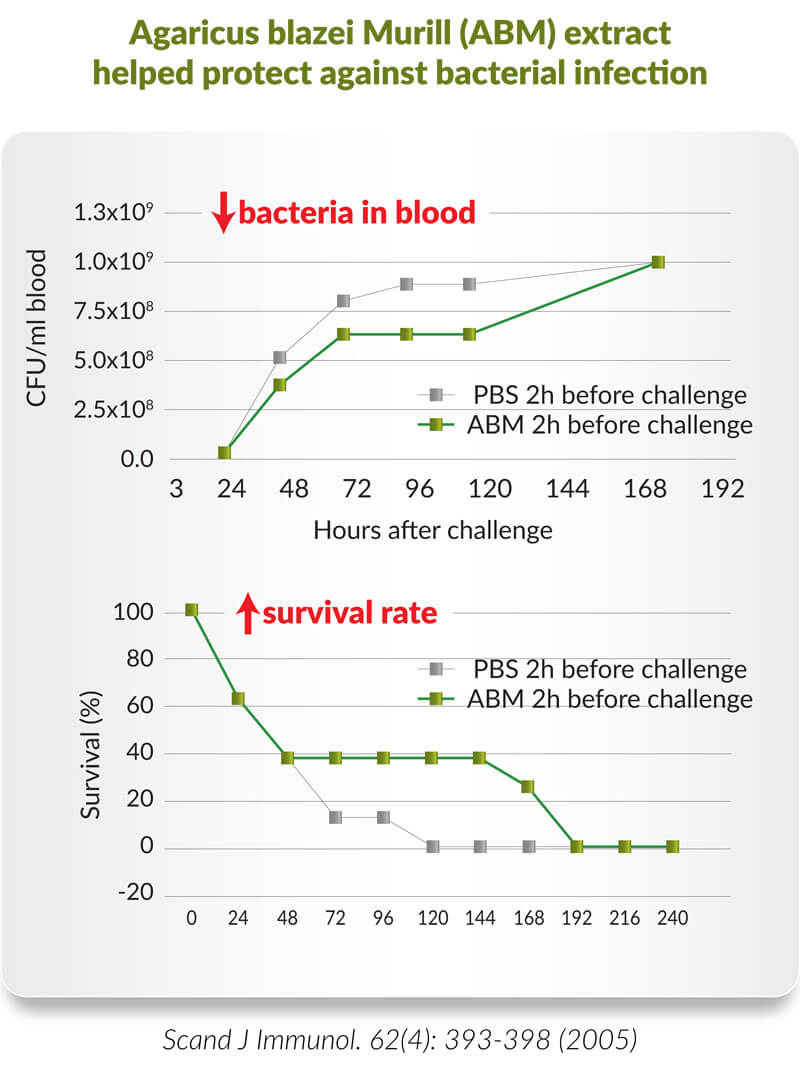 Provide Antioxidant Protection
Many mushrooms, including Agaricus blazei Murill (ABM) have been reported to provide antioxidant protection, which enables them to neutralise free radicals. The generation of free radicals can damage the cells, which appear to be a major contributor to ageing and degenerative diseases. Mushroom antioxidant components are found in the fruit bodies and mycelium, these include polysaccharides, phenolics, carotenoids and others.
In this in vitro study, the antioxidant properties of Agaricus blazei Murill (ABM) extract were evaluated. ABM extract provides antioxidant protection via three mechanisms. First, it inhibited enzymatic oxidative process, with 100% inhibition of horseradish peroxidase (HRP) and myeloperoxidase (MPO). Second, it inhibited cellular oxidative stress, with 80% inhibition of the oxidative burst of a type of white blood cells, known as polymorphonuclear neutrophils (PMNs). Third, it had direction action over reactive species, with 62% and 87% suppression of HOCl and superoxide anion radical, respectively. These findings suggest that ABM extract possesses significant antioxidant activity, indicating its potential application for nutraceutical and medicinal purposes.
Manage Blood Glucose Levels
In this randomised, double-blind, placebo-controlled clinical trial, 72 type 2 diabetes patients with extremely high blood glucose levels who having been taking gliclazide and metformin for more than 6 months were orally administered either 1500 mg Agaricus blazei Murill (ABM) extract or placebo daily for 12 weeks. At the end of the study, patients received ABM extract showed significantly lower HOMA-IR index, which is an insulin resistance score. High HOMA-IR values indicate low insulin sensitivity (insulin resistance), while low HOMA-IR values indicate high insulin sensitivity.
Adiponectin is a protein hormone and adipokine that is involved in regulating glucose levels. In human, adiponectin levels in blood plasma are significantly lower in insulin-resistant states. In this study, oral administration of ABM extract for 12 weeks resulted in 20% increase in plasma adiponectin concentration, while those taking placebo showed 12% decrease. These findings suggest that ABM extract in combination with metformin and gliclazide reduces insulin resistance among subjects with high, unhealthy blood glucose levels.
Unity Popular Choice and Award Winner for 5 consecutive years (2016-2020)

Biological Response Modifiers (BRM), also known as immunomodulators are naturally occurring substances which support the body's immune system, natural defence and self-healing mechanism.
Bioactive Organic BRM is a cutting-edge vegan formula made with ultra-concentrated and purified extracts of 7 well-researched nutraceutical mushrooms, via a proprietary extraction technology that derives the most powerful mushroom essence. Providing the highest spectrum of immune-enhancing polysaccharides and beta-glucans, Bioactive Organic BRM provides maximum 360-degree therapeutic effects.
Bioactive Organic BRM offers extensive breadth and depth of the complex polysaccharide compounds to address all aspects of the body functions. With more than 60% Total Polysaccharides and more than 20% Beta-Glucans, Bioactive Organic BRM equips your body cells with a comprehensive range of "ammunitions" to respond to attacks by different types of "foreign invaders. The extensive number of immune modulators support immune defences such as the Natural Killer Cells, T-cells and macrophage activities and substantially increase the success rate of "hitting the right invader".

i. Highest ≥60% Polysaccharides
Bioactive Organic BRM contains more than 60% polysaccharides, that's over 200 types of polysaccharides extracted from 7 potent medicinal mushrooms for a well-rounded health support.
ii. Highest ≥20% Beta-Glucans 1-3/1-6
Beta-Glucans are one of the beneficial polysaccharides present in medicinal mushrooms. They are the keys to the immune-enhancing property of the mushrooms and play a vital role in fighting infections and sickness.

iii. Lowest <2% Alpha-glucans
Alpha-glucan (such as starch) is another type of polysaccharide, however, they provide no medicinal benefits. Bioactive Organic BRM contains <2% which is much lower than those in mushrooms at typically 4%.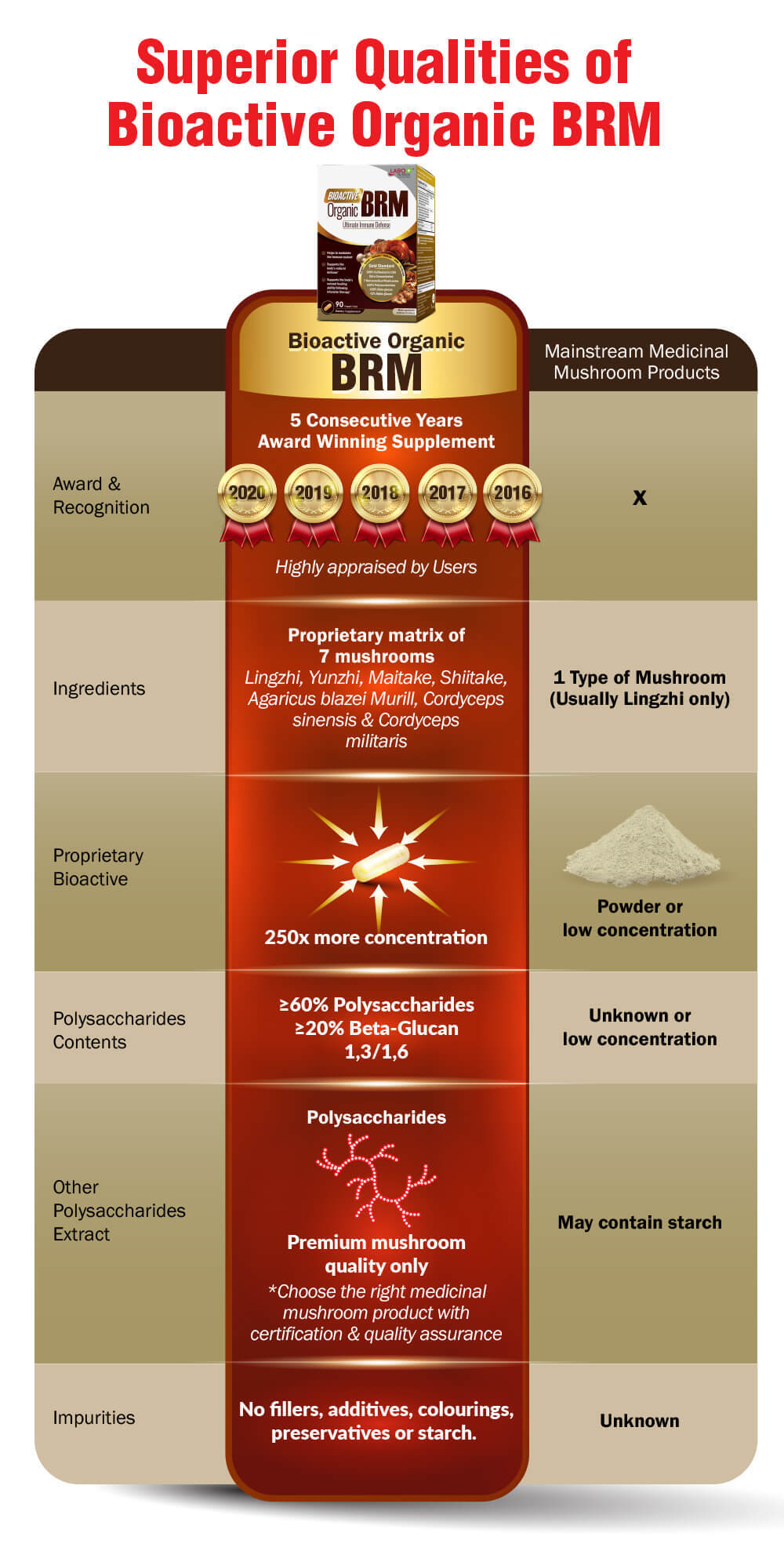 • Before undergoing intensive therapy treatments or in remission
• Weak immune system
• Poor healing capacity
• Regular exposure to harmful chemicals or UV rays
• Smokers / Drinkers
• A need for an overall, comprehensive health tonic
Madam May Ng was diagnosed with stage 3 cervical cancer in 2006, "BRM360 helped me tide through my most difficult period"
Content: 500mg x 90 veggie caps
veggie caps
90 veggie caps