950 mg DHA (from 1,250 mg ultra-concentrated omega fish oil; 1,000 mg omega-3 fatty acids)

Allergens: contains fish

For maintenance: 1 softgel daily
For intensive concerns (brain & eye health): 2 softgels daily
Q: What is OmaxPure DHA76?
A: OmaxPure DHA76 is an ultra-concentrated fish oil with 76% DHA. Each softgel offers 1250 mg ultra-concentrated fish oil. Within which 1000 mg is omega-3 fatty acids with 950 mg DHA content. This pharmaceutical grade DHA fish oil would easily fulfil the daily DHA requirement to support optimal cognitive function (including sharper memory, mental clarity), healthy vision, emotional support and prenatal wellness.
Q: What makes OmaxPure DHA76 superior to other DHA fish oils?
A: Each OmaxPure DHA76 softgel offers omega-3 fatty acids (with 76% DHA) in a super-absorbable re-esterified triglyceride (rTG) form. rTG form is found to be 70% more absorbable & bioavailable than ethyl ester (EE) form, which is the most typical form found in most fish oil supplements. OmaxPure DHA76 is also ultra-pure and ultra-concentrated. By employing a highly advanced purification and extraction technology, heavy metals, dioxins, PCBs and cholesterol content are removed. Without using high heat or toxic solvents, supercritical CO2 extraction is more superior to the commonly used molecular distillation. The freshness and quality of the fish oil is also maintained with oxygen-free manufacturing process, the OmaxFresh encapsulation technology and antioxidant fortification. OmaxPure DHA76 has also surpassed all the strict standards set by GOED for its purity and freshness. Because it is ultra-fresh, OmaxPure has no fishy aftertaste and does not contain any flavouring. Altogether, OmaxPure DHA76 is more concentrated, fresh, pure and also more bioavailable. It is highly recommended for all adults for optimal brain performance, as well as pregnant women and lactating mothers for healthy fetus growth and development in children.

Q: What is OmaxFresh® Encapsulation Technology?
A: OmaxFresh® is a patented encapsulation technology that employs a plant-based, GRAS certified ingredient, offering superior absorption and stable shelf life. By employing this technology, OmaxPure DHA76 capsule does not harden over time, allowing maximal release of omega-3 into the intestines throughout the shelf life.
It is noteworthy that most fish oil supplements in the market are encapsulated using a gelatin capsule which hardens over time, affecting the release of fish oil in the intestines, which result in lower absorption and bioavailability of fish oil. Besides, some fish oils additionally include enteric coating to mask a fishy aftertaste or fishy burps. Enteric-coated formulations incorporate different chemical additives, which could lead to compromised digestion and prolonged absorption in the small intestines, thereby resulting in poor bioavailability. Since OmaxPure DHA76 is ultra-fresh, it does not give a fishy aftertaste or fish burps.It certainly does not require an enteric coating to mask any fishy taste or burps.

Q: Which fish sources do OmaxPure DHA76 use?
A: OmaxPure DHA76 is primarily sourced from sustainable small fish – anchovy, sardines and mackerel. Since small fish are lower on the food chain, these fish naturally have a much lower concentration of contaminants compared to bigger fish. Hence, it is preferable to consume fish oil extracted from smaller fish.

Q: How can I determine the quality of my fish oil?
A: The fish oil freezer test is a simple way to evaluate the quality of fish oil. In this test, simply leave the fish oil in the freezer overnight. As poor quality fish oil would contain a lot of saturated fat and very little omega-3, the contents would solidify and give an opaque appearance. On the other hand, good quality fish oils with high concentrations of omega-3, such as OmaxPure DHA76 would remain see-through even when it is frozen. This is because omega-3 fats have extremely low freezing points and hence, they do not solidify easily.

Q: What are the benefits of taking OmaxPure DHA76?
A: Formulated with ultra-concentrated fish oil with 76% DHA (950 mg DHA per softgel), OmaxPure DHA76 is a perfect solution to fill the DHA gap and helps increase omega-3 index for all adults, including pregnant women and lactating mothers. Being the main omega-3 fatty acid in the brain, DHA helps support brain health. In addition, DHA is also essential for visual acuity and healthy eye pressure. For pregnant and lactating women, sufficient DHA supplementation supports prenatal health and support brain and eye development of fetus and children.

Q: Is OmaxPure DHA76 safe for long-term consumption?
A: Yes, OmaxPure DHA76 is safe and highly recommended for long-term consumption. This will help support brain performance and a healthy pregnancy for pregnant ladies. Employing an unprecedented three-layer purification process, including Supercritical CO2 extraction technology, heavy metals, dioxins, PCBS, cholesterol and other harmful contaminants are removed. In addition, OmaxPure DHA76 is highly fresh, with oxidation markers (The Peroxide Value (PV), the para-Anisidine Value (pAV) and the total oxidation (TOTOX) values) surplused all the strict standards set by GOED (The Global Organisation for EPA and DHA Omega-3s).

Q: I have trouble swallowing fish oil supplements, how should I take it?
A: Since OmaxPure DHA is extremely fresh and free of fishy taste, you can chew the entire softgel, or pierce and squeeze the fish oil into water, juice or cereal. Alternatively, you can opt for I ♥My Kids Brain & Bones Chewable Burstlets. 2 chewable burstlets will meet the recommended daily omega-3 dosage for adults.

Q: When is the best time to take OmaxPure DHA76?
A: OmaxPure DHA76 can be taken anytime throughout the day, with and without food.

Q: Can I take OmaxPure 76 while I am on medication?
A: Yes, but do leave a 2-hour gap (or longer) from taking the medication to ensure that the efficacy of OmaxPure DHA76 is not compromised. High dosage fish oil (>1,000mg/day combined EPA and DHA ) can have blood thinning effect, it may increase bleeding risk when a person takes them with blood thinners. Hence, it is advisable to get a medical advice prior to taking fish oil supplements if you are on those medications.

Q: Does OmaxPure DHA76 require a prescription?
A: No, OmaxPure DHA76 is a natural supplement, and not a medicine. Hence, no prescription is required. Nonetheless, always seek the advice of your physician or other qualified health provider with any questions you may have regarding a medical condition.

Research Proven Health Benefits of DHA:
1. Support brain health
DHA, a dominant omega-3 fatty acid in the brain, is essential for optimal cognitive performance. The accumulation of DHA has been observed in areas of the brain involved in memory and attention such as the cerebral cortex and hippocampus. In animal studies, deficiency of DHA in the brain has been shown to critically affect the neuronal development and behavior, including changes in learning, memory. As DHA status is dependent on dietary intakes, individuals who consume diets low in omega-3 fatty acid may cognitively benefit from DHA supplementation.

Study:
In this clinical trial, 176 healthy adults aged from 18 to 45 years old with a low dietary intake of DHA were orally administered 1.16 g DHA or a placebo daily for 6 months. Their cognitive performance was assessed using a computerized cognitive test battery and z scores were calculated. Compared to placebo, DHA supplementation significantly improved reaction times of episodic and working memory, with a decrease in reaction time indicates an improvement. In addition, DHA supplementation improved episodic memory in women and reaction time of working memory in men, compared to placebo. In brief, young adults whose habitual diets were low in DHA could benefit from DHA supplementation in improving their memory and reaction time.

2. Beneficial to brain and eye development in fetus & babies
Essentially needed in pregnancy, DHA provides multiple benefits to the fetus, especially on the brain and eye development. The brain and eyes of fetus will develop rapidly during the last trimester of pregnancy, as well as during first few years after birth. Hence, it is important for the pregnant women and lactating mothers to consume sufficient amount of DHA. This is because the DHA is passed from the mother to the infant during pregnancy in the third trimester and through breast milk. Preterm babies will benefit with DHA supplementation since these babies will obtain lesser DHA from their preterm birth. It is suggested that pregnant woman should take at least 200 milligrams (mg) of DHA before, during, and after pregnancy, while lack of DHA would compromise fetal development.
Study:
In a clinical trial, 14 pregnant women were administered with 300mg DHA-containing cereal bars from week 24 of gestation until delivery while another 15 pregnant women were treated with placebo bars. The infants were then administered with Infant Planning Test at the age of 9 months old. The procedure was scored on the basis of the infant's performance on each step and on the entire problem (intention score and total intentional solutions) in the problem-solving trial which included a support step and a search step. The scores were generated on the basis of the cumulative performance of the infant on 5 trials.
Infants of mothers who consumed a DHA-containing food during pregnancy showed significant improvements in performance of problem-solving tasks: total intention score (P = 0.017), total intentional solutions (P = 0.011), and number of intentional solutions on both cloth (P = 0.008) and cover (P = 0.004) steps. These findings suggest the beneficial effects of DHA supplementation during pregnancy on problem-solving performance of infants.
3. Increase omega-3 index
The omega-3 index is a measure of the amount of EPA and DHA in red blood cell membranes. Research has shown that omega-3 index level of 8 – 12% is associated with better health, including brain, eyes, heart and joints. Nonetheless, majority of people globally have an omega-3 index below 8%, which is likely to be attributed to the low-fish diet. Hence, DHA supplementation is a crucial approach to improve omega-3 index, thereby improving general wellness.
Study:
In this clinical trial, 48 men and 106 women with abdominal obesity and subclinical inflammation were randomised to a sequence of treatment phases: 1-2.7g/d of EPA, 2-2.7g/d of DHA, and 3-3g/d of corn oil (0g of EPA + DHA). The subjects took all the supplements as 3 × 1 g capsules giving for a total of 3g/d for the 10-week treatment phases separated by nine-week washouts. Fatty acid composition of red blood cell membrane and omega-3 index were assessed at baseline and the end of each phase.
It was found that the omega-3 index significantly increased after DHA supplementation, with this increase significantly greater than after EPA supplementation. As the omega-3 index has been shown to predict cardiovascular events, the greater increase in omega-3 index with DHA supplementation than EPA supplementation is consistent with the greater potency of DHA to modulate cardiovascular risk factors.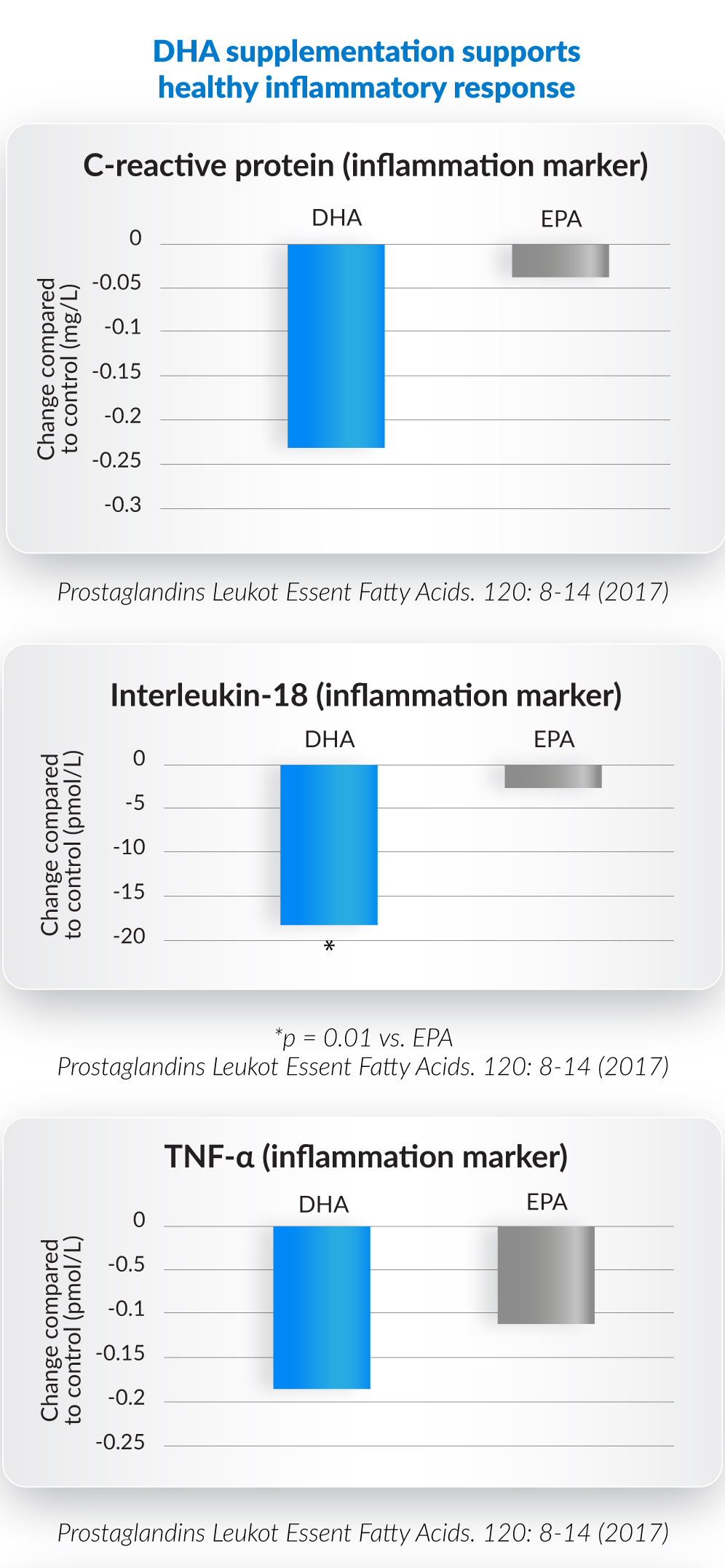 4. Improve cardiovascular health
Cardiovascular disease, which is problems with the heart, blood vessels or both, affect people of all ages. In general, the risk cardiovascular disease increases with age. Omega-3 fatty acids, including DHA have been recommended by the American Heart Association to support cardiovascular health.
Study:
In clinical trial, 38 healthy men and women aged between 40 to 65 years were administered with either 0.7 g DHA/day or placebo. Each treatment phase lasted for 3 months and separated with a 4-month washout period. It was found that the intake of DHA increased proportion of DHA in erythrocytes lipids by 58%, compared with placebo. In addition, the diastolic blood pressure decreased by 3.3 mm Hg and heart rate tended to be 2.1 beats/min lower after DHA treatment than after the placebo period. A lower heart rate would indicate a better health as the heart pumps more blood with each contraction. In brief, these findings suggest that a moderate increase in the daily intake of DHA to about 0.7 g DHA is beneficial to cardiovascular health.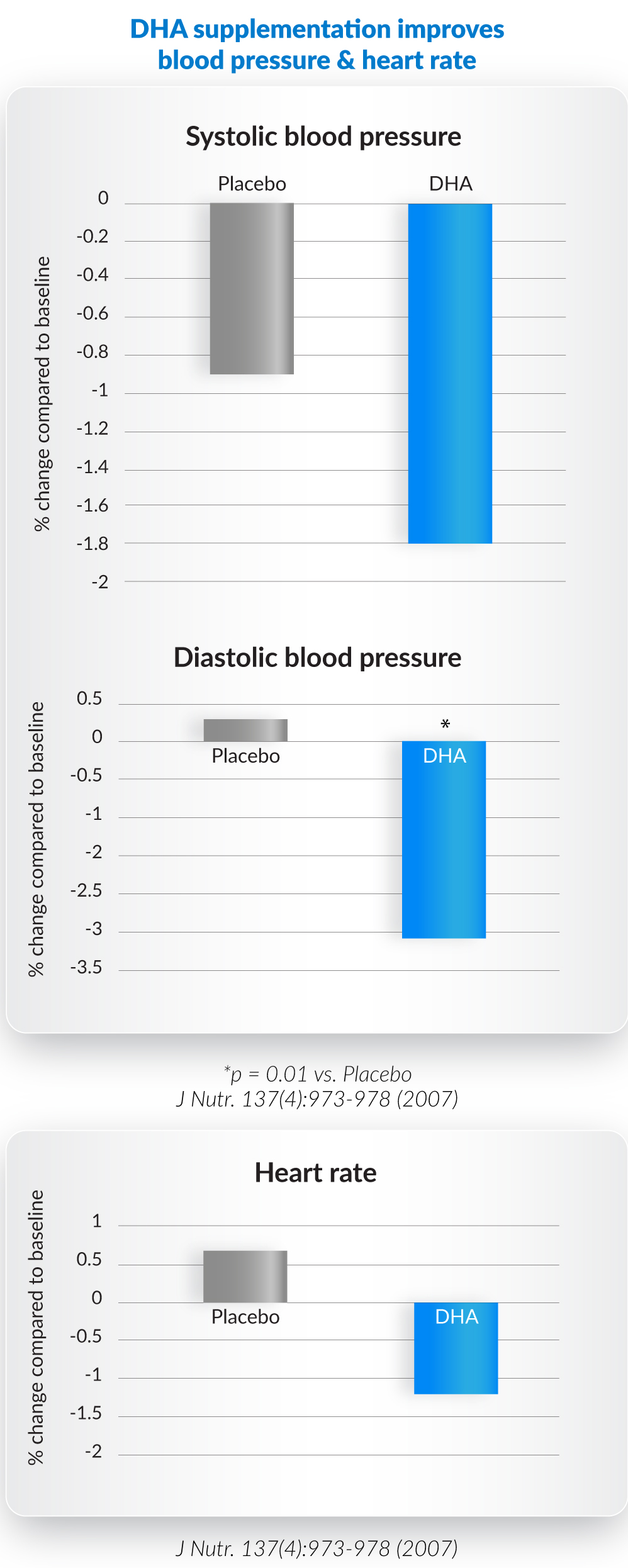 VisionREGAIN is an international award-winning eye supplement formulated with the most researched eye health micronutrients in functional dosage. Taking 1 softgel a day offers intensive protection against blue light, support visual clarity and reduce eye strain.
OmaxPure DHA76 is the most concentrated DHA in the market that helps alleviate dry eyes, support sharp vision and also boost brain health by supporting mental clarity and cognitive thinking.
Natural Protection Against
Light-induced Damage
The eye's natural macular pigment comprising of Lutein and Zeaxanthin. A high Macular Pigment Optical Density (MPOD) is required to provide higher level of protection for the eyes. As Lutein and Zeaxanthin are not produced naturally in the body, you can opt for VisionREGAIN, which offers a functional dosage of these eye nutrients in just 1 softgel.
An intensive dose of DHA from OmaxPure DHA76 helps replenish and support retina health and also alleviate dry eye syndrome. Crossing the blood-retina barrier, OmaxPure DHA76 targets the root cause of dry eyes and is much more effective than eyedrops.
FloraGLO Lutein and OPTISHARP Natural Zeaxanthin
• Hailed as the internal sunglasses for eyes
• Help enhance visual performance
• Protect eye s from blue light damage
• Potent antioxidants that protect the retina from
damage & oxidative stress
AstarReal Astaxanthin
• Powerful antioxidant which helps prevent retinal destruction
• Helps protect photoreceptors (important for visual acuity) from degeneration
Blackcurrent Extract
• A rich source of anthocyanin (more than 35%)
• Helps protect retina against oxidative damage
• Helps maintain retinal vascular function
Superba2 Krill Oil
• Helps maintain the integrity of retina cells
• Promotes retina development and repair
Already formulated with a free-form FloraGLO lutein, VisionREGAIN is enhanced with a proprietary liposomal encapsulation technology which boosts the absorption of lutein in VisionREGAIN by up to 8X higher than uncoated lutein in other vision supplements.
More than just supporting a sharper vision and eye health, a high quality DHA like OmaxPure DHA76 also support brain health, memory and mental clarity. It is highly benefcial for student and even office workers who require a lot of brain power daily.
OmaxPure DHA76 gives the highest DHA content in the market! Fish oil softgels may look similar but a high quality DHA fish oil should have a high DHA & low EPA content to exert positive benefits to the brain & eyes.
Most Concentrated
OmaxPure DHA76 contain 76% DHA omega 3 in rTG form while typical fish oils only contain 30-50% omega 3 in EE or TG form. rTG is the most superior form as it is 24% more absorbable than natural triglyceride, 70% more absorbable and oxidizes 33% less readily than EE form.
Highest Purity
OmaxPure employs Supercritical CO2 technology which is superior to molecular distillation as it uses 350% less heat during the extraction process while still obtaining a high concentration of EPA and DHA.
Ultra Fresh
Most fish oils are already oxidized at the time of purchase and the enteric coating or favoring helps mask the fish smell. OmaxPure Fish oil is encapsulated with OmaxFresh technology (no enteric coating or flavoring). This helps keep the fish oil fresh and ensure the softgel doesn't harden over time for optimally release in the intestine.
Antioxidant Fortification
A synergistic blend of natural vitamin E and Rosemary Extract protects the fish oil from oxidation and rancidity.