Active Ingredient per 6 caplets
MCP-EX Marine (Fish) Collagen Peptide
780mg
Glutathione Yeast Extract
201mg
L-Cystine and Vitamin C
60mg
Daily Dose
Maintenance: 3 caplets
Skin problems and aging: 6 caplets
How to take?
Take Collagen White Beauty before bedtime as the rates of repair and renewal peak at first 2 hours of sleep.
How do I know if I need collagen supplement?
People living in equatorial countries such as Singapore have a higher exposure to UV rays. In a fast-paced environment, coupled with an unhealthy diet; city-dwellers are more prone to skin dryness, dark spots and wrinkles. Research confirms that sunlight and free radicals are major causes of collagen damage and premature ageing in men and women. Collagen depletion will cause the skin to lose its firmness and result in the appearance of fine lines. Besides the skin, collagen is also essential to other parts of the body. It is better to replenish the body's collagen reserves through collagen supplements as foods that are rich in collagen are usually high in fats.
How can I achieve lasting skin fairness and clarity?
There are many ways to achieve fair and clear skin. In addition to skincare, it is important to protect your skin against harmful UV rays with a suitable sun block. Having adequate sleep and adopting a healthy diet are also contributing factors to clear, healthy complexion. AFC Collagen White Beauty is a skin whitening formula rich in essential nutrients to combat skin pigmentation and melanin formation; to restore clear and fair complexion.
What makes AFC Collagen White Beauty an effective oral beauty supplement?
AFC Collagen White Beauty is a triple whitening formula developed with proprietary MCP-EX Marine Collagen Peptides and enriched with Glutathione, L-Cystine and Vitamin C, to nourish and improve skin's imperfections. Thanks to a specialised hydrolysis process, the ultra-small molecular collagen structure is 1.5 times more absorbable than regular collagen, and hence more effectively delivered to the areas where the skin needs most.
MCP-EX Marine Collagen Peptides – Superb collagen absorption to intensively firm and hydrate skin
Glutathione Yeast Extract – Improves skin metabolism, repairs damaged cells and reduces pigmentation
L-Cystine and Vitamin C – Protects cells from toxins, lightens scars and brightens complexion

How soon can I see results?
Depending on user's condition, the result of Collagen White Beauty may vary between individuals. Some people experience smoother and brighter complexion in one week; others may required a longer time to see results. Generally, it takes about 30 days for the skin to be completely renewed.
Do I have to consume AFC Collagen White Beauty regularly?
Yes. It is essential to consume it regularly to see results. Taking AFC Collagen White Beauty daily helps to reverse the decline of collagen in your body and combat unwanted toxins and free radicals. There are no known side effects and it is safe for long-term consumption.
In fact, its natural formula with Glutathione and L-Cystine supports healthy detoxification and protects the body against oxidative stress.

Sun damage is a leading cause of dark spots. When our skin suffers UV damage, it produces melanin, which moves upwards to the skin's surface and causes the skin to darken.
Normally the darkening disappears once regular skin turnover occurs. However, if the damage is severe, skin turnover becomes irregular and causes the dark pigment to remain. These are what we called dark spots.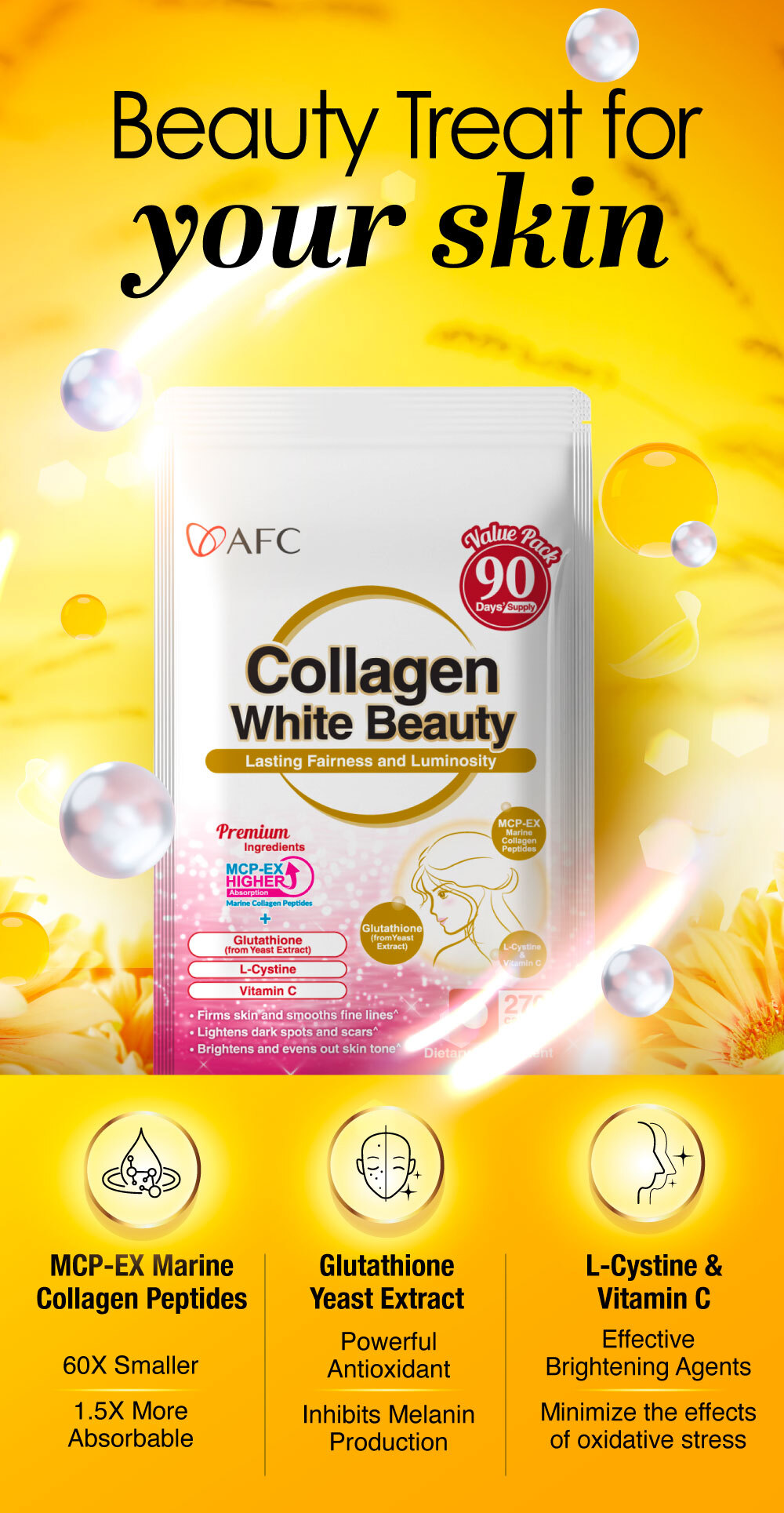 A comprehensive formula developed with proprietary MCP-EX Marine Collagen Peptides, enriched with Glutathione Yeast Extract, L-Cystine and Vitamin C, AFC Collagen White Beauty combats the first signs of aging with these skin-loving nutrients, helping you to achieve the fair and radiant-looking skin you've always desire.




Contents: 250mg X 270 caplets