Active Ingredients per softgel
Lutein (from FloraGLO Lutein 4X) 25mg, Anthocyanins 9mg, Zeaxanthin (from FloraGLO Lutein 4X) 1.3mg, Vitamin A, B1, B6, B12
Other ingredients: Gelatin (Bovine), Medium-Chain Triglycerides (MCTs), Grapeseed Oil, Safflower Oil, Glycerol, Fish Oil, Glycerol Esters of Fatty Acids, Beeswax, Tocopherols, Rapeseed Oil, Palm Oil, Corn Oil, Astaxanthin, Lycopene, β-Carotene, α-Carotene
Bilberry
Marigold Flower
The Science of FloraGLO Lutein
Not all lutein is the same. FloraGLO® Lutein is patented ingredients and recognized worldwide as a quality substance with high potency and stability. Moreover, FloraGLO® Lutein has naturally occuring zeaxanthin, and it does not contain lutein esters, zeaxanthin esters or synthetic carotenoids. As an excellent source of lutein, FloraGLO® Lutein is twice as bioavailable as lutein from spinah or lutein-fortified yellow carrots. Compared to other lutein, FloraGLO® Lutein is most clinical tests. Human studies have shown that FloraGLO® Lutein may provide significant benefits to the eyes and skin.
Daily Dose
1 softgel daily, at any time of the day.
What is so special about the ingredient "FloraGlo Lutein" found in Ultimate Vision?
Many dietary supplements use an alternate, less expensive source of Lutein known as Lutein Esters. Unlike Lutein Esters, FloraGlo Lutein is directly absorbed by the body. FloraGlo Lutein and Lutein Esters are chemically different compounds. FloraGlo Lutein is often referred to as the "free" form of lutein – meaning it is a biologically active antioxidant molecule. In simple terms, it helps stop oxidation before it occurs in the body.
FloraGlo Lutein is produced through a patented process where lutein pigments from marigold flowers are formulated into a marigold oleoresin and then purified into a crystalline form. Through this purification process, the resulting FloraGlo Lutein molecules are chemically identical to the lutein found in those green leafy vegetables we eat. Lutein Esters are also extracted from marigolds but remain in the esterified form. In order for Lutein Esters to be absorbed and used by the body, they must be de-esterified by digestive enzymes to be converted to lutein. This process may require high levels of dietary fat, which may exceed the recommended intake levels for a healthy diet. The rate of conversion of Lutein Esters is influenced by many factors such as a person's health, diet, age, any medications being taken, and so on. In short, the rate of conversion of Lutein Esters to lutein in the body is unknown, so there is no way to know exactly how much actual lutein will be delivered by a product containing Lutein Esters. FloraGlo Lutein on the other hand, is absorbed directly by the body. Since there is no conversion required, you can feel confident you are consuming the same amount of free lutein that is identified on the product label. With FloraGlo Lutein, there is no guessing.
Choose the best quality lutein supplement
1. Opt for lutein in oil-based capsule. Lutein should be taken in oil-filled gel capsule as our body could not absorb lutein without the help of fat. AFC Ultimate Vision contains DHA Extract and Grape Seed Oil for better absorption and added nutritional value to the eyes. As an excellent source of essential fatty acid, DHA Extract helps to support retina functions, lubricate dry eyes as well as reducing eye fatigue. Grape Seed Oil is rich in antioxidants, helpful to protect the eyes from free radical damage and maintaining healthy vision.
2. Avoid product with misleading label. In some lutein products, a higher pre-extracted amount of lutein is used on the label rather than declaring the real amount of elemental lutein. For example, X brand labelled per serving of 3 softgels providing 250mg which is most probably the pre-extract amount of Lutein. Hence, it is important to opt for product with trustable label which providing the real amount of lutein. AFC Ultimate Vision contains 25mg of FloraGLO Lutein Extract, which is the best natural form of lutein extracted from Marigold Flower through patented purification process. In addition, FloraGLO Lutein is the lutein brand most trusted by doctors around the world.
3. Opt for FloraGLO Lutein with highest extraction rate (20%). FloraGLO Lutein is available in 3 extraction rates - 5%, 10% and 20%. These rates are indications of the true active Lutein content (free form Lutein) in a supplement, the higher the value, the better. FloraGLO Lutein 5% and 10% are starch-based and can be only made into powdered or tablet form of supplements. So a powdered eye care supplement which is labeled 100 mg FloraGLO Lutein may contain only 5mg or 10mg of free form Lutein.
AFC Ultimate Vision is made in a softgel form with 20% extraction rate. It contains 25mg of free form Lutein (25mg FloraGLO Lutein Extract - highest content in the market) derived from 125mg of FloraGLO Lutein.
FloraGLO Lutein Extraction Rate
FloraGLO Lutein 5%
Powder, tablet grade and cold water dispersible. Made into powdered or tablet form of supplement.
FloraGLO Lutein 10%
Powder, tablet grade and cold water dispersible. Made into powdered or tablet form of supplement.
FloraGLO Lutein 20%
Fluid suspension in stafflower oil. Made into softgel form of supplement.
Watsons H.W.B (Health.Wellness.Beauty) Awards Winner for 10 consecutive years (2013 - 2022).
Unity Popular Choice and Award Winner for 13 years (2008 - 2021).
Guardian Health & Beauty Awards Winner for 6 consecutive years (2014 - 2019).
Unlike conventional eye supplements, Ultimate Vision 4X is formulated with the best grade FloraGLO lutein and its potency is further enhanced with the revolutionary 4X technology for four times better absorption into the body. In other words, it yields 4 times better results.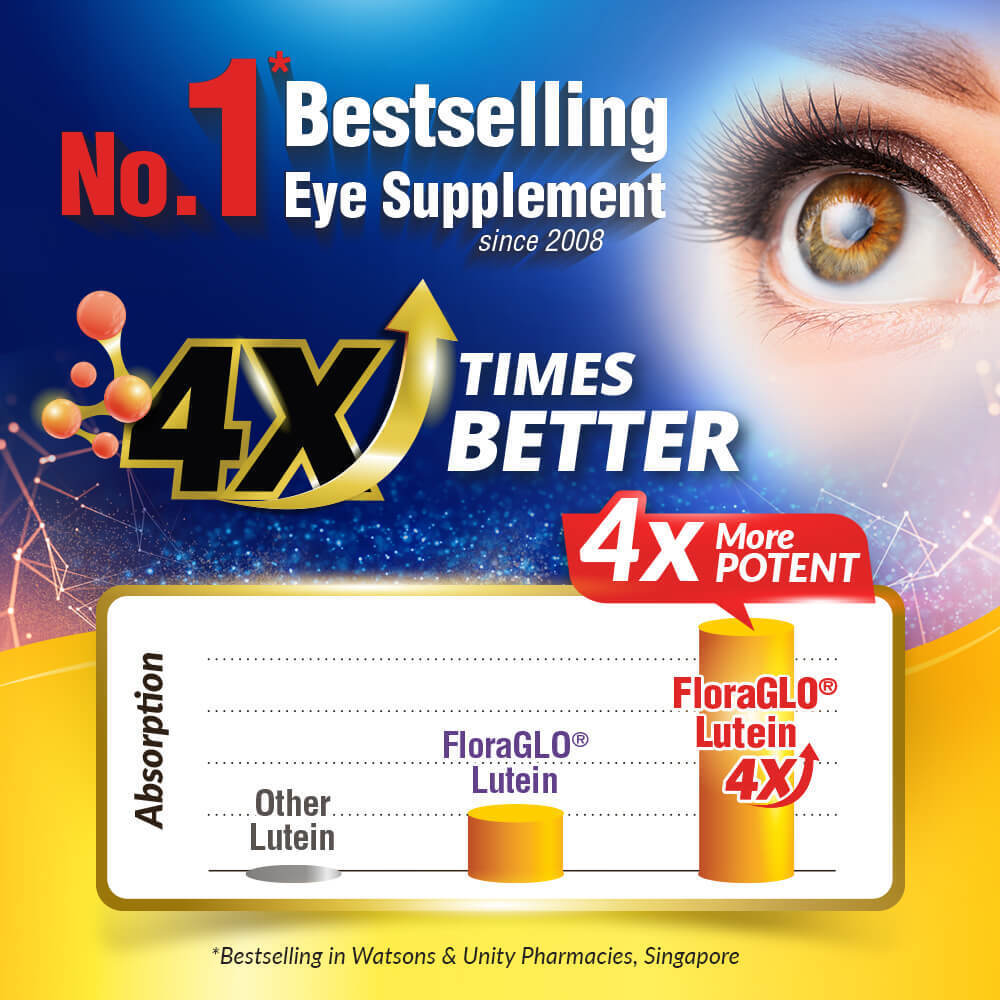 How is Ultimate Vision 4X Superior to Regular Eye Supplements
Ultimate Vision 4X is formulated with FloraGLO Lutein 4X, a patented brand name free form lutein further enhanced with 4X technology for 4 times higher absorption.
Intervention studies have confirmed the efficacy of supplementation with FloraGLO Lutein to increase MPOD and improve visual performance in AMD patients. With FloraGLO Lutein 4X, the efficacy is improved by 4 times.
Lutein and zeaxanthin are found in the macula, a small area in the centre of the retina at the back of the eye that is responsible for sharp and clear central vision, and the ability to perceive color. A healthy macular pigment should be rich in lutein and zeaxanthin, and that is why most eye supplements are also referred to as lutein supplements. Lutein and Zeaxanthin are act as "internal sunglasses" to support macular and retinal health. The macular is particularly susceptible to harmful UV rays and blue light as well as free radical damage.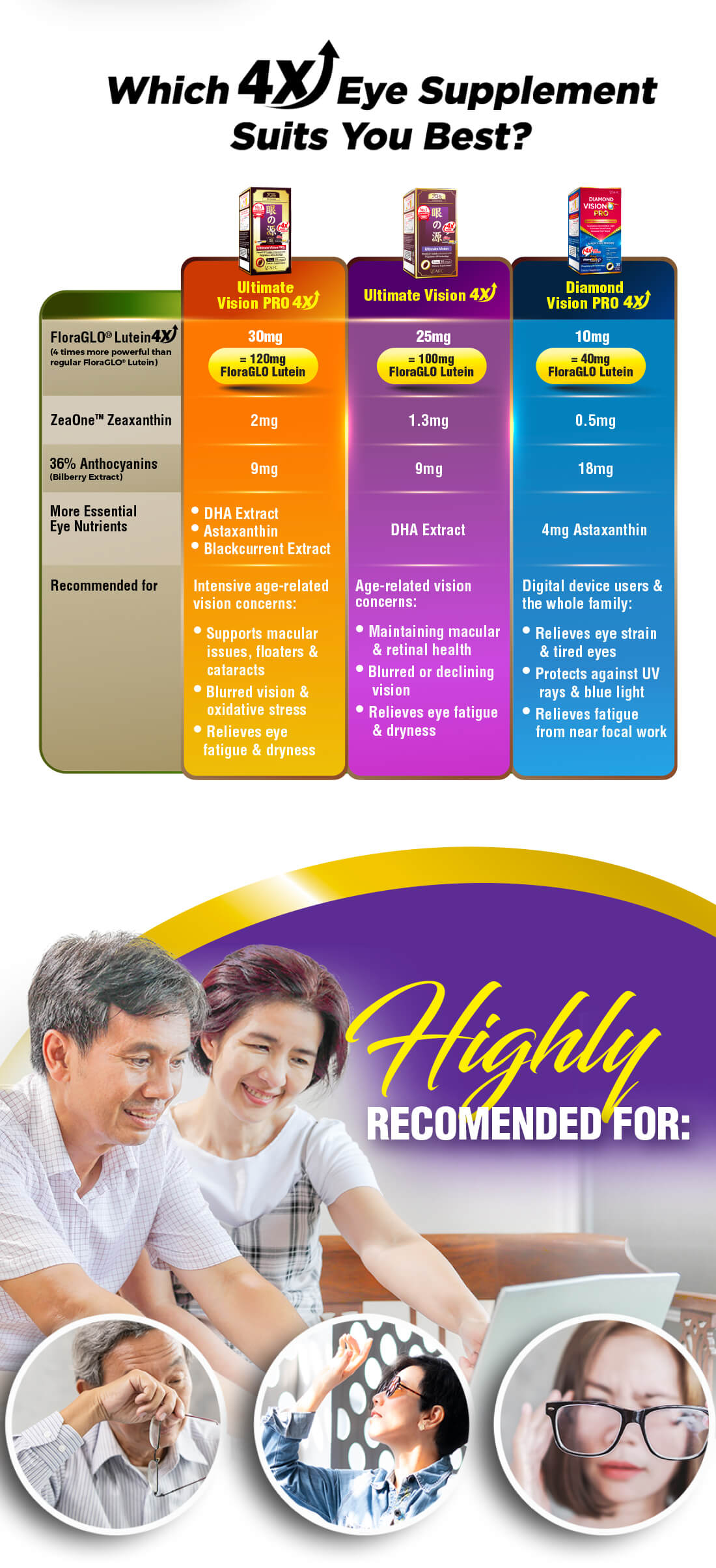 • Those with age-relation vision conditions or are at risk of developing them
• Those experiencing dry eyes and eye fatigue
• Maintaining macular and retinal health
• Those experiencing blurred or declining vision
• Protection against damage by free radicals, UV rays and blue light.
Contents: 30 softgels