Root Vegetable: Radish, Carrot, Turnip, Burdock, Onion, Lotus Root, Ginger, Japanese Ginger, Lily Bulb, Wasabi, Bean Sprout, Leafy Vegetable: Napa Cabbage, Cabbage, Spinach, Corn Marigold, Lettuce, Jew's Marrow, Butterbur, Potherb Mustard, Komatsuna, Chisya, Qing-geng-cai, Shizuoka Lettuce, Honewort, Chinese Chive, Purple Cabbage, Red Leaf Lettuce, Parsley, Chive, Welsh Onion Bud, Celery, Flower Vegetable: Cauliflower, Broccoli, Edible Chrysanthemum, Stalk Vegetable: Bamboo Shoot, Stem of Taro, Udo, Asparagus, Fruit Vegetable: Pumpkin, Cucumber, Melon Cucumber, Eggplant, Tomato, Watermelon, White Gourd-melon, Pineapple, Momordica Charanta, Banana, Melon, Garlic, Small Sweet Green Pepper, Green Pepper, Zucchini, Okura, Potatoes: Potato, Sweet Potato, Taro, Citrus Fruit: Mandarin, Lemon, Small Grain Fruit: Ume, Loquat, Grape, Prune, Citrus Sudachi Hort, Citrus Sphaerocarpa, Big Grain Fruit: Persimmon, Pear, Papaya, Mango, Yuzu, Seaweeds: Kelp, Soft seaweed, Brown Algae, Green Laver, Mozuku, Laver, Akasa, Fungi: Shiitake Mushroom, Hen Of The Woods, Flammulina Velutipe, Shimezi Mushroom, Lingzhi, Wild Grasses: Angelica Keiskei, Plantain, Licorice, Houttuynia Cordata, Chinese Matrimony Vine, Turmeric, Field Horsetail, Silvervine, Biwaba, Beans: Red Beans, Black Soybean, Kidney Bean, Green, Soybean, Grains: Brown Rice, Barley, Adlay, Foxtail Millet, Proso Millet, Barnyard Grass, Corn, Sesame, Nuts: Cashew Nut, Almond,Strawberry.
Direction Of Use
Dosage:
30ml or more daily, can be diluted with 2-5parts of water.May adjust daily dosage depending on individual's needs, weight and health conditions.
The Enzyme Diet
Compliment your weight loss regime with enzyme drinks. It helps to improve digestive health and breakdown fats. Low in calories, it can easily replace meals while restoring essential nutrients to the body.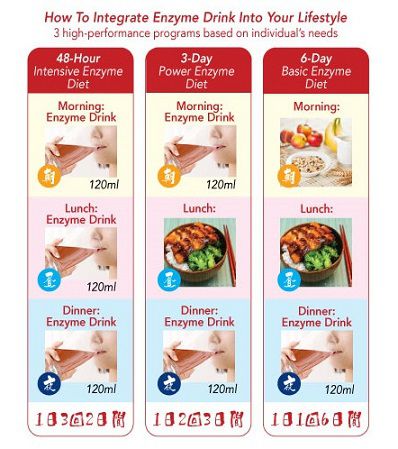 Tasty Alternative Serving:
To enhance the taste of your salad, use enzyme drinks as salad dressing. Delicious and nutritious!
Q. What makes AFC Ultimate Enzyme superior in its ability to be fully digested and absorbed?
A. AFC Ultimate Enzyme is a premium enzyme drink that has undergone 2 years of fermentation and maturation. This results in all the nutrients being broken down into smaller molecules for optimal absorption by the body. Instead of using white sugar, Okinawa brown sugar is used in the culturing process, which retains the enzymes more than those cultured using white sugar. During the fermentation process, large amount of lactic acid bacteria is produced which supports digestion. The low acidity of the drink prevents valuable enzymes from being destroyed by gastric juices.
Q. Can enzymes be used for healthy weight management?
A. Enzyme drinks are usually low in calories and high in full spectrum of nutrients. Taking it before meals helps in digestion and nutrient absorption. Lipase is the enzyme that breaks down (digests) fat. When added to your meal as a supplement, it is able to perform this function in the digestive tract. To further enhance the effect of weight reduction, one may follow a diet plan, replacing unhealthy, high-calorie food intake with an enzyme drink for desirable results.
Q. Can I make and consume DIY enzyme drinks?
Yes. However, there are some precautions you need to consider. The process of fermentation and maturation of enzymes is a delicate one. Home-made fermented drink is susceptible to contamination from harmful bacteria and mold due to mis-handling and may affect the safety of the final product. Incomplete and inappropriate fermentation and maturation methods can result in home-made enzyme drinks developing into alcohol.
Moreover, the selection of raw ingredients are limited to few types of common fruits and vegetables. The cutting and preparation methods may result in oxidation and hence, compromise the nutrition value.
Q. Are there side effects resulting from enzyme drink consumption? Can it be taken daily?
A. Some people may experience nausea, skin rashes, and changes in bowel movement patterns. These are normal responses to the therapeutic effect of the enzyme drink. In general, these symptoms will disappear after 10 days or when the body has adjusted well to the therapeutic effects.
Taking enzyme drinks is recommended as part of our daily dietary habit to support health, beauty and longevity.
Q. Are enzyme drinks suitable for children?
A. Yes, especially if the child has a weak body disposition, poor appetite or imbalanced diet.
1-3 years : 5ml + 50ml water/juice
4-7 years : 10ml - 15ml + 100ml water/juice
8-12 years : 15ml - 20ml + 100ml water/juice
"My skin rashes reduced significantly and the itch is gone!"
I had a 14-day body detox regime in October 2015; during which I consumed only fruits and vegetables smoothies. Then I decided to include AFC Ultimate Enzyme to my menu for variety. Throughout the 14 days, I drank 90ml of AFC Ultimate Enzyme 3 times a day. I realised that adding AFC Ultimate Enzyme to my diet makes me more energetic. I didn't feel hungry at all, and still have the energy for exercise. Prior to the regime, I had rashes on my skin which required traditional Chinese medicine once a week to ease the itch. On the first week after I started on AFC Ultimate Enzyme, I found that my rashes were under control, I didn't need any medication. As I progressed into the second week with AFC Ultimate Enzyme as part of my diet, I saw that my rashes had reduced significantly and no longer itched. My skin had healed naturally on its own without any medication. I'm really inspired by the effects of AFC Ultimate Enzyme on me, it had improved my immune system. I would recommend this wonderful supplement to my friends and share with them to add it to their meals. I love AFC Ultimate Enzyme, I am still taking 30 ml every morning for health maintenance. Thank you AFC!
Jessie Loke, 34, Manager, Singapore
Watsons H.W.B (Health.Wellness.Beauty) Awards Winner 2020-2023
Unity Popular Choice and Award Winner 2015
This 100% pure botanical extract combines 106 whole foods to undergo 2 years of full fermentation and maturation to achieve a purer and more concentrated enzyme extract which helps support digestion, nutrient absorption and detoxification.
FiberGG combines the most researched probiotic strain ( l. rhamnosus GG) and prebiotic (Sunfiber) to support everyday digestive balance and bowel regularity. Unlike other fibers, it does not cause any excess gas, bloating or cramping.
Why do I need Ultimate Enzyme?
• Bestselling Enzyme drink in Watsons from 2020-2023
• 100% pure enzyme from Japan
• Research proven to improve bowel movement, skin complexion & weight management
• No additives, preservatives, dilution or coloring
Why do I need FiberGG?
• Supports bowel regularity
• Improves occasional constipation and diarrhea
• Helps reduce hunger and improve appetite control
• Supports overall gut health which also improves skin health
Ultimate Enzyme can help improve digestive health and breakdown fats. Take with FiberGG to further improve digestive wellness and bowel regularity for overall healthy weight management, body detox and improved skin complexion.

Most researched probiotic & prebiotic in 1 sachet!
FiberGG is formulated with Sunfiber™ (Partially Hydrolyzed Guar Gum) which helps food digest comfortably and move through the gut at the right pace. This helps normalize the digestive system and improve both occasional constipation and diarrhea. FiberGG is also fortified with 10 billion Lactobacillus rhamnosus GG which effective restores the natural gut flora balance and healthy immune system.
Unlike regular uncoated probiotics which are prone to destruction, FloraGG® is embedded in the core, surrounded by 5 protective layers. This provides a physical barrier to protect the probiotics against hard conditions of the body, stress and humidity, thereby increasing the rate of intestinal colonization and keeping the intestinal lining healthy.