Water, Alcohol, Pentylene Glycol, Cellulose Gum, Butylene Glycol, Proprietary Bioactive Placenta and Umbilical Peptides from Porcine, Hyaluronic Acid, Roman Chamomile Extract (Anthemis Nobilis Flower Extract)
Direction of use
• Remove cap along with aluminium seal. Replace wtih transparent resealable cap.
• Pour a few drops onto palm. Apply over cleansed face, neck and eye area till it's completely absorbed. Reapply 2 to 3 times on skin areas with special concerns or laser-treated areas. Continue with your usual skincare regime. Recommended to use in the morning and at night.

• For Best results: Best results could be observed when combined with Le Ageless Intense Cell Activator oral supplement for a complete rejuvenation inside out.

• Contents: 6ml x 4 bottles (28-day therapy)

• Keep the product in a cool dry place and away from direct sunlight. Close cap tightly after each use. Do not apply on areas with open wound.

• Finish the content of each vial within 7 days after opening.
Complement with Le Ageless for best results.
Efficacious, cost effective and time-saving, all in one essence.
Le Revital is a non-oily and non-comedogenic skin essence, it can be applied on the entire face, including the eye and neck areas. An excellent solution for ageing skin problem around the eye – wrinkles, fine lines, crow's feet and dark circle, now you can say goodbye to all your eye cream, eye serum and anti-wrinkle cream! Choose Le Revital – the all-in-one essence for ageless and youthful skin and you'll be saving money, time and all the hassles.
The following are extracted from published clinical studies, in-house studies, and/or case studies and are for reference purposes only. This does not imply that the product from Lifestream Group Pte Ltd is claimed to replicate the same results produced in the studies. This information is not a substitute for professional medical advice, diagnosis, or treatment. If you have any questions about a medical condition, please consult your physician or other qualified healthcare providers. Any statements or claims made have not been evaluated by the relevant regulatory bodies and are not intended to diagnose, treat, cure, or prevent any disease.
By using the Site, you agree that you have read and acknowledge the above and the Terms of Use for this Site.
Scientific Studies and Case Study

1. Skin Healing Effects After Laser Treatement
The study was based on 105 subjects who used Le Revital immediately after laser or Intense Pulse Light (IPL)
treatment. It is applied on the treated area 3 times a day. The level of skin improvement is observed. Scores are kept according to internationally recognised GAIS standards. Results show:
2. Lighten Pigmentation, Improve Skin Luminosity and Fairness
Potent antioxidant to inhibit the formation of melanin, lighten pigmentation and age spots. Promote rapid
recovery from damage caused by UV rays.
3. Anti-inflammatory Effects on Skin
Hyaluronidase activity in the body, acts as an indicator of inflammation effect, which contributes to skin ageing.
4. Anti-ageing effects
Reduction in collagen-producing fibroblast cells with increasing age is considered as one of the main causes of
ageing. A higher level of fibroblasts after application of placenta indicates better anti-ageing effect on skin.

Case Study on Atopic Dermatitis

Patient has Atopic Dermatitis (Eczema) condition on the face. Patient consumed 1 capsule of Le Ageless and applied Le Revital 3 to 4 times daily. After 6 months of treatment, her skin dryness and redness skin improved remarkably.
Suitable for all skin types to defend premature ageing; and individuals with skin conditions such as:
• Pigmentation, age spots
• Dull complexion, uneven skin tone
• Pimples and scars
• Dehydrated skin
• Saggy skin
• Wrinkles, crow's feet
• Post-laser treatment care
• Atopic dermatitis
• Hypersensitivity, flushed skin
• Hyperkeratosis
• Vitiligo
Contents: 4 vials
Freckles & Wrinkles

How are freckles formed?
Melanin content determines the colour of human skin, hair and eyes. When there is an excessive increase in
epidermal melanin, it results in the formation of freckles. Melanin increase can be divided into internal causes such as abnormal hormone secretion and external causes such as ultraviolet rays and inflammation.
How are wrinkles formed?
There has two types of wrinkles - fine wrinkles due to dehydration and deep wrinkles caused by loss of elasticity in ageing skin.
The Process of Premature Skin Ageing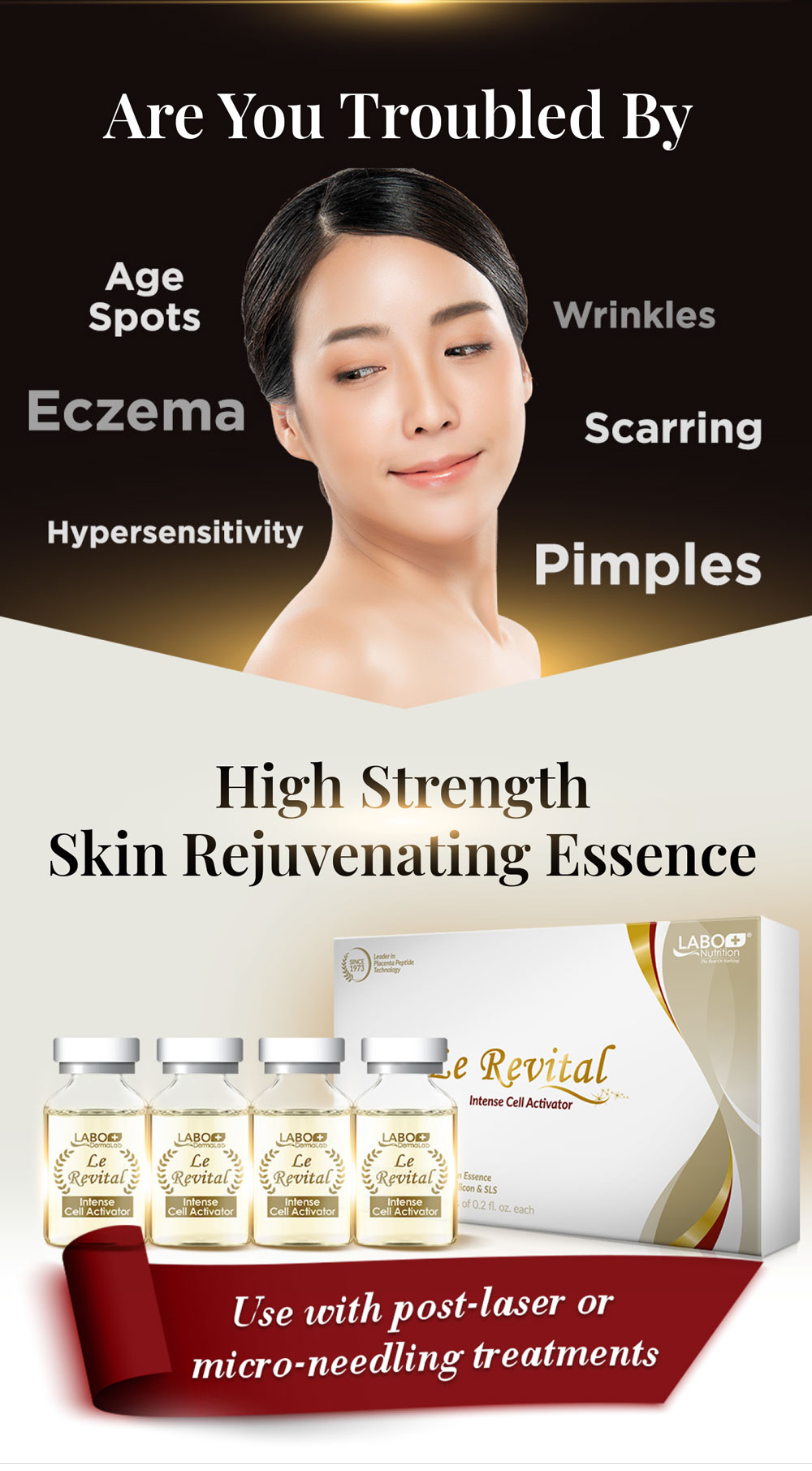 Scientifically Proven Benefits
1. Promote Youthful Skin
• Accelerate cell renewal; delay premature ageing to retain youthful skin
2. Lighten Pigmentation, Improve Skin Luminosityand Fairness
• Potent antioxidant to inhibit the formation ofmelanin, lighten pigmentation and age spots
• Promote rapid recovery from damage caused by UV rays
3. Increase Skin Firmness and Reduce Signs of Ageing
• Promote collagen production to increase skin firmness and reduce wrinkles
4. Deep Hydration
• Control sebaceous secretion and moisture balance
5. Anti-inflammatory and Fast Healing
• Soothe sensitive skin and inflammation caused by heat, sunburn and foreign aggravators
• Repair wounds and suppress scar formation especially after laser or medical treatment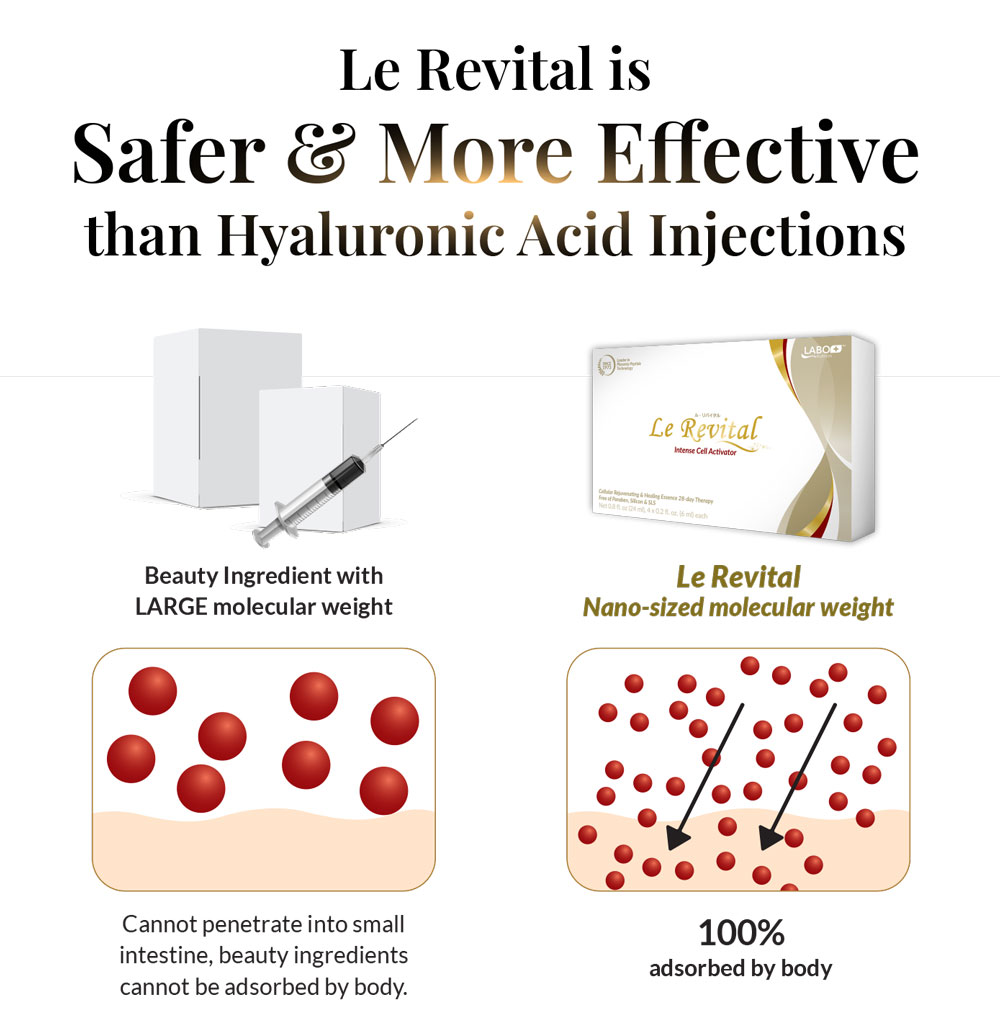 Le Revital is recommended for:
• Age spots, dull complexion, uneven skin tone
• Scars & pigmentation
• Saggy skin, wrinkles, crow's feet
• Post-laser treatment care
• Hypersensitivity, flushed or reactive skin
Patient with eczema showed significant improvement after consuming 1 capsule of Le Ageless and applying Le Revital daily. Skin dryness and redness disappeared after 4 months.
Bioactive Placenta Peptides
Contains rich growth factors, vitamins, mineral and other nourishing nutrients which support cellular repair and rejuvenating aging and damaged tissues.
Scientifically Proven To:
• PROTECT –Anti-oxidative eect to protect against environmental damage
• REGENERATE – Stimulate cell rejuvenation and slow the ageing of skin cells
• HYDRATE – Deep hydrating factors that stimulate circulation and infuse cells with moisture
• REPAIR – Stimulate skin cell turnover to repair damaged skin
• RESTORE – Promote cell renewal
• SOOTHE – Anti-inflammatory effect to calm sensitivity, redness and allergies
Umbilical Extract
• Deep moisturizing effect
• Strengthens skin barrier
• Anti-inflammatory effect
• Improves skin microcirculation
Roman Chamomile Extract
• Anti-inflammatory and anti-bacterial eects
• Reduces pimple, acne breakout and sensitivity
Sodium Hyaluronate
• Moisturizing effects
• Stores large reserves of water in the cell
Formulated with >99% bioactive placenta peptides, Le Ageless rejuvenates the body on a cellular level, aiding to repair body cells, awaken the anti-aging factors and promote collagen production to restore youth and vigor.
Backed by extensive scientific studies, Le Ageless can help improve skin elasticity, firmness, fight hair loss and thinning and support age-related issues such as lethargy, saggy skin and bust.

Bioactive Placenta Peptides is derived from stringently selected, quality porcine sources from Japan. It is developed under stringent quality control and safety standards approved by the Japan Health Food Association and trusted by leading anti-ageing clinics in Japan.

Trusted by leading anti-ageing clinics in Japan, Le Revital is researched and developed by Japan's largest placenta life sciences corporation, the leader in bioactive placenta peptides cellular technology. Le Revital contains growth factors naturally derived from Bioactive Placenta Peptides to promote cell activation, rejuvenation and skin cell repair for youthful looking skin.

Light weight, non-oily and non-comedogenic, Le Revital has highly bioactive content and is free of chemicals typically found in commercial skin care.It does not contain Paraben, Sodium Lauryl Sulphate(SLS), Propylene Glycol, Preservatives, fragrances, colouring, surfactants, mineral oil, silicon, lanolin or phenoxyethanol.

Employing specialized cold process, multi-enzymatic degradation and nanofiltration technology, high levels of bioactive contents are retained while all unwanted impurities are eliminated.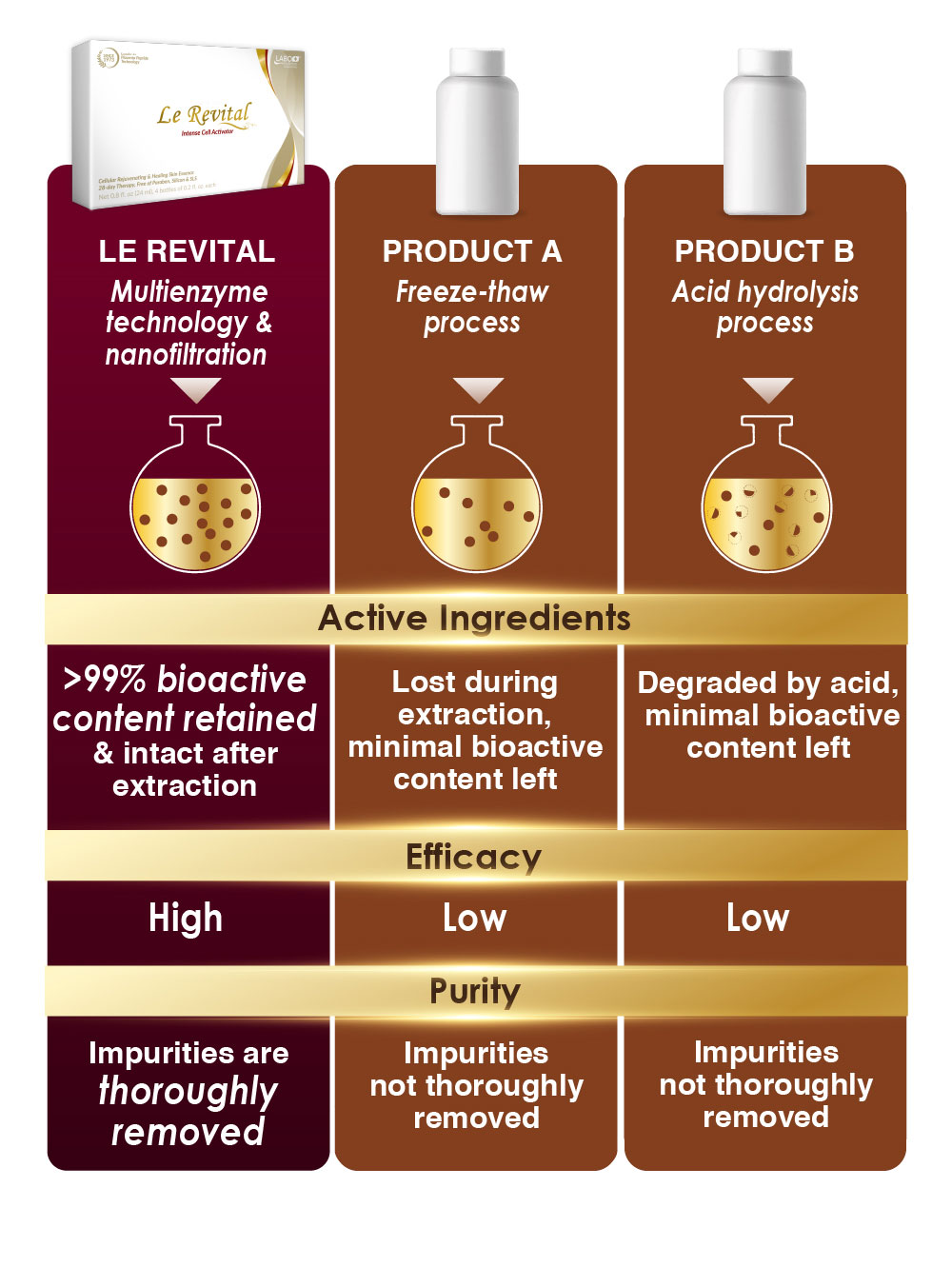 Contents: 4 vials