Active Ingredients:
Water, Cocamidopropyl betaine, Decyl glucoside, Sodium chloride, Sodium cocoyl glutamate, Cocamide mea, Glycerin, Menthol, Cornmint oil, Allantoin, Menthoxypropanediol, Sodium pca, Glutamic acid, Glycine, Leucine, Arginine, Proline, Tyrosine, Lysine hcl, Rhodomyrtus tomentosa fruit extract, Histidine hcl, Serine, Valine, Sodium aspartate, Threonine, Alanine, Isoleucine, Phenylalanine, Prunus yedoensis leaf extract, Anthemis nobilis flower extract, Calendula officinalis flower extract, Centaurea cyanus flower extract, Chamomilla recutita (matricaria) flower extract, Hypericum perforatum flower/leaf/stem extract, Tilia cordata flower extract, Allium sativum (garlic) bulb extract, Arctium lappa root extract, Arnica montana flower extract, Hedera helix (ivy) leaf/stem extract, Lamium album flower/leaf/stem extract, Nasturtium officinale leaf/stem extract, Pinus sylvestris cone extract, Rosmarinus officinalis (rosemary) leaf extract, Taurine, Disodium inosinate, Disodium guanylate, Citric acid, Butylene glycol, Alcohol, Polyquaternium-10, Sodium carbonate, Pentasodium pentetate, Peg-60 hydrogenated castor oil, Methylparaben, Phenoxyethanol, Orange Oil
How to use?
Wet hair, massage into entire scalp, rinse well. Gently blot hair with towel.
Use 1 to 3 pumps for each wash, one bottle lasts 2-4 months.
For best results, follow with Shokaigan Intensive Hair Grow Tonic.
Q. What are the differences between SHOKAIGAN Intensive Scalp Therapy Shampoo EX and SHOKAIGAN Cool Shampoo?
A. SHOKAIGAN Cool Shampoo is an enhanced formulation of the successful SHOKAIGAN Intensive Scalp Therapy Shampoo EX which has sold 1.5 million bottles in Japan. Further infused with Menthol,Cornmint oil and Orange Oil, SHOKAIGAN Cool Shampoo leaves a cooling sensation on the scalp, making it an ideal choice for Singapore's hot and humid weather. Menthol, Cornmint oil and Orange Oil are effective in cleaning out excess oil from scalp and is known to have a soothing effect. SHOKAIGAN Cool Shampoo is suitable for all hair and scalp types; especially oily, itchy and sensitive scalps. Similar to SHOKAIGAN Intensive Scalp Therapy Shampoo EX, this new formula is also approved as Quasi drug in Japan, for its powerful effect in reducing hair loss and promoting hair growth.
Q. Can I use the SHOKAIGAN Cool Shampoo together with SHOKAIGAN Intensive Hair Growth Tonic?
A. SHOKAIGAN is a 2-step scalp therapy system specially developed to reinforce the mutual benefits of the shampoo and tonic. Hence, it is best to use SHOKAIGAN Cool Shampoo and follow with SHOKAIGAN Intensive Hair Growth Tonic for optimum efficacy.
Q. Is the shampoo suitable for coloured or chemically-treated hair?
A. SHOKAIGAN Cool Shampoo is a plant-based formula, free from harsh ingredients such as Sodium Lauryl Sulfate, silicone, artificial fragrance or colouring. Thus, it is suitable for all hair types, including coloured or chemically-treated hair.
You're spoilt for choice when shopping for hair shampoo; but did you know that mass market shampoos often contain petrochemical derivatives that severely stress the hair follicles, scalp and oil glands, leading to early hair loss?
In addition, these shampoos may also contain Sodium Lauryl Sulphate (SLS) that strips hair of its moisture, leaving it dry and weak.
Chemical damage to hair follicles and oil glands interrupt the blood flow, resulting in flaky and itchy scalp. Under such "stressful" condition, the hair follicles shrink in size, causing hair strands to shed prematurely; while the oil glands swell and secrete more oil in response to the harsh detergents, clogging up the already shrunken hair follicles.
• Promote hair growth and increase hair volume
• Cleanse scalp gently yet thoroughly without stripping away moisture
• Nourish and moisturise hair
• Restore elasticity and strength to hair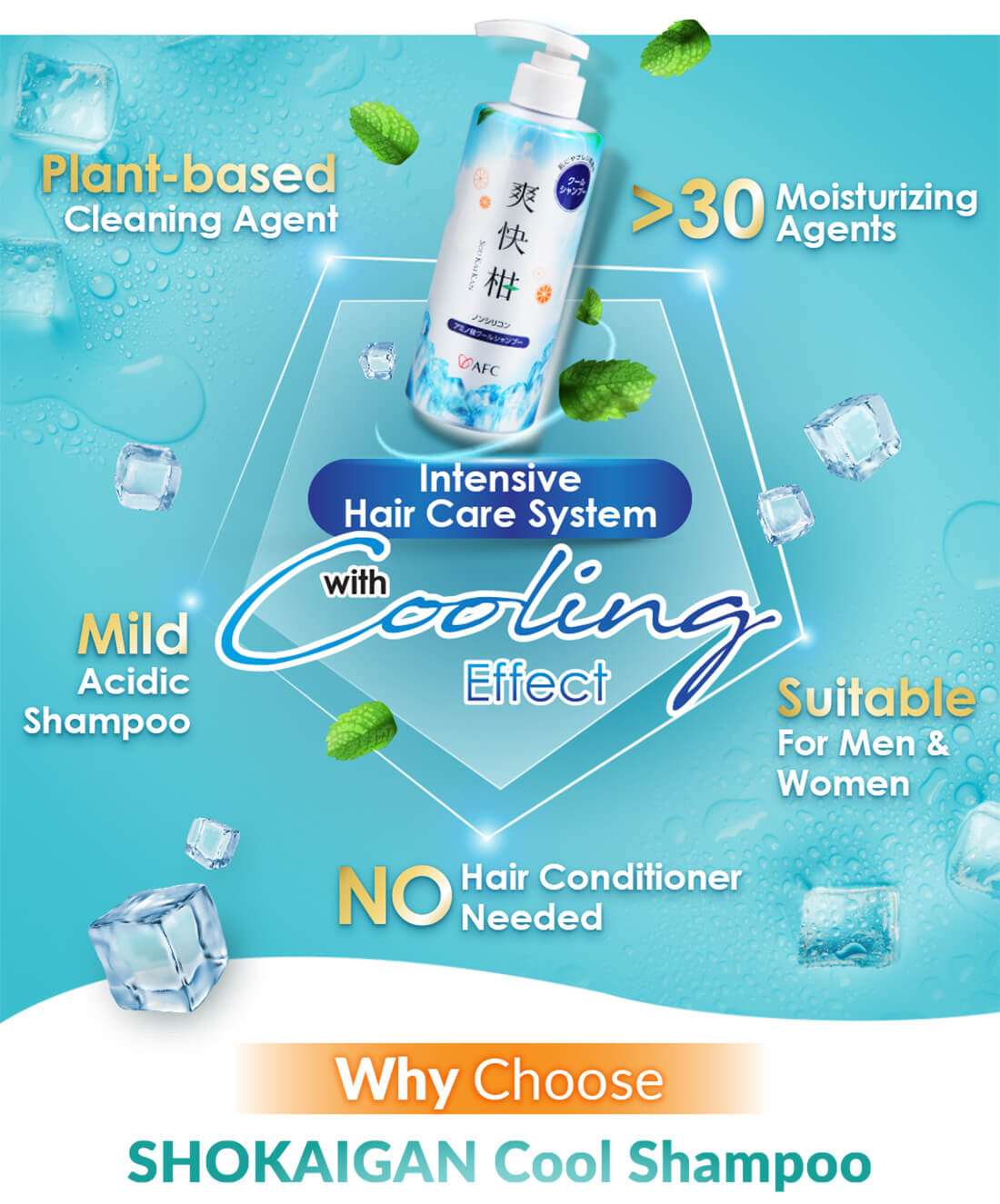 1. Gentle on Scalp, Strong in Reducing Hair Thinning
Plant-based formula with hair-friendly active ingredients to keep hair fresh and manageable while purifying and refreshing scalp.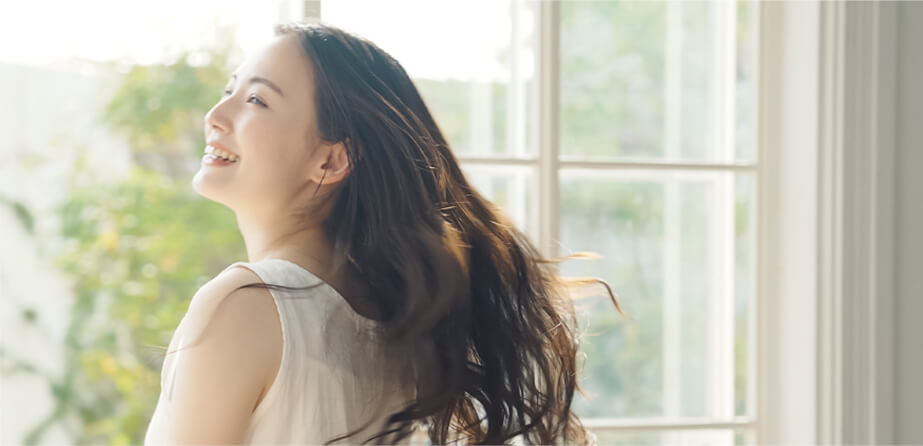 2. Refreshing, minty sensation
3 refreshing ingredients for cool and minty sensation which is suitable for itchy or sensitive scalp. Excellent for use after sports or during the hot weather.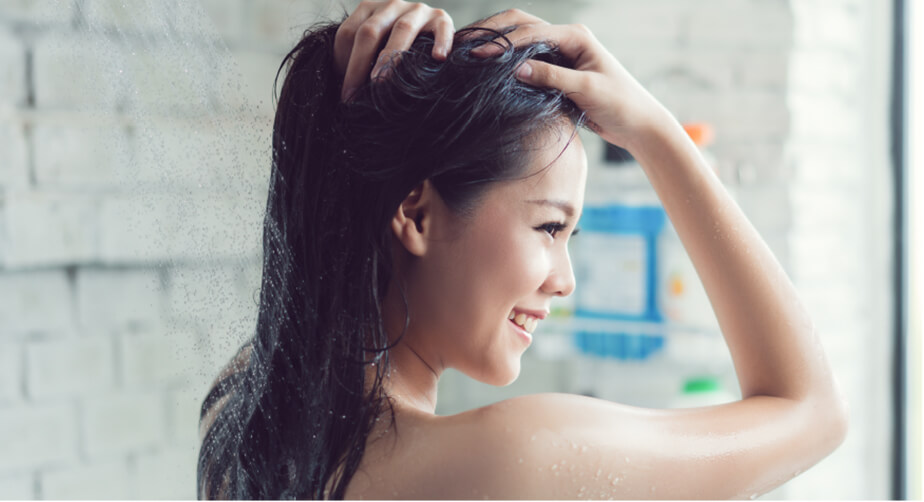 3. Free from Harsh Ingredients
4. Proven effectiveness
• Upgraded version of highly successful SHOKAIGAN formula that has sold over 1.5 million bottles in Japan.
• Researched and formulated by Nihon Preventive Medical Laboratory, Japan
• Approved as Quasi-drug by the Japanese health authority
Powerful duo for Optimum Efficacy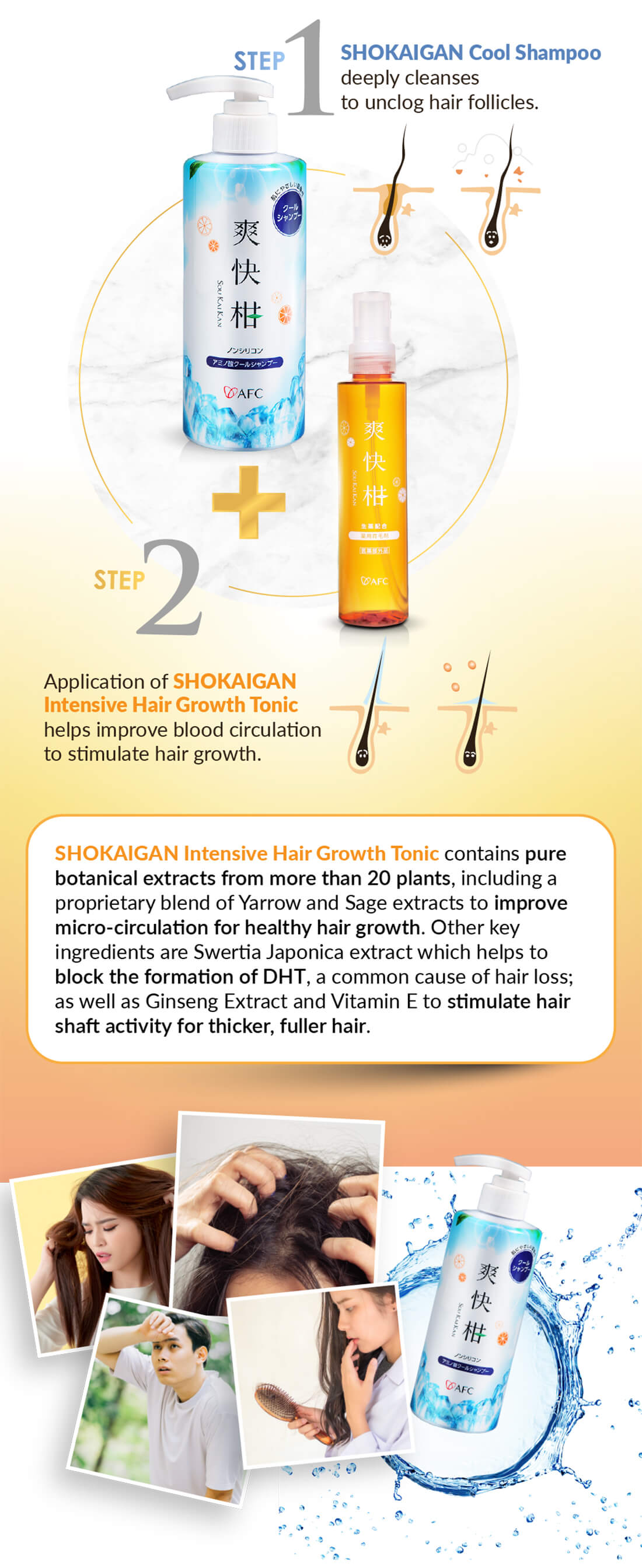 SHOKAIGAN Cool Shampoo is recommended for:
• Itchy and sensitive scalp
• Improving hair and scalp health
• Individuals with weak hair and hair thinning concerns
• Those who want to improve hair condition to prevent premature hair loss
• Ideal for hot weather or after sports
• Suitable for men and women of all hair types
Contents: 500ml