Ingredients per 1 softgel
Superba 2 Krill Oil (contains 400mg Phospholipids, 240mg Omega-3 Fatty Acids (136mg EPA and 60mg DHA),200mcg Astaxanthin), Choline 55mg
Research Proven Health Benefits of Krill Oil
*Fully Backed By Clinical Trials
The following are extracted from published clinical studies, in-house studies, and/or case studies and are for reference purposes only. This does not imply that the product from Lifestream Group Pte Ltd is claimed to replicate the same results produced in the studies. This information is not a substitute for professional medical advice, diagnosis, or treatment. If you have any questions about a medical condition, please consult your physician or other qualified healthcare providers. Any statements or claims made have not been evaluated by the relevant regulatory bodies and are not intended to diagnose, treat, cure, or prevent any disease.
By using the Site, you agree that you have read and acknowledge the above and the Terms of Use for this Site.

Increase omega-3 index
Omega-3 index is a measure of the amount of EPA and DHA in the blood, specifically the red blood cell membranes. A high omega-3 index indicates an excellent state of health and well-being, while a low omega-3 index suggests a higher risk of sudden cardiac death.
In a clinical trial, a total of 300 volunteers with "borderline high" or "high" blood triglyceride levels were divided into 5 groups. Their diets were supplemented with Superba krill oil at either 0.5, 1, 2 or 4 g per day or placebo (olive oil) for 12 weeks. Compared to placebo group, those administered with krill oil had a statistically significant 10% reduction in serum triglycerides and remarkable improvements in omega-3 index. Subjects taking 4 g of krill oil daily increased their omega-3 index from 3.7% to 6.3%.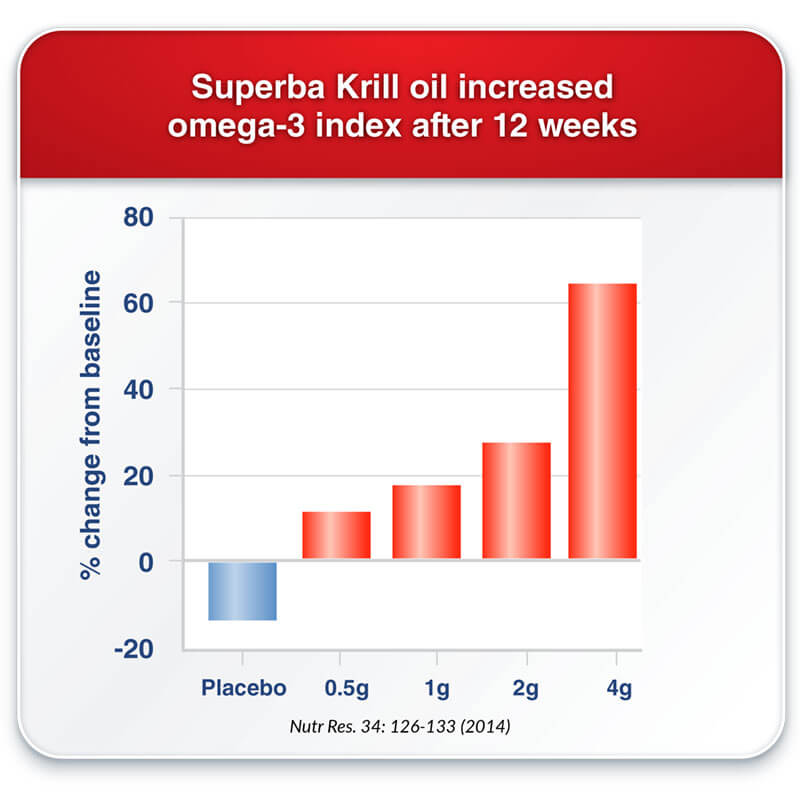 In an unpublished study, health volunteers were orally administered either 2 g of Superba krill oil or 2g of omega-3-enriched fish oil for 8 weeks. Results showed that krill oil increased the omega-3 index significantly more than fish oil after 8 weeks of supplementation. After dose adjustment between the two groups, krill oil increased the omega-3 index by about 70% more than fish oil at the end of the study.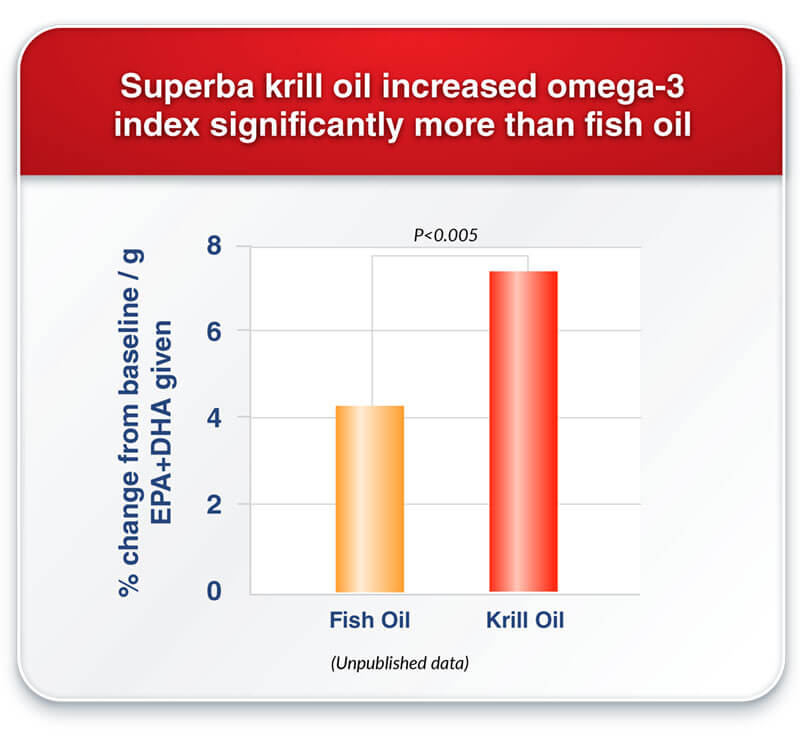 Heart Health
Krill oil contains omega-3 fatty acids, particularly EPA and DHA that are available in phospholipid structure, allowing it to be readily absorbed by the body. It is also more efficient in supporting healthy blood lipid profile and heart health compared with conventional fish oil.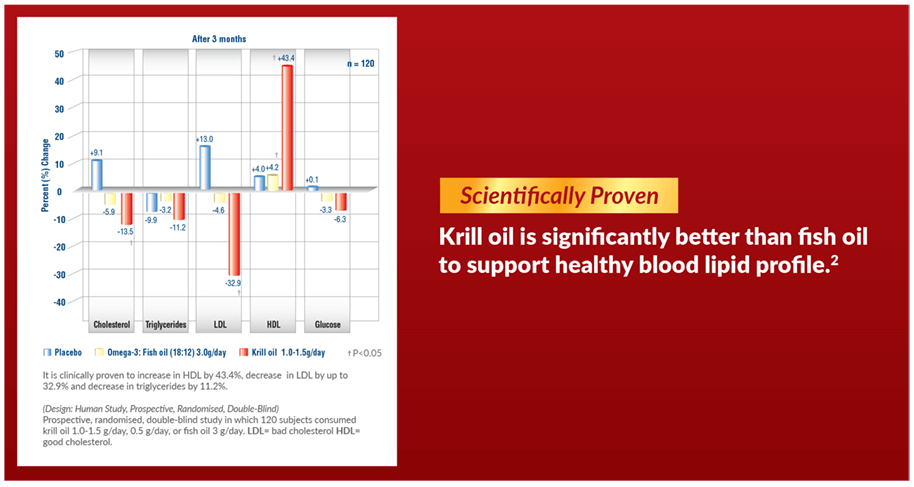 Joint Health
Krill oil helps to promote joint health and flexibility by reducing plasma C-reactive protein, a key marker of joint inflammation.

Brain Health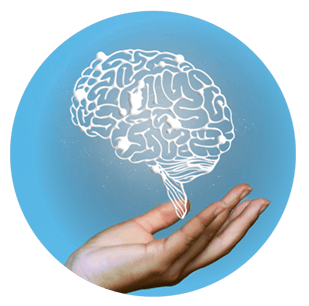 Krill oil is rich in omega-3 and phospholipids which are vital nutrients that support healthy cognitive functions, especially in promoting better concentration and focus.
Krill oil provides antidepressant-like effects. The synergy of various components in krill oil, such as omega-3 phospholipids and astaxanthin plays a role in combating depression.
One way of measuring the state of depression in rodents is the Forced Swimming Test (FST). The immobility time (passive floating in water) is a measure of depression-like behaviour (learned helplessness). The group which was given krill oil showed decrease in the duration of immobility compared to control group.
Krill oil improves ADHD symptoms
An unpublished data showed that krill oil helped improve the behaviour and daily function capacity in children with attention-deficit/hyperactivity disorder (ADHD). ADHD is a neurodevelopmental psychiatric disorder that makes it difficult for a person to pay attention and control impulsive behaviours.
Women's Health

Krill oil helps to relieve physical and emotional symptoms associated with women's menstrual cycle.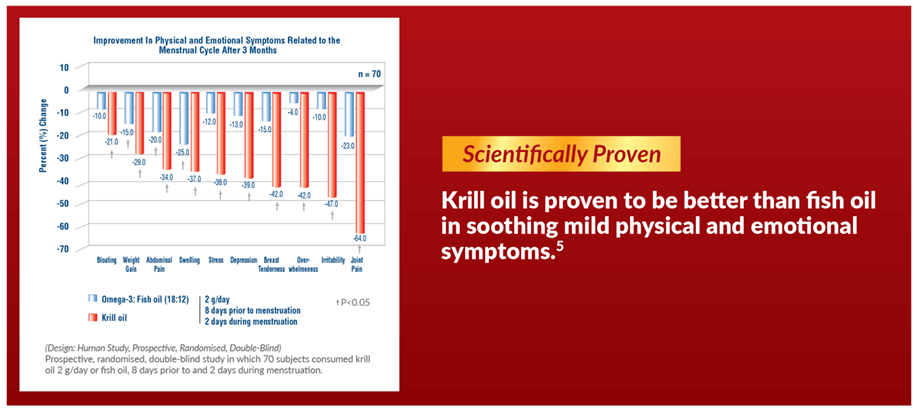 Liver Health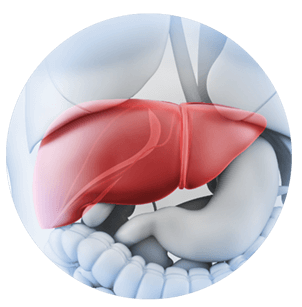 Krill oil helps reduce liver triglyceride (fat). These effects were associated with a lower concentration of anandamide (AEA) in the liver, which in turn was associated with lower levels of arachidonic acid in membrane phospholipids. AEA is the endocannabinoid responsible for non-alcoholic liver triglyceride (fat) deposition in rodents. These results suggest that beneficial effects of krill oil are the result of changes in membrane fatty acid composition.
Eye Health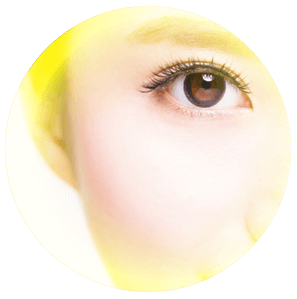 Krill oil helped soothe dry eye symptoms by reducing OSDI score*, ocular bulbar redness (eye redness) and proinflammatory cytokines (IL-17A).
*The Ocular Surface Disease Index (OSDI) is a 12-item scale for the assessment of symptoms related to dry eye disease and their effect on vision, with higher scores representing greater disability.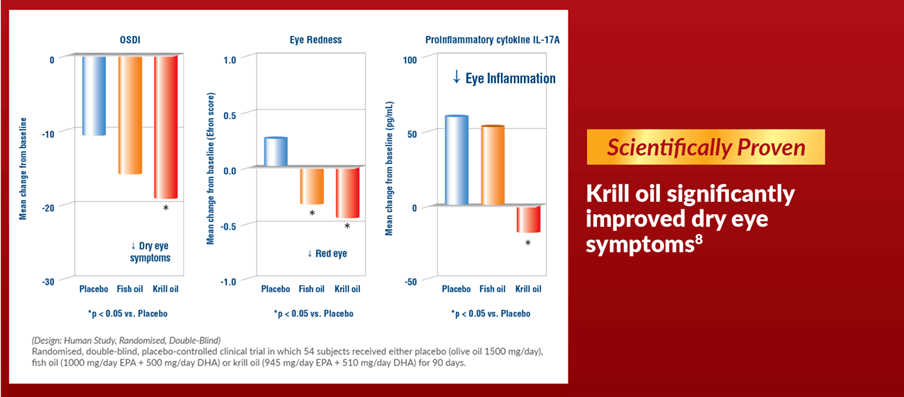 Intestinal Health
Krill oil reduces intestinal inflammation by weakening adhesion and invasion of harmful bacteria (e.g. E. coli) in intestinal lining cells and reducing proinflammatory cytokines (TNFα).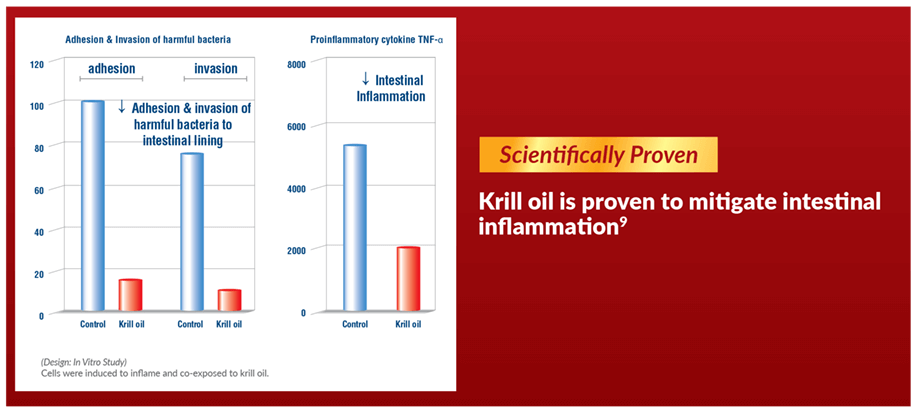 Skin Health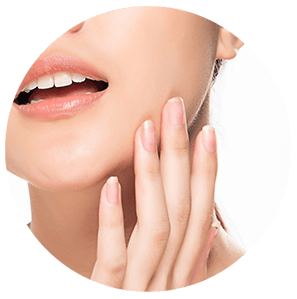 Research conducted on Superba krill oil demonstrated significant improvements in skin hydration and elasticity, which may improve skin smoothness and softness.
Weight Management
In a 4-week, randomised, double-blind, controlled, parallel clinical trial, 63 men and women (35 – 64 years old) with waist circumference of 102 cm or greater (men) or 88 cm or greater (women) were included. Overweight (OW) and obese (OB) subjects have increased levels of endocannabinoids than normal weight (norm) subjects. Over-activation of endocannabinoid system increases food intake and promotes weight gain. In this study, intake of 2 g per day of krill oil was able to significantly reduce 2-arachidonoylglycerol (2-AG), which is an endocannabinoid in obese subjects.
Krill oil significantly reduced circulating anandamide (AEA) and 2-arachidonoylglycerol (2-AG) in obese subjects. An increase of AEA and 2-AG was associated with weight gain. Circulating 2-AG levels in obese individuals strongly correlated with visceral adipose tissue, high triglyceride levels, low HDL-cholesterol levels and indices of insulin resistance.
Cachexia management
Cachexia is a complex syndrome associated with an underlying illness that results in extreme loss in weight and body fat. This syndrome affects people in the late stages of serious diseases like cancer and cannot be reversed nutritionally. This is characterised as anorexia, muscle wasting and lipid profile disorder.
In an unpublished study, krill oil was shown to improve blood lipids in advanced cancer patients with cachexia, They were shown to have reduced triglyceride (TG), increased HDL (good) cholesterol and reduced LDL (bad) cholesterol levels. Furthermore, their inflammation markers were reduced and endocannabinoid system parameters, normalised. Endocannabinoids are molecules made by the body and they are responsible for overall body weight control.
Sports & Performance
Choline plays a crucial role in nerve signaling. As intensive exercise could burden cellular function and escalates the stress on the muscles and joints to perform maximally, having sufficient choline in the body allows sufficient amounts of neurotransmitters to be generated to support muscle function. Research has shown a decrease in the plasma choline level of about 40% in marathon runners could impact their exercise performance (Europ. J. Appl. Physiol. 67: 87–91 (1993)). This impact could be further aggravated if choline levels are already low in the first place. PERFECT KRILL EX contains choline which makes it beneficial in supporting muscle function.

In addition, krill oil also helps to improve immune function in sports persons. Krill oil significantly increases PBMC IL-2 production and NK cell cytotoxic activity 3 hours post-exercise compared to placebo, this indicates that krill oil is able to improve immune function in the recovery period after exercise. This would benefit those who engage in intense exercise.

Proven Health Benefits of Phospholipid & Choline
Choline in krill oil is present in the form of phosphatidylcholine (PC), it has been shown to be 12X better in increasing the body's blood choline levels compared to a choline salt.
1) Cardiovascular Health
Phosphatidylcholine (PC) is a class of phospholipids that incorporate choline as a headgroup. It is a component of lecithin, a type of fat that is essential to the cells.
Study 1:
In a clinical trial, 32 patients with primary hyperlipidemia were orally administered soybean lecithin for 30 days. After 30 days, the mean triglyceride level decreased by 33%, total cholesterol level was significantly decreased by 33%, while LDL (bad) cholesterol level was decreased by 38%, HDL (good) cholesterol level was increased significantly by 46%. These findings suggest the beneficial effects of choline and lecithin in protecting against atherosclerosis (Phyto¬therapy Research. 9: 597-599 (2006)).
Study 2:
In this clinical trial, patients with essential hypertension stages I and II were administered 2 g of lecithin in their diets for 4 weeks. Results showed that lecithin helped reduce hypertension, improve antioxidant status in cellular membranes of erythrocytes and lipid metabolism (Vopr Pitan 74(5): 28-31 (2005)).
Study 3:
Hyperlipoproteinemia is a common disorder that results from the body's inability to break down lipids or fats, specifically cholesterol and triglycerides. The type of hyperlipoproteinemia depends on the concentration of lipids and which are affected.
In this clinical trial, 9 patients with type IIa hyperlipoproteinemia and 9 patients with type IV hyperlipoproteinemia were orally administered 12g of soya lecithin daily for 3 months. In the hypercholesterolemic patients, blood cholesterol and triglycerides were reduced by 15% and 23%, respectively, and HDL-cholesterol was increased by 16%. In the hypertriglyceridemic patients, total cholesterol and triglycerides were reduced by 18% and 36%, respectively, and HDL-cholesterol was increased by 14%. In addition, there was a significant reduction of 27% in platelet aggregation (Biochem Med Metab Biol. 35(1): 31-39 (1986)).
2) Immune System
Phosphatidylcholine (PC) has been shown to be anti-inflammatory molecules. It is a major component of lecithin, which enhances immune function by increasing macrophage activity and lymphocytes.
In a blinded crossover experiment, adults were orally administered 27g soy phosphatidylcholine (PC) or placebo for 3 days, with polymorphonuclear leukocyte (PMNL) assays at baseline and the 4th, 7th and 14th days. PMNL is a type of immune cells that releases enzymes during infections and allergic reactions. PC significantly increased PMNL phagocytosis and killing of Candida albicans, an opportunistic fungal pathogen in humans (Am J Clin Nutr. 56(3): 599-603 (1992)). The results implied that PC helps improve immunological function.
3) Infant Development
Choline is an essential dietary component for human and is imperative for the normal functioning of cells. Studies found that men have a higher requirement for choline than postmenopausal women, who in turn, require more choline than premenopausal women. During pregnancy and lactation, the maternal reserves of choline are depleted as choline is needed for normal development of the baby's brain.
In an animal test, rat pups received choline supplements, either while they were in the womb or during the second week of life. The study showed their brain function changed, resulting in the enhancement of lifelong memory. The improvement in memory function is likely attributed to changes in the development of hippocampus (memory centre) of the brain. These findings suggested that choline is a crucial component of the mother's diet and it would be recommended to include them as part of a healthy diet during pregnancy, to improve the brain development of fetus (J Am Coll Nutr. 23(6 Suppl): 621S-626S (2004)).
4) Liver Health
Phosphatidylcholine (PC) is a phospholipid that serves as a universal building block for cell membranes. Most liver metabolism takes place at the cell membranes. PC is one of the most vital support nutrients for the liver. Numerous clinical trials demonstrate that PC protects the liver against alcoholic damage, pharmaceuticals, pollutants, viruses and other toxic substances which have damaging effects to the cell membranes. Dietary supplementation with a minimum of 800 mg PC daily significantly speeds up liver recovery. It is an excellent means for the replenishment of dietary choline depletion than choline itself.
In this clinical trial, healthy middle-aged volunteers were requested to consume a moderate amount of alcohol (1.0 ml/kg) shortly after oral administration of a capsule containing 450 mg of phosphatidylcholine (PC) or placebo. 2.5 hours after dosing with alcohol, PC administration was shown to prevent the decrease of total antioxidant capacity (TAC) of serum and abolish the increase in serum alanine-aminotransferase activity, which is an indicator of liver damage. These findings suggested the protective role of PC against alcohol-induced liver damage.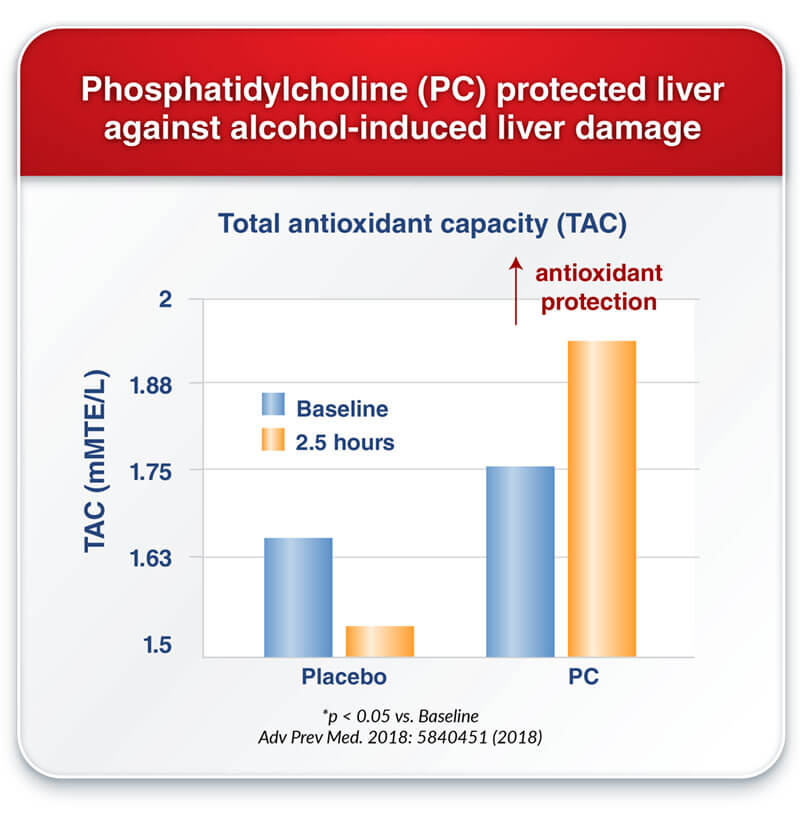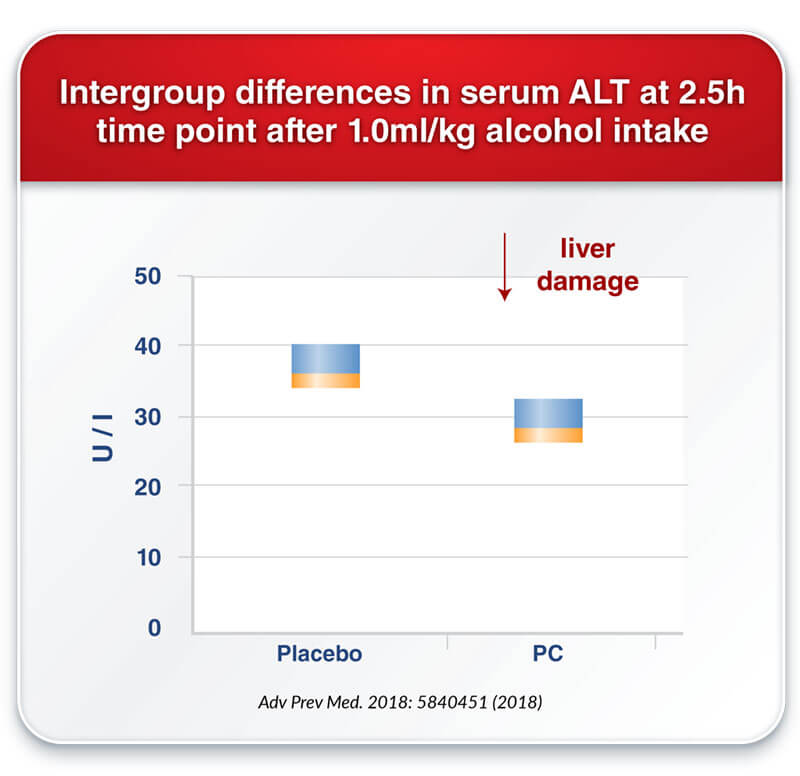 5) Physical Performance
Phospholipids is one of the major components of krill oil. Natural sources of phospholipids generally provide a complex mixture of phosphatides, which consists mainly of phosphatidylcholine (PC) plus minor amounts of other constituents, including phosphatidylserine (PS). Research has shown that PS supplementation has the potential to mitigate the serum cortisol response to acute exercise stress. Cortisol, which is also known as "stress hormone" causes an increase in heart rate and blood pressure.
In this double-blind, placebo-controlled, crossover clinical trial, 10 healthy male subjects were orally administered 600 mg phosphatidylserine (PS) or placebo daily for 10 days. Serial venous blood samples were taken at rest, after a 15-minute moderate intensity exercise protocol on a cycle ergometer and during a 65-minute passive recovery. Compared to placebo, PS supplementation resulted in lower cortisol concentrations and increased testosterone to cortisol ratio. A low ratio of testosterone to cortisol is indicative of chronic stress. These findings suggest that PS is an effective supplement for combating exercise-induced stress and hindering the physiological deterioration following intensive exercise.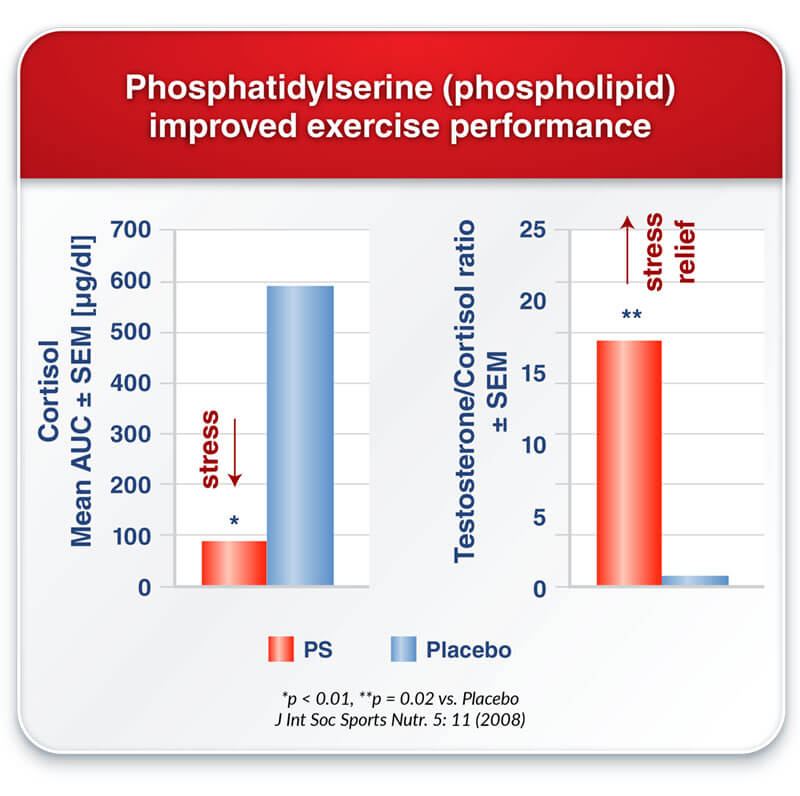 6) Gastrointestinal Health
Non-steroidal anti-inflammatory drugs (NSAIDs) are a group of medicines that are widely used to reduce pain, inflammation and fever. However, taking NSAIDs can lead to gastrointestinal side effects, such as abdominal pain, heartburn and nausea. In extreme cases, patients may develop ulcers and life-threatening internal bleeding.
In an animal test, rats were co-administered polyene phosphatidylcholine (PC) and various non-steroidal anti-inflammatory drugs (NSAIDs) - aspirin, indomethacin, phenylbutazone, diclofenac, piroxicam and sudoxicam for 3 days, followed by a 24-hour fasting. Results showed this phospholipid reduced gastric mucosal lesions measured at 3.5 hours after oral administration. Co-administration of phospholipid and NSAID produced little change in the anti-inflammatory activities of the medicine. These findings suggested that phospholipid offers a novel mode for reducing the gastric side-effects of NSAID therapy (Eur J Pharmacol. 117(1): 35-42 (1985)).
7) Emotional Health
Krill contains a variety of phospholipids with phosphatidylcholine (PC) being the major phospholipid type. In addition, phosphatidylserine (PS) and phosphatidic acid (PA) are also detected in smaller quantities in krill oil. Studies suggest that supplementation of PS and PS/PA complex helped normalise stress level and improve mood.
Study 1:
In this clinical trial, young healthy adults were orally administered 300 mg phosphatidylserine (PS) daily for a month. PS supplementation was associated with feeling less stressed and having a better mood when a stressful mental arithmetic task was performed. These findings suggested an improvement in mood following PS supplementation in young healthy adults (Nutr Neurosci. 4(3): 169-178).
Study 2:
In this double-blind, placebo-controlled clinical trial, healthy male volunteers were divided by chronic stress level and randomly allocated 400 mg phosphatidylserine (PS) and 400 mg phosphatidic acid (PA), which known as PAS 400, or placebo daily for 6 weeks, and followed by an acute stress test (Trier Social Stress Test, TSST). Compared to placebo, a supplementation with a daily dose of PAS 400 was effective in normalising stress responses - adrenocorticotropic hormone (ACTH), salivary and serum cortisol responses - in chronically high subjects but not in low-stress subjects. ACTH is hormone that is usually produced in response to biological stress, while cortisol is the body's main stress hormone. These findings suggested that a supplementation with PAS 400 helped reduce stress in chronically stressed individuals.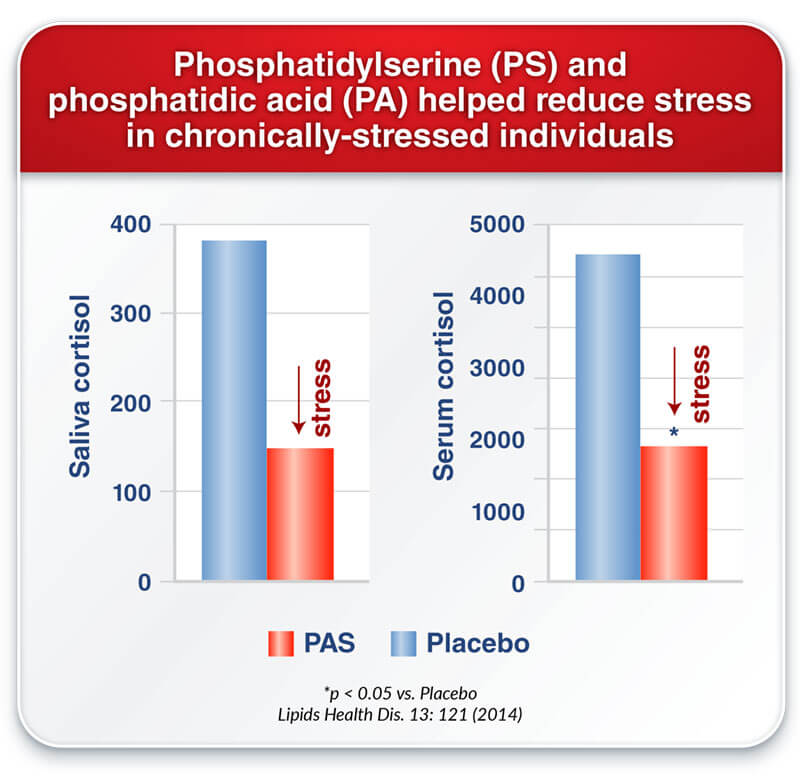 8) Ulcerative Colitis
Phosphatidylcholine (PC) is a crucial component of the gastrointestinal tract, important in the intestinal cell membranes and as protective agents in the gastrointestinal barrier. Reduced levels of phospholipids in the colonic mucus could be associated with the pathogenesis of ulcerative colitis, a chronic inflammatory bowel disease. Clinical studies demonstrated that a therapeutic addition of PC to colonic mucus of ulcerative colitis patients helped reduce the inflammatory activity.
In a phase IIA, double-blind, randomised, placebo-controlled clinical trial, 60 patients with chronic active, non-steroid dependent, ulcerative colitis, with a clinical activity index (CAI) of >4, were orally administered a dose of 6g retarded release phosphatidylcholine (PC)-rich phospholipids or placebo daily over 3 months. A change in CAI towards clinical remission (CA1(3)) or CAI improvement by >50% and quality of life scores was evaluated. Results showed that 16 patients in the PC-treated group attained induction of clinical remission (CA1(3)) compared with 3 in the placebo group. The rate of clinical remission and CAI improvement was 90% in the PC group, while only 10% in the placebo group. 16 of 29 (55%) of evaluated patients in the PC group reported improvement in quality of life, compared to 2 of 30 (7%) in the placebo group. These findings suggested the anti-inflammatory effect of PC in ulcerative colitis.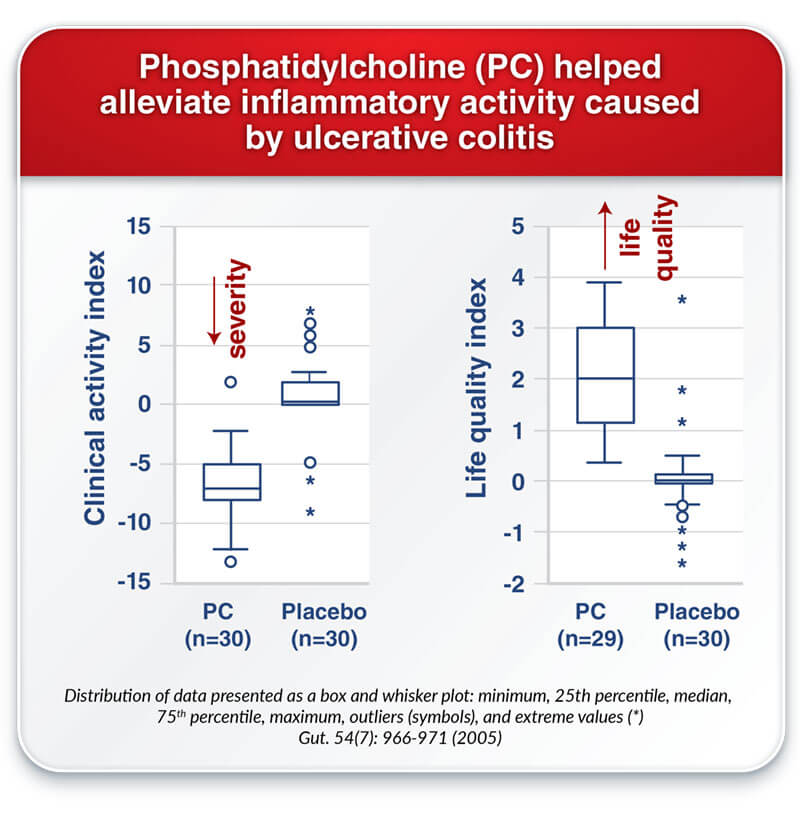 Proven Health Benefits of Omega-3 Fatty Acids
1) Brain Health
Omega-3 fatty acid supplementation is widely promoted globally due to its enormous health benefits. These long-chain polyunsaturated fatty acids may be beneficial for ageing brains. An adequate dietary intake of omega-3s could slow the age-related cognitive decline and may also protect against the risk of senile dementia.
In a double-blind, randomised clinical trial, 65 healthy subjects (50 – 75 years old) were orally administered 2.2g omega-3 fatty acids or placebo daily for 26 weeks. Compared to the placebo group, those with omega-3 supplementation resulted in a significant increase in executive functions, which correlated positively with changes in omega-3 index. These findings suggested that omega-3s exert positive effects on brain functions in healthy older adults.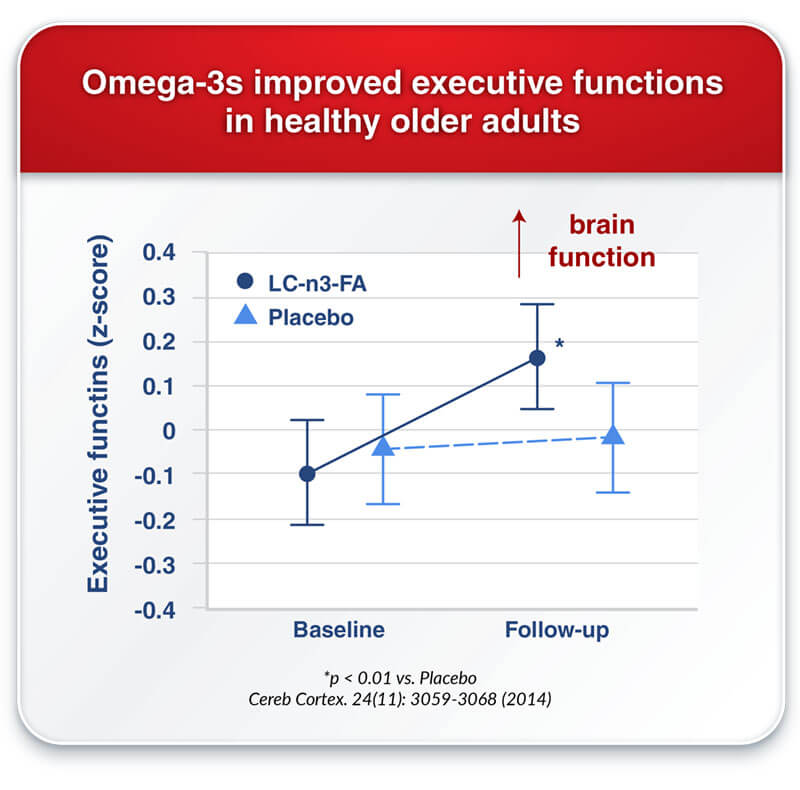 2) Eye Health
Dry eye is a common condition that happens when the tears are not able to provide sufficient lubrication for the eyes. This condition is usually treated with artificial tears or ointments. Studies found that omega-3 supplements help reduce dry eyes and this supplement has been a staple of dry eye practice.
In a randomised, double-masked, placebo-controlled clinical trial, participants with mild to moderate dry eye disease (DED) were orally administered krill oil (945 mg/day EPA + 510 mg/day DHA) or placebo (olive oil) for 90 days. The change in DED symptoms (OSDI score) and tear inflammatory cytokine levels were measured. Krill oil administration resulted in significant reduction in OSDI score on day 90, relative to the baseline. Compared with placebo, the basal tear levels of the proinflammatory cytokine interleukin 17A (IL-17A) was significantly reduced in the krill oil group. These findings suggested the beneficial effects of omega-3s in krill oil on dry eye disease.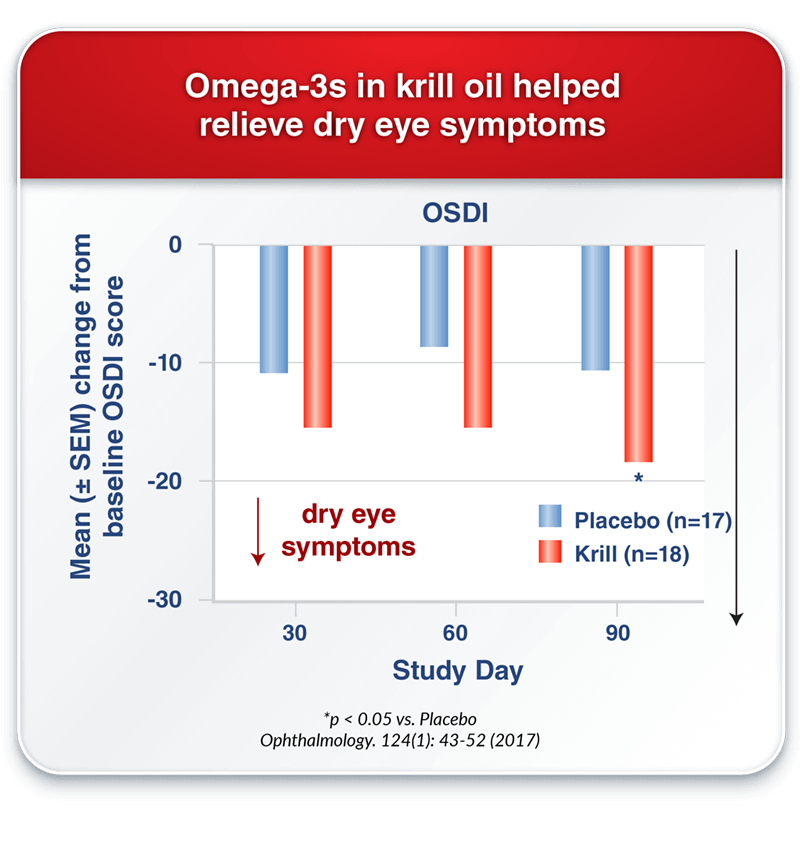 3) Heart Health
Omega-3s are good for cardiovascular health in several ways. These fatty acids help reduce triglycerides, lower blood pressure, decrease the risk of blood clotting, stabilise irregular heartbeat and are beneficial to conditions relating to stroke, heart failure and sudden cardiac arrest.
In a randomised controlled trial, 8,179 patients, most with coronary heart disease reported that consumption of 4 g of a highly purified omega-3 product containing EPA daily significantly reduced the risk for major adverse cardiovascular events by 25% (p < 0.001). Other clinical trials showed that 840 mg/day EPA + DHA significantly lowered risks of coronary heart disease and cardiovascular death, particularly in individuals who did not consume fish and seafood regularly (Mayo Clin Proc. 94(12): 2524-2533 (2019)).

4) Joint Health
Research suggests that omega-3 fatty acids may benefit individuals with arthritis. Omega-3s have been found to reduce joint pain and improve joint function, when used in conjunction with, or as an alternative to conventional anti-inflammatory painkillers. They are also suggested to help prevent or delay the onset of arthritis.
In a double-blind, non-crossover study, patients with rheumatoid arthritis receiving established conventional therapies were administered with omega-3 supplement or control (olive oil) over a 12-week period. The group treated with omega-3s showed an improvement in tender joint score and grip strength, but not those in control group. In vitro study demonstrated that production of leukotriene B4 (LTB4, involved in inflammation) by isolated neutrophils reduced by 30% in the omega-3-treated group, but unchanged in the olive oil-treated group.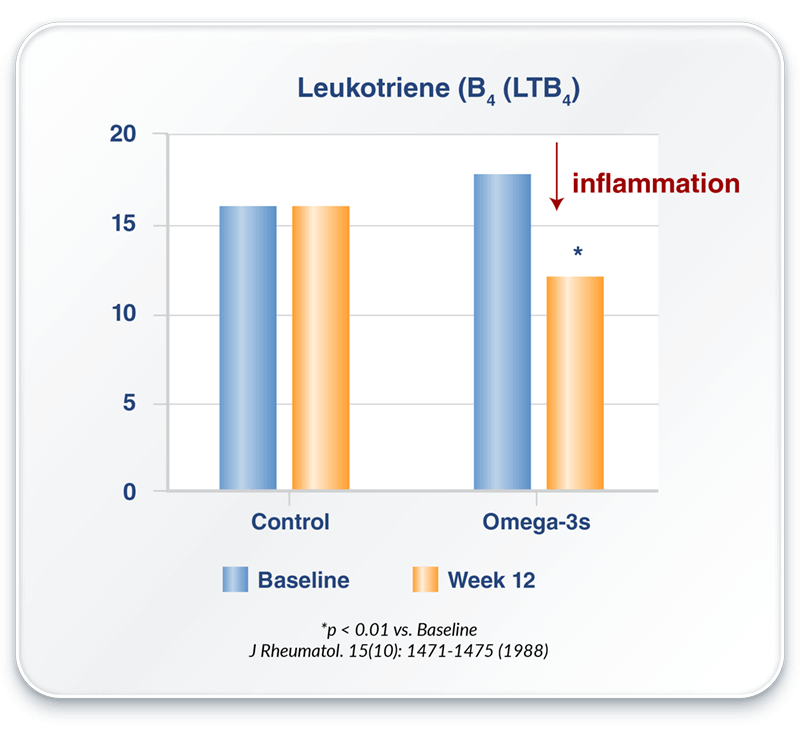 5) Liver Health
Non-alcoholic fatty liver disease (NAFLD) refers to a range of liver conditions where there is accumulation of excess fat in the liver of people who drink little or no alcohol. It is a liver manifestation of metabolic syndrome, which increases the risk of atherosclerosis and cardiovascular diseases. NAFLD affects an estimated 20% of the general population worldwide and there is an urgent need to find safe and effective therapy for those affected by NAFLD. Research suggested that omega-3 fatty acids may be beneficial in metabolic-syndrome-related conditions, including NAFLD.
In a randomised, placebo-controlled, double-blind, parallel-group study, participants with type 2 diabetes and NAFLD were orally administered either 4 g omega-3 fatty acids or placebo. Their liver fat content was assessed by MRI at baseline and after 12 weeks of treatment. Results showed that omega-3s significantly reduced liver fat content from baseline, suggesting the beneficial effects of omega-3 fatty acids on NAFLD.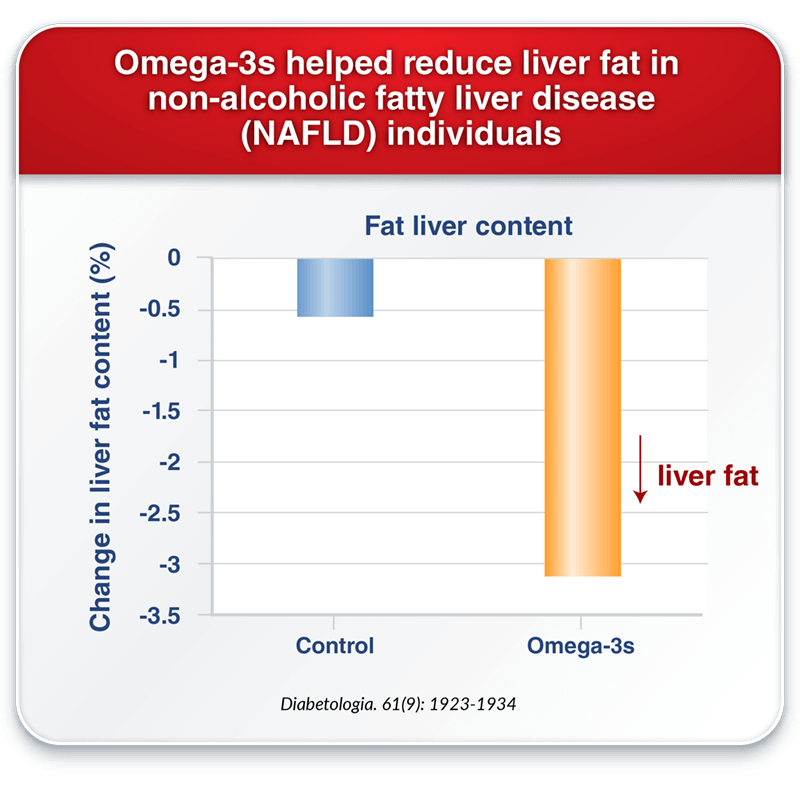 6) Skin Health
Omega-3 fatty acids are vital for optimal skin health. DHA is a structural component of the skin and it is imperative for the health of cell membranes. Sufficient DHA in the skin supports soft, moist, supple and wrinkle-free skin. Besides, EPA also benefits the skin by maintaining skin hydration, reducing skin premature ageing and lowering the onset of acne. In addition, omega-3s are beneficial to address plaque psoriasis, a chronic autoimmune condition on the skin which results in patches of thick, red and scaly skin. It is the most common form of psoriasis which affect about 6.7 million adults in the United States.
In a clinical trial, patients with mild or moderate plaque psoriasis were orally administered omega-3 supplementation containing 560 mg EPA and 80 mg DHA daily, in addition to topical treatment in psoriasis for 8 weeks. The Psoriasis Area and Severity Index (PASI), Nail Psoriasis Severity Index (NAPSI) and Dermatological Life Quality Index (DLQI) are the main efficacy endpoints. Compared to control group, which is only treated with topical application, the group with omega-3 supplementation saw significantly greater improvement in all the efficacy endpoints, including reduced PASI and NAPSI and improved DLQI, reduced scalp lesion and pruritus, erythema, scaling and infiltration of the treated areas.
7) Women's Health
Dysmenorrhea, also known as menstrual cramps or painful periods are cramping pains in the lower abdomen during menstruation. Many women experience menstrual cramps just before and during their menstrual periods. For some women, the discomfort is simply frustrating. For other women, the menstrual cramps can be serious enough to interfere with everyday activities for a few days every month.
In this clinical trial, adolescents with dysmenorrhea were orally administered omega-3 supplement containing 1080 mg EPA and 720 mg DHA or placebo daily for 2 months. The Cox Menstrual Symptom Scale was used to assess response to the treatment. Results showed that omega-3 supplementation resulted in a significant reduction in the Cox Menstrual Symptom Scale, while there was no significant difference at baseline and after 2 months of placebo administration. This suggested the beneficial effect of dietary supplementation with omega-3 fatty acids on symptoms of dysmenorrhea in adolescents.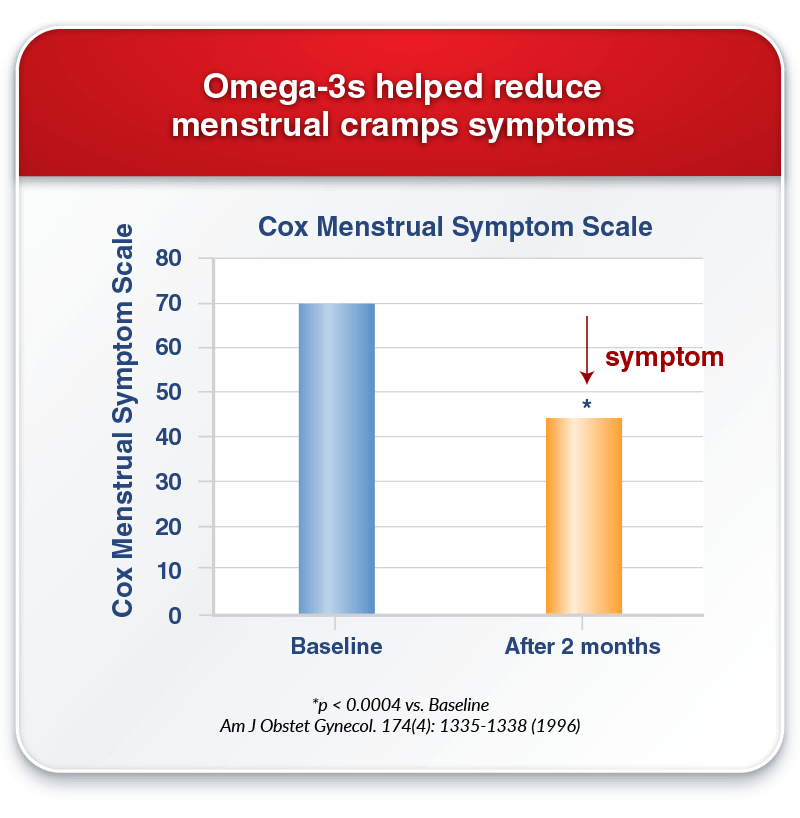 References:
1 Clinical study report. No. BTS 275/07. February 16, 2009. Esslingen, Germany.
2 Bunea R et al. Altern Med Rev 2004; 9(4):420-8.
3 Deutsch L. J Am Coll Nutr 2007; 26(1): 39-48.
4 Massrieh W. Lipid Technology 2008; 20 (5): 108-11.
5 Sampalis, F., et al. Altern Med Rev 2003; 8(2): 171-179.
6 Lipids Health Dis. 12: 6 (2013)
7 J Nutr. 139(8): 1495-1501 (2009)
8 Ophthalmology. 124(1): 43-52 (2017)
9 Dig Liver Dis. 48(1): 34-42 (2016)
10 Nutr Metab (Lond). 8(1): 7 (2011)
11 PLoS One. 10(9): e0139174 (2015)
*Results may vary according to individual's condition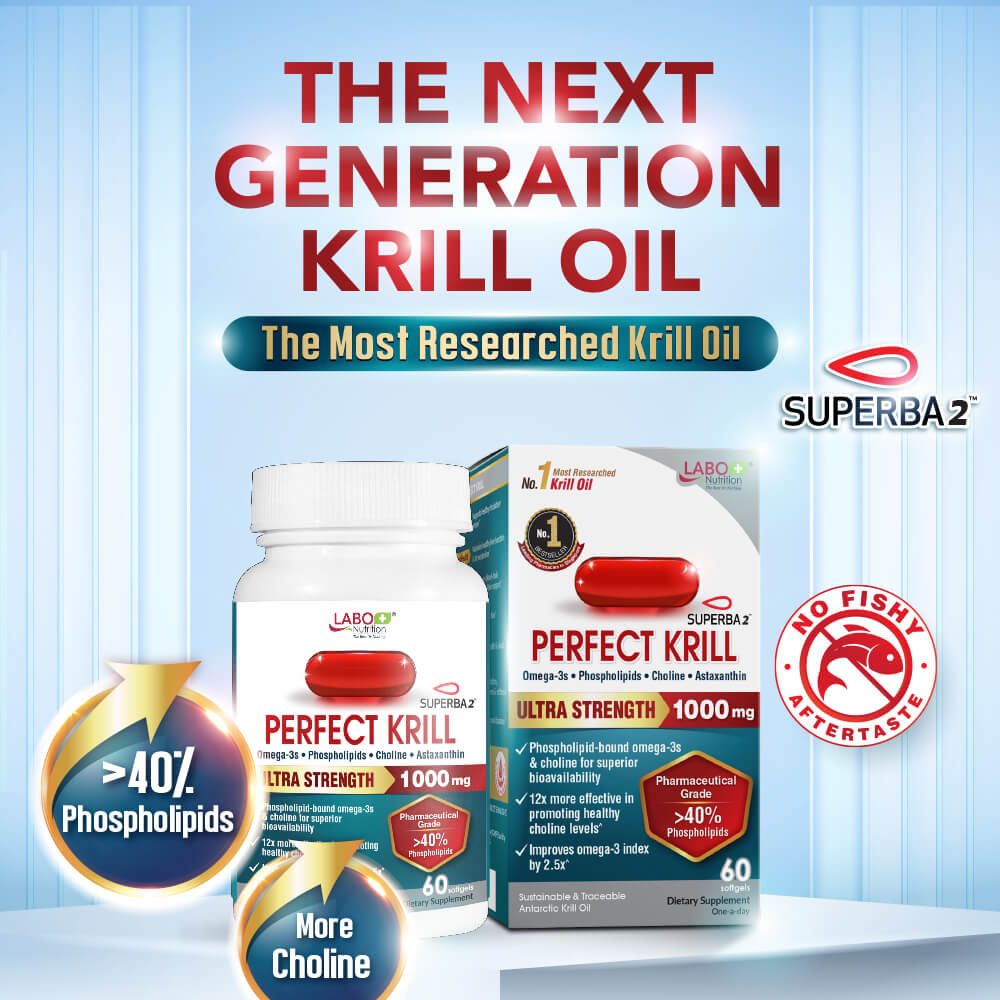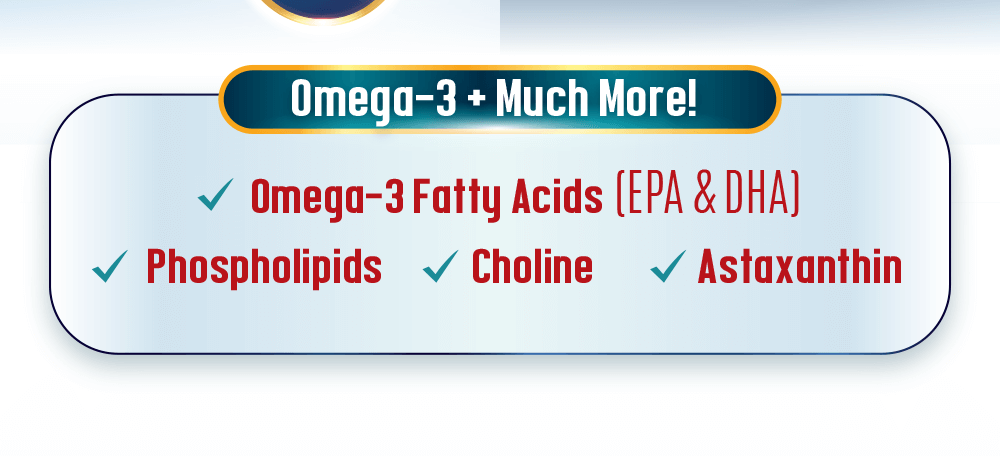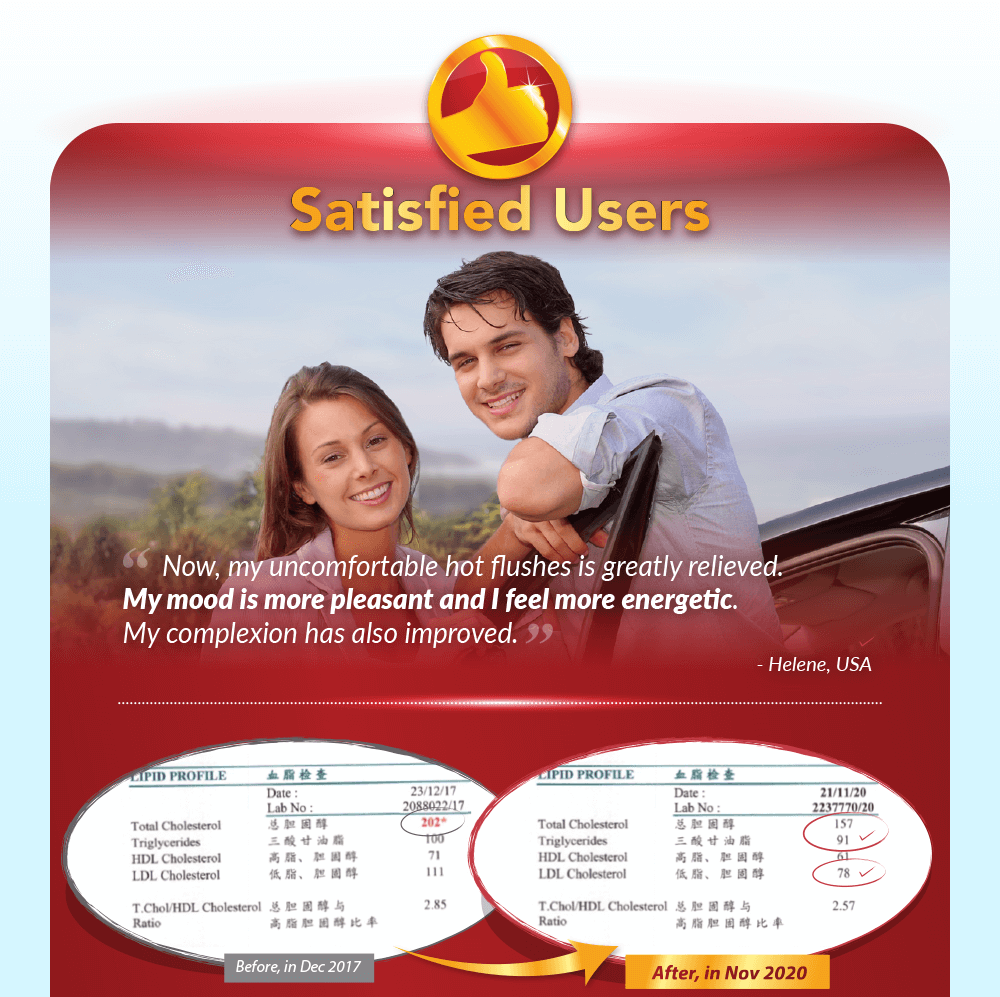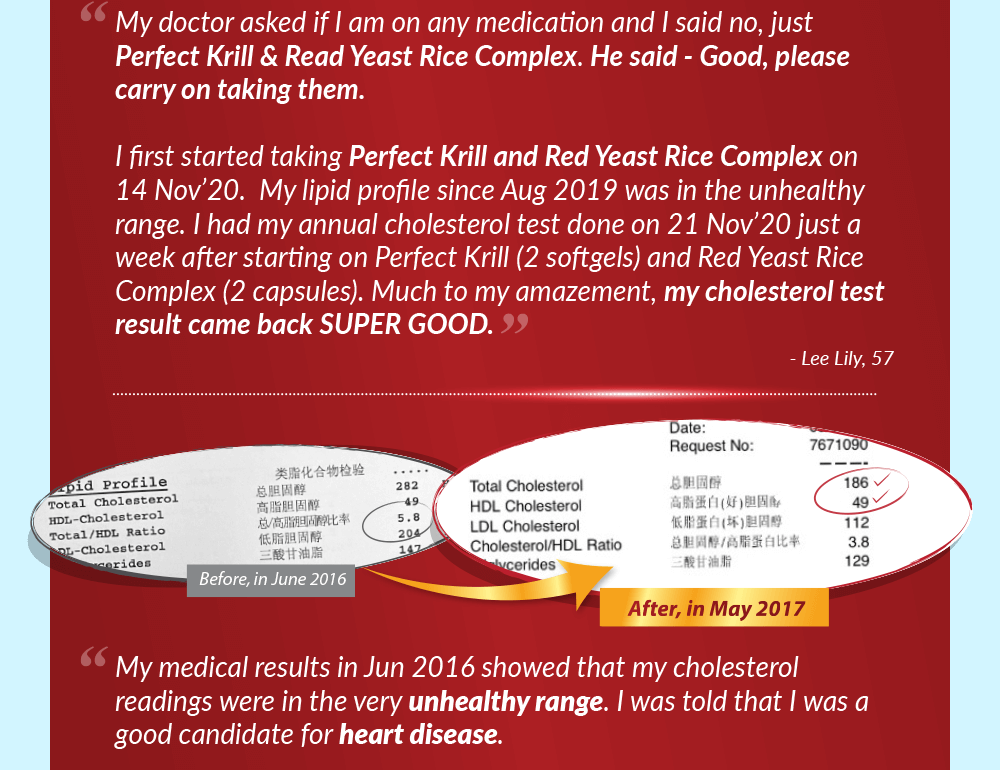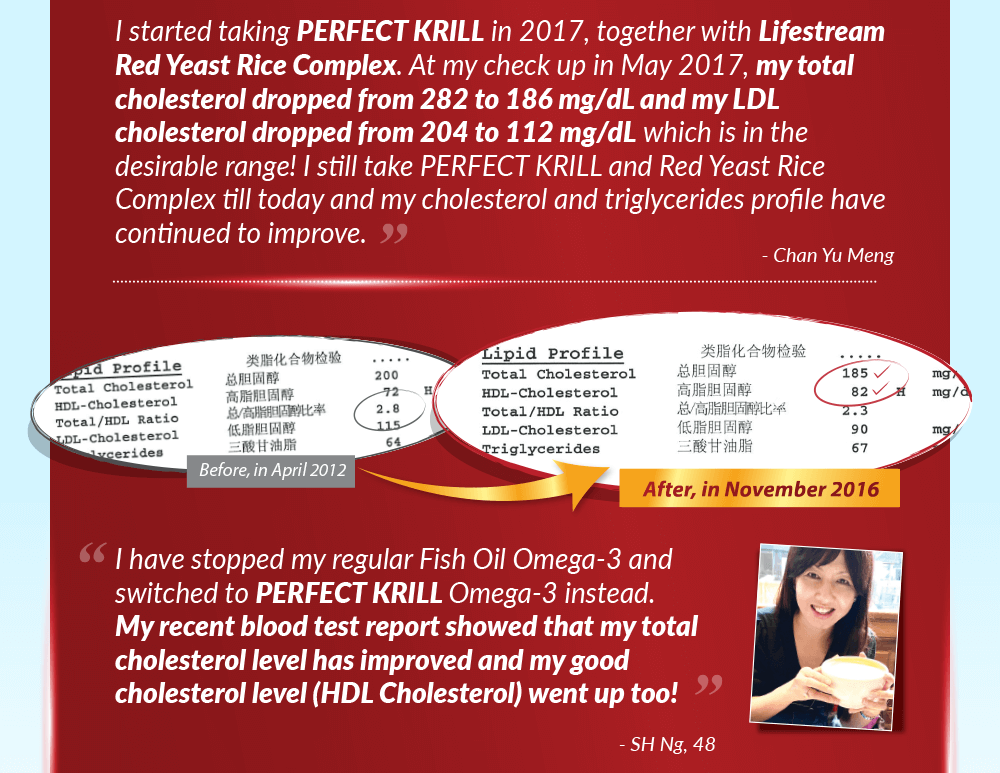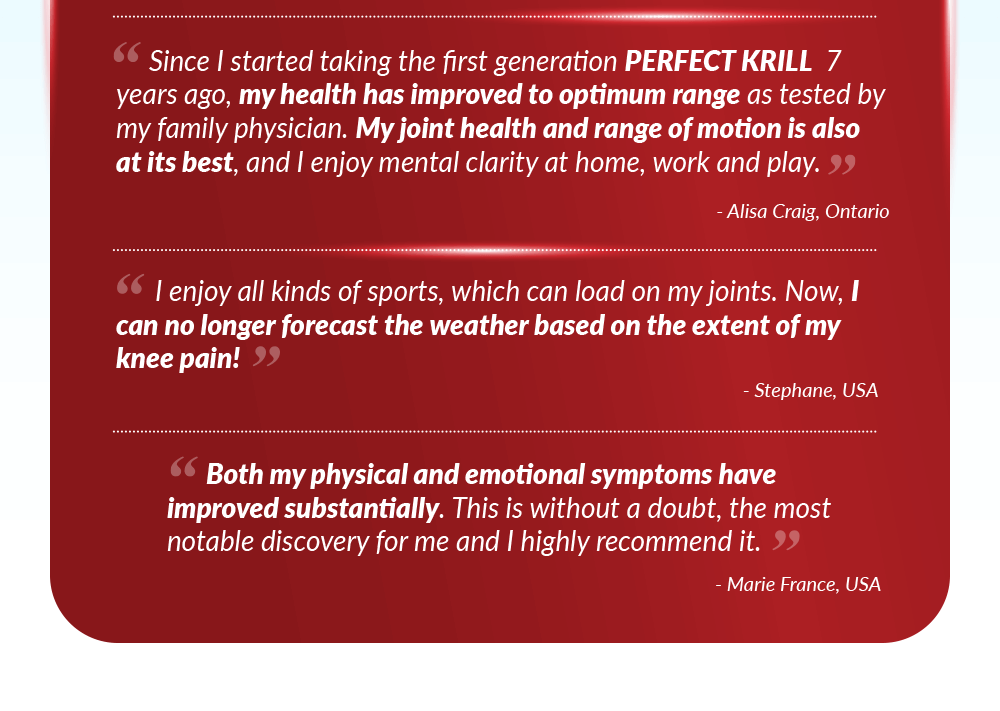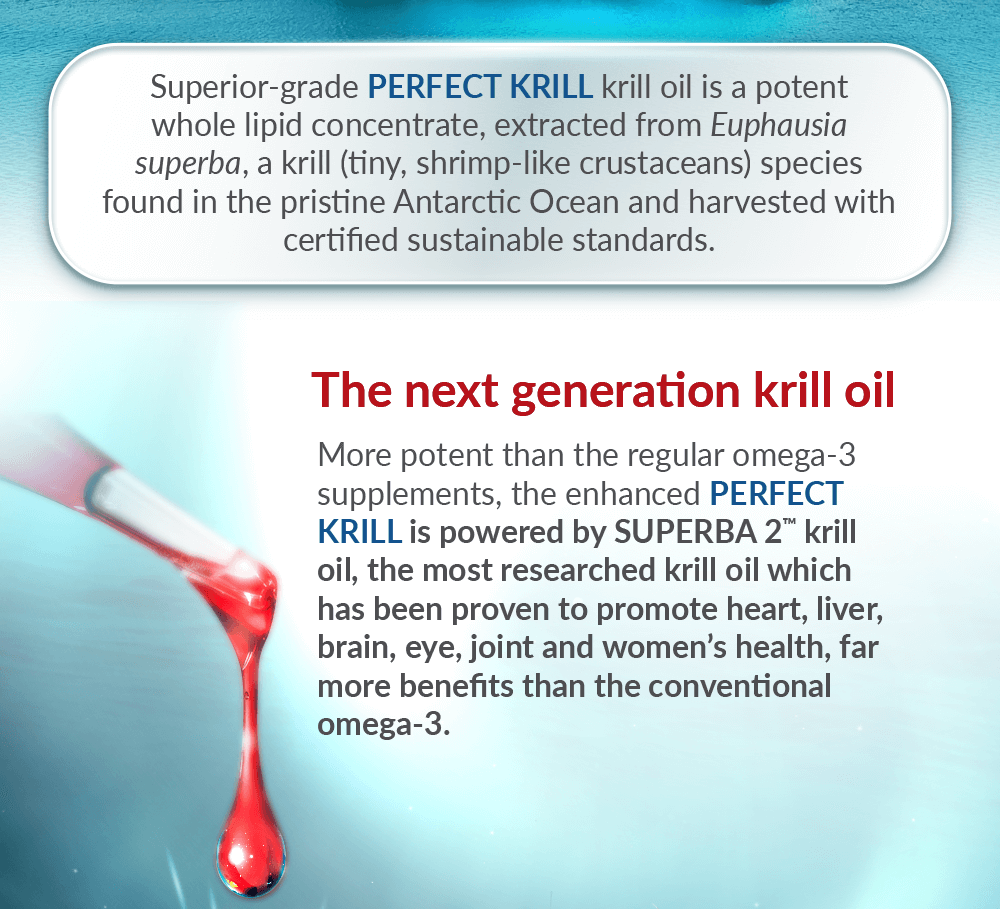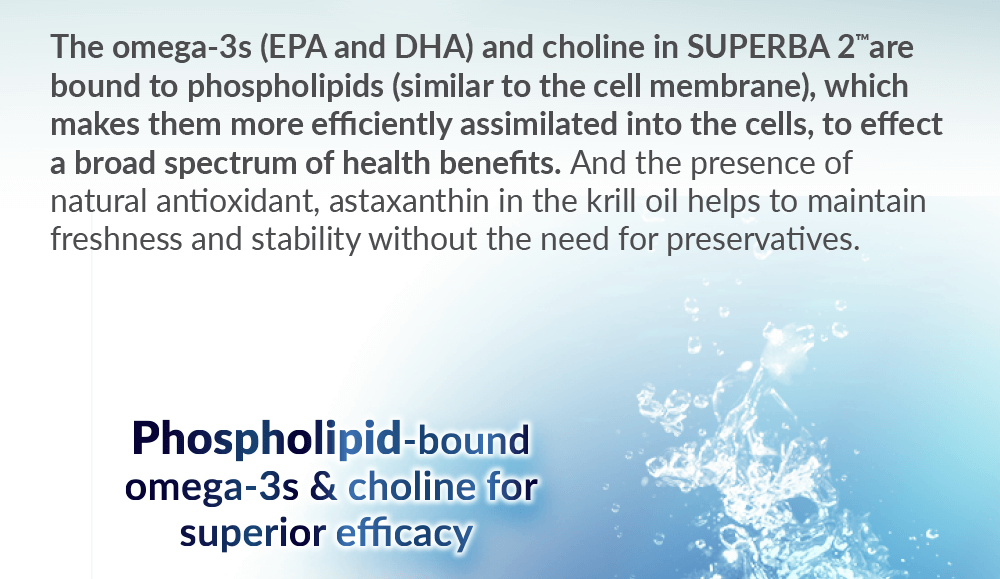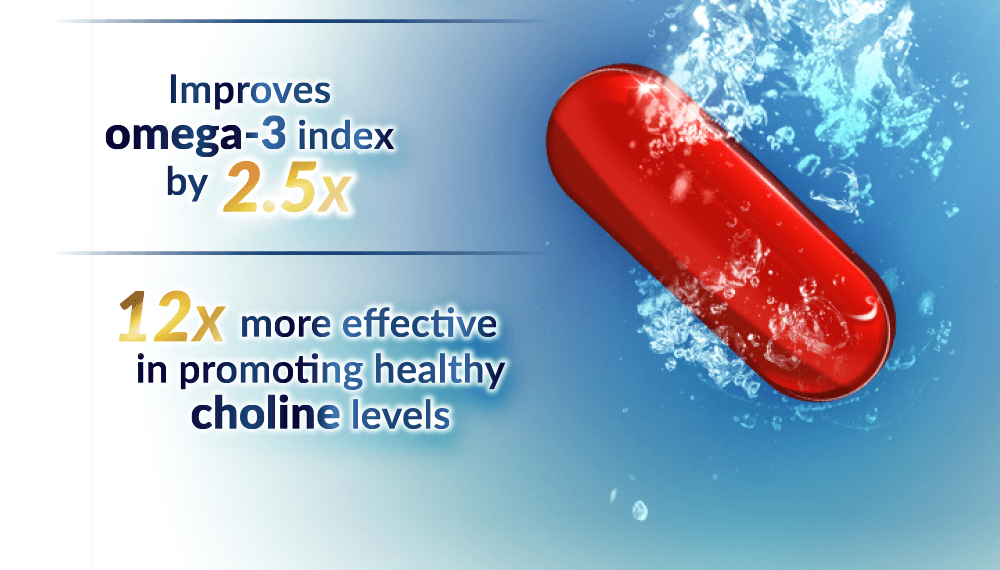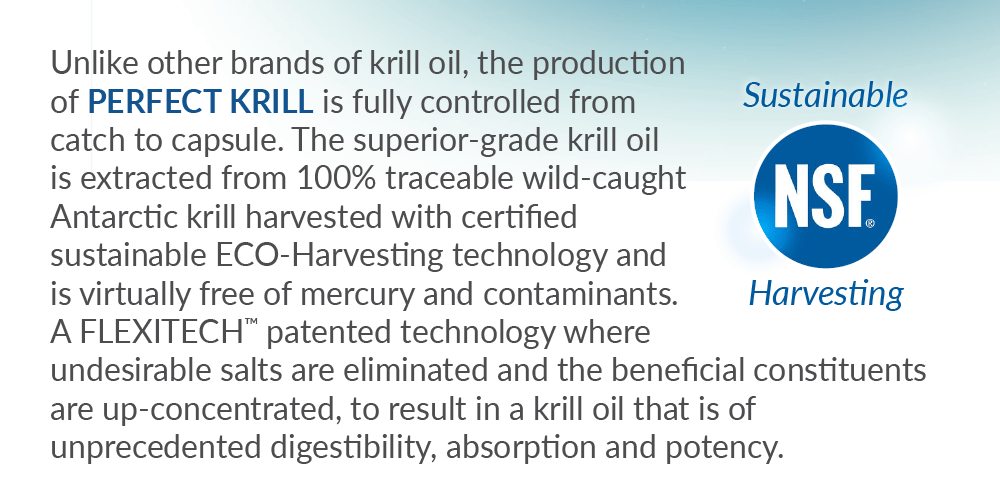 This video takes you on the journey of Superba krill from catch to capsule
http://video.akerbiomarine.com/superba-krill-from-catch-to-capsule?start=441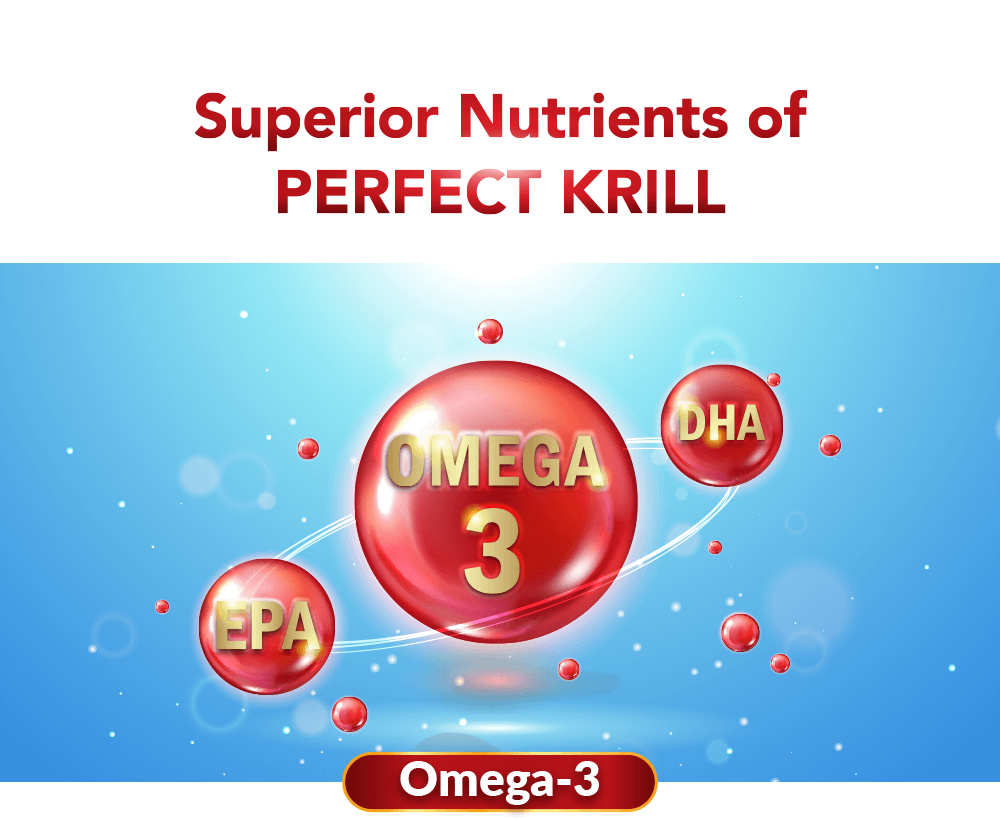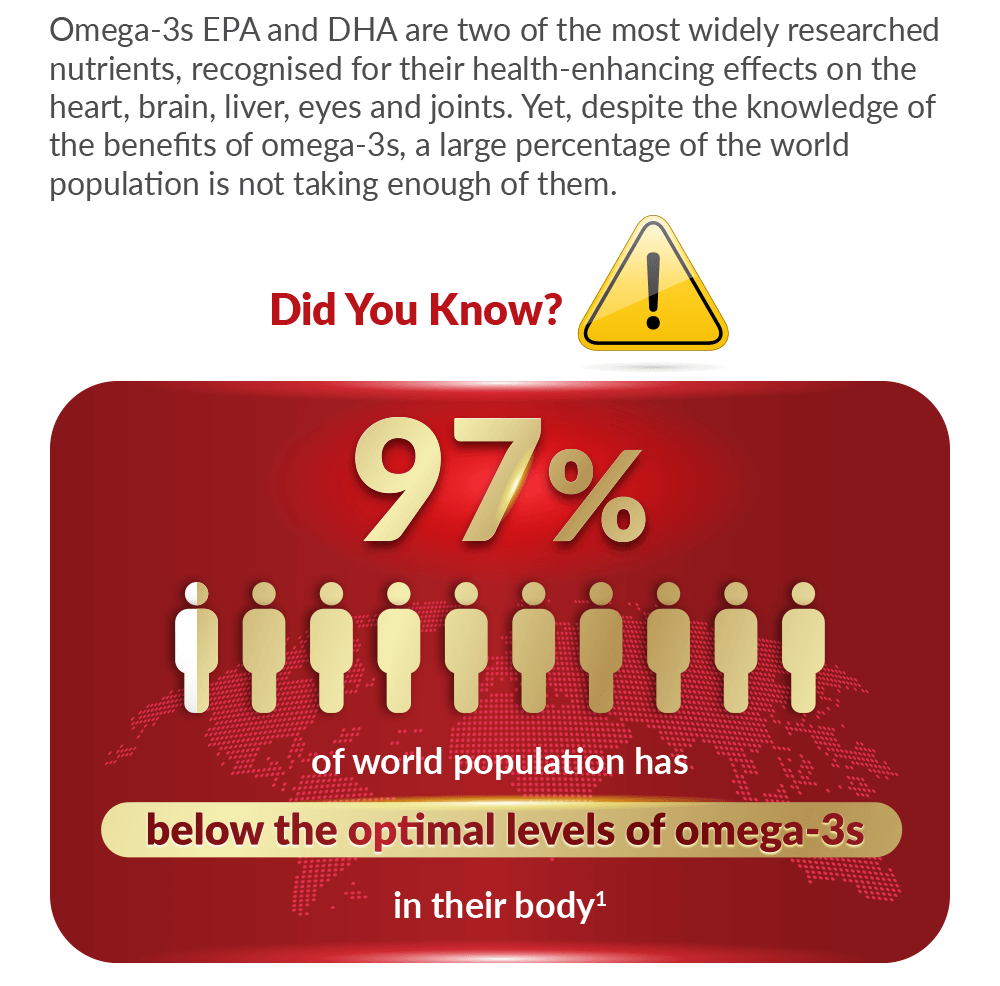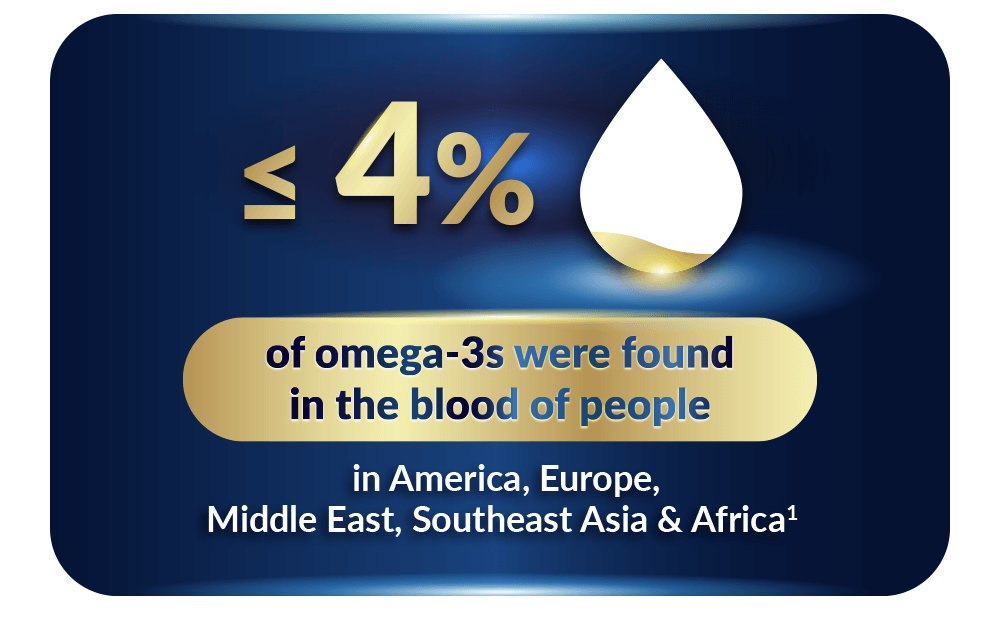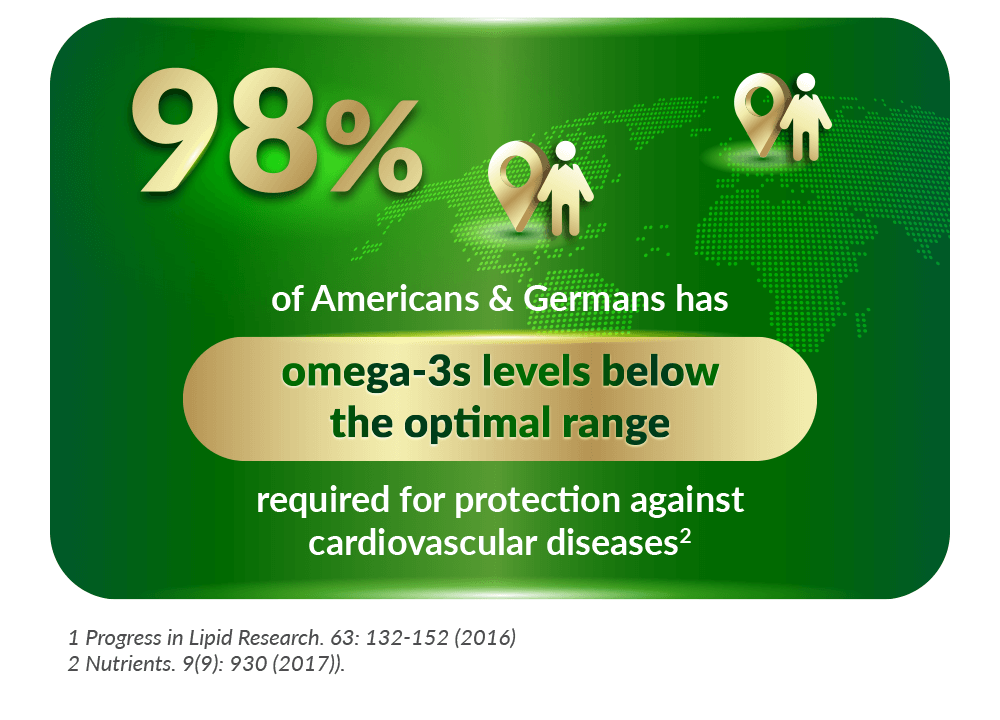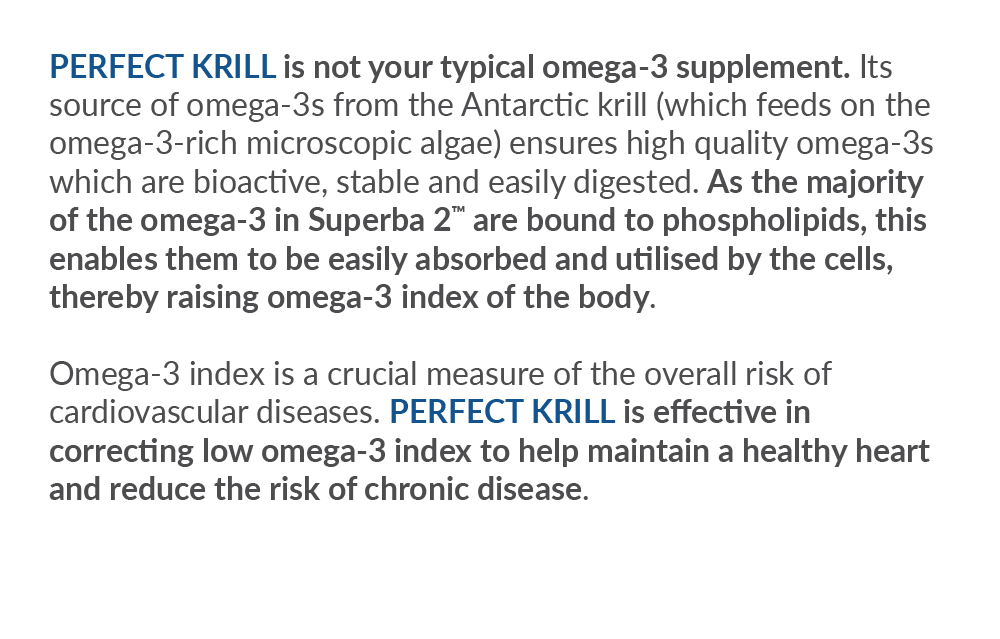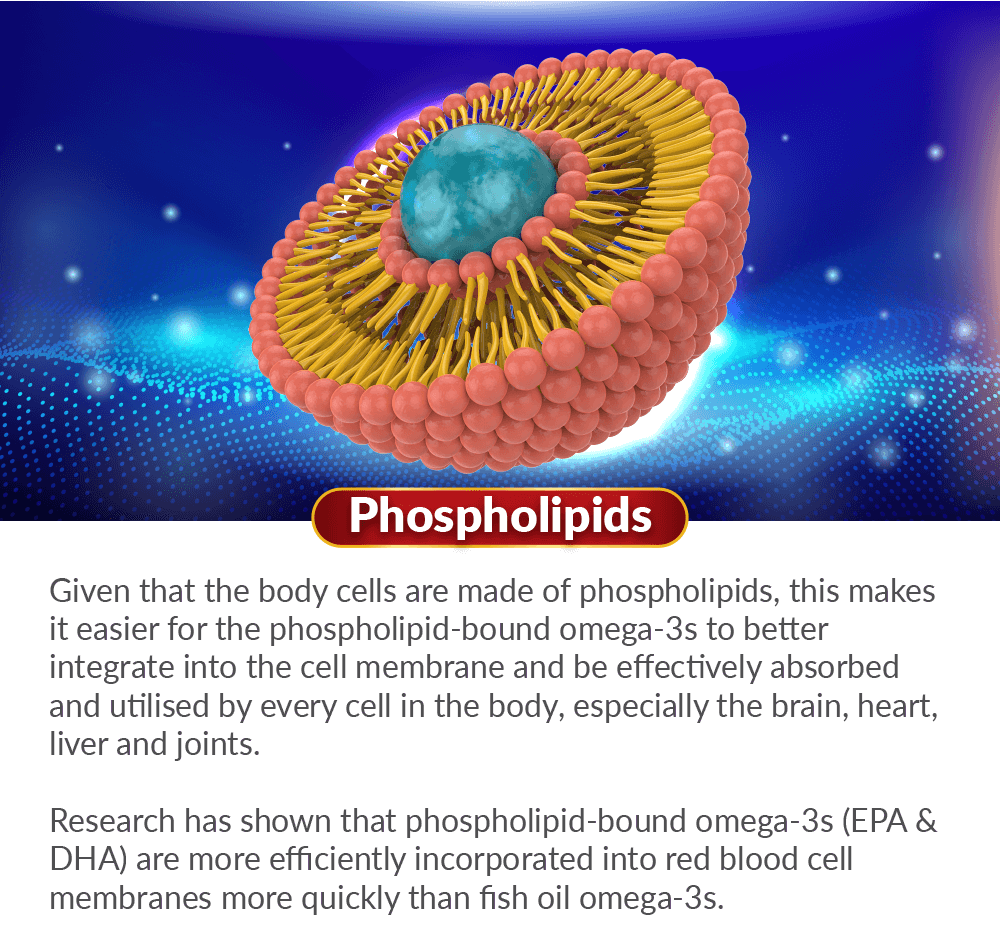 This video demonstrates the efficiency of phospholipid-bound-omega-3s
http://video.akerbiomarine.com/the-phospholipid-advantage-1?start=60

This video demonstrates the krill oil advantage over fish oil
http://video.akerbiomarine.com/the-difference-between-krill-oil?start=0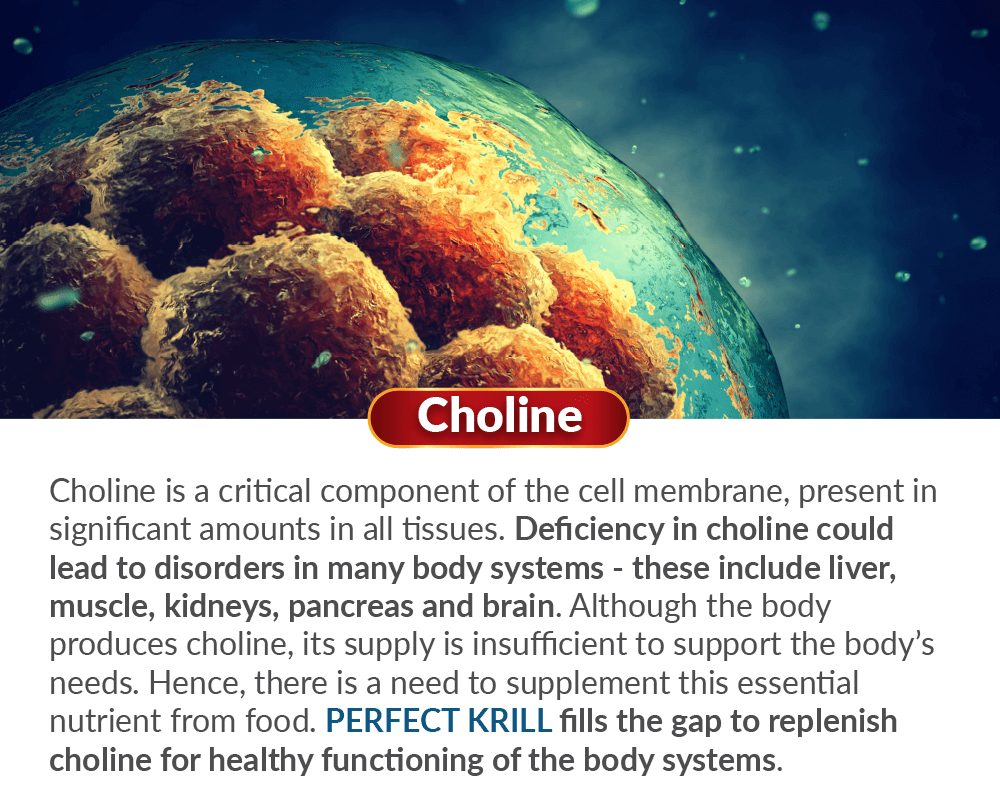 This video shows krill is a good source for choline replenishment
http://video.akerbiomarine.com/krill-oil-raises-choline-levels?start=122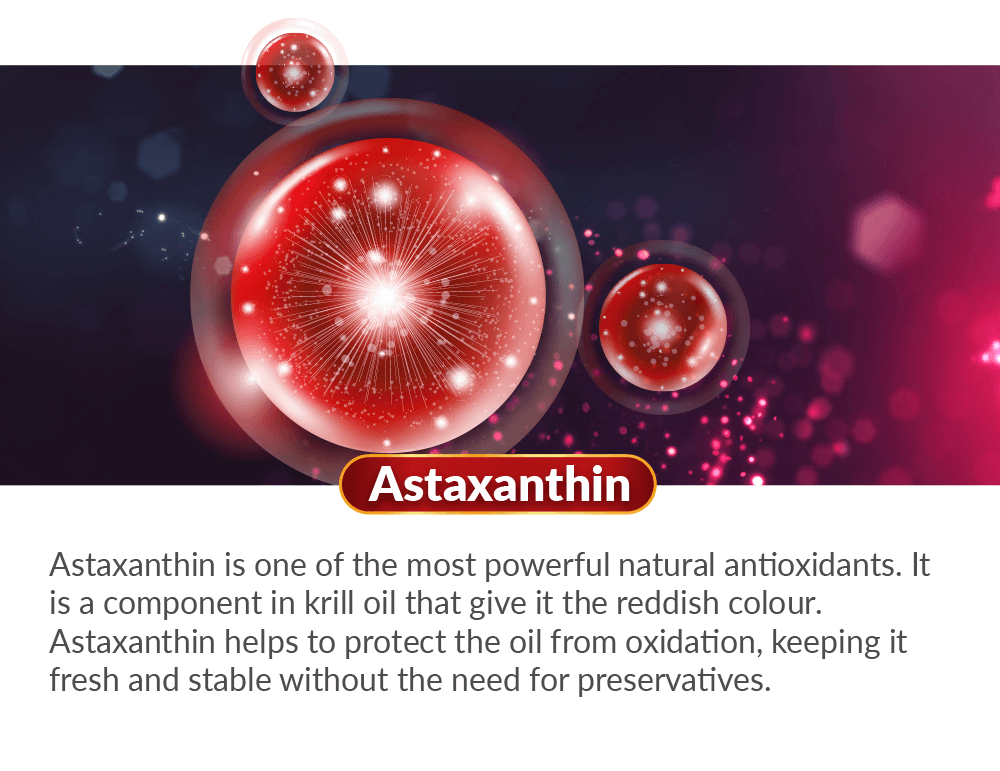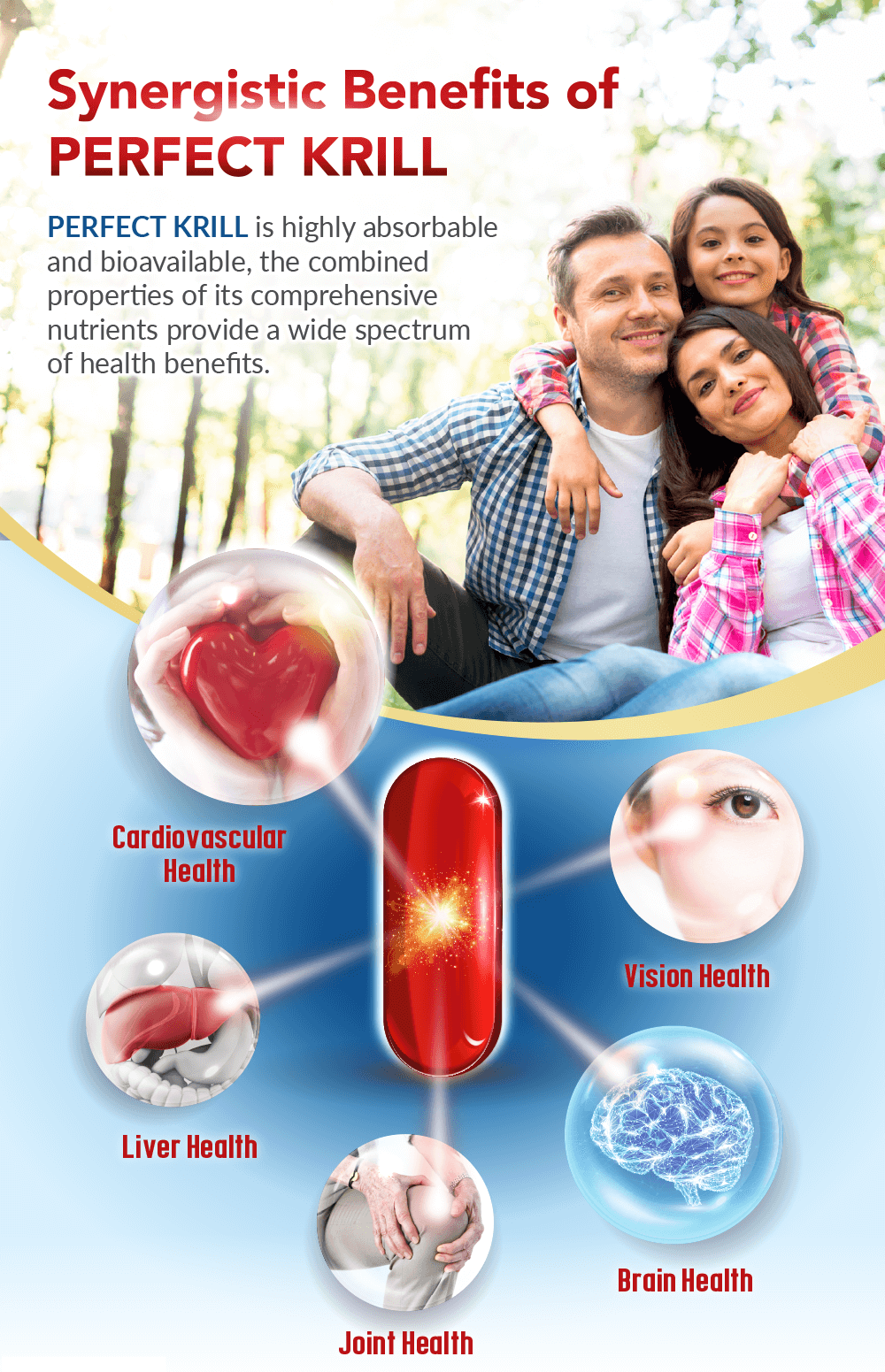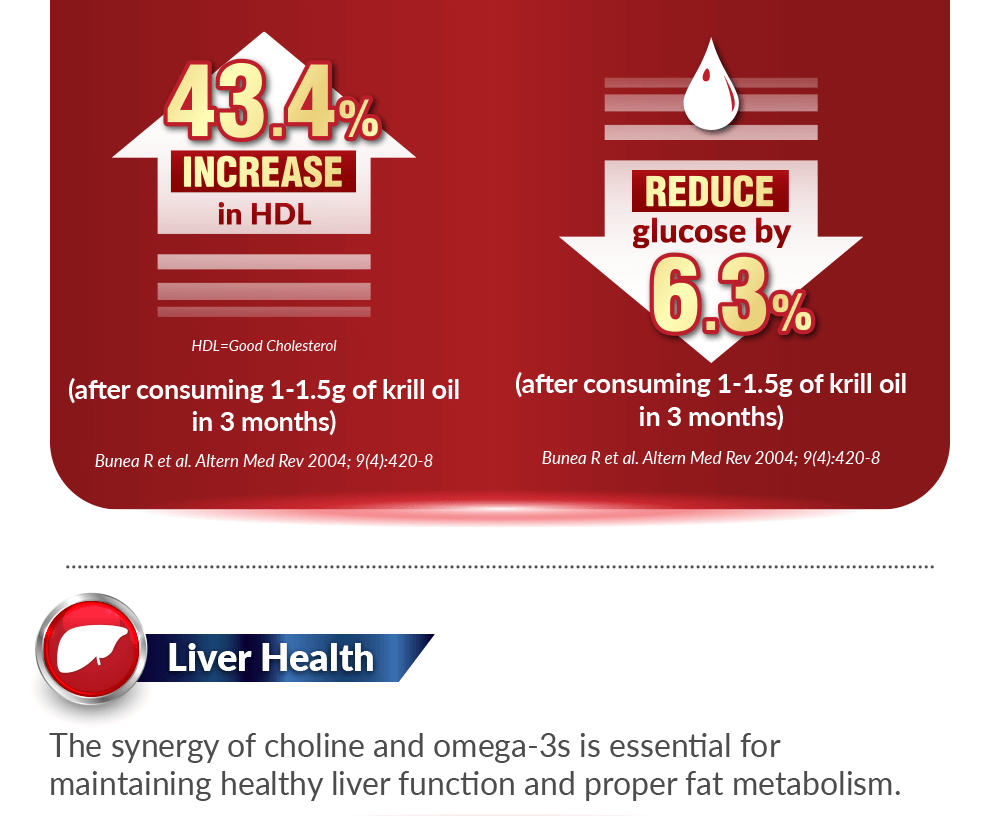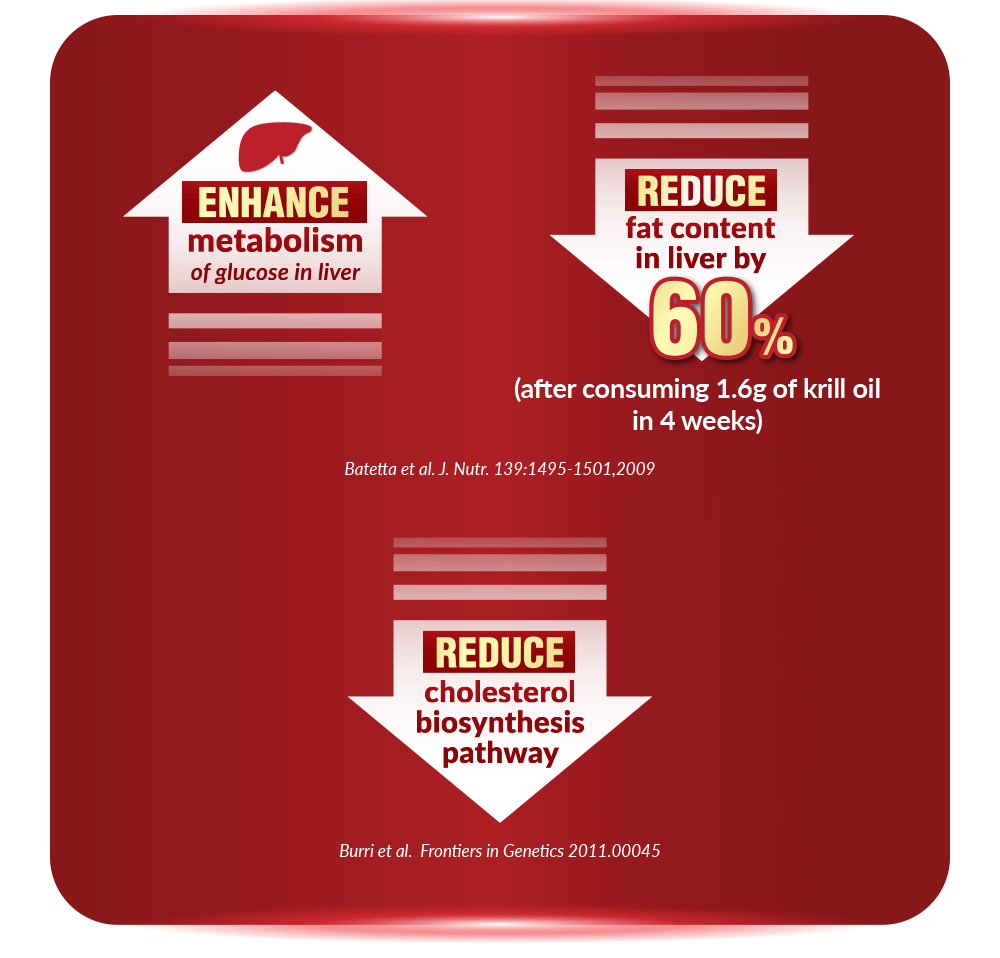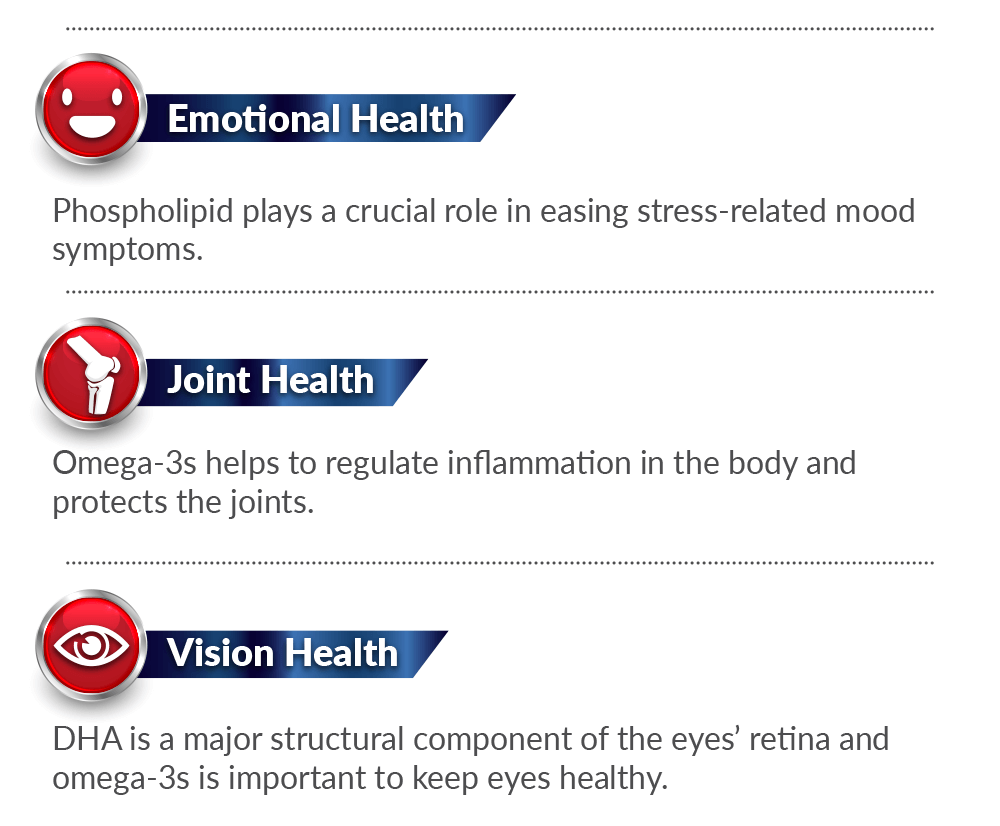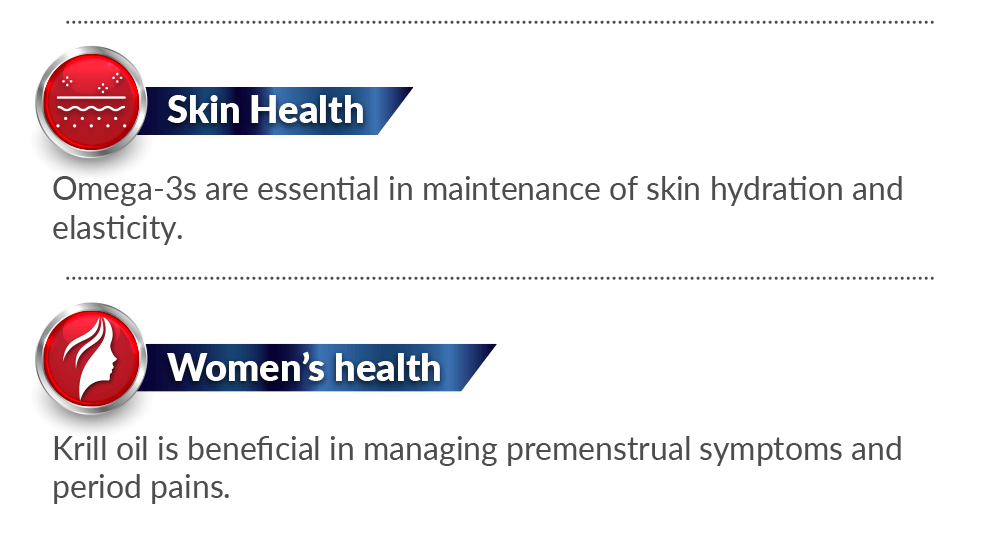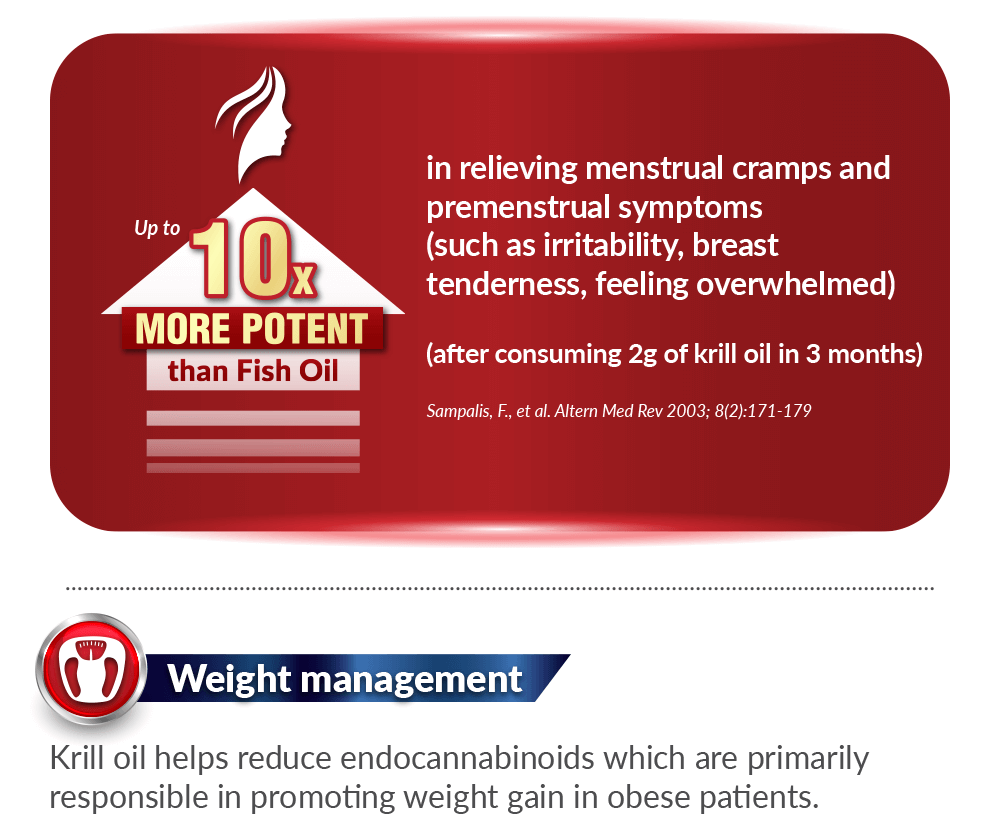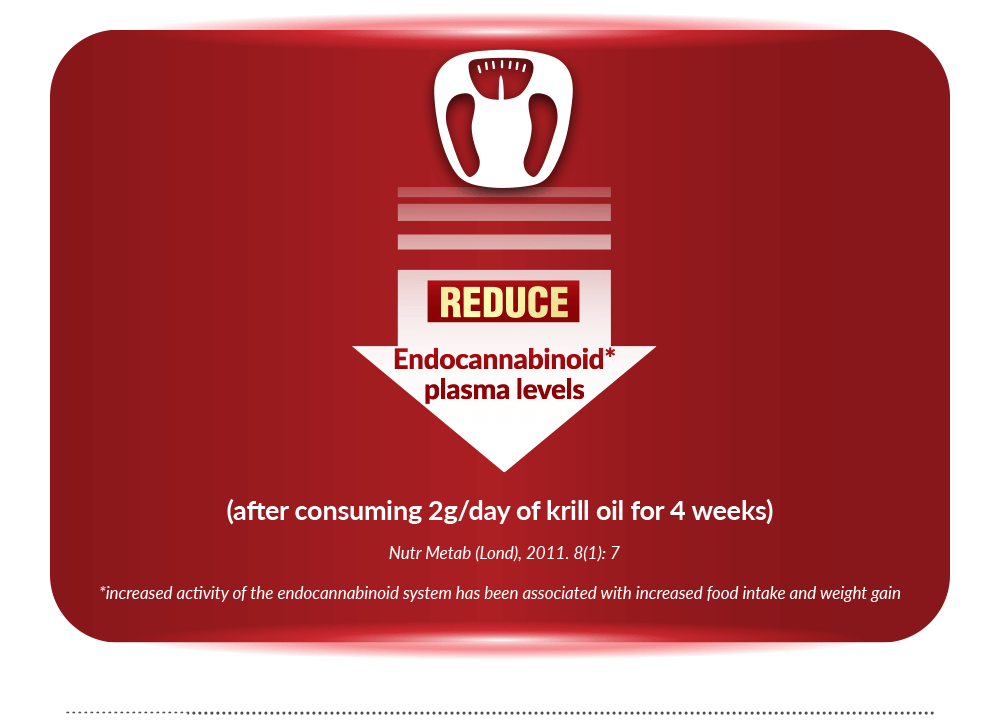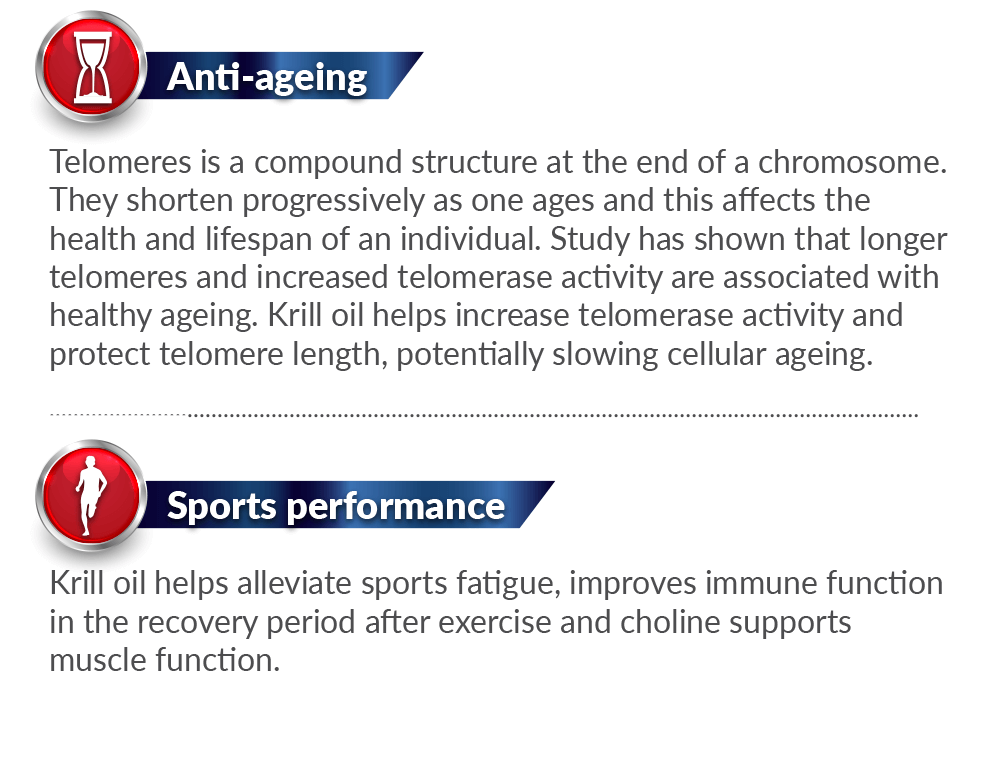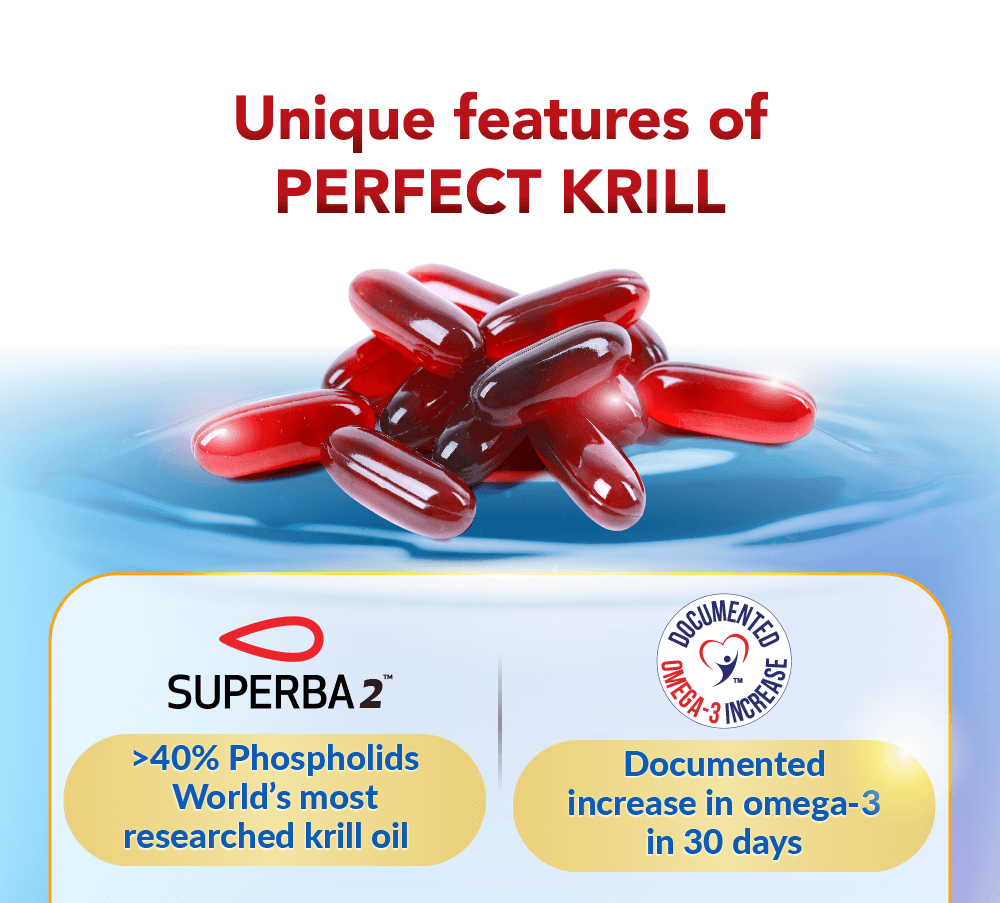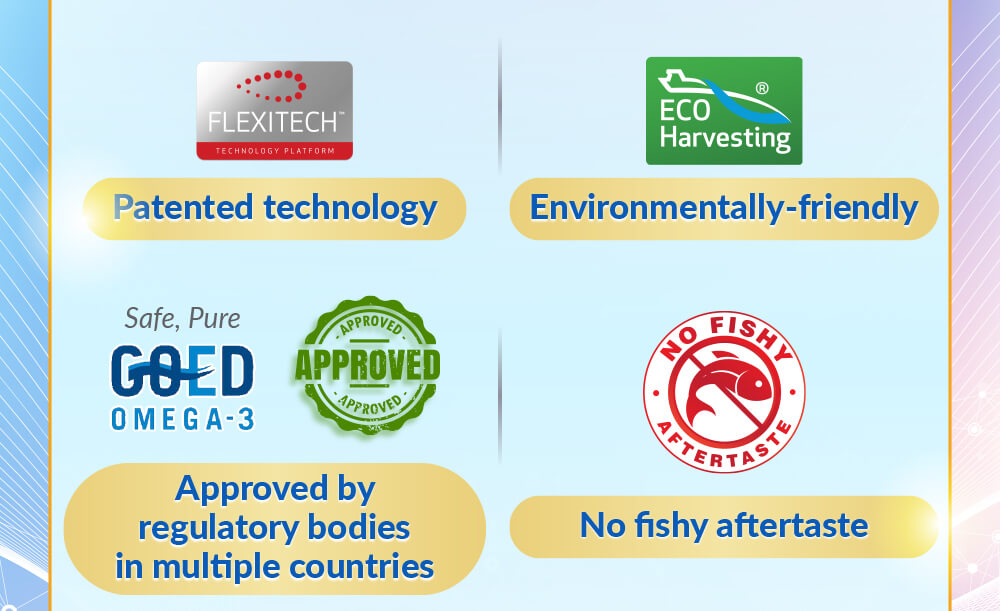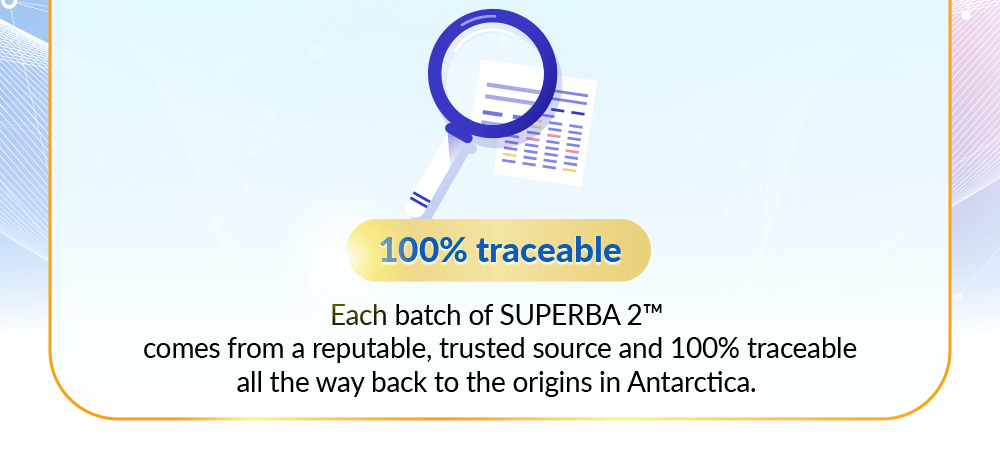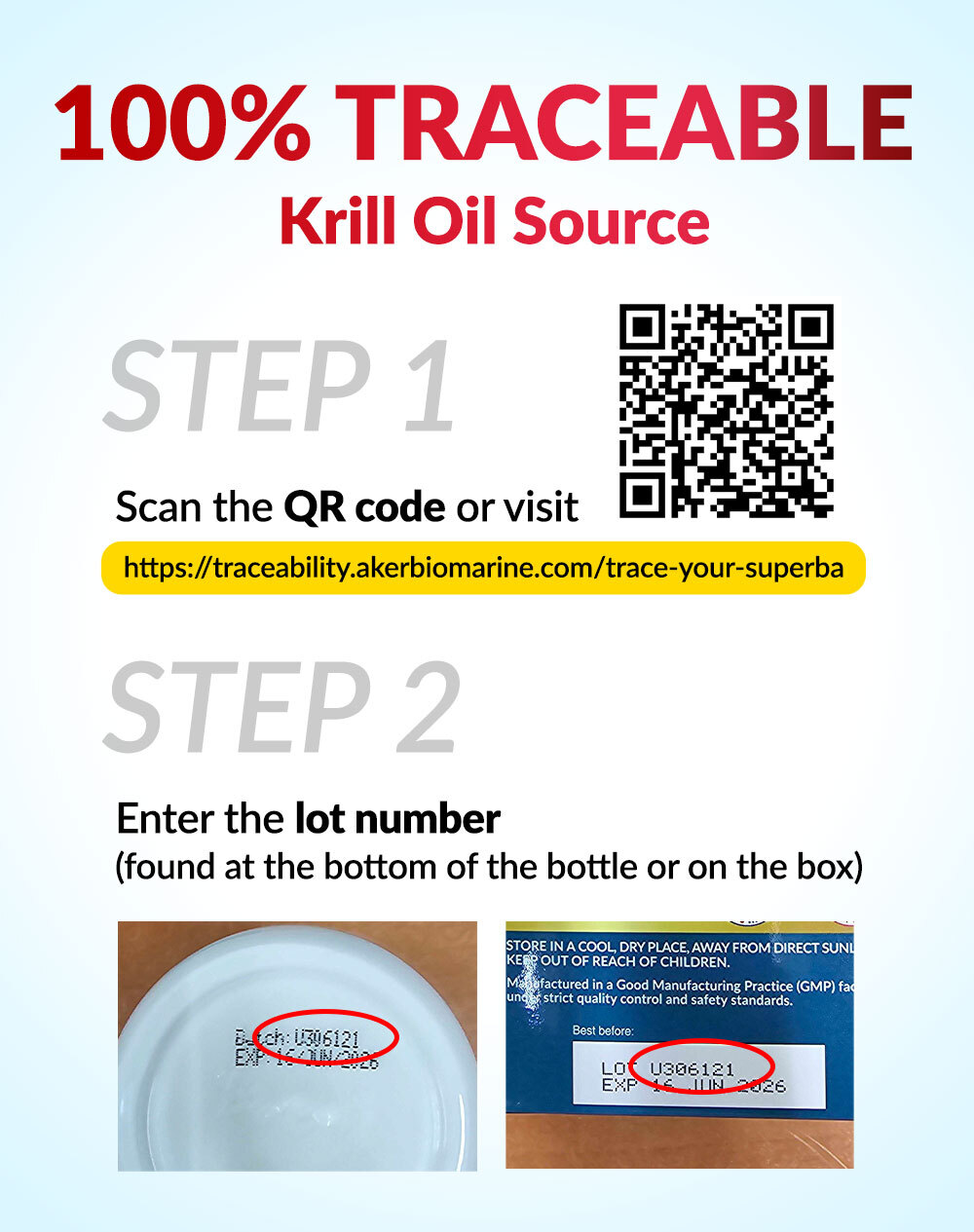 https://traceability.akerbiomarine.com/trace-your-superba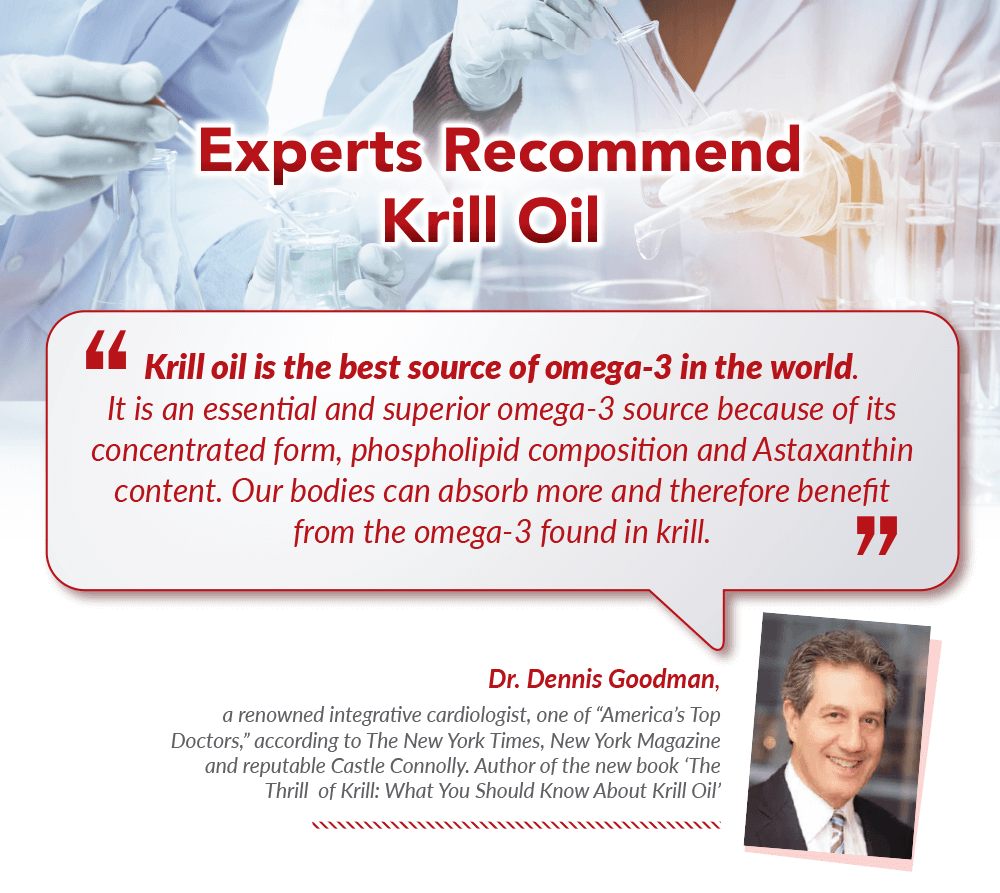 Dr. Dennis Goodman advises on keypoints when choosing a krill supplement
Omega Krill Oil vs Fish Oil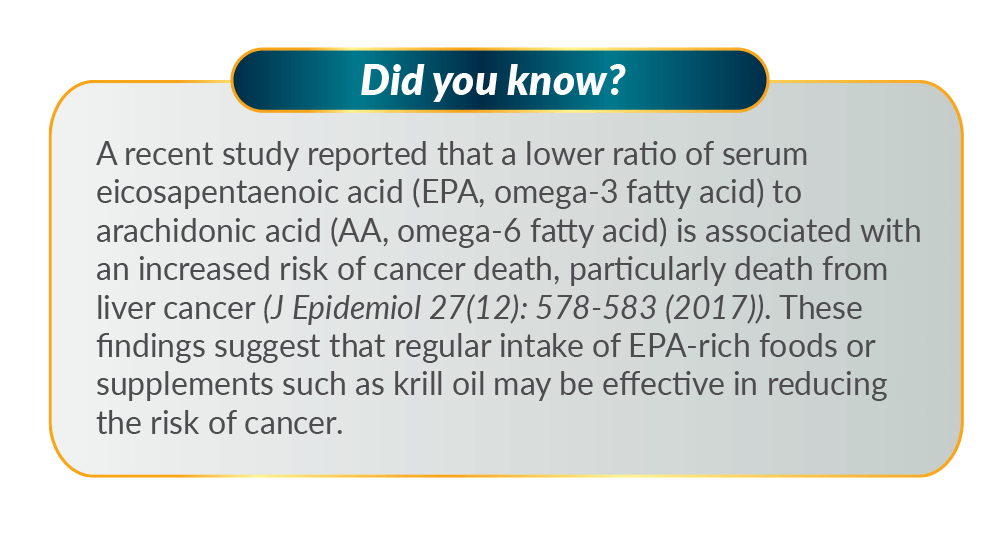 For more info:
Hear from Dr Oz on "Krill Oil vs Fish Oil: Krill oil review and its benefits"
https://www.youtube.com/watch?v=vaTxFLl24do
Hear from Dr Bryan Walsh on "Krill oil and fish oil"
http://youtu.be/mTjuSDgqbtQ
Content: 500mg x 60 softgels