Per 1 softgel
1250 mg Ultra-Concentrated Omega Fish Oil* provides 1125 mg Omega-3 Fatty Acids:
764 mg EPA (Eicosapentaenoic Acid)

256 mg DHA (Docosahexaenoic Acid)

30 mg DPA (Docosapentaenoic Acid)

75 mg Other Omega-3 Fatty Acids
Sustainably sourced fish oil from Anchovy, Sardine, Mackerel (Peru/Chile) and may contain Pollock (USA). Purified and tested in Europe. Produced and encapsulated in Japan using OmaxFresh® Technology.
Other ingredients: OmaxFresh® softgel capsule (bovine gelatin, glycerin, purified water, phytic acid), natural vitamin E (mixed tocopherols), rosemary extract
No wheat, gluten, yeast, dairy, soy, eggs, corn, shellfish, tree nuts, peanuts, GMO, cholesterol, preservatives, artificial colouring, flavouring, sweetener or sodium
1 softgel daily
Note:
This product contains fish.
Warning:
If you are pregnant, nursing, taking blood thinning medications, planning any medical or surgical procedures or have any medical condition, please consult your physician before use. Discontinue use and consult your physician if any adverse reactions occur.
Dietary supplements are not a substitute for a healthy diet.
Store in a cool, dry place, away from direct sunlight and moisture. Keep out of reach of children.
Q: What makes OmaxPure® Omega-3 Fish Oil more superior to the rest?
A: OmaxPure® is a pharmaceutical grade fish oil containing 90% omega-3 fatty acids in a super-absorbable re-esterified triglyceride (rTG) form. Its bioavailability & potency is unsurpassable. Employing unique Supercritical CO2 extraction and OmaxFresh® encapsulation technologies, each OmaxPure® softgel delivers a high dose of 1125mg omega-3. Ultra-concentrated, ultra-pure and ultra-fresh, it elevates cellular omega-3 levels quickly and efficiently. Because it is exceptionally stable, fresh and resistant to rancidity, OmaxPure® offers many health benefits. OmaxPure® has no fishy aftertaste and does not contain any flavouring. OmaxPure® has surpassed all the strict standards set by GOED, with its extremely low oxidation levels. Using an unrivalled 3-layer purification process, heavy metals, dioxins, furans, PCBs and other contaminants are removed from the fish oil. Rigorously tested by third party organisations for safety, quality and sustainability. OmaxPure® is additionally fortified with natural Vitamin E (mixed tocopherols) and Rosemary Extract.
Q: Why OmaxPure® is known as pharmaceutical grade omega-3 fish oil?
A: OmaxPure® is purest form of fish oil containing ultra-concentrated (90%) omega-3 in re-esterifed (rTG) form. It gives a clinical proven high dosage & highly bioavailable omega-3 with fewer number of softgels. To reach this unprecedented concentration, the state-of-the-art three-layer purification technology that includes the most advanced supercritical CO2 extraction and supercritical CO2 chromatography are employed. This unique process also effectively removes all heavy metals, dioxins, furans, PCBs and other contaminants. This premium grade, odourless and burpless omega-3 fish oil surpasses all the stringent standards set by GOED. Attributed to all these unique features, OmaxPure® is identified as a pharmaceutical grade fish oil, making it as one of the most potent fish oils available in the market.
Q: What is so unique about re-esterified triglyceride form of omega-3?
A: Omega-3 in fish oil can exist in any of these 3 forms: unconcentrated natural triglyceride (TG), concentrated ethyl ester (EE) and concentrated re-esterified triglyceride (rTG) forms.
rTG concentrate provides up to 90% of omega-3 and EE concentrate typically contains 50 to 70% omega-3. With this higher concentration, it effectively delivers higher dosage of omega-3 into body cells with a smaller volume of fish oil.
As rTG omega-3 is identical to natural triglyceride form, it can be tolerated, absorbed and utilised more easily by human body with virtually no gastrointestinal side effect, as compared to omega-3 in EE form. A recent study has shown that bioavailability of omega-3 in rTG form is 70% higher than ethyl esters form and 24% more superior than the natural triglyceride form in unprocessed fish oil.
Omega-3 in rTG form is also more stable and oxidises less easily than EE form. Fish oil contains DHA in EE form was found to decay 33% more rapidly than omega-3 fish oil in triglyceride form. Although rTG form is better than EE form, majority of concentrated omega-3 fish oils are offered in the EE form as it is more costly to re-esterify ethyl ester fish oil back to rTG form.
Q: How is Supercritical CO2 extraction technology superior?
A: Supercritical CO2 extraction is an advanced and fairly new purification and concentration technology. This technology boosts the quality of fish oil, guaranteeing highly pure, fresh, concentrated and cholesterol-free fish oil. Removing heavy metal and other contaminants, this technology applies 350% lesser heat to the fish oil as compared to molecular distillation, which is a technique commonly used to purify and concentrate fish oil. As omega-3 EPA and DHA are highly sensitive to temperature, the use of low temperature is crucial to prevent oxidation and degradation of omega-3. Since Supercritical CO2 extraction does not involve the use of toxic solvents, and because CO2 can be recycled, this technology is highly sustainable with no risk of residual chemicals in the fish oil. Going beyond supercritical CO2 extraction, OmaxPure® Omega-3 Fish oil is processed via an unrivalld three-layer purification process, which also includes urea complexation and supercritical CO2 chromatography, which makes it as one of the most concentrated, purest, most potent and cholesterol-free fish oils available in the market.
Q: What is so unique about OmaxFresh® Encapsulation Technology?
A: OmaxPure® capsule is fortified with a patented, plant-based, GRAS-certified ingredient that does not harden over time. This allows for optimal release into the intestines, maximal absorption into the body cells and a stable shelf life. The potency and safety of omega-3 fish oil is assured through the shelf life of the product.
Most fish oil supplements in the market are encapsulated using a gelatin capsule which hardens over time. This would affect the release of fish oil in the intestines, resulting in lower absorption and bioavailability of fish oil. Some fish oils additionally include enteric coating to mask a fishy aftertaste or fishy burps. Enteric-coated formulations incorporate different chemical additives, which could lead compromised digestion and prolonged absorption in the small intestines, thereby resulting in poor bioavailability. However, pure, fresh and unoxidised fish oils like OmaxPure® does not give a fishy aftertaste or fish burps. Hence, it certainly does not require an enteric coating to mask any fishy taste or burps.
Q: Which fish sources does OmaxPure® Omega-3 Fish Oil come from?
A: OmaxPure® Omega-3 Fish Oil is primarily sourced from sustainable small fish - sardines, anchovy and mackerel. Since small fish are lower on the food chain, these fish naturally have a much lower concentration of contaminants compared to bigger fish. Hence, it is preferable to consume fish oil extracted from smaller fish.
Q: Can I check the quality of my fish oil?
A: The fish oil freezer test is a simple way to evaluate the quality of fish oil. In this test, simply leave the fish oil in the freezer until it is frozen. If the fish oil contain a lot of saturated fat and very little omega-3, it would solidify and give an opaque appearance. On the other hand, fish oils with ultra-high concentrations of omega-3, such as OmaxPure® Omega-3 Fish Oil would remain see-through even when it is frozen. This is because omega-3 fats have extremely low freezing points, they do not solidify easily.
Q: What are the benefits of taking OmaxPure® Omega-3 Fish Oil?
A: Our modern diet contains too much omega-6 fatty acids (such as corn oil, soya bean oil), but too little omega-3 fatty acids. The ideal omega-3s to omega-6s ratio is 1 : 1, but this ratio can go up to 1 : 20 and more. Hence, replenishment of omega-3s with high concentration OmaxPure® Omega-3 Fish Oil is crucial to restore this healthy ratio. Each omega-3 fatty acids (i.e. DHA, EPA and DPA) may individually offer important benefits, but our omega-3 metabolism relies on having all 3 present for the best results. DHA is crucial for healthy cell membrane structure, as well as normal growth and development. It is vital for the functional development of infant brain and maintenance of normal brain function in adults. Sufficient DHA in the diet improves learning ability, while a deficiency is associated with learning disabilities. Hence, OmaxPure® is suitable for children, teenagers, adults and elderly. EPA is important for blood circulation. Hence, OmaxPure® is suitable for those experiencing constant fatigue. Both DHA and EPA together provide a number of important health benefits throughout our lifetime. DPA (docosapentaenoic acid) is the third most prevalent omega-3 fatty acid found in fish oil. Although it typically occurs in a much lower concentrations than DHA and EPA, it is recognised as being more "powerful" than DHA and EPA. DPA plays a prominent role in overall wellness. Studies have shown that it may be able to support healthy cardiovascular system, eye and lipid profile.
Q: Is OmaxPure® Omega-3 Fish Oil safe for long-term consumption?
A: Yes, OmaxPure® Omega-3 Fish Oil is very safe and highly recommended for long-term consumption for optimal health. As wild-caught fish have naturally occurring, numerous contaminants, we have employed unprecedented three-layer purification process, including Supercritical CO2 extraction technology that removes heavy metals, dioxins, PCBS and other harmful contaminants.
OmaxPure® Omega-3 Fish Oil is also highly fresh with extremely low levels of oxidation. Consuming oxidised fish oil does more harm than good and research has found that majority of fish oil supplements are highly oxidised at the time of purchase. Superior to the rest, OmaxPure® has surplused all the strict standards set by GOED (The Global Organisation for EPA and DHA Omega-3s) for The Peroxide Value (PV), the para-Anisidine Value (pAV) and the total oxidation (TOTOX) values. These are the three primary analytical measures used to evaluate oxidation of fish oils.
Q: Do I need to take OmaxPure® Omega-3 Fish Oil every day?
A: OmaxPure® Omega-3 Fish Oil is highly recommended for those have insufficient fish intake. If you already take 1 to 2 servings of fatty fish weekly, then you may already have sufficient omega-3 and do not need to take it every day.
Q: I have trouble swallowing fish oil supplements, how should I take it?
A: Since OmaxPure® Omega-3 Fish Oil is highly fresh and free of fishy taste, you can chew the entire softgel, or pierce and squeeze the fish oil into water, juice or cereal.
Q: When is the best time to take OmaxPure® Omega-3 Fish Oil?
A: OmaxPure® Omega-3 Fish Oil can be taken anytime – day or night, with or without food.
Q: Can I take OmaxPure® Omega-3 Fish Oil while I am on medication?
A: Yes, you can. However, do ensure a 2-hour gap between OmaxPure® Omega-3 Fish Oil and medicine to ensure that the efficacy of OmaxPure® is not compromised. As high dosage fish oil (>1,000mg/day combined EPA and DHA ) can have blood thinning effect, it may increase bleeding risk when a person takes them with blood thinners, such as aspirin. Hence, it is advisable to get a medical advice prior to taking fish oil supplements if you are on those medications.
Q: Does OmaxPure® Omega-3 Fish Oil require a prescription?
A: No, OmaxPure® Omega-3 Fish Oil is a natural supplement, and not a medicine. Hence, no prescription is required.
Q: Is OmaxPure® Omega-3 Fish Oil safe for use during pregnancy and nursing?
A: OmaxPure® Omega-3 Fish Oil has not been studied for use during pregnancy and nursing. If you are pregnant or nursing, we strongly encourage you to consult your physician before taking any supplements.
Because our body cannot produce omega-3 on its own, many turn to fish oil to supplement to solve this deficiency. This also means that we should be looking out for the omega-3 mass in the fish oil.
Omega-3 has powerful benefits for the body and the brain. From protecting the heart and easing inflammation to improving mental health.
Fish oil supplements may look similar on the outside, but the potency and benefits can vary drastically! It depends on the fish source, extraction technology and omega-3 mass in the fish oil.
The efficacy of a fish oil correlates with the omega-3 concentration. A research shows that more omega-3 (EPA and DHA) can be detected in the body when a more concentrated fish oil is consumed as compared to multiple lower concentrated fish oils.
As high dosage fish oil can have blood thinning effect, it is advisable for persons taking blood thinners, such as aspirin to get a medical advice prior to taking fish oil supplements.
1. JAMA Netw Open. 1(5): e182327 (2018)
2. British Journal of Clinical Pharmacology. 75(3): 645–662 (2013)
3. Am J Clin Nutr. 96(4): 748–758 (2012)
4. Pharmacol Ther. 141(3):272-282 (2014)
OmaxPure® offers omega-3 in a super absorbable re-esterified triglyceride (rTG) form. Much more bioavailable than the other more common and cheaper alternatives– TG and EE forms, fish oil in rTG form is better tolerated with less gastrointestinal side effects and can be absorbed and utilised more easily by the body. That also means that OmaxPure® can deliver higher doses of omega-3 in smaller amounts of fish oil, thereby allowing each capsule to be highly concentrated, holding up to 90% of omega-3.
Employing Supercritical CO2 Extraction from a 3-layer purification process, this highly advanced purification and concentration technology does not use high heat or toxic solvents, making it more superior to molecular distillation. Maintaining the freshness of fish oilwith this oxygen-free manufacturing process,the fishoil extract is pure and odourless. Heavy metals, cholesterol, other toxic contaminants and solvent residues are removed.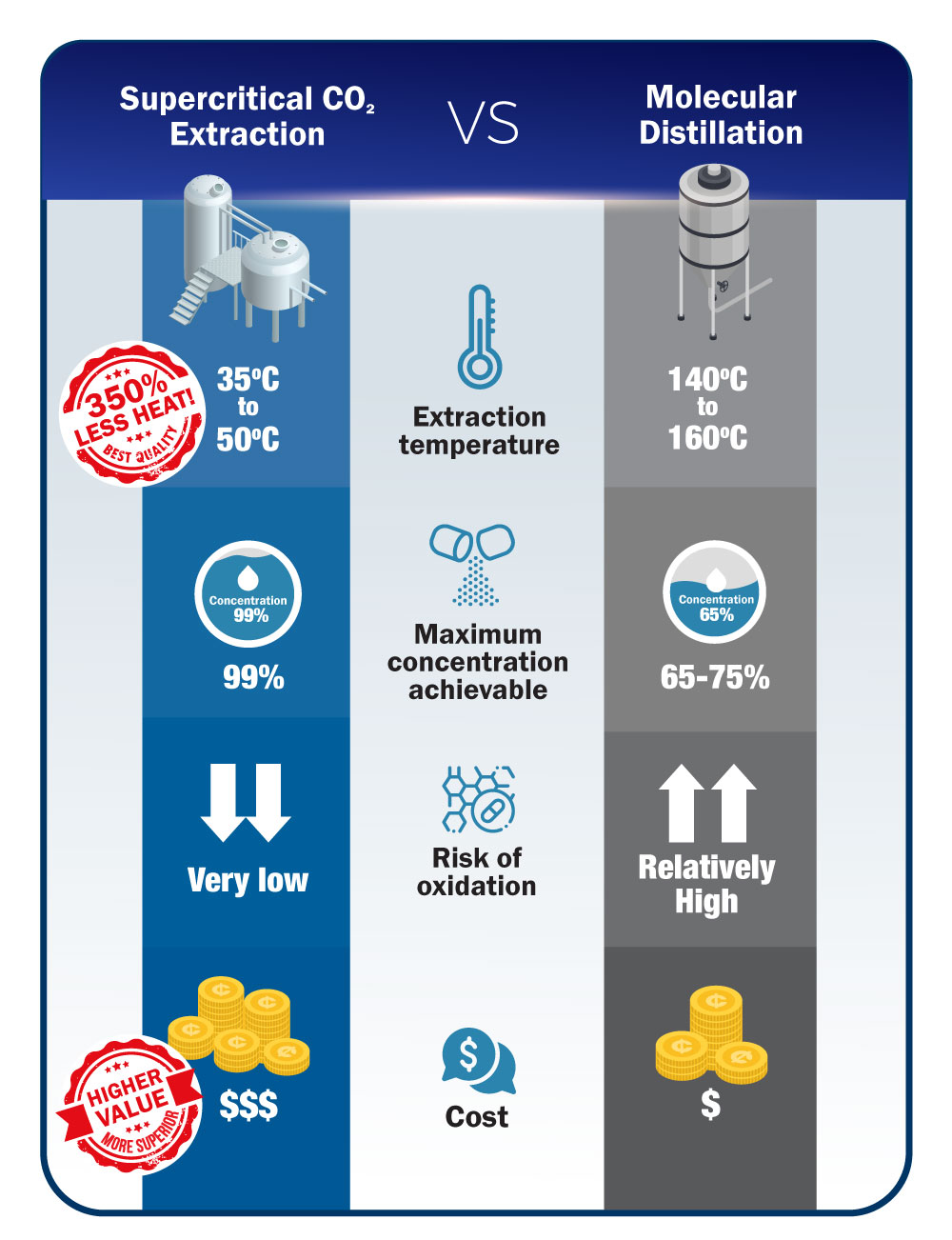 (Modified from "Concentrating omega-3 oils – Supercritical fluid technology versus molecular distillation. Peter Lembke. Published 2011)
For environmental sustainability reasons and to ensure maximum freshness, OmaxPure® only uses small fish sources. Also lower in the food chain, it is less contaminated than bigger fish sources.
To maintain maximum freshness, the fish will be processed in GMP-certified manufacturing facilities located close to or at the harbour.
OmaxPure® is extremely fresh and does not oxidise easily. The absence of reflux or fishy burps is its marker of freshness; unlike other fish oil supplements which would already be oxidised and need an enteric coating to mask the fishy taste of the oxidised fish oil. Rancid fish oil is linked to several detrimental health effects such as an increase of bad cholesterol levels, premature ageing, inflammation, plaque build-up in the arteries, increased free radical generation in the body and even organ damage.
1. Sci Rep. 2015 Jan 21;5:7928.
2. Cardiovasc J Afr. 2013 Sep;24(8):297-302.
3. Laupsa-Borge, Johnny. Velg Ferske og Naturlige Omega-3 Produkter. Helsemagasinet Vitenskap & Fornuft. 9 Dec. 2012.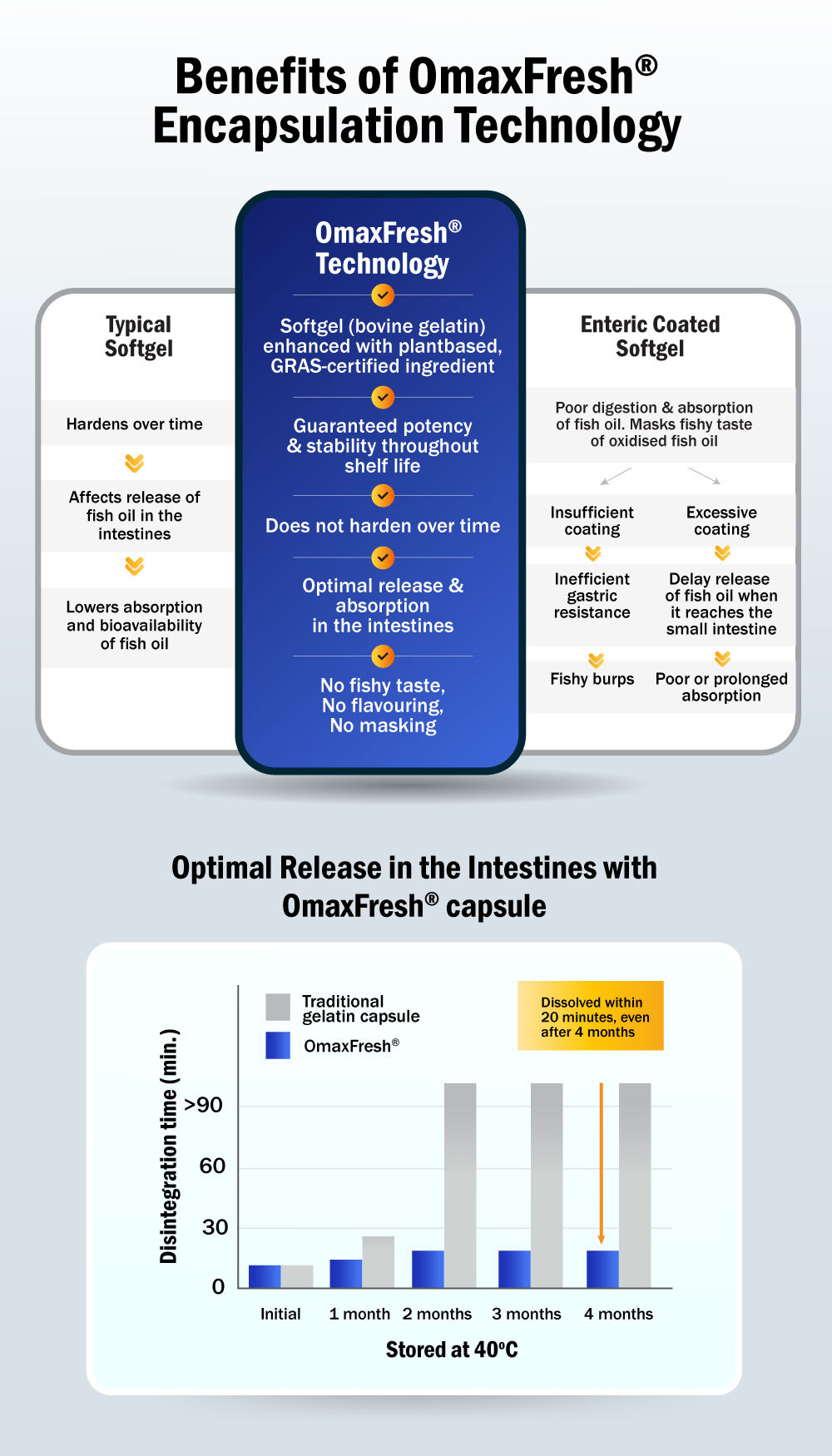 As seen from the diagram, capsules encapsulated with OmaxFresh® technology releases the contents within 20 minutes. There is little difference between the duration it takes to release from the 1st month and the 4th month. Further enhancing and reinforcing its freshness capability, OmaxPure® is fortified with antioxidants help combat oxidation and rancidity, as well as provide additional health benefits.
• Powerful antioxidant, help minimise free-radical damage to the body
• Gets absorbed and utilised 2 times more efficiently than the synthetic form
• Complements and enhances the benefits of fish oil - anti-inflammation, improved skin health and brain function
• Strong antioxidant capacity, synergistic antioxidant effect with natural vitamin E
• Helps delay the onset of oxidation
• Neutralise free radicals
• Help boost immune system
• Improve blood circulation
• Improve digestion
• Protect against brain ageing
• Promote eye health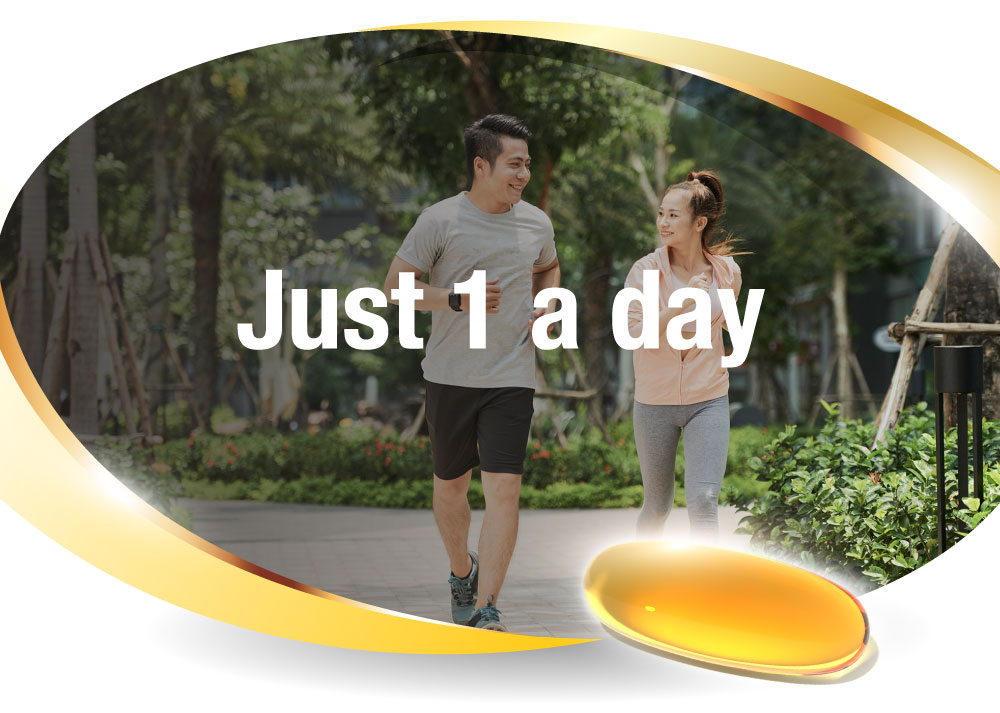 To reap the full nutritional benefits, a person has to take the recommended omega-3 dosage daily. But, how many fish oil capsules will it take?
The expiry date and smell of the fish oil can give some indication of the freshness of the fish oil. But for a good measure of the quality and freshness, a responsible fish oil manufacturer will commission an independent testing organisation who does not benefit financially from the test results to test their products. It is important to ensure the fish oil abides by international standards set by third party omega-3 trade bodies such as GOED.
Independent third party organisationsexist to set recommendedinternationalstandards and criteriafor fish oil manufacturersto comply by.Such organisations include: