Active Ingredients per 2 softgels
APF Fat Reduction Factors 1000mg (contains concentrated Fucoxanthin and Apple Polyphenols)
How to take?
Weight Loss: 4 softgels daily with a meal
Maintenance: 2 softgels daily with a meal

Is LipoDOWN2 safe?
LipoDOWN2 is clinically proven to be safe and effective and it is formulated with active ingredients extracted from natural food sources. It does not contain laxatives, caffeines, stimulants and appetite suppresants. It is 100% made in Japan in a GMP-certified facility under stringent quality processes. No adverse reactions or unwanted side effects have been reported in clinical studies.
How soon can I see results?
According to research results, significant weight loss is reported after 42 days of consumption, and up to 9kg of weight loss can be acheived with 2 month's consumption. As slimming results vary accross individuals, it is advisable to include moderate levels of physical activity and a healthy diet to accelerate weight loss efforts.
Will I regain my weight after I stop LipoDOWN2?
LipoDOWN2 supports successful weight loss through fat reduction. It is unlikely to regain lost weight if you follow a sensible diet and healthy lifestyle after discontinuing intake.
What are the active ingredients in LipoDOWN2?
LipoDOWN2's APF Fat Reduction Factors are formulated from 100% natural vegetarian ingredients. Extracted from unripe apple skin and brown seaweed using patented proprietary extraction technology, LipoDOWN2 boasts a potent concentration of fucoxanthin and apple polyphenols that burn, block and eliminate fats.
Can I combine LipoDOWN2 with other supplements or medications?
LipoDOWN2 can be taken with your daily supplements. For medications, please allow 2 hours between medication and supplement consumptions.
The following are extracted from published clinical studies, in-house studies, and/or case studies and are for reference purposes only. This does not imply that the product from Lifestream Group Pte Ltd is claimed to replicate the same results produced in the studies. This information is not a substitute for professional medical advice, diagnosis, or treatment. If you have any questions about a medical condition, please consult your physician or other qualified healthcare providers. Any statements or claims made have not been evaluated by the relevant regulatory bodies and are not intended to diagnose, treat, cure, or prevent any disease.
By using the Site, you agree that you have read and acknowledge the above and the Terms of Use for this Site.
Watsons H.W.B (Health.Wellness.Beauty) Awards Winner for 10 consecutive years
The battle of the bulge is a constant challenge for most of us - from those stubborn inches that refuse to budge, to unsightly problem areas, to those dreadful extra pounds creeping up after a heavy meal or two - weight loss can be a frustrating
process.
Coupled with sedentary lifestyle and a slower metabolism rate with age, it gets increasingly difficult to shed the excess kilos, in particular the excess fat at the tummy, thighs, arms and hips..
AFC LipoDOWN2 is a clinically proven formula that fuels fat burning round-the-clock, even while you are at rest. Enhanced with APF Fat Reduction Factors, the new proprietary formula is 200% more powerful in supporting sustainable fat loss, for visible inch and weight loss.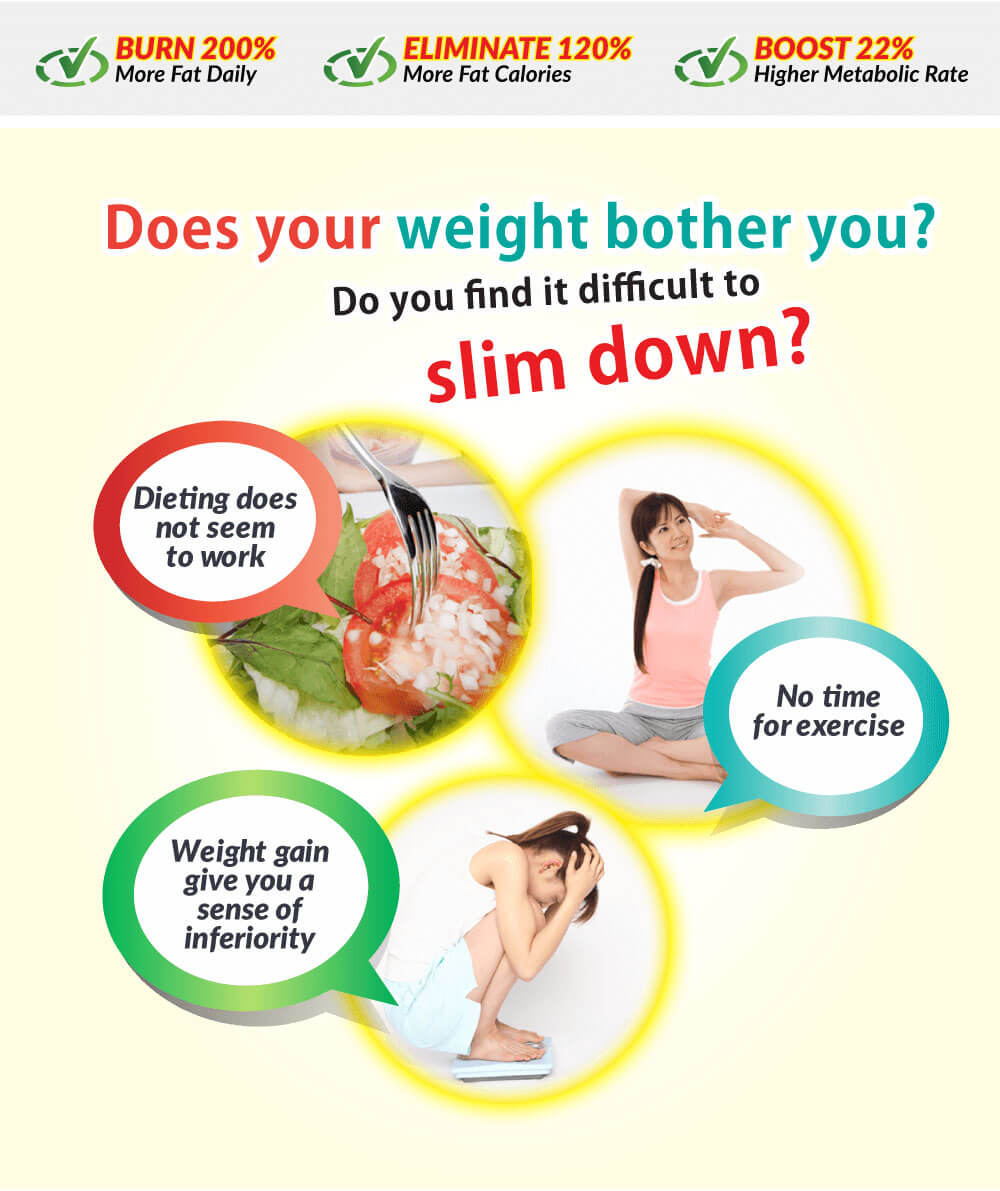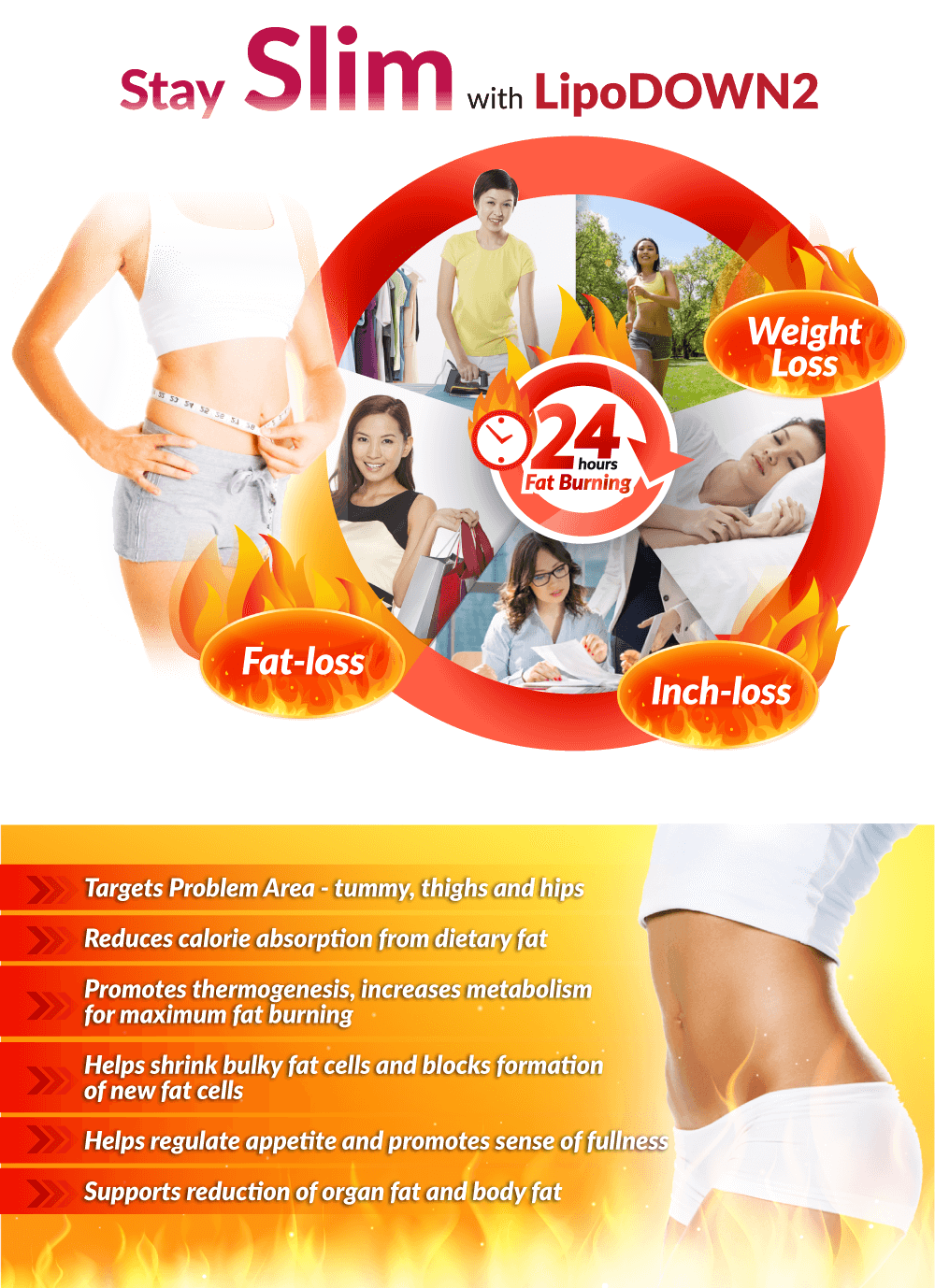 How does AFC LipoDOWN2 work?
To reduce your overall body fat level, you need to burn off stored fat, raise your metabolic rate and block the excess calories from turning into fat. In fact, every 1kg of body fat is equivalent to 7,000kcal!
The new and improved AFC LipoDOWN2 comes enhanced with the revolutionary APF Fat Reduction Factors to burn fat, boost metabolism and eliminate fat calories. APF Fat Reduction Factors trigger multiple fat reduction actions to help combat the unsightly bulges and shed excess weight safely and naturally. A natural and safe formula, AFC LipoDOWN2 is free from caffeine, diuretics, laxatives and stimulants; hence, it does not affect your sleep quality or lead to heart palpitations or diarrhoea.
Numerous research reports and clinical studies have been published on both Apple Polyphenols and Fucoxanthin, the two key ingredients in AFC LipoDOWN2. These sources include reputable institutes like the Nihon Preventive Medical Laboratory, Hokkaido University, Kyushu University and other top universities in Japan.
Comprising a potent combination of Apple Polyphenols and Fucoxanthin, the APF Fat Reduction Factors are natural substances extracted at high purity from unripe apples and Japanese brown seaweed respectively. 100% manufactured in Japan, the natural active substances in AFC LipoDOWN2 require advanced Japan's patented extraction technology to ensure the strict potency and efficacy markers are met.
Clinical studies have reported that these active substances in AFC LipoDOWN2 can boost metabolic rate up to 22%, and trigger your body's fat burning capacity even while at rest. A higher metabolic rate helps you burn calories more effectively for natural fat and weight loss.
Effective Results in Just 4 Weeks!
Who Should take LipoDOWN2?
Anyone who
• Desires to stay slim
• Having stubborn bulges on thigh, waistline, etc
• Suffering from undesirable weight

Use in conjunction with a balanced diet & regular exercise. Results may vary.
Contents: 535mg x 60 softgels