Active Ingredients in 2 capsules:
Placenta Peptides (Porcine) Extract 340 mg,
Collagen Peptides (Porcine) Peptides 200mg,
Brewer's Yeast 140 mg
Other ingredients: Gelatin, Cacao Pigment
No fillers, binders, hormones, preservatives, wheat, milk derivatives or artificial colouring
Daily Maintenance
Take 2 capsules daily
Intensive Needs
If you experience menopause symptoms, increase the daily intake to 4 capsules.
Complement with Le Revital for best results.
Frequently Asked Questions

1. What makes Le Ageless superior to other placenta supplement?
Most placenta supplements sold in the market are raw powdered form, encased in capsules with indications such as 30, 50 or 100 times concentration. This does not define the bioactive content and efficacy of the supplement and is only the value of the final weight of each capsule. The true safety and efficacy of a placenta supplement is determined by (a) the thorough extraction of bioactive contents and (b) the filtration of impurities out of the placenta. The science behind the superiority of Le Ageless Nano Placenta Extract to other placenta products is its state-of-the-art cold process, multi-enzymatic degradation & nanofiltration technology which retains more than 99% bioactive contents within the placenta, while removing all impurities, chemicals and hormones. It is manufactured by leading placenta life sciences corporation in Japan, using premium, stringently selected porcine placenta from Japan.
2. How does Le Ageless differ from other sources of placenta such as plant, marine, deer, sheep or horse placenta?
Placenta from plant (obtained from plant pistils) and fish (harvested from salmon ovarian membrane) do not contain growth factors, the powerful and vital youth-enhancing ingredients that are present only in mammal placentas. Tests for both deer and sheep placentas revealed less bioactive contents compared with Nano Placenta Extract used in Le Ageless. Deer, sheep, plant and marine placenta do not comply with the standards of Japan Health Food Association (JHFA). Horse placenta, if bred and treated according to the regulatory standards of JHFA, is a good source of placenta protein. However, it may not be compatible with the body disposition of all users; some people may experience effects such as acne outbreak and heatiness.
3. Will the benefits of Le Ageless and Le Revital be ineffective after I stop using them?
Ageing is a continuous process. If you stop the Le Ageless nutrition or Le Revital application, the beneficial effects will continue but not for the long term. After a period of time, your cellular mechanism may become less efficient in its repair and regeneration capability, this makes you susceptible to sickness and your skin may lose its tone and radiance. Le Ageless Cell Essentials and Le Revital Intense Cell Activator help you enhance cellular health so you can feel healthy internally and youthful externally. Long-term consumption or usage is recommended for optimal effects.
4. Are Le Ageless and Le Revital suitable for everyone?
Yes. Le Ageless is formulated with only natural ingredients. It is suitable for all ages from youth to elderly and safe for long-term consumption.
5. Is porcine placenta compatible with the human body?
Yes. Porcine placenta is similar to the human placenta which has long been consumed by mothers for their postpartum care. Porcine placenta is just as potent in its healing properties for cell renewal and is the first source of mammal placenta approved for used in Japan.
6. What are growth factors, are they harmful to my body?
Growth factors are not growth hormones. They are a naturally occurring protein in the placenta and body which promote cell activation and stimulate cell renewal, repair and regeneration for complete wellness and rejuvenation. The growth factors present in Le Ageless and Le Revital are safe and suitable for consumption by all ages and have no side effects. Both products are free of harmful growth hormone.
7. Is it effective to consume either Le Ageless or apply Le Revital?
Both products have their benefits, but to achieve optimum results for complete healing and rejuvenation of organs and skin, we recommend that you combine both products to improve the overall results. This combined treatment is the same formula used by prestigious anti-ageing clinics in Japan.
8. Are Le Ageless and Le Revital better than placenta injection?
Yes. Placenta injection may trigger sensitive rejection in certain individuals. It has to be supervised by a medical practitioner and is very expensive, only the wealthy can afford it. Le Ageless and Le Revital are just as effective in achieving the results of placenta injection, yet it is cost effective and safe with virtually no risk. It is suitable for every individual and good for long-term consumption and application.
9. What are the side effects of Le Ageless?
There are no side effects. Le Ageless is an all-natural supplement, formulated with Nano Placenta Extract, German Collagen Peptides and Brewer's Yeast. It is free of fillers, binders, hormones, preservatives, wheat, gluten, milk derivatives or artificial colouring. Every batch of Le Ageless has gone through stringent tests before it is being marketed.
The following are extracted from published clinical studies, in-house studies, and/or case studies and are for reference purposes only. This does not imply that the product from Lifestream Group Pte Ltd is claimed to replicate the same results produced in the studies. This information is not a substitute for professional medical advice, diagnosis, or treatment. If you have any questions about a medical condition, please consult your physician or other qualified healthcare providers. Any statements or claims made have not been evaluated by the relevant regulatory bodies and are not intended to diagnose, treat, cure, or prevent any disease.
By using the Site, you agree that you have read and acknowledge the above and the Terms of Use for this Site.
Scientifically Proven Benefits

1. Energy Levels, Stamina and Endurance
• Reduce anxiety and improve mood
• Support post illness recovery and improve health
• Promote energy, vigour and stamina; reduce lethargy and fatigue
• Improve mental alertness
Le Ageless is effective in relieving symptoms associated with fatigue.

2. Blood Circulatory and Nervous Systems
• Support healthy blood pressure level
• Promote blood circulation and metabolism
• Support healthy nervous system
- Le Ageless provides a stimulating effect on cell renewal on the entire body, by promoting the formation of new blood vessels and nerves
3. Hormonal Balance and Sleep Cycle
• Balance hormones, manage symptoms associated with PMS, menopause and andropause


• Promote younger cellular age; men's and women's age-related health functions including libido, loss of muscle, saggy skin and bust
• Promote quality sleep and healthy sleep cycle
4. Healthy Menopause and Well-being
• Improve both physical and psychological mild symptoms associated with menopause such as hot flushes, insomnia, anxiety, irritability, shoulder stiffness and joint pain
• Provide anti-inflammatory and antioxidant properties
• Promote cellular rejuvenation and youthfulness
-Le Ageless increase the number of hematopoietic stem cells (stem cells that give rise to all the other blood cells) , suggesting powerful rejuvenation and anti-aging effects.
-The safety of Le Ageless is assured. In the subjects' blood test, there were no significant changes in liver profile (AST, γ-GTP), total cholesterol, glucose and potassium as compared with baseline values.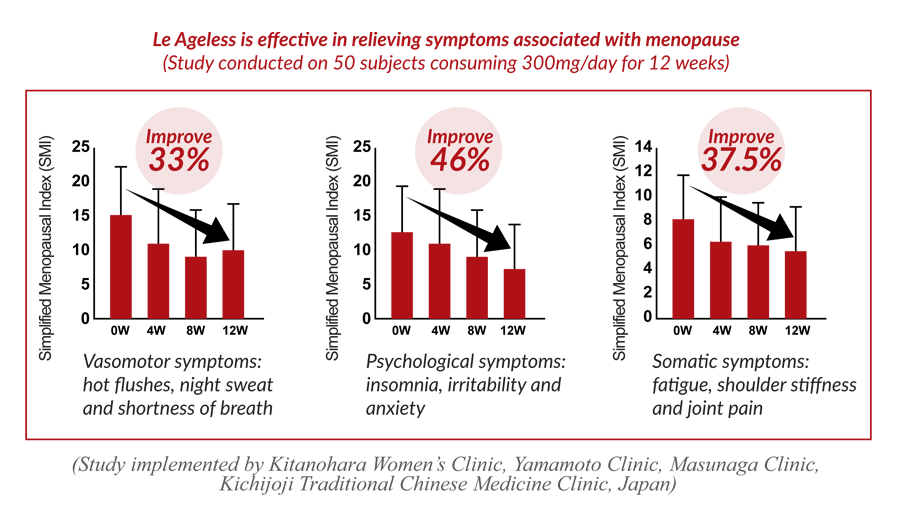 5. Healthy Liver Functions
The Placenta Story
The placenta is the tree of life. Its incredible attributes of growth and nutrition were known in Chinese, Greeks and Egyptian cultures thousands of years ago; even Cleopatra and Marie Antoinette sought the youthful promises of this amazing protein during their time.
By the 20th century, the use of placenta was dramatically changed; because of its amazing properties to revitalise and heal cells, hospitals began using placenta in their "Tissue Therapy", a surgical method of embedding frozen healthy tissues into the skin. It was discovered to be effective for many intractable diseases.
This medical procedure was later brought to Japan by a pioneer physician; where he successfully developed Nano placenta extraction. When he administered placenta extract orally to his patients, remarkable results of cell repair and regeneration in the body were observed. Inspired by the miracle healing, he decided to apply placenta extract on burn injuries and discovered skin cells were successfully repaired and restored. This marked the birth of Nano Placenta Therapy.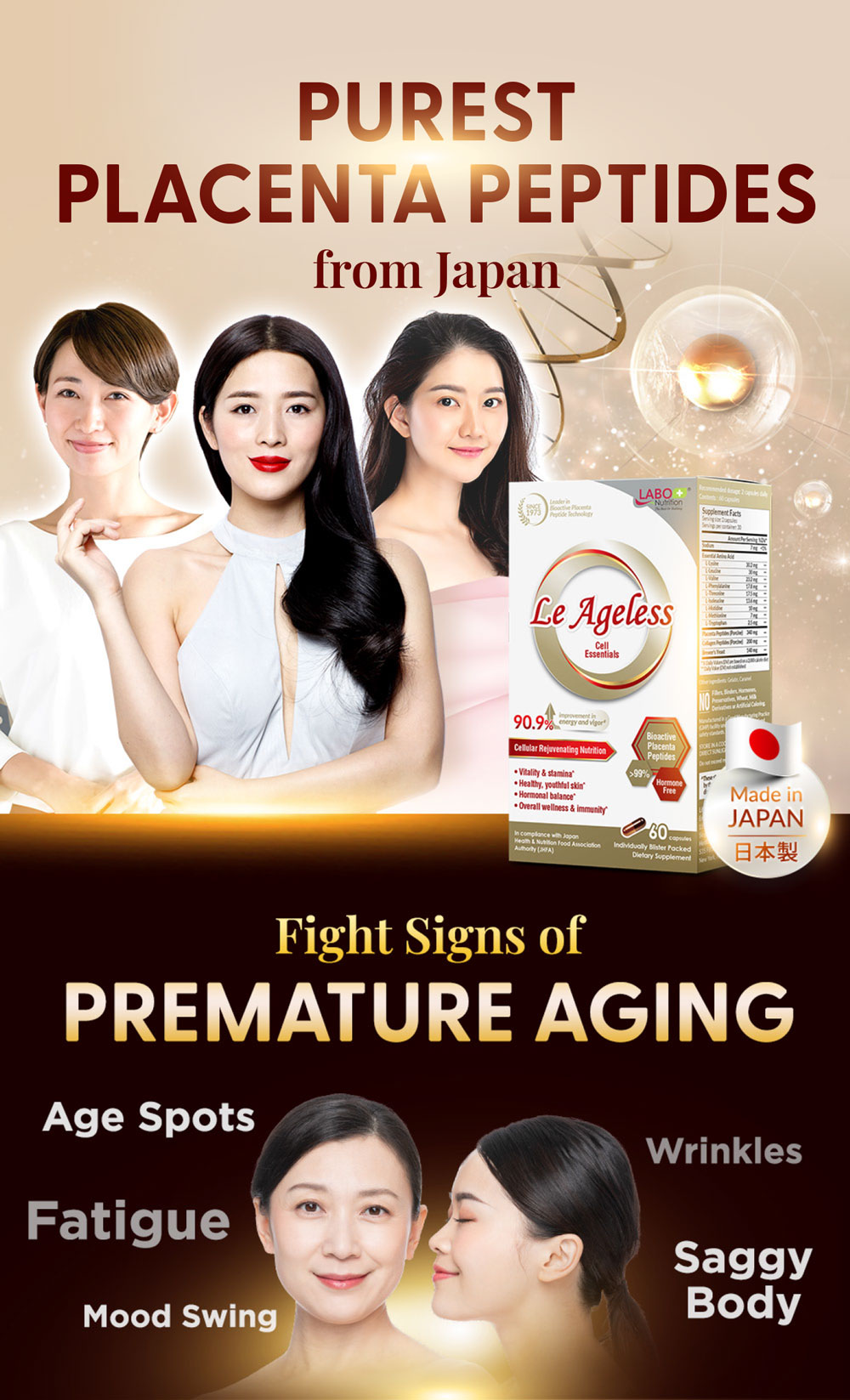 Placenta extract contains rich growth factors, antioxidants, antibodies, vitamins, minerals and other nourishing nutrients, they possess healing properties that help the body repair and rejuvenate aging and damaged tissues; restoring youth and vitality inside and out.
Trusted by leading anti-aging clinics in Japan, Le Ageless is researched and developed by Japan's largest placenta life sciences corporation to give the purest >99% bioactive placenta peptides. Rejuvenating the body on a cellular level, Le Ageless helps reverse signs of ageing to improve hair, skinfirmness & elasticity.
A potent cellular rejuvenating nutrition lavished with the goodness of pure nano placenta extract. Le Ageless also contains premium German collagen peptides and brewer's yeast. Harness the power of the bioactive nano-sized placenta content to renew, reactivate, revitalize and rejuvenate at the cellular level for unprecedented wellness and vitality.
Le Ageless is manufactured in a Good Manufacturing Practice (GMP) facility under strict quality control and safety standards.
• Extracted from stringently selected porcine sources from Japan
• Employs a specialised cold-process, multi-enzymatic degradation and nanofiltration technology
• No impurities, chemicals and hormones
• Nano-sized placenta for better absorption
• Ultra-small collagen peptides work synergistically with the placenta peptides to stimulate collagen production
• Improves skin elasticity and smoothens wrinkles
• Supports firmer, radiant skin
• Rich source of chromium, vitamin Bs, protein and minerals
• Improves energy level
• Supports healthy skin, hair, liver and nervous system
• Supports absorption of the placenta peptides and German collagen peptides
Especially effective for complementing the results from laser or micro-needling treatments, Le Revital is formulated with 98% bioactive placenta peptides & umbilical extract to protect, regenerate, hydrate, repair and soothe skin.

Recommended for individuals who:
• Desire youthful and healthy complexion
• Wish to combat symptoms associated with premature ageing such as saggy skin, age spots and wrinkles
• Under constant fatigue and stress
• Experience premenopausal and menopausal symptoms (hot flushes, insomnia, mood swings & lethargy)
The Incredible Benefits of Le Ageless
1. Boost Energy and Stamina
• Support post illness recovery and improve health
• Promote energy, vigour and stamina; reduce fatigue

2. Healthy Circulatory System
• Support healthy blood pressure
• Promote blood circulation and metabolism

3. Healthy Nervous System
• Stimulate cell renewal by promoting the formation of new nerves

4. Good Skin Health
• Promote production of collagen, elastin and hyaluronic acid to improve dermis density, skin firmness and elasticity
• Promote cell regeneration; protect against premature ageing

5. Healthy Hair Growth
• Stimulate hair cell regeneration and repair
• Proliferate follicle cells to support healthy hair growth

6. Healthy Joints
• Increase collagen production in the connective tissue to support healthy joints

7. Strong Immunity
• Improve immune-stimulating eect to support immunity
• Inhibit histamine release to suppress allergic response

8. Healthy Liver Function
• Improve liver enzyme profile

9. Healthy Cell Growth
• Suppress abnormal cell activity in the body

10. Emotional Health
• Reduce anxiety and improve mood
• Improve mental alertness

11. Hormonal Balance
• Regulate hormone system to maintain hormonal balance

12. Better Quality Sleep
• Promote better quality sleep and healthy sleep cycle

13. Men's and Women's Health
• Manage symptoms associated with PMS, menopause and andropause
• Promote younger cellular age; men's and women's age-related health functions including libido, loss of muscle, saggy skin and bust

14. Antioxidant Protection
• Superior antioxidant properties to protect against oxidative damage