26 Nov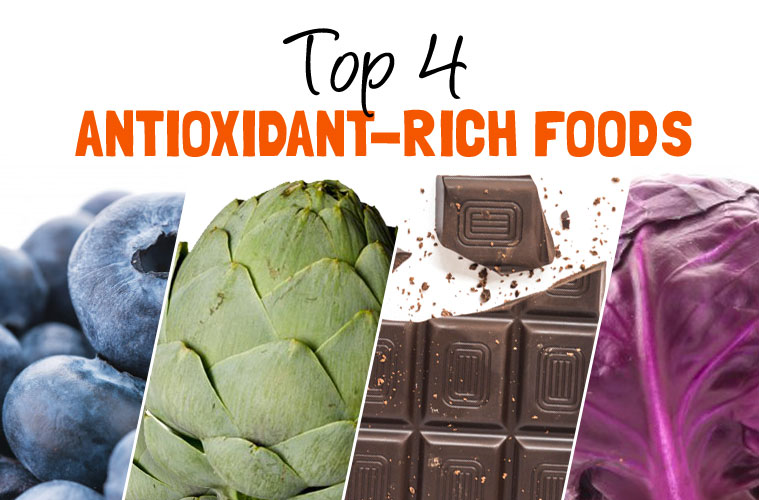 Did you know that normal cell metabolisms and exposure to radiation, pollution and cigarette smoke can result in the formation of free radicals? Overtime, these free radicals accumulate in your body, leading to oxidative stress which in turn increases your risk of type 2 diabetes, heart disease, cancers and other chronic diseases. The good news is consuming a diet rich in antioxidants can help lower your risk of these diseases by neutralising the harmful free radicals. Here we will share 4 healthy antioxidant-rich foods.
1. Blueberries
Blueberries contain a whopping 9.2 mmol of antioxidants per 100 g (one of the highest antioxidant level among common fruits). Notably, anthocyanins present in blueberries have been found to decrease the "bad" LDL cholesterol and blood pressure. As such, you are recommended to eat ½ cup of blueberries daily. Keep in mind the darker the colour, the greater the amount of antioxidants.
2. Artichokes
Artichokes are one of the richest antioxidant sources, with up to 4.7 mmol of antioxidants per 100 g. In particular, artichokes contain high levels of chlorogenic acid, which have been shown to lower the risk of type 2 diabetes, heart disease and specific cancers, thanks to their antioxidant and anti-inflammatory effects. Hence, you are encouraged to consume more artichokes. Steaming is the best cooking method for artichokes (elevates their antioxidant content by 15 times), followed by boiling (increases their antioxidant level it by 8 times). In contrast, frying can decrease the amount of antioxidants in artichokes.
3. Dark chocolate
Did you know that dark chocolate is loaded with antioxidants (up to 15 mmol/100g)? Typically, dark chocolate contain 50-90% cocoa solids, which is rich in flavanols. Based on studies, flavanols can help reduce blood pressure by supporting nitric oxide production (stimulates vasodilation). Dark chocolate may also decrease your risk of heart disease as it elevates antioxidant levels in the blood, preventing the oxidation of "bad" LDL cholesterol. To attain the most flavanols, you should purchase 70% dark chocolate or higher. As dark chocolate is also a high calorie food, avoid eating it in excess.
4. Red Cabbage
Red cabbage has up to 2.2 mmol of antioxidants per 100g. Anthocyanins, responsible for the colour of red cabbage, have been associated with multiple health benefits (e.g. decrease in inflammation and risk of heart disease and specific cancers). Red cabbage also contains high amount of vitamin C, which boosts immunity. Note: Stir-frying and boiling improves the antioxidant profile of red cabbage, whereas steaming lower their level of antioxidants by nearly 35%.
You may like:
LABO Nutrition Super OPCs
LABO Nutrition Super OPCs is a high strength antioxidant formula power-packed with premium French OPCs (150mg per serving of French Maritime Pine Bark, French Grape Seed and French Red Wine Extracts), together with Bilberry, Citrus Bioflavonoids and Vitamin C. This supplement provides comprehensive antioxidant protection and has been proven to support healthy heart, blood pressure and circulation, fair and firm skin, immune health and more. Super OPCs is also developed with a superior isotonic delivery system for maximum cellular absorption (absorbed by the body within 5 minutes).