24 Nov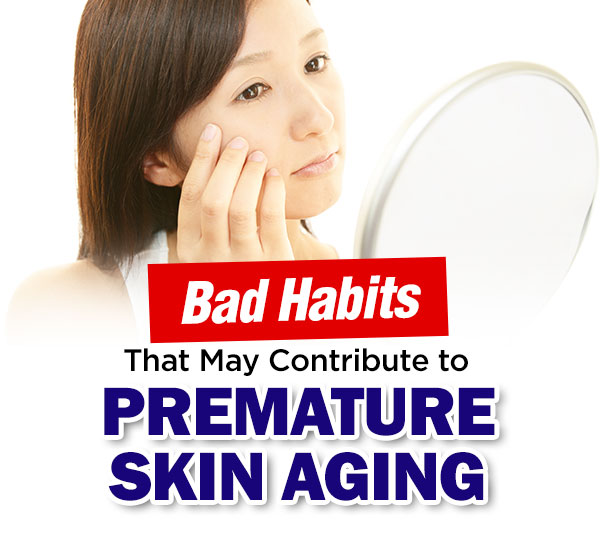 Ageing is one of the scariest transformations that we all have to deal with at some point in our lives. As we age, our skin becomes thinner, loses its smoothness and may develop wrinkles and age spots. That's why many of us use expensive skincare and beauty products to make ourselves look younger. But more than what you spend on beauty products, it's your daily habits that affect your body and health the most. Even though we might not able to reverse ageing wholly, we are able to slow it down. Here are some unhealthy daily habits that will age you faster than normal.
1. Unhealthy Eating
Unhealthy food choices will eventually be taking a toll on your skin. If you prefer to have radiant and youthful-looking skin, fatty foods, coffee or sugary drinks are not the best choice. Excessive sugar intake will directly affect your skin through a process called glycation. Glycation damages collagen and elastin (proteins that keep your skin firm) and speeds up the ageing process.
Junk food can also flood your system with free radicals that only speed up the ageing process. It might be a big challenge of patience and self-control to change your food habits. But eating a healthy diet is not only good for your weight, it's also beneficial for your skin!
2. Skipping Sun Protection
Many people only think about sun protection when they head out to the beach. But do you know that sun exposure is one of the main culprits that accelerate the ageing process of our skin? About 95% of the ultraviolet radiation that reaches the earth's surface is long-wave ultraviolet (UVA), which not only prematurely ages the skin, causing wrinkles, sun spots, etc., but also may lead to skin cancer. Therefore, it is important to always be putting on sunscreen, as it not just prevents sunburn, but also helps to prevent the damage to human cells caused by ultraviolet rays.
3. Constant Use of Electronic Devices
In this era, most of our jobs are done either online or using handheld devices. This makes it difficult to get rid of all the blue light in our environment. Research1 in Japan found that the high energy visible light (HEV), or "blue light," emitted by electronic devices penetrates deeper into the skin layer than the sun's UV rays. It can delay the recovery of your skin barrier from exposure to the environment and also result in more pronounced skin hyperpigmentation.
4. Poor Sleep Quality
During the day, your skin is in a state of protection against factors such as sun damage or oxidation, whereas at night, your skin goes into renewal mode, regenerating new skin cells and circulating oxygen and nutrients. Singapore is the most sleep-deprived country in the world with a "fatigue score" of 7.20 out of 10, according to a study2 conducted by UK bedding-manufacturing company Sleepseeker.
People with poor sleep quality showed increased signs of intrinsic skin ageing evidenced by fine lines and reduced elasticity. Their skin barrier function was weakened, which means that the skin's recovery is 30% less compared to good-quality sleepers. They were also found to have lower satisfaction with their appearance.
5. Poor Cleansing
Skipping on removing your makeup is already bad enough, but it is worse to cleanse it poorly. It is important to remove any makeup with either makeup remover wipes or any suitable makeup remover. Following up with a gentle foaming cleanser to cleanse your face by removing stubborn residue from the pores. Makeup removers tend to be oil-based, so it is important to follow up with a cleanser to make sure to remove any residual oil from the skin and thoroughly unclog pores.
6. Dehydrated and Dry Skin
Our skin can become dehydrated without knowing it. To get this right, you need to know how it differs from dry skin. Dehydration is the lack of water, not oil, so even people with oily skin can become dehydrated. Dry skin on the other hand is genetic while dehydrated skin is caused by external factors such as unhealthy diet, weather and lifestyle choices. Dry and dehydrated skin is less elastic and more likely to wrinkle. This seems like an easy fix, but it's also something most of us don't notice.
You may like to consider the below products that help to reduce the signs of ageing:
LABO Nutrition Le Ageless Cell Essentials
Trusted by leading anti-ageing clinics in Japan, Le Ageless is a rich cell rejuvenating nutrition that is lavished with pure concentrated Nano Placenta Extract with growth factors and enriched with premium German Collagen Peptides and Brewer's Yeast. Also known as the miracle youth-enhancing ingredient, placenta extract possesses healing properties that help the body repair and rejuvenate itself, restoring youth and vitality inside and out. Le Ageless uses 100% porcine placenta that is stringently sourced from high-quality and hygiene management farms in Japan and manufactured in compliance with the quality standard of placenta food stipulated by Japan Health Food Association and approved by GRAS. It helps to promote production of collagen, elastin and hyaluronic acid to improve dermis density, skin firmness and elasticity and protect your skin against premature ageing.
LABO Nutrition Le Revital Intense Cell Activator
LABO Nutrition's Bioactive Placenta Peptides Therapy is a cutting-edge technology that has been proven safe and effective in slowing down the ageing process at the cellular level. Just a few drops of Le Revital Intense Cell Activator restore your skin to its youthful firmness and glow. A revolutionary skin essence combining the coveted anti-ageing properties of 98% concentrated Bioactive Placenta Peptides and Umbilical Extracts; infused with Roman Chamomile Extract and Hyaluronic Acid, it penetrates deeply into skin to invigorate cells and counteract cell degeneration. Be awed by its healing effects on all skin problems, even on laser-treated skin! Le Revital is a non-oily and non-comedogenic skin essence, it can be applied on the entire face, including the eye and neck areas. An excellent solution for ageing skin problems around the eye – wrinkles, fine lines, crow's feet and dark circle.
AFC Tsubaki Ageless Collagen Drink
AFC Japan Tsubaki Collagen drink is a Japan-made age-defying collagen drink clinically proven to reduce wrinkles, increase skin collagen content and improve skin moisture & elasticity. It is composed of 10,000mg of Type I Marine Collagen Peptides - the best form of collagen being utilized by the body to restore healthy and youthful skin. Studies found that Type I Collagen extracted from fish consists of small peptide molecules that is absorbed at a higher level through the intestinal barrier into the bloodstream, allowing it to be effectively transported throughout the body, to promote cell regeneration in the joint tissues, bones and skin dermis. Its potency is also further boosted with an intensive dosage of 500mg royal jelly, hyaluronic acid, vitamin C and more skin-loving ingredients which leave the skin supple, firm, and smooth.
REFERENCE
1. https://pubmed.ncbi.nlm.nih.gov/28315451/