23 Mar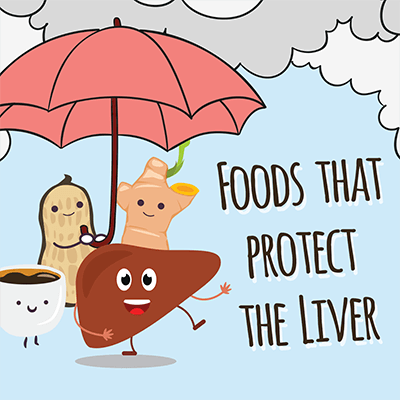 The liver plays an important role in detoxification and elimination of many internal and external compounds. Any impairment to its function may result in several implications on one's health.
Elevated levels of liver enzymes (GGT; gamma-glutamyl transpeptidase, ALT; alanine transaminase and AST; aspartate transaminase) in blood is indicative of liver inflammation or damage. When liver cells are inflamed or injured, higher than normal levels of specific chemicals, including liver enzymes leak into the bloodstream.
There are several foods that protect the liver.
Turmeric powder
\t
According to a 12-week randomised, double-blind, placebo-controlled trial conducted on subjects with elevated ALT, intake of turmeric powder significantly lowered serum liver enzyme levels (ALT and AST).
\t
Curcumin is an important curcuminoid that is responsible for the biological activity of turmeric. Curcumin protects the liver via its antioxidant effect. Curcumin scavenges reactive oxygen species (ROS). It also improves liver detoxification through the increase of glutathione S-transferase enzyme activity, which binds glutathione with toxins to aid their removal from the body.
\t
With high potency turmeric extract (95% curcuminoids) and proprietary triple amino factors, AFC Ultimate Liver Care supports healthy liver functions. It protects the liver from damage and lowers the fat accumulation in the liver.
Coffee
\t
Several studies have demonstrated that coffee intake improved hepatic steatosis and fibrosis as well as decreased the risk of cirrhosis and hepatocellular carcinoma.
\t
A reduced mortality rate was also seen in chronic liver disease patients who consumed coffee, with the greatest benefits observed in individuals who had ≥3 cups daily.
\t
These beneficial effects were only evident in filtered coffee.
\t
Possible mechanisms: Coffee prevents the accumulation of fat and collagen in the liver. It also reduces inflammation and promotes antioxidant capacity via an increase in glutathione. Antioxidants neutralise free radicals which can damage cells.
Nuts
\t
Based on a six-month observational study in 106 people with non-alcoholic fatty liver disease, consumption of nuts (including walnuts) decreased levels of liver enzymes (GGT, ALT and AST).
\t
Another observational study showed that men who had small intake of nuts and seeds were at greater risk of developing non-alcoholic fatty liver disease (NAFLD) than those who had larger intake.
\t
Nuts may potentially treat NAFLD patients by improving lipid profile, hepatic steatosis and inflammation.