26 Jul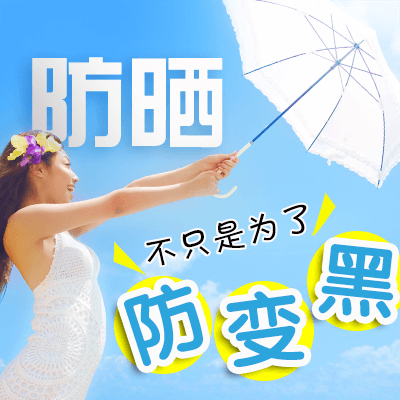 Strong UV light exposure could be one of the critical factors leads to skin pigmentation and even cataracts in the eyes. UV light accelerats our skin's aging process, also known as "photoageing". According to an international cosmetic research in 2013, it shows UV exposure appears to be responsible for 80% of visible facial aging signs. Sun protection reduces harmful "photoaging" effect, such as dullness, dryness and wrinkles.
How to reduce UV damage?
\t

Minimize going out during periods of intense sunlight (10am to 3pm).
​
\t

Apply skin moisturizer (such as aloe vera, hyaluronic acid, etc.) and follow by sunscreen lotions for your skin care regimen

.
​
\t

Carry Umbrella

, wear sunglasses, and wear long sleeves, etc. to reduce exposure to sunlight.
​
\t

Last but not the least, replenish more food rich in collagen and antioxidants such as vitamins A, C, E, OPC and glutathione to combat damage of UV oxidation.