25 Jan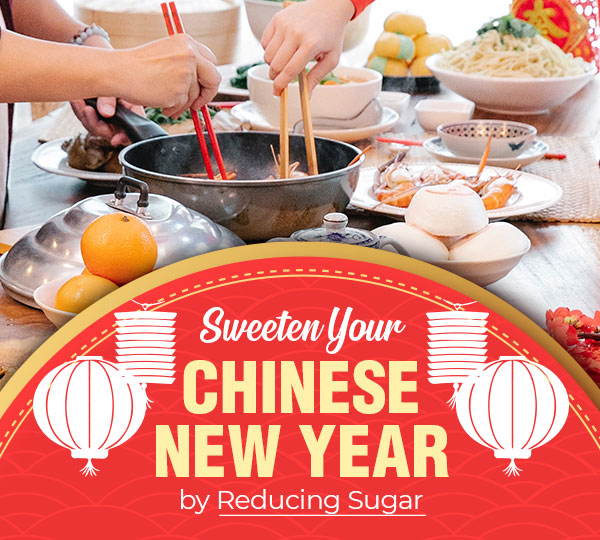 It's the time of the year where there is no lack of festive goodies like pineapple tarts, bak kwa, hotpot and yu sheng in the house! But for some, it can be a challenging time for one to stick to their meal plan; even more so for some individuals who suffer from medical conditions such as diabetes, high cholesterol or high blood pressure, etc.
Below are some simple tips and strategies to help tackle the Chinese New Year feasting:
1. Eat a healthy breakfast before starting your house visits
A healthy breakfast not only keeps you feeling full at the start of the day, but also keeps reduce your hunger and avoid overeating snacks. It should include complex (starchy) carbohydrates packed with lots of fibre (e.g. whole oats, multi-grain cereals, and wholemeal bread), nuts and seeds. Starchy carbohydrates will release glucose into the blood stream at a slower rate compared to sugary foods. You may also include fruits and vegetables to ensure that you are getting the necessary nutrients you need.
2. Drink more water and stay hydrated
Water not only helps prevent dehydration, it also helps your kidneys to flush out excess sugar through urine. Drinking water regularly helps rehydrate the blood, lower blood sugar levels, and reduce diabetes risk. Keep in mind that water and other zero-calorie beverages are best. Avoid sugar-sweetened options, as these can increase blood glucose, lead to weight gain, and increase the risk of getting diabetes.
3. Implement portion control
Portion control is vital to help regulate calorie intake and maintain a moderate weight. Healthy weight management can support healthy blood sugar levels and has been proven to reduce the risk of developing type 2 diabetes. Monitoring your serving sizes also helps prevent post-meal blood sugar spikes. Here are some helpful tips for managing portion sizes:
- use smaller plates
- avoid all-you-can-eat restaurants
- read food labels and check the serving sizes
- chew slowly
4. Snack on fruits, seeds and nuts
The complex (starchy) carbohydrates found in fruits, seeds and nuts (such as sunflower seeds, almonds, pumpkin seeds) will keep you satiated and lessen the inclination to binge on the festive goodies. When possible, choose snacks made with dried fruit over chocolate and candies.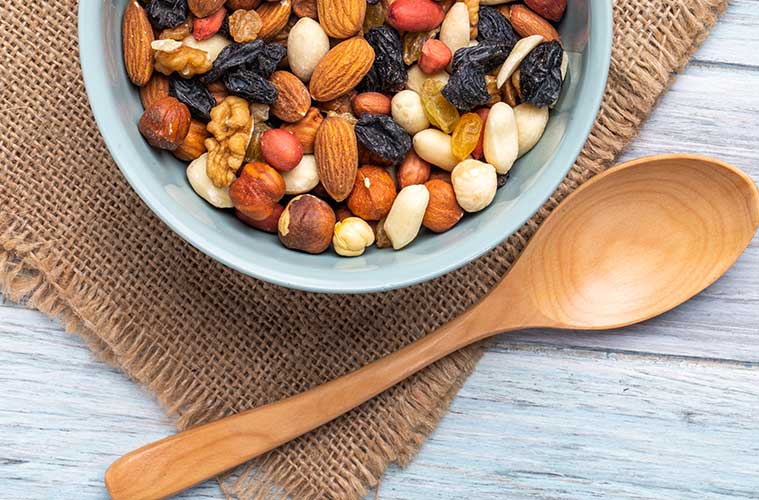 Alternately, you can also consider another natural way to keep your blood glucose levels within the healthy zone:
LABO Nutrition Mulbiotic
LABO Nutrition Mulbiotic is the key to healthy blood glucose. A natural sugar blocker formulated with 3 superfoods – organic Mulberry Leaf Extract enhanced with a proprietary synbiotic blend of shelf-stable LactoSpore® probiotics and Fenumannan® prebiotic. Mulbiotic helps to reduce sugar absorption after a carbo-rich meal and accelerates glucose metabolism to keep blood glucose levels within the healthy zone. Enjoy your favourite foods with peace of mind knowing your blood glucose would not spike erratically after a meal.
Taken before meals or snacks, Mulbiotic safeguards your body from spikes in blood glucose levels after a carbo-rich or sugary meal. It also helps promote good gastrointestinal health and glucose metabolism, especially important during the festive feasting season.