09 Jun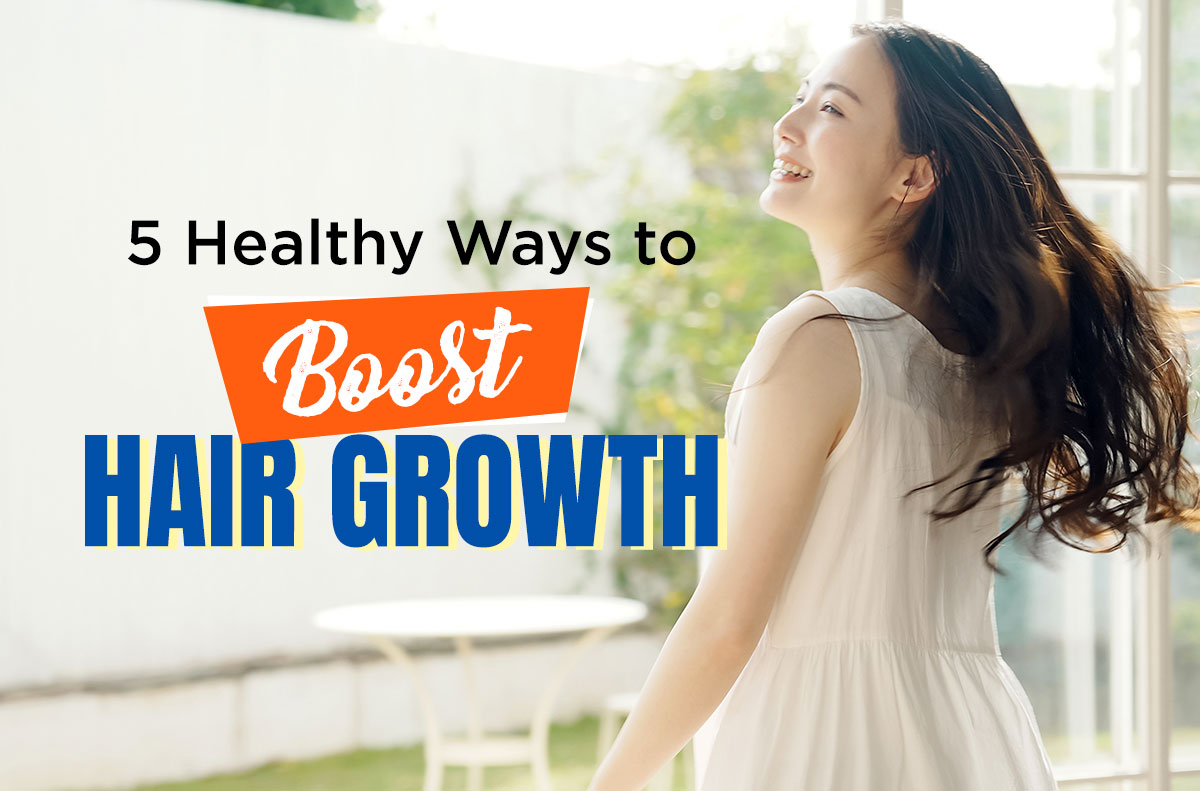 Hair is an integral part of our personality as it can enhance one's appearance and give self-confidence. It is common for people to dread having bad hair days and get very depressed if they lose hair and go bald. This can have a very deep psychological impact on them.
Understand your hair first: The part of the hair that we can see is the hair shaft, there is a hair bulb deep inside that encases the hair shaft. The hair bulb is surrounded by a hair matrix, which provides the nutrition needed for the hair shaft to grow. The scalp is another component that contributes to healthy hair growth. That's why in order for us to have healthy, smooth, and shiny hair, it is important to take care of all these components. Here are 5 tips that will help you to stimulate your hair growth and prevent breakage, plus the products that will help support healthy hair growth so your strands can grow as long as possible, as quickly as possible.
1. Massage Your Scalp
Regular scalp massage can help improve blood circulation and strengthens the hair from the roots, it can also help you to relax. Scalp massages are also an ideal way to deal with stress, which is one of the leading contributing factors to hair loss. Therefore it is advisable to massage your scalp, a couple of times a week, before going to sleep. This not only encourages a healthy sleep cycle but also promotes healthy hair growth.
Tip: You can use hydrating hair masks or serums to feed vitamins to your hair and scalp while massaging.
2. Regular Trimming
Our hair goes through three stages. First, the anagen phase, is when the hair is actively growing and the cells in the hair roots and divide rapidly. Second, the catagen phase, is when hair growth stops and the outer root sheath shrinks and attaches itself to the root of the hair. Third, the telogen phase, is when you start to experience split ends, hair thinning and breakage. Hence trimming your hair lets you avoid the third stage, thus helping your hair to keep growing. This is why it is important to have regular hair trimming sessions. You can trim by just cutting half to one inch to boost hair growth.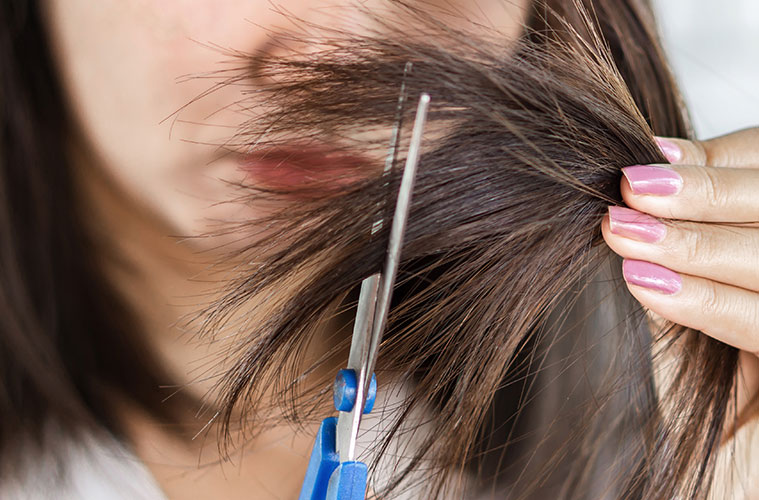 3. Maintain a Balanced Diet
Everything needs food to grow, and your hair is no exception. Hair needs proper nutrients in order to grow. Food items like spinach, egg yolk, bananas and raisins are rich in proteins and vitamins that promote hair growth. It is important to note that high levels of sodium consumption, carbonated drinks and sugar, can inhibit hair growth.
4. Wash Up and Brush Up
Experts suggest that many people are not shampooing their hair correctly. The standard rules of thumb are:
• Not to wash your hair more than once a day.
• Use just enough product to cover your hair.
• Avoid using very hot or very cold water.
Another important point to note is to treat your hair gently when it's wet. Hair is three times more vulnerable to breakage when it's wet. Don't rub wet hair excessively with a towel. Use a wide-tooth comb to detangle, but don't comb too much or brush wet hair.
5. Choose the Right Shampoo
It should be noted that using the wrong shampoo and styling agents can cause significant hair damage. Always look out for hair products that are right for your hair type (oily, normal, or dry), and target any specific problems you have, such as dandruff. It is also crucial to avoid shampoos with harsh ingredients, such as ammonium lauryl sulfate or sodium lauryl sulfate. And remember, cost doesn't necessarily indicate the quality of a product.
Using shampoos, conditioners, and treatments that contain certain amino acids helps to promote moisture retention and keep hair from breaking. Amino acid care helps give you smoother, silkier hair and also pumps up the hair volume.
You may like to consider:
SHOKAIGAN Intensive Scalp Therapy Shampoo EX
Made from a powerful blend of 15 amino acids, licorice root extract and natural plant extracts, SHOKAIGAN Intensive Scalp Therapy Shampoo EX deep cleanses without harsh chemicals and primes the scalp for fuller, healthier hair growth. The plant-derived amino acids strengthen and moisturise the hair, leaving it strong and silky smooth. Unlike most regular shampoos which are laced with chemicals, SHOKAIGAN Intensive Scalp Therapy Shampoo EX is all-natural and free of sodium laureth sulfate (SLS), petrochemical surfactants, preservatives, fragrance or colouring. Most importantly, it does not contain silicon which can clog hair follicles and scalp, and prevents the moisturising nutrients from penetrating into hair and scalp. SHOKAIGAN Intensive Scalp Therapy Shampoo EX is clinically proven to prevent premature hair loss, dandruff, scalp inflammation and strengthen hair from the root.
SHOKAIGAN Intensive Hair Growth Tonic
Approved as a Quasi Drug in Japan, AFC Shokaigan Intensive Hair Growth Tonic is a revolutionary breakthrough to combat hair loss. It is made with more than 20 pure botanical extracts which includes a proprietary blend of Yarrow and Sage extracts that help to improve microcirculation for healthy hair growth; and Swertia Japonica that blocks the formation of DHT (Dihydrotestosterone), a common cause of hair loss. Combined with Ginseng Extract and Vitamin E, the unique formulation stimulates hair shaft activity for thicker, fuller hair growth.
LABO Nutrition Bioactive Organic Silica
Bioactive Organic Silica is a rich source of highly absorbable silica, each serving provides 91.5mg of organic silica (42mg of elemental silicon) and is fortified with vitamin K2 (MK-7), vitamin D3 and coconut origin MCT oil. The synergistic effects of multiple potent ingredients in this unprecedented formula help support bone density and strength. It is also beneficial for joints, muscles, blood vessels, digestive tract and brain, as well as beautifying skin and strengthening hair and nails.
Silicon is one of the essential trace elements for hair growth, imperative for forming blood capillaries to supply nutrients and oxygen for healthy growth. It can help to promote hair growth, reduces hair loss, and supports strong and shiny hair. You may refer to the research tab of Bioactive Organic Silica for more studies.