Active Ingredient per Sachet
| | |
| --- | --- |
| Porcine Collagen Peptide | 1,500mg |
Direction of Use for AFC Hanamai Collagen (Porcine) sachets:
Take 1-2 sachets of AFC Hanamai Collagen (Porcine) daily to replenish the collagen in your body.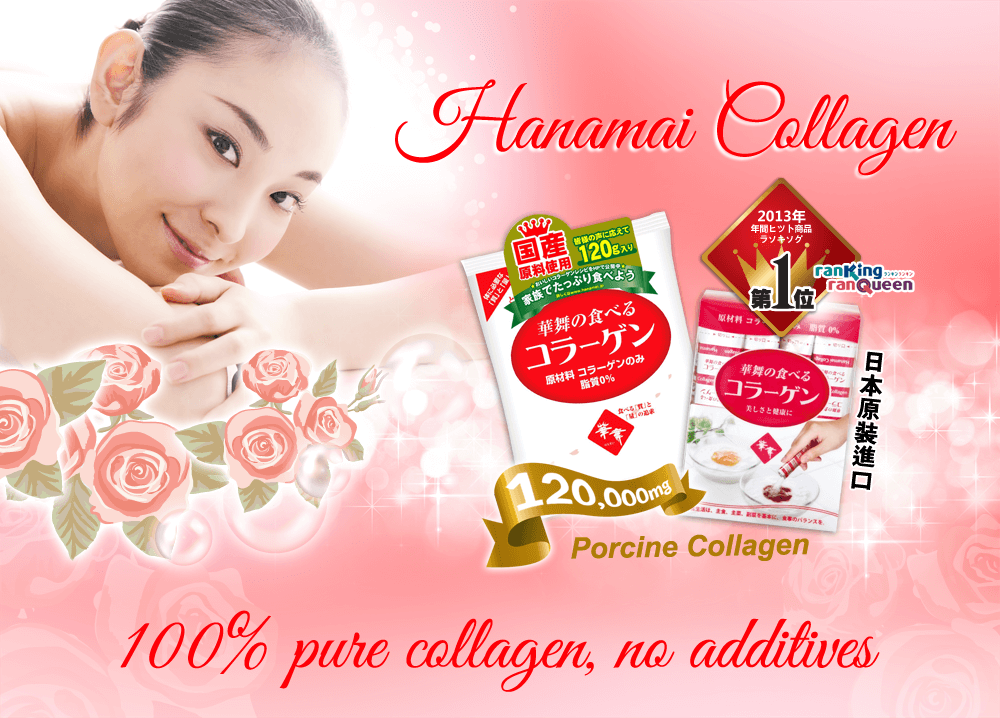 AFC Hanamai Collagen (porcine) is a highly popular collagen supplement which has gathered a loyal following in Asia. It has sold more than 3,000,000 packs since its launch in Korea! This highly raved collagen also came in number 1 in the popular Ranking RanQueen charts in Japan in 2013.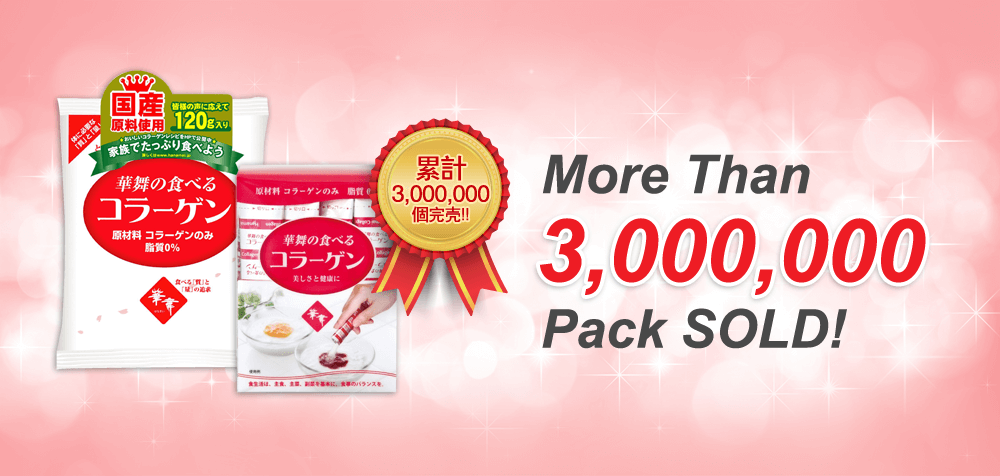 Collagen is found in various parts of the body and it helps the connective tissues to be strong. This important protein in the skin works with keratin to give your skin strength, flexibility and resilience. Skin that is rich in collagen is supple and free of lines. However, free radicals and ageing affect collagen reserves in the body. Daily skin care may not be enough to replenish the collagen loss in the inner layer of the skin. It is important to replenish the collagen in your body to maintain a youthful look.
AFC Hanamai Collagen contains highly bioavailable and absorbable micro collagen peptides that can effectively replace collagen lost from your body.
AFC Hanamai Collagen helps to:
Restore oil production balance
Hydrates skin intensely.
Helps makeup to adhere well on skin

Support skin healing
Collagen is a key component required for wound healing.
Plump up skin and body cells
Provides structural support to skin and body cells.
Maintains cell integrity by supporting cellular shape.
Promotes strong and healthy hair
Collagen is a key component in supporting healthy hair quality.
Replenish collagen to strengthen and moisturize hair.
Accelerate cell rejuvenation
Supports the regeneration of skin tissue.
Skin becomes smoother and brighter with your renewed skin.
Helps to lighten pigmentation and blemishes.
Skin becomes taut and fine lines and wrinkles are reduced.
It provides structural support to your skin and hence it slows down skin sagging.
Refines pores on skin.
Signs of Collagen Degradation
The Difference with AFC Hanamai Collagen
Watch how Hanamai Collagen dissolves completely in water with no clumps. Only small collagen peptides extracted through superior extraction methods can achieve this amazing result!

Other Collagen Products
AFC Hanamai Collagen

May not be 100% Collagen
May contain fillers, milk powder, flavourings and other additives
Leaves residue
Has fishy smell/taste
Molecular size may be large or unknown

100% Pure Porcine Collagen
No additives or impurities
Readily dissolved
Has no fishy taste, odorless
small collagen molecules, readily absorbable
AFC Hanamai Collagen brings you 100% pure premium quality collagen of porcine origin. Unlike other collagen supplements which include artificial flavourings/fillers which alters the favour of your food and beverage, AFC Hanamai Collagen is odourless and tasteless all thanks to the supreme processing technology. AFC Hanamai Collagen also does not contain any additional additives. You can now enrich your favourite beverage or food with collagen without compromising its taste.
Add AFC Hanamai Collagen to your favourite food and drink!

Contents: 120g 100% Pure Porcine Collagen