Bone Health
"I used to only walk slowly in swimming pool. After taking Silica-Rx99, I feel younger and can swim at faster speed every day"
Mr Sim Seng Kit (68 years old)
"Thanks to Silica-Rx99, my numerical value of bone density is great! My legs and hips are stronger. I can climb the mountain frequently now. This is my lifetime pastime."
Mr Seet (58 years old)
"My friend told me she was participating in a monitoring test for Silica-Rx99 and was pleased to see a rise in bone density. Hence, I also participated in the test. Surprisingly, my bone density improved as well! What a joy!
Mrs Nancy Chia (65 years old)
"After taking Silica-Rx99, I am able to go out more frequently with my grandchild than before. I hold the hand of the little one and run. I am no longer afraid of hurting my ageing legs and hips." Mr William Leong (71 years old)
"Everyone around me started taking Silica-Rx99. So did I. As I get older, this pill becomes more essential. The greatest pleasure is I can regain a little bit of confidence in myself." Mrs Rebecca Chin (47 years old).
Intestinal Health
"I always suffered from constipation or diarrhoea in the morning. After taking Silica-Rx99, my bowel movement has improved and I can have a refreshing morning now!"
Laurence Lek (44 years old)
Skin Health
"After taking Silica-Rx99, I look more energised. It also helps reduce the appearance of wrinkles and sagging skin on my face."
Becky Li
"Since I started taking Silica-Rx99, I don't have dry skin problem, even on a dry day. I am happy for the comfort I am having now."
Mrs V. Soriano (48 years old)
"As I get older, I lose confidence in my skin and hair. But after taking Silica-Rx99, my hair and skin are moisturised and skin is definitely more supple. This is very magical and I am so happy now."
Calista Louisa Lee (54 years old)
"Since taking Silica-Rx99, I'm always complimented by my friends whenever we meet. I guess Silica-Rx99 is my secret of revitalisation. I will never stop taking it!"
Lam May Yin (58 years old)
"I used to experience peeling skin on my fingertips. I don't have this problem anymore since taking Silica-Rx99."
Ella Wong (48 years old)
Nail Health
"My nails have always been pretty thin and brittle. They have become thicker since I started taking Silica-Rx99"
Mdm Carol Lye (63 years old)
Whole-body Wellness
"After taking Silica-Rx99, my doctor was surprised to see a positive change of my whole-body conditions."
Mrs Vathiya (72 years old)
"I have tried various silica products, but I trust Silica-Rx99 most. I am confident in this product after trying it continuously for just a short period of time."
Ms Pauline Chia (51 years old)
Watsons H.W.B (Health.Wellness.Beauty) Awards Winner
Unity Popular Choice and Award Winner 2023

Bioactive Silica is a powerful bone and collagen booster that gives you denser and stronger bones. While FlexC PRO EX offers a comprehensive solution for bone, joint, and muscle support.
Together, this dynamic duo fortifies your body structure, protecting you from joint pain and osteoporosis while promoting overall strength.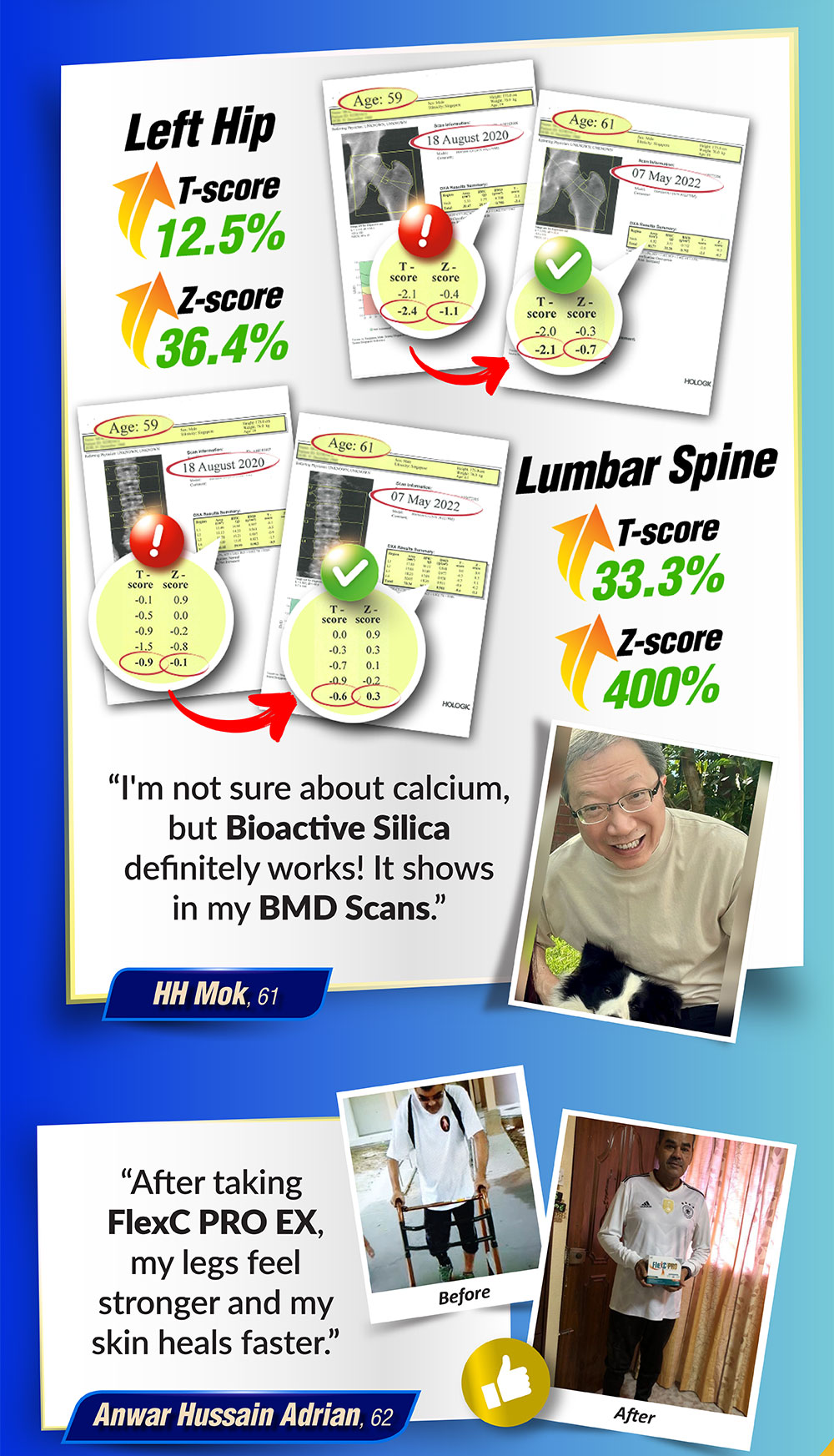 Research proven to be 18.5x more effective than calcium in increasing bone density, Bioactive Silica also boosts the body's own collagen production to build stronger, more flexible bones, as well as promotes healthy skin, hair, and nails.

More Beauty Benefits
• Firmer, hydrated skin
• Thick, glossy hair
• Strong & healthy nails

FlexC PRO EX is an all-natural total action formula that restores essential nutrients to provide a strong structural support to the body. It supports healthy joints and connective tissues, strong bones, healthy muscle mass, youthful skin and healthy hair and nails.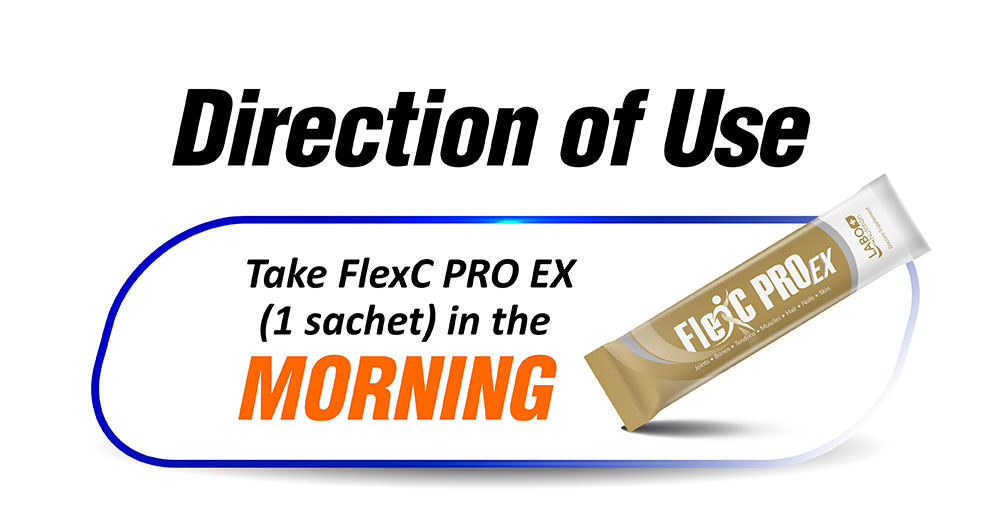 Mix it with 250ml of water or your favourite beverage.
Avoid using hot/high temperatures.

Do not take with milk, coffee or tea.
Do not take with calcium supplements.
We suggest taking consistently for at least 3 months for
the most evident and substantial improvement.