Tsubaki Ageless
MCP-EX Marine Collagen Peptides, 10000mg
Quality and quantity of collagen are the main considerations when choosing the right collagen supplement. Tsubaki Ageless's MCP-EX Marine Collagen Peptides is 60 times smaller and 1.5 times better absorption and bioavailability as compared to other collagen peptides. These tiny molecules can be easily absorbed and utilized by the body to show visible results.
Do you know that collagen will firstly be utilized by essential body structures before it reaches skin? Hence, 10,000mg of MCP-EX Marine Collagen Peptides not only replenishes daily collagen loss, to meet daily collagen demands by the body but also ensures optimal level reaches our skin, leaving your skin supple, firm and smooth.
Royal Jelly, 500mg
The Queen bee is able to live up to 6 years which is 40 times longer than workers bees and is 2-3 times larger in size yet ironically has the same genetic make-up as the worker bee. The only difference is that the Queen bee is fed with royal jelly exclusively for her entire life, whereas the worker bees are fed royal jelly only in their first few days of life and then their diet consists of honey and pollen. Hence it is apparent that the highly nutritious royal jelly accounts for the longevity and fertility of queen bee.
Royal jelly is a yellow substance secreted from the hypopharyngeal and mandibular glands of worker bees. Naturally rich in Protein, Vitamin Bs, Minerals, Flavonoids (a powerful antioxidant) and Bioactive ingredients such as 10-hydroxy-2-decenoic acid (10-H2DA), 3,10-dihydrodecanoic for skin health support and general well being. Royal jelly helps to enhance skin regeneration, promote wound healing, brighten complexion and maintain youthful skin by stimulating collagen production and repairing damaged skin cell by chemicals, radiation and ultraviolet rays. It has also been reported to have anti-bacterial and anti-tumor properties, enhance energy and improve menopausal symptoms.
Tsubaki Bio-Cell Activator is derived from botanical extracts of Tsubaki Camellia Seed Extract, Lotus Germ Extract and Star Fruit Leaf Extract which help in cellular renewal; accelerate production of collagen and hyaluronic acid in the body.
Hyaluronic Acid supports intense hydration with a unique water-locking capacity to replenish water from within.
Vitamin B1, B2 and B6 enhances blood circulation for effective supply of skin nourishment and protects collagen structure.
Vitamin C helps to promote skin metabolism for cellular renewal. It also supports UV-protection mechanism and reduces pigmentation.
Nutritional Information (1 bottle): 54kcal, Carbohydrate 2.6g, Protein 10.9g, Fat 0g, Sodium 6mg
Tsubaki Ageless
Dosage
First Month: 1 bottle daily
Second Month: 1 bottle every alternate day
Third Month: 1 bottle every alternate day
Repeat the above cycle for effective skin repair and nourishment.
For those above 40 years of age, it is highly recommended that you follow the dosage of 1 bottle daily.
Tsubaki Ageless
Commonly Asked Questions
1.Who should take Tsubaki Ageless?
Tsubaki Ageless is ideal for those who desire to:
•
Have brighter, fairer skin
•
Reduce pigmentation, wrinkles, fine lines, saggy & dry skin
•
Reduce appearances of open pores, scars & spots
•
Enhance joint & bone health
This is because the levels of collagen, elastin and hyaluronic acid start declining as early as in our 20s. Tsubaki Ageless is a comprehensive oral beauty supplement to defend the skin against signs of aging for perfect youthfulness.
2. When should I take Tsubaki Agelss? Is it safe and will there be any side effects?
Skin renewal takes place at night, hence Tsubaki Ageless is best taken before bedtime to work seamlessly with your body to enhance skin repair, renewal and turnover.
It is recommended to consume 1 bottle daily in the first month for quick replenishment of skin nutrients, followed by 1 bottle on alternate days subsequently. The all-natural Tsubaki Ageless has no known side effects, is free from colouring, and is suitable for long-term consumption.
3. How soon can I see results?
Results may vary with individuals. Some may observe increased hydration and radiance within 7 days. During the first skin renewal cycle, others may notice visible skin improvements such as reduced appearance of enlarged pores, fine lines and pigmentation with increased skin firmness and elasticity. It is advisable to continue taking Tsubaki Ageless for at least 3 months for best skin results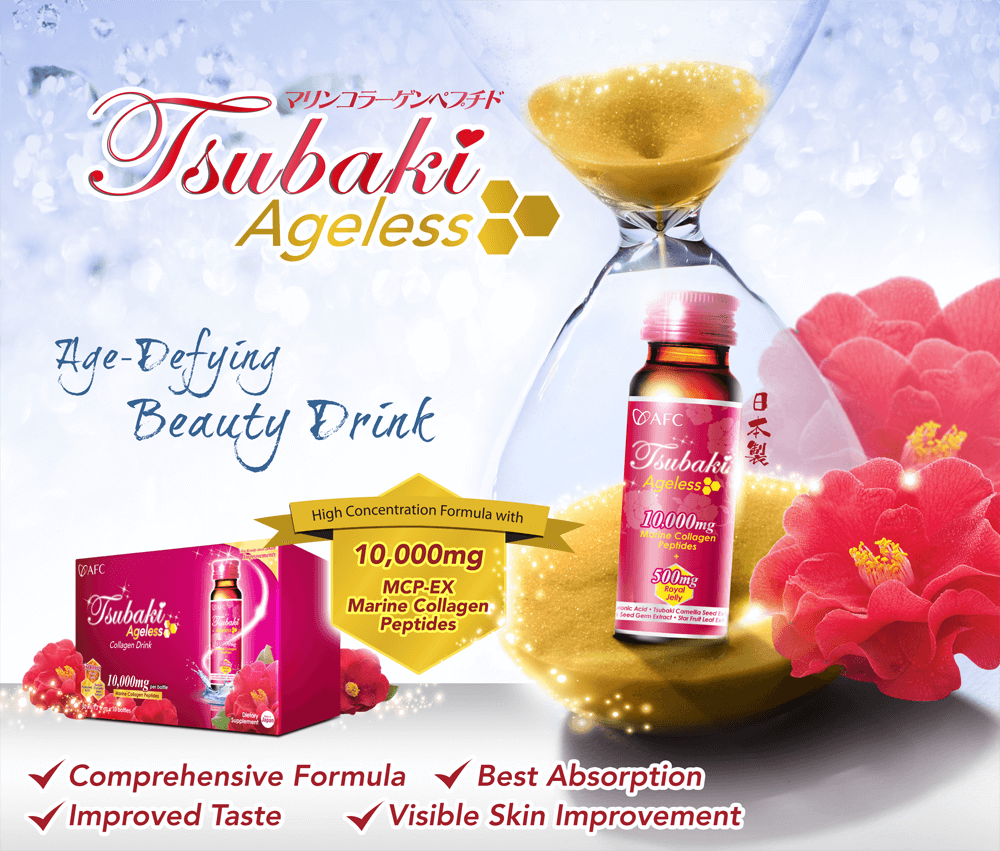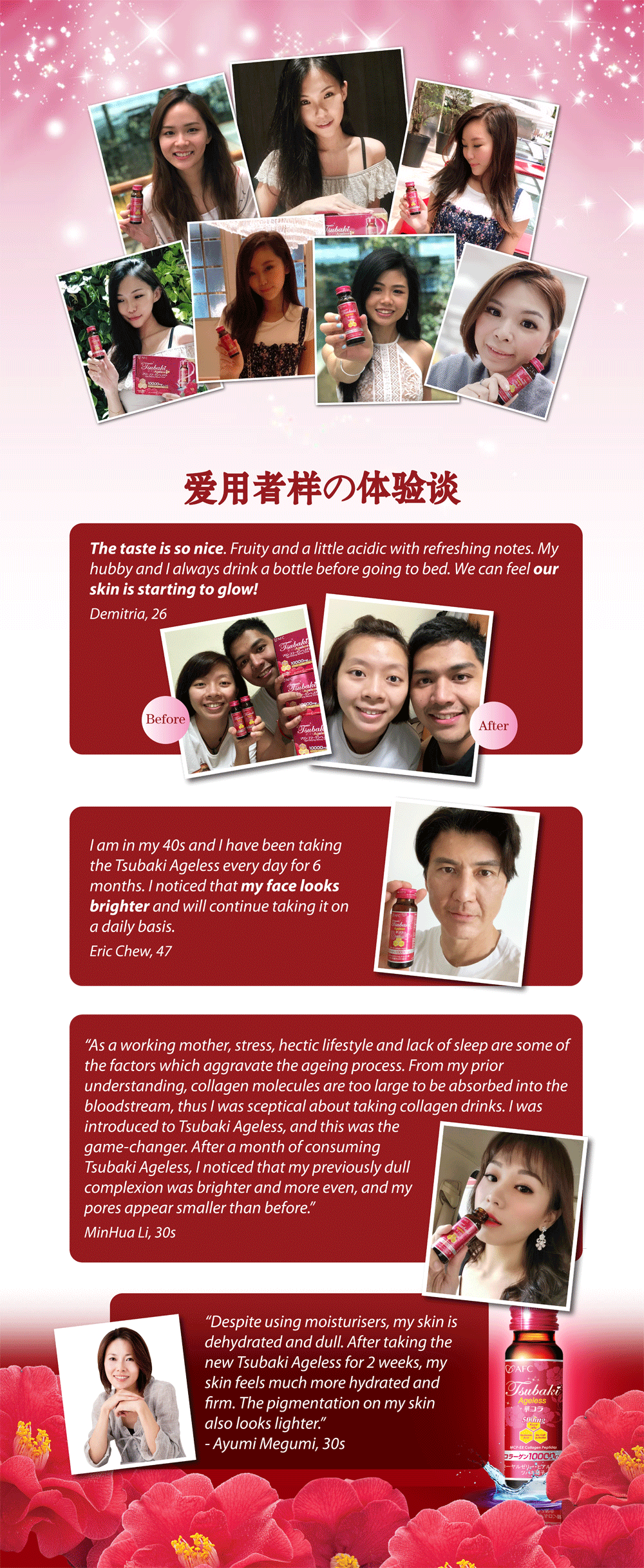 Turn back time and be an Ageless beauty. With the all new AFC Tsubaki Ageless Collagen beauty drink, you can defy all signs of ageing and seal in perfect youthful skin.
The secret lies in the powerful and unique concoction of an unparalleled 10,000mg MCP- EX Marine Collagen, clinically proven to improve skin conditions with its ultra-small molecular structure that is better absorbed by skin as compared to other collagen peptides. Its precious Royal Jelly, works synergistically to revitalize skin and improve healing. Together with other skin-loving nutrients, it deeply nourishes and repairs all skin imperfections. In just days, experience the visible interception of this potent drink for significant skin improvement.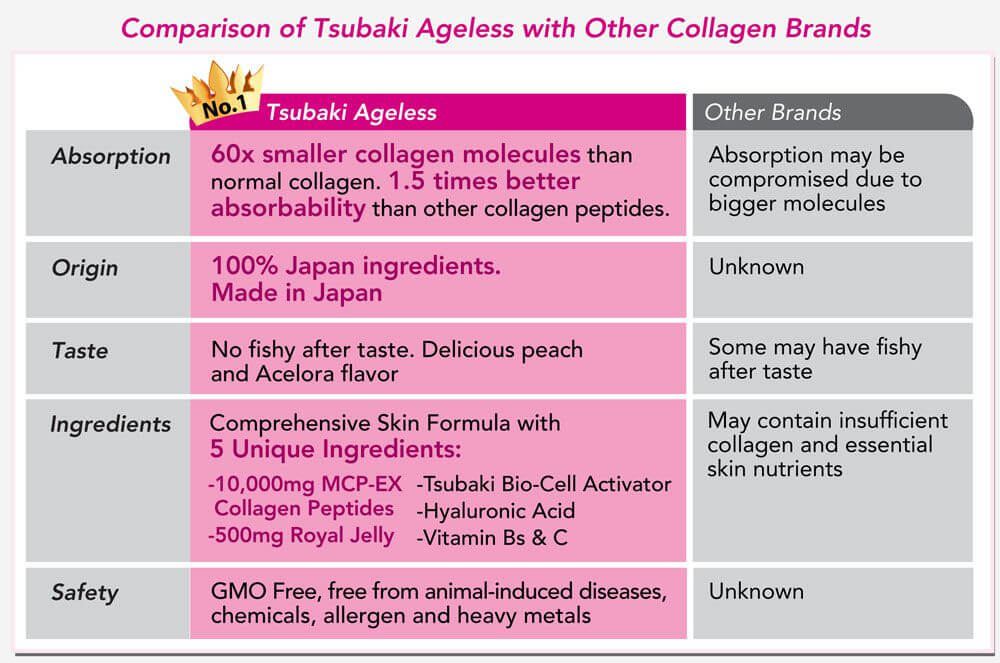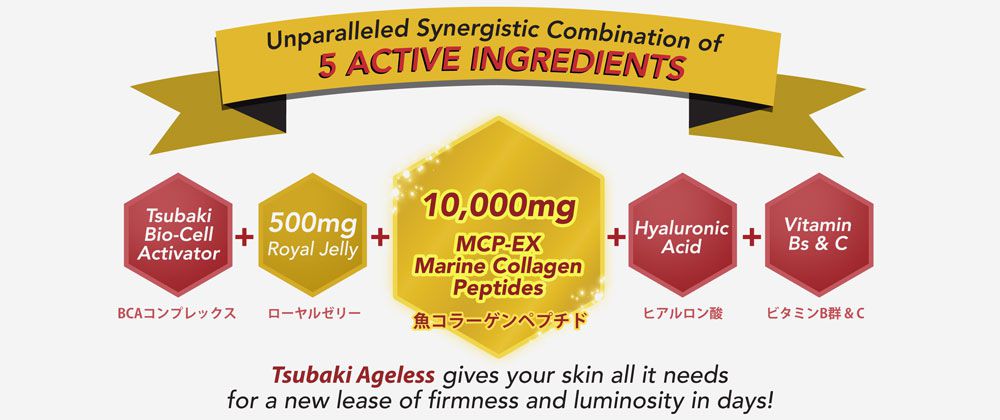 • 10,000mg MCP-EX Marine Collagen Peptides, clinically proven for skin improvement
• Promote skin firmness, refine pores and wrinkles
• 60x smaller than normal collagen for optimum absorption in the body
• Odorless collagen technology to remove unpleasant taste and smell

10,000mg MCP-EX Marine Collagen Peptides.
MCP-EX Marine Collagen Peptides is a type of low molecular weight fish-derived micro-collagen peptides that is clinically* proven for skin improvement. Extracted through a unique enzymatic hydrolysis process through advanced production technologies, it is 60 times smaller and 1.5 times better absorption than other collagen peptides, allowing it to be readily digested and easily absorbed by the body, offering the best anti-ageing properties to rejuvenate skin.
Tsubaki Ageless is composed of Type I Collagen - the best form of collagen being utilized by the body to restore healthy and youthful skin. Studies found that Type I Collagen extracted from fish consists of small peptide molecules that is absorbed at a higher level through the intestinal barrier into the bloodstream, allowing it to be effectively transported throughout the body, it to promote cell regeneration in the joint tissues, bones and skin dermis.
• Firms up skin cells to refine fine lines, wrinkles and open pores
• Enhances water absorbing capacity in the skin for supple and well-hydrated skin
• Protects skin against UV rays damage to prevent formation of pigmentation and fine lines
• Rich in amino acids, vitamins, minerals, anti-ageing nucleic acids RNA & DNA and bioactive compound, 10H2DA.
• Highly nutritious super food used extensively to preserve youth and promote good health.
• Widely researched and proven to :
- Brighten complexion by reducing melanogenesis, the process of skin darkening*
- Speed up healing process to repair damaged skin tissues, reduces scars and spots**
- Increase the production of collagen in the body by enhancing the effect of fibroblast***
Chart adapted from Satomi et al (2004). Identi¬cation of a Collagen Production-promotiong Factor from an Extract of Royal Jelly and Its Possible Mechanism. Biosci. Biotechnol, Biochem. 68(4), p.767-773.
• Comprises of botanical extracts from Tsubaki camellia seed, Lotus germ and Star fruit leaf
• Promotes collagen production and reduces collagen breakdown
• Enhances cell renewal and protection
• Possesses up to 6,000 times water locking capability
• Infuses and retains moisture, plumps up skin cells from within for smooth, supple skin

• Promotes skin metabolism for cellular renewal
• Promotes collagen synthesis
Perfect Taste
This delicious peach and acelora flavoured collagen drink is a must-have beauty drink for all women!