Direction of use
• Remove cap along with aluminium seal. Replace wtih transparent resealable cap.
• Pour a few drops onto palm. Apply over cleansed face, neck and eye area till it's completely absorbed. Reapply 2 to 3 times on skin areas with special concerns or laser-treated areas. Continue with your usual skincare regime. Recommended to use in the morning and at night.

• For Best results: Best results could be observed when combined with Le Ageless Cell Essentials oral supplement for a complete rejuvenation inside out.

• Keep the product in a cool dry place and away from direct sunlight. Close cap tightly after each use. Do not apply on areas with open wound.

• Finish the content of each vial within 7 days after opening.
Frequently Asked Questions

1. What makes Le Ageless superior to other placenta supplement?
Most placenta supplements sold in the market are raw powdered form, encased in capsules with indications such as 30, 50 or 100 times concentration. This does not define the bioactive content and efficacy of the supplement and is only the value of the final weight of each capsule. The true safety and efficacy of a placenta supplement is determined by (a) the thorough extraction of bioactive contents and (b) the filtration of impurities out of the placenta. The science behind the superiority of Le Ageless Nano Placenta Extract to other placenta products is its state-of-the-art cold process, multi-enzymatic degradation & nanofiltration technology which retains more than 99% bioactive contents within the placenta, while removing all impurities, chemicals and hormones. It is manufactured by leading placenta life sciences corporation in Japan, using premium, stringently selected porcine placenta from Japan.
2. How does Le Ageless differ from other sources of placenta such as plant, marine, deer, sheep or horse placenta?
Placenta from plant (obtained from plant pistils) and fish (harvested from salmon ovarian membrane) do not contain growth factors, the powerful and vital youth-enhancing ingredients that are present only in mammal placentas. Tests for both deer and sheep placentas revealed less bioactive contents compared with Nano Placenta Extract used in Le Ageless. Deer, sheep, plant and marine placenta do not comply with the standards of Japan Health Food Association (JHFA). Horse placenta, if bred and treated according to the regulatory standards of JHFA, is a good source of placenta protein. However, it may not be compatible with the body disposition of all users; some people may experience effects such as acne outbreak and heatiness.
3. Will the benefits of Le Ageless and Le Revital be ineffective after I stop using them?
Ageing is a continuous process. If you stop the Le Ageless nutrition or Le Revital application, the beneficial effects will continue but not for the long term. After a period of time, your cellular mechanism may become less efficient in its repair and regeneration capability, this makes you susceptible to sickness and your skin may lose its tone and radiance. Le Ageless Cell Essentials and Le Revital Intense Cell Activator help you enhance cellular health so you can feel healthy internally and youthful externally. Long-term consumption or usage is recommended for optimal effects.
4. Are Le Ageless and Le Revital suitable for everyone?
Yes. Le Ageless is formulated with only natural ingredients. It is suitable for all ages from youth to elderly and safe for long-term consumption.
5. Is porcine placenta compatible with the human body?
Yes. Porcine placenta is similar to the human placenta which has long been consumed by mothers for their postpartum care. Porcine placenta is just as potent in its healing properties for cell renewal and is the first source of mammal placenta approved for used in Japan.
6. What are growth factors, are they harmful to my body?
Growth factors are not growth hormones. They are a naturally occurring protein in the placenta and body which promote cell activation and stimulate cell renewal, repair and regeneration for complete wellness and rejuvenation. The growth factors present in Le Ageless and Le Revital are safe and suitable for consumption by all ages and have no side effects. Both products are free of harmful growth hormone.
7. Is it effective to consume either Le Ageless or apply Le Revital?
Both products have their benefits, but to achieve optimum results for complete healing and rejuvenation of organs and skin, we recommend that you combine both products to improve the overall results. This combined treatment is the same formula used by prestigious anti-ageing clinics in Japan.
8. Are Le Ageless and Le Revital better than placenta injection?
Yes. Placenta injection may trigger sensitive rejection in certain individuals. It has to be supervised by a medical practitioner and is very expensive, only the wealthy can afford it. Le Ageless and Le Revital are just as effective in achieving the results of placenta injection, yet it is cost effective and safe with virtually no risk. It is suitable for every individual and good for long-term consumption and application.
9. What are the side effects of Le Ageless?
There are no side effects. Le Ageless is an all-natural supplement, formulated with Nano Placenta Extract, German Collagen Peptides and Brewer's Yeast. It is free of fillers, binders, hormones, preservatives, wheat, gluten, milk derivatives or artificial colouring. Every batch of Le Ageless has gone through stringent tests before it is being marketed.
Freckles & Wrinkles

How are freckles formed?
Melanin content determines the colour of human skin, hair and eyes. When there is an excessive increase in
epidermal melanin, it results in the formation of freckles. Melanin increase can be divided into internal causes such as abnormal hormone secretion and external causes such as ultraviolet rays and inflammation.
How are wrinkles formed?
There has two types of wrinkles - fine wrinkles due to dehydration and deep wrinkles caused by loss of elasticity in ageing skin.
The Process of Premature Skin Ageing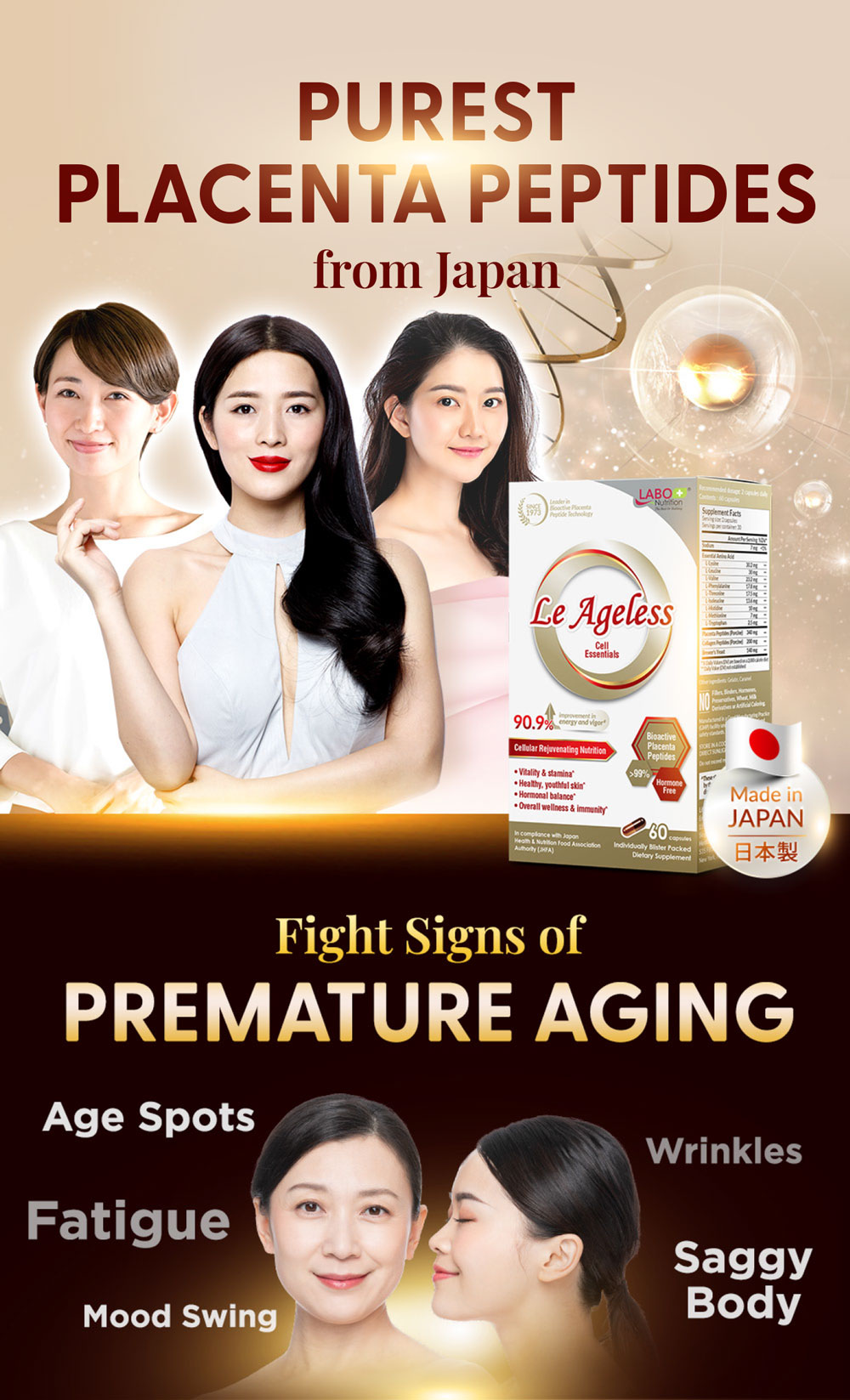 Placenta extract contains rich growth factors, antioxidants, antibodies, vitamins, minerals and other nourishing nutrients, they possess healing properties that help the body repair and rejuvenate aging and damaged tissues; restoring youth and vitality inside and out.
Trusted by leading anti-aging clinics in Japan, Le Ageless is researched and developed by Japan's largest placenta life sciences corporation to give the purest >99% bioactive placenta peptides. Rejuvenating the body on a cellular level, Le Ageless helps reverse signs of ageing to improve hair, skinfirmness & elasticity.
A potent cellular rejuvenating nutrition lavished with the goodness of pure nano placenta extract. Le Ageless also contains premium German collagen peptides and brewer's yeast. Harness the power of the bioactive nano-sized placenta content to renew, reactivate, revitalize and rejuvenate at the cellular level for unprecedented wellness and vitality.
Le Ageless is manufactured in a Good Manufacturing Practice (GMP) facility under strict quality control and safety standards.
• Extracted from stringently selected porcine sources from Japan
• Employs a specialised cold-process, multi-enzymatic degradation and nanofiltration technology
• No impurities, chemicals and hormones
• Nano-sized placenta for better absorption
• Ultra-small collagen peptides work synergistically with the placenta peptides to stimulate collagen production
• Improves skin elasticity and smoothens wrinkles
• Supports firmer, radiant skin
• Rich source of chromium, vitamin Bs, protein and minerals
• Improves energy level
• Supports healthy skin, hair, liver and nervous system
• Supports absorption of the placenta peptides and German collagen peptides
Especially effective for complementing the results from laser or micro-needling treatments, Le Revital is formulated with 98% bioactive placenta peptides & umbilical extract to protect, regenerate, hydrate, repair and soothe skin.

Recommended for individuals who:
• Desire youthful and healthy complexion
• Wish to combat symptoms associated with premature ageing such as saggy skin, age spots and wrinkles
• Under constant fatigue and stress
• Experience premenopausal and menopausal symptoms (hot flushes, insomnia, mood swings & lethargy)
Contents: 2x Le Ageless Cell Essentials 60 Capsules + Le Revital Intense Cell Activator: 1 vial