Active Ingredients per 6 caplets
Chitosan and Chitooligosaccharides 1203mg
Vinegar Extract 36mg
Daily Dose
4-6 caplets before meals
How to take
Take Chitosan Trim 15 minutes before meal with one glass of water.
Choose the dosage according to your meals, you can take up to 6 caplets before high fat meal such as deep fried foods or red meat.
For weight loss purpose, you can take up to 6 caplets each before lunch and dinner, especially for high fat meals such as fried, deep fried or other fatty foods.
Please allow at least 2 hours gap between Chitosan Trim with fat soluble or oil-based health supplements such as Vitamin A, D, E and K, Coenzyme Q10 and fish oils.
Please ensure sufficient water intake of at least 8 glasses daily to ensure maximum efficiency.
What exactly is Chitosan and how does it help in weight loss?
Chitosan are natural fibers derived from premium crab shell that can absorb up to 12 times its own weight of fats, oils and cholesterol. Chitosan cannot be digested by the body, thus will get excreted from the system together with the fats and oils. In doing so, the calories consumed would be reduced as the fats and oils are not absorbed, thus achieving weight loss. In Japan, certain food and supplement with Chitosan are approved as FOSHU (Food for Specified Health Use) by Ministry of Health with proven benefits in supporting health blood cholesterol and dietary habits.
How does LipoBLOCK work?
LipoBLOCK contains fast-action fat blockers made from multiple Chitosan fibers. With high affinity towards fats, Chitosan wraps excess dietary fats, forming indigestible structure which will not be absorbed and will be excreted from body. The effective fat blocking actions help to offset the impact of excess calories from the fat intake.
When is the best time to consume LipoBLOCK?
LipoBLOCK should be consumed around 15-30 minutes before meals. This will allow time for the caplets to dissolve and start absorbing the ingested fats and oils.
I have tried Chitosan before and it didn't help, how is LipoBLOCK different?
LipoBLOCK is a comprehensive formula which the triggers fast release of Chitosan fibers to wrap, absorb and expel unwanted dietary fats so that it does not accumulate as body fats. LipoBLOCK also contains concentrated vinegar extract to further dissolve unwanted fats , promotes better digestion. In addition, LipoBLOCK helps to promote a healthier intestinal flora and detoxifies the body.
The following are extracted from published clinical studies, in-house studies, and/or case studies and are for reference purposes only. This does not imply that the product from Lifestream Group Pte Ltd is claimed to replicate the same results produced in the studies. This information is not a substitute for professional medical advice, diagnosis, or treatment. If you have any questions about a medical condition, please consult your physician or other qualified healthcare providers. Any statements or claims made have not been evaluated by the relevant regulatory bodies and are not intended to diagnose, treat, cure, or prevent any disease.
By using the Site, you agree that you have read and acknowledge the above and the Terms of Use for this Site.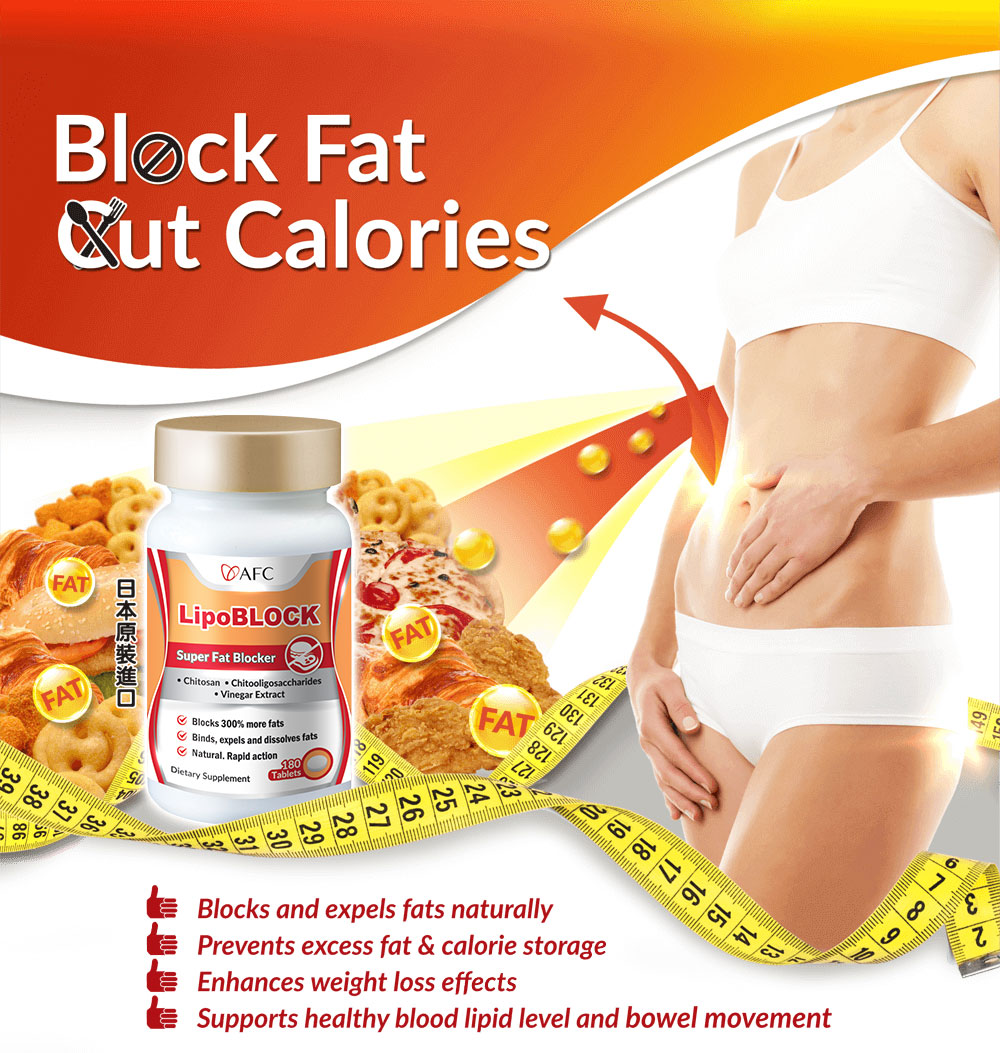 Most of us love to eat and our involuntary obsession very often leads to binge eating of unhealthy foods. After a hard day's work, cooking a nutritious, well-balanced diet is likely to be the last thing on your mind. Eating out at hawker centres, fast food chains or restaurants almost becomes a daily ritual. It is difficult to maintain a healthy diet when we eat out as the amount of oil and condiments used is beyond our control.
How much of fat have you eaten today?
Do you know that you can easily exceed your daily fat intake just by eating a bowl of laksa or a plate of chicken rice?
High calories and high fat diet, coupled with the lack of exercise will not only lead to an expanding waistline, weight gain, but also other potential health problems such as high cholesterol level, fatty liver and cardiovascular diseases.
AFC LipoBLOCK
Lessen the guilt of food indulgence while keep your calories in check!
AFC LipoBLOCK is a Super Fat Blocker that binds and eliminates up 300% of fats. It triggers fast fat-binding actions to wrap, absorb and expel excess fats and calories. AFC LipoBLOCK helps you keep your calorie intake in check while allowing you more freedom while eating.
The Incredible Power of LipoBLOCK
Highly recommended for those who

:
• Indulge in fast foods, buffets, suppers, titbits and fried foods
• Are concerned with excess body weight
• Have slow results from dieting or exercise
• Have stubborn flabbiness and bulges
• Dine out regularly
Contents: 300mg x 180 caplets