500mg Ashwagandha Root Extract (Withania somnifera) (contains >7% withanolides (35mg)), 125mg Rhodiola rosea Root Extract (>5% rosavins, >3% rosavin and >1% salidroside), 5mg Black Pepper Extract (BioPerine)
Recommended Dosage
One veggie cap daily, preferably taken in the morning. For intensive need or stress support, take 1 more capsule in the afternoon or as and when you need it.
Q. Why is stress management is crucial to wellness?
A. Everyone feels stressed from time to time. Although a little stress occasionally is not something to be concerned about. However, prolonged exposure to chronic stress can trigger or exacerbate many serious health problems, this includes:
- Emotional distress, such as depression, anxiety, headache and insomnia
- Cardiovascular problems, including high blood pressure, irregular heartbeat, heart attack and stroke
- Sexual dysfunction, such as loss of sexual desire in men and women and erectile dysfunction or premature ejaculation in men
- Gastrointestinal disorders, including irritable bowel syndrome (IBS), gastritis, ulcerative colitis
- Obesity and other eating disorders
- Skin and hair issues, such as acne, eczema, psoriasis and hair loss
- Menstrual problems
As chronic stress can increase the risk for long-term health issues, managing stress via multiple approaches, including consuming good quality adaptogen supplement is crucial to maintain overall body wellness.
Q. What is AdaptWell?
A. AdaptWell is a powerful vegan formula, developed with extracts of Ashwagandha and Rhodiola rosea. This proprietary formula is beneficial for anyone who has difficulty coping with emotional distress as well as physical and mental fatigue. Ashwagandha is an herb that has been used as an Ayurvedic medicine for thousands of years; while Rhodiola has been used in traditional medicine in Russia and Scandinavian countries for centuries. Well known to be powerful adaptogens, the Ashwagandha and Rhodiola rosea in AdaptWell synergistically help strengthen the body's natural resistance and adaptation to stress and anxiety, allowing one to cope better during stressful times. In addition, AdaptWell helps reduce stress-induced high blood pressure, increase energy levels, fight fatigue and improve physical and mental performance during mentally stressful and physically strenuous situations.
Q. What makes AdaptWell superior to other adaptogen supplements?
A. Typical adaptogen supplements usually contain a single ingredient. For instance, only Ashwagandha with 2.5% withanolides (the major biologically active constituents of Ashwagandha leaves believed to attribute to a majority of the biological functions of Ashwagandha). In comparison, AdaptWell is formulated with 2 potent ingredients, Aswagandha and Rhodiola rosea, in functional dosage to deliver exceptional potency. Ashwagandha is standardised to contain 7% Withanolides, while Rhodiola rosea is standardised to contain >5% rosavins, >3% rosavin and >1% salidroside. The synergistic effects of Ashwagandha and Rhodiola maximise the efficacy of AdaptWell in stress management and energy boosting. In addition, AdaptWell is fortified with BioPerine® black pepper extract, which remarkably increases the absorption and bioavailability of Ashwagandha and Rhodiola rosea. With gluten-free, plant-sourced ingredients and no added colouring, flavouring and preservatives, AdaptWell is safe and highly recommended for anyone, including vegetarians for effective stress management.
Q. How does AdaptWell help people with chronic stress to address their high blood pressure?
A. When one is under stress, the adrenal glands release stress hormones – adrenaline and cortisol into the bloodstream which cause the heart to beat faster heart and blood vessels to narrow, resulting in a temporary spike in the blood pressure. When the stress trigger is resolved, the hormone levels return to normal and the blood pressure and heart rate return to baseline levels. However, chronic or long-term stress causes the stress hormone levels to be persistently high, leading to high blood pressure. AdaptWell helps reduce the stress and reduce stress-induced high blood pressure by lowering adrenaline and cortisol levels.
Q. Who is AdaptWell recommended for?
A. AdaptWell is highly recommended for anyone who is constantly under stress or other emotional distress, easily stressed, agitated or excitable, anxious, depressed, prone to panic attacks or feeling down and overwhelmed. It is also suitable for anyone with low energy level or poor cognitive function. Furthermore, AdaptWell is beneficial in alleviating stress-induced conditions, such as high blood pressure, insomnia, low libido, poor concentration, difficulty relaxing, muscle ache or tension. Other benefits for overall wellness include healthy cholesterol, triglyceride and glucose levels as well as muscle mass and strength support and reproductive health support for men and women.
Q. I am constantly under stress and feel overwhelmed. How long should I take AdaptWell before I can feel relieved?
A. The results may vary between individuals. In general, one can feel immediate relief on the day of intake. Nonetheless, AdaptWell is highly recommended for long-term consumption, especially for those who are constantly under stress.
Q. What is the recommended dosage for AdaptWell?
A. The recommended dosage is one veggie capsule daily, preferably taken in the morning, with or without food. For those under immense stress can take 2 capsules a day, to be consumed together or separately.
Q. Can children take AdaptWell to relieve stress from study?
A. Yes. AdaptWell is suitable for children aged 12 and above. The recommended dosage is 1 veggie capsule a day.
Q. Will I suffer from any adverse side effects or withdrawal symptoms if I stop taking AdaptWell?
A. No, AdaptWell is 100% natural and completely safe. It has no known side effects nor does it lead to dependency or withdrawal symptoms. As everyone suffers from stress from time to time, it is highly advisable to take AdaptWell for long-term to maintain optimal body wellness and improvement in stress-induced health conditions.
Q. I am taking medications, can I still take AdaptWell for stress relief?
A. Yes, you can. Just need to ensure a one to two-hour gap between medications and AdaptWell, so as to benefit optimally from the supplement. AdaptWell helps to reduce stress and other stress-induced health issues.

Research Proven Benefits of Key Ingredients of AdaptWell
The following are extracted from published clinical studies, in-house studies, and/or case studies and are for reference purposes only. This does not imply that the product from Lifestream Group Pte Ltd is claimed to replicate the same results produced in the studies. This information is not a substitute for professional medical advice, diagnosis, or treatment. If you have any questions about a medical condition, please consult your physician or other qualified healthcare providers. Any statements or claims made have not been evaluated by the relevant regulatory bodies and are not intended to diagnose, treat, cure, or prevent any disease.
By using the Site, you agree that you have read and acknowledge the above and the Terms of Use for this Site.
1. Reduce stress
a) Ashwagandha
Ashwagandha helps the body to adapt to stress by rejuvenating the body at cellular level and boosting stamina and endurance. It contains a range of constituents like withanolides, sitoindosides and other alkaloids which protect cells from oxidative damage and diseases. For individual who turn to comfort foods or alcohol to cope with stress (which can make things worse), Ashwagandha is a natural and safe option for stress relief.
Study 1
In a clinical trial, individuals with chronic stress were administered either standardised Ashwagandha root and leaf extract (WSE) or placebo. The assessment of stress levels was done using the modified Hamilton anxiety (mHAM-A) scale. Compared to placebo, administration of WSE resulted in a significant reduction in the mean mHAM-A score (lower scores indicate lesser anxiety), serum cortisol (stress hormone), serum C-reactive protein (a marker for inflammation), blood pressure and pulse rate on day 60. With no adverse effects experienced by the participants involved, the study shows that the consumption of Ashwagandha extract can significantly reduce stress indicators without side effects (JANA. 11: 50-56 (2008)).
Study 2
In this clinical trial, 64 chronically-stressed subjects were orally administered a high concentration of Ashwagandha roots extract or placebo. This study is to evaluate the safety and effectiveness of Ashwagandha in reducing stress and anxiety, as well as improving the well-being of stressed adults. The subjects given one capsule, twice a day for 60 days. In the Ashwagandha group, each capsule contained 300 mg of high-concentration Ashwagandha root full-spectrum extract. Results showed that compared to the placebo group, a significant reduction (p<0.0001) in the scores on all the stress-assessment scales was observed in Ashwagandha group on day 60. In addition, their serum cortisol levels were substantially reduced (p=0.0006). In short, this study suggests that a high-concentration full-spectrum Ashwagandha root extract improves an individual's resistance to stress safely and effectively, thus improving self-assessed quality of life (Indian J Psychol Med. 34(3): 255-262 (2012)).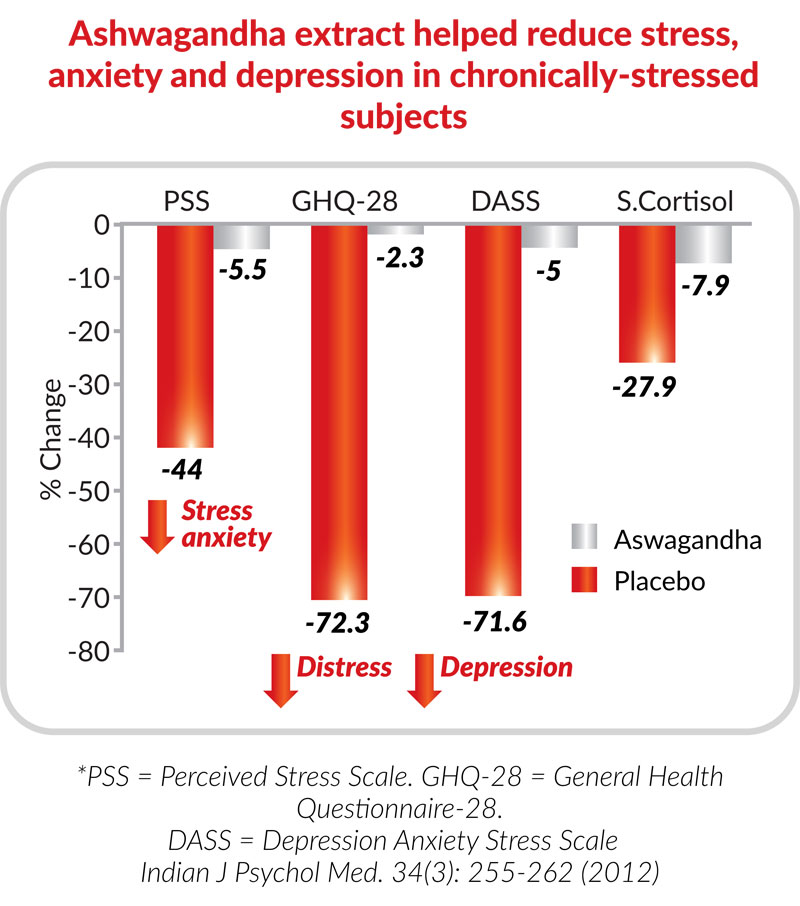 b) Rhodiola
As an adaptogen, Rhodiola can enhance the body's resistance to stress, trauma and anxiety, allowing one to better cope during stressful times. For individuals with life- and work-related stress, the administration of rhodiola helped reduce symptoms of stress, such as fatigue, exhaustion and anxiety. It also helps to improve symptoms of burnout, which is associated with chronic stress.
Study 1
In this clinical trial, 101 subjects with life-stress symptoms were orally administered Rhodiola extract at a dose of 200 mg, twice daily for 4 weeks. Seven questionnaires including Numerical Analogue Scales of Subjective Stress Symptoms, Perceived Stress Questionnaire, Clinical Global Impressions were used to cover various aspects of stress symptoms and adverse events. All tests showed clinical improvement, even at the start of day 3 of the treatment and continued improvements after 1 to 4 weeks. Compared to baseline, oral administration of Rhodiola extract resulted in significant reduction in stress symptoms. These findings suggest that Rhodiola helps support resilience to life- or work-related stress (Phytother Res. 26(8): 1220-1225 (2012)).
Study 2
In this clinical trial, 118 outpatients with symptoms of a burnout were orally administered a daily dose of 400mg Rhodiola extract for 12 weeks. Clinical outcomes showed obvious improvement over time. All the subscores and the total Perceived Stress Questionnaire (PSQ) global score showed a distinct reduction at week 12 (p<0.001) compared to baseline, with the greatest improvement in "lack of joy", "tension" and "fatigue". Lower PSQ scores represent lesser perceived stress. These findings suggest the beneficial effects of Rhodiola in mitigating symptoms of a burnout.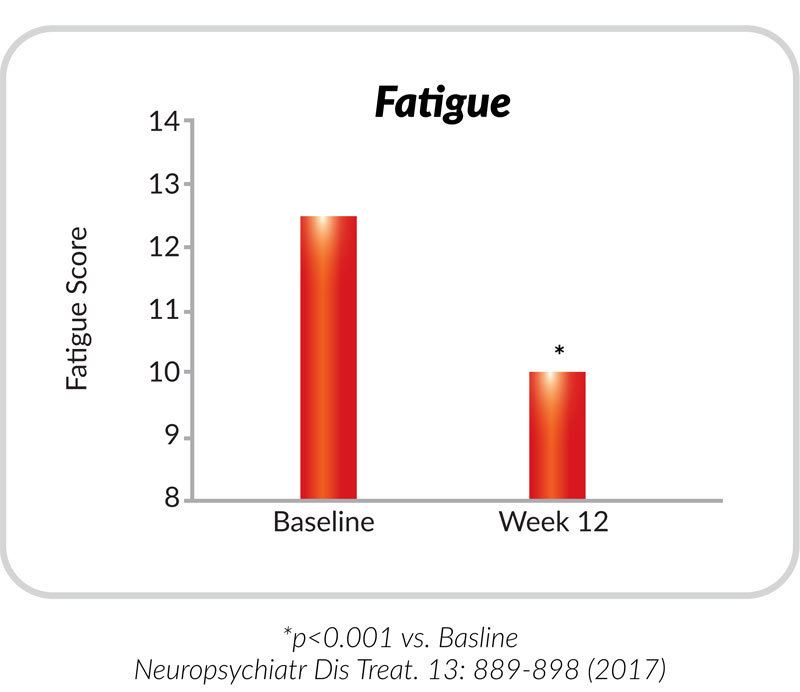 2. Reduce cortisol level
The adrenal gland releases a stress hormone called cortisol when the body responds to stress. Constant elevation of cortisol is harmful to the body as it will cause high blood sugar level and increased fat storage in the body. Ashwagandha is found to reduce the cortisol level in the body, this significantly helps the body cope better with stress.
In this clinical trial, 64 subjects with chronic stress were orally administered a capsule of 300 mg standardised dose of Ashwagandha root extract or a placebo, twice daily over 60 days. The efficacy of Ashwagandha extract in reducing cortisol level was measured on day 60. The measurement of cortisol level showed 27.9% reduction from baseline in the Ashwagandha group while only 7.9% reduction in the placebo group. The serum cortisol levels reduction between the two groups on the day 60 is statistically significantly different (p = 0.002). Thus, this can suggest that ashwagandha can effectively reduce blood cortisol levels.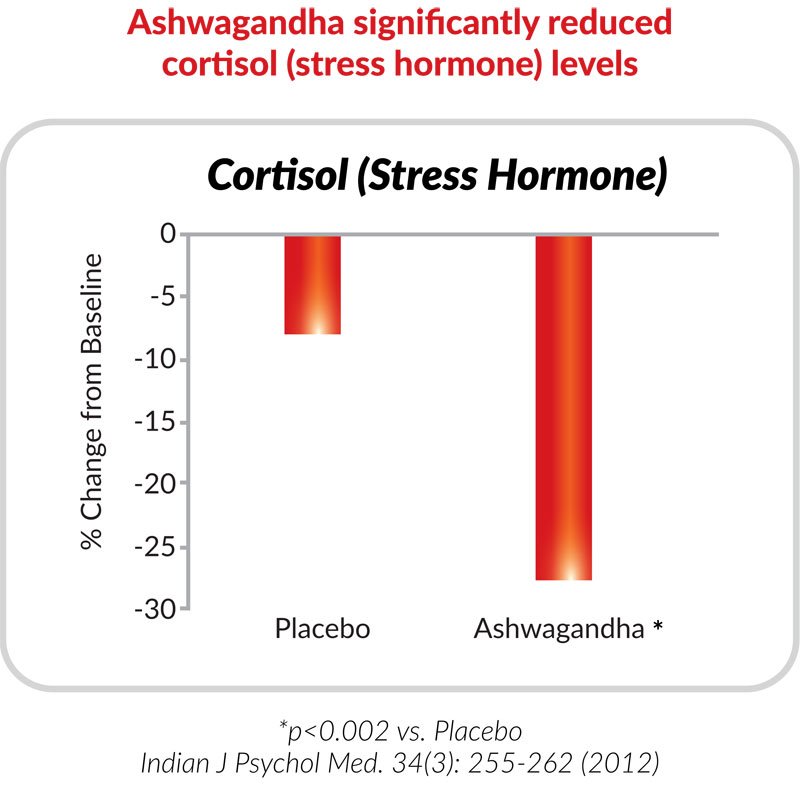 3. Alleviate depression symptoms
Depression can be caused by many factors, including genetics, brain chemicals and life's situation. Besides, chronic stress can also increase the risk of developing depression if not managed well. Rhodiola is found to have mood-enhancing properties where it stimulate neurotransmitters such as dopamine, serotonin, acetylcholine and noradrenaline in the brain regions that are responsible for mood.

In this clinical trial, 89 patients suffering from a current mild or moderate depression episode were orally administered either standardised extract of Rhodiola rhizomes or placebo for 6 weeks. The efficacy of the Rhodiola extract related to depressive complaints was assessed on day 1 and day 42 via Hamilton Rating Scale for Depression (HAMD) scores. The group which was administered with Rhodiola extract showed significant reduction in HAMD scores (p < 0.001), indicating a reduction in depressive symptoms, while there is no statistically significant difference in the placebo group. These findings suggest that standardised Rhodiola extract has antidepressant effects and may benefit those with depressive symptoms.
4. Relieve fatigue
Rhodiola is a traditional medicinal plant that has been long known to de-stress and alleviate chronic fatigue. Studies have demonstrated that Rhodiola helps reduce mental fatigue under stressful conditions, besides having stimulative effect on the physical work capacity.

In this clinical trial, 161 healthy young men subjected to stress and fatigue were orally administered either a single dose of standardised Rhodiola extract or placebo. A measure of performance known as "anti-fatigue index" (AFI) which combines the amount of mental work accomplished per unit of time and the quality of that work was used to evaluate the anti-fatigue effects of Rhodiola. The sleep-deprived and stressed participants who had received Rhodiola were significantly less tired than those administered with placebo (Phytomedicine. 10(2-3): 95-105 (2003)).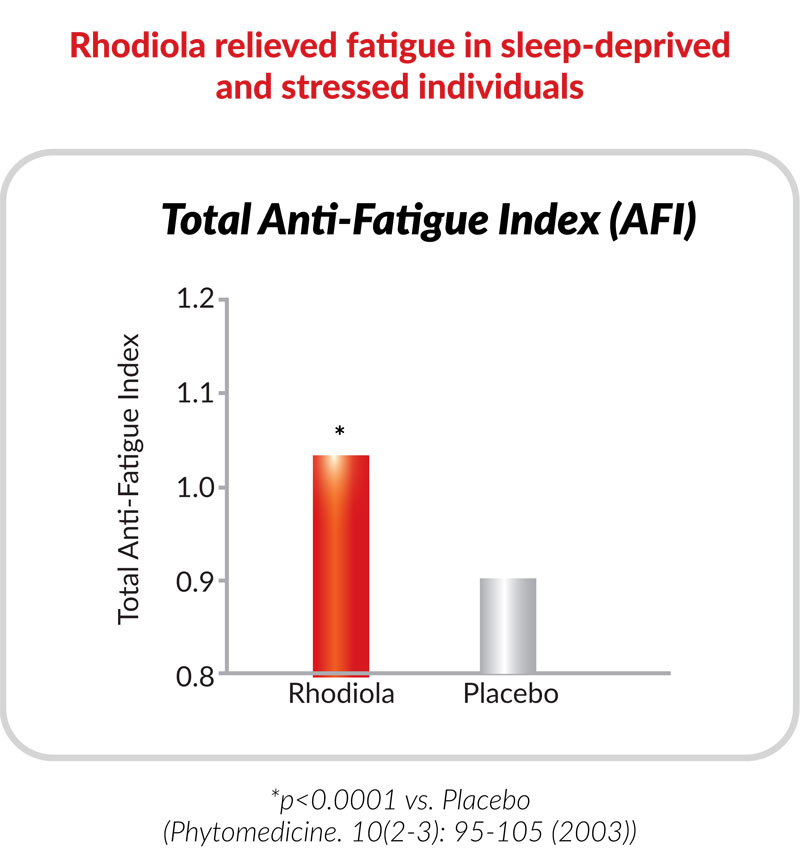 5. Improve exercise endurance
Rhodiola has been traditionally used to fight physical fatigue, it also has beneficial effects on the exercise performance. Ingesting acute dose of Rhodiola was found to improve the exercise endurance by reducing the heart rate in response to submaximal exercise.

In this clinical study, 18 subjects were orally administered with either acute oral dose of 3mg/kg of Rhodiola or placebo 1 hour before the exercise testing. The exercise testing involved a standardised 10-minute warm-up, followed by a 6-mile time trial (TT) on a bicycle ergometer. A significant reduction of heart rate was observed during the standardised warm-up for those with Rhodiola ingestion (R. rosea = 136 + 17 bpm VS placebo = 140 + 17 bpm, p = 0.001). Subjects also took a shorter time to complete the time trial after consuming Rhodiola (R. rosea = 25.4 + 2.7 minutes VS placebo = 25.8 + 3.0 minutes, p = 0.037). The 10-point Borg scale was used to measure the rating of perceived exertion (RPE) for every 5 minutes during the time trial. The ingestion of Rhodiola was observed to lower RPE (R. rosea = 6.0 + 0.9 VS placebo = 6.6 + 1.0, p = 0.04). Hence, acute ingestion of Rhodiola improved exercise performance by decreasing heart rate and perception of effort (J Strength Cond Res. 27(3): 839-847 (2013)).
6. Enhance brain function
Ashwagandha has long been used in Ayurvedic medicine (the traditional system of medicine in India) to improve cognitive function. Ashwagandha has been found to promote cognition for children with memory deficit and the elderly with memory loss, suggesting the beneficial effects of Ashwagandha to brain health.
In this clinical trial, 50 adults with mild cognitive impairment were orally administered either Ashwagandha-root extract (300mg twice daily) or placebo for 8 weeks. Compared to placebo, administration of Ashwagandha resulted in a significant improvement in both immediate and general memory after 8 weeks, as evaluated using the Wechsler Memory Scale III subtest scores. Besides, group administered with Ashwagandha also demonstrated a significantly greater improvement in the executive function, sustained attention and information-processing speed using the scores on the Eriksen Flanker task (p = 0.002), Wisconsin Card Sort test (p = 0.014), Trail-Making test part A (p = 0.006), and the Mackworth Clock test (p = 0.009). These findings suggest that Ashwagandha could effectively help to enhance the memory and cognitive functions in mild cognitive impaired adults (J Diet Suppl. 14(6): 599-612 (2017))

7. Support healthy blood glucose levels
When the body is under stress, the adrenal glands trigger the release of glucose stored in various organs, this often leads to elevated levels of glucose in the bloodstream. During stressful situations, the insulin levels drop and stress hormone levels go up. That makes it harder for the insulin to work the way it should. All these may raise the blood glucose levels in the body.
In this in vitro study, cellular models were used to evaluate the anti-diabetic activity of Ashwagandha (W. somnifera). Increasing concentrations of Ashwagandha root extracts were used to treat differentiated myotubes or matured adipocytes. The fluorescence of the cell layer was measured with glucose analog to determine the glucose uptake 4 hours post incubation. Ashwagandha root extract was found to increase the glucose uptake in myotubes by 35% and adipocytes by 22%.
8. Support healthy blood cholesterol levels
Elevated levels of blood cholesterol and triglycerides are associated with the development of atherosclerosis and coronary artery disease. Modern medicines such as statins, resins, fibrates and nicotinic acids are commonly used to lower the body cholesterol levels. Ashwagandha has also been found to effectively support healthy blood lipid profiles.

In this animal test, eight hypercholesteremic rats were administered with Ashwagandha root powder of 0.75g/rat/day and 1.5g/rat/day in their diet, respectively. A significant reduction of total lipids (-40.54% and -50.69%) were observed in the treated groups for 0.75g/rat/day and 1.5g/rat/day respectively. Besides, significant reduction in both plasma cholesterol (-41.58% for 0.75g/rat/day and -53.01% for 1.5g/rat/day) and plasma triglycerides (-31.25% for 0.75g/rat/day and -44.85% for 1.5g/rat/day) were also seen. The treatment with Ashwagandha root powder also showed positive increment in the plasma HDL-cholesterol levels (+15.1% for 0.75g/rat/day and +17.71% for 1.5g/rat/day) and HMG-CoA reductase activity (+19.51% for 0.75g/rat/day and +26.02% for 1.5g/rat/day). The bile acid content of liver was also found to be significantly increased (+24.64% and +30.52%) for 0.75g/rat/day and 1.5g/rat/day, respectively. Compared to the normal counterparts, a significant reduction in lipid peroxidation was also seen in hypercholesteremic rats administered with Ashwagandha root powder (-35.29% for 0.75g/rat/day and -36.52% for 1.5g/rat/day). Hence, this suggests that Ashwagandha root powder can effectively promote healthy blood lipids.
9. Improve women's sexual function
Ashwangandha root extract has been used to treat sexual dysfunction in men and is also advocated to improve the sexual dysfunction and libido in women. There are two hypotheses that high-concentration of Ashwagandha root extract consumption (HCARE) may reduce the female sexual dysfunction via two routes. One is the anti-stress effect of Ashwagandha since chronic stress is associated with increased cortisol level in blood, thus leading to sexual dysfunction. Another hypothesis is HCARE can help diminish the androgen deficiency syndrome which contributes to the lack of sexual desire in some women.

In this clinical trial, 50 females were orally administered either highly concentrated Ashwagandha root extract or placebo for 8 weeks. Two psychometric scales including Female Sexual Function Index (FSFI) Questionnaire and Female Sexual Distress Scale (FSDS), as well as the number of total and successful sexual encounters were used to assess the sexual function. Compared to placebo, the group administered with Ashwagandha observed significant improvement in the FSFI Total score (p < 0.001), FSFI domain scores for 'arousal' (p<0.001), 'satisfaction' (p<0.001), 'lubrication' (p<0.001) and 'orgasm' (p=0.004). The Ashwagandha group also showed significant improvement in the FSDS score (p<0.001) and had a greater number of successful sexual encounters (p<0.001) at the end of the study. These findings suggest that the females' sexual function can be improved via the oral administration of Ashwagandha extract.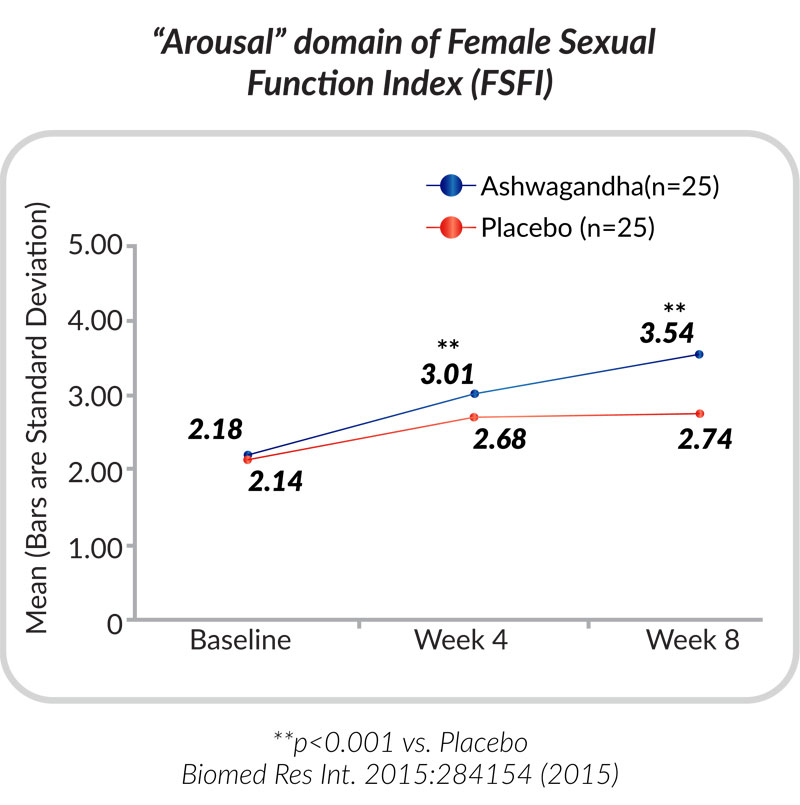 10. Improve male fertility and boost testosterone level
Most of the male infertility is related to low sperm concentration and reduced sperm motility. Spermatogenesis alterations may also contribute to infertility by the release of immature or abnormal spermatozoa for ejaculation. Hence, a person may still be infertile even though the total sperm count may still be within normal fertile range due to a large fraction of unfit spermatozoa. Stress has been found to be a cause of male infertility. There is a close correlation between infertility and psychological stress. Psychological stress is attributed by many factors such as lifestyle alterations, economic recession, increased workload, great competition at work and occupational exposures to various chemicals. Infertility is associated with elevated levels of circulating cortisol. The sharp rise of cortisol level in response to stress will cause testicular involution and a significant drop in testosterone secretion. Ashwagandha roots have been found to be an anti-stress agent and a male sexual stimulant.
In a study, 60 normozoospermic (presence of normal sperm in semen) but infertile men were given Ashwagandha root powder at the dosage of 5g/day for 3 months. The general semen characteristics were observed before and after the treatment. Ashwagandha significantly improved all the semen parameters. The sperm concentration and spermatozoa motility in normozoospermic men having psychological stress was found to be increased by 36% and 13% respectively. The pregnancy outcome was 15% success for men under psychological stress treated with Ashwagandha. Hence, it can suggest that Ashwagandha can treat stress-related infertility.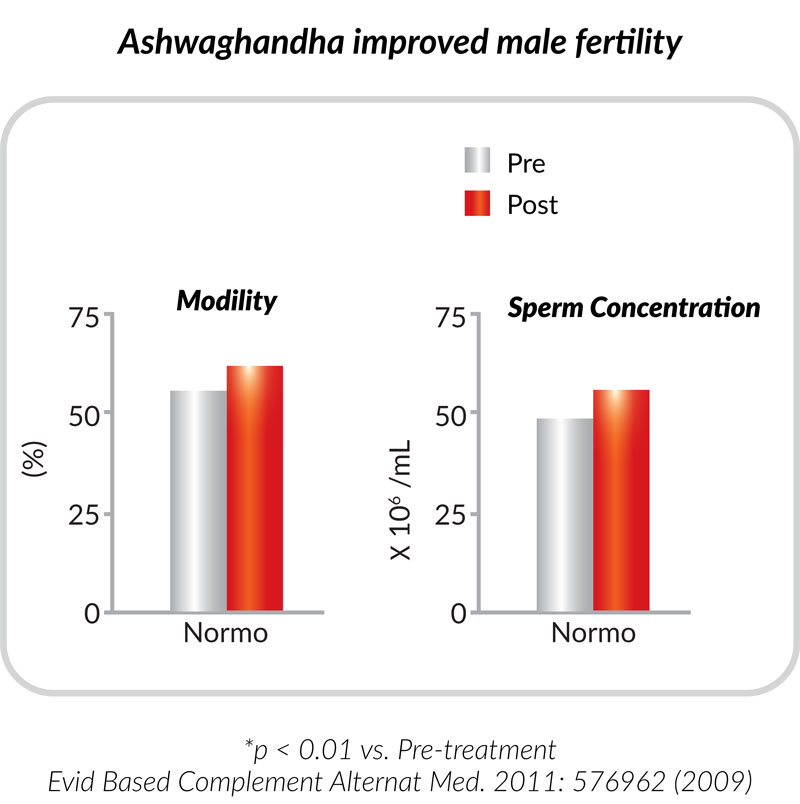 Adaptwell combines two powerful adaptogens – Ashwagandha extract and Rhodiola rosea extract to aid our natural ability to cope with emotional distress and physical and mental fatigue. Just 1 veggie cap daily helps strengthen the body's natural resistance and adaptation to stress as well as enhance wellbeing by encouraging calmness.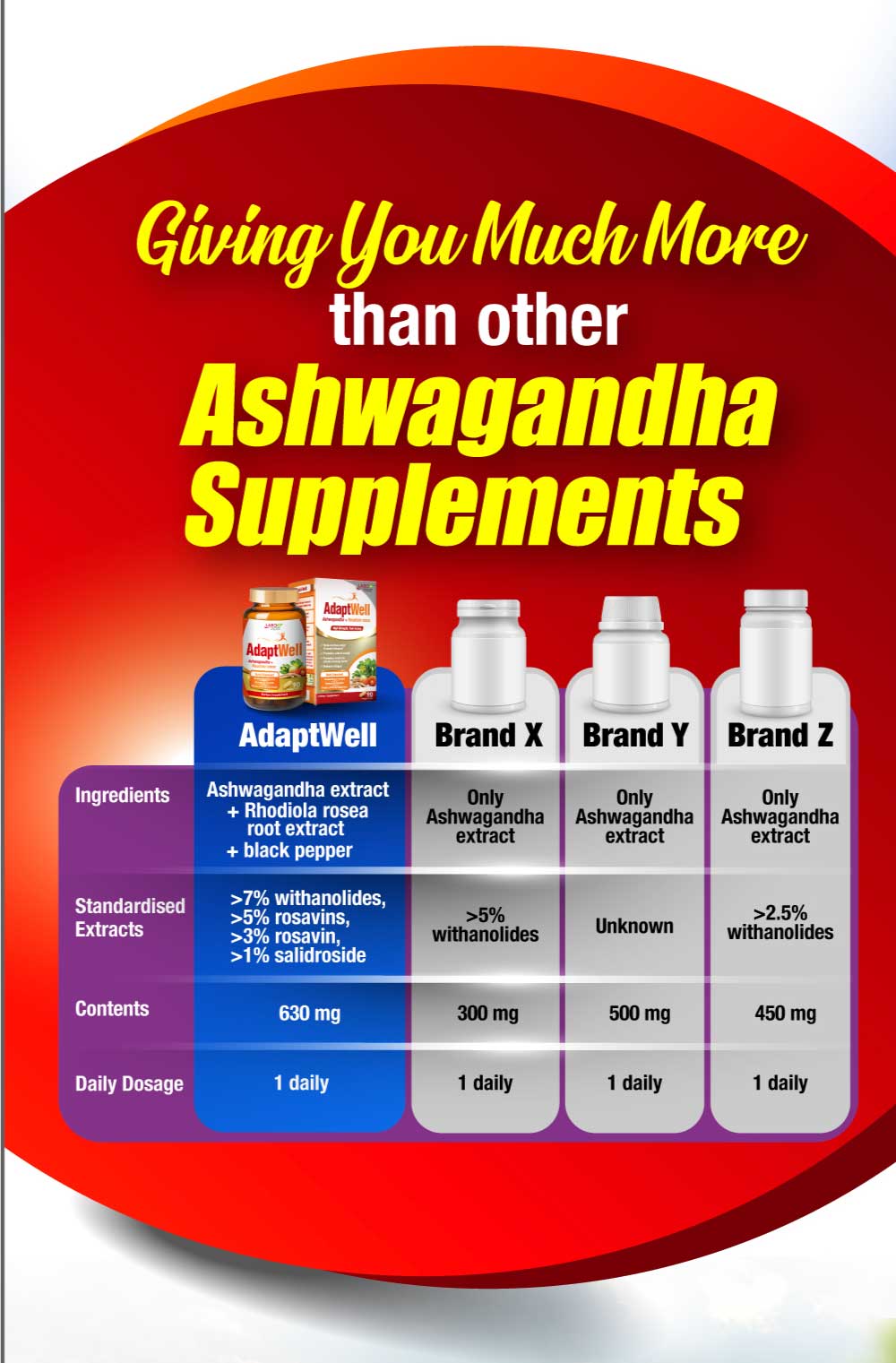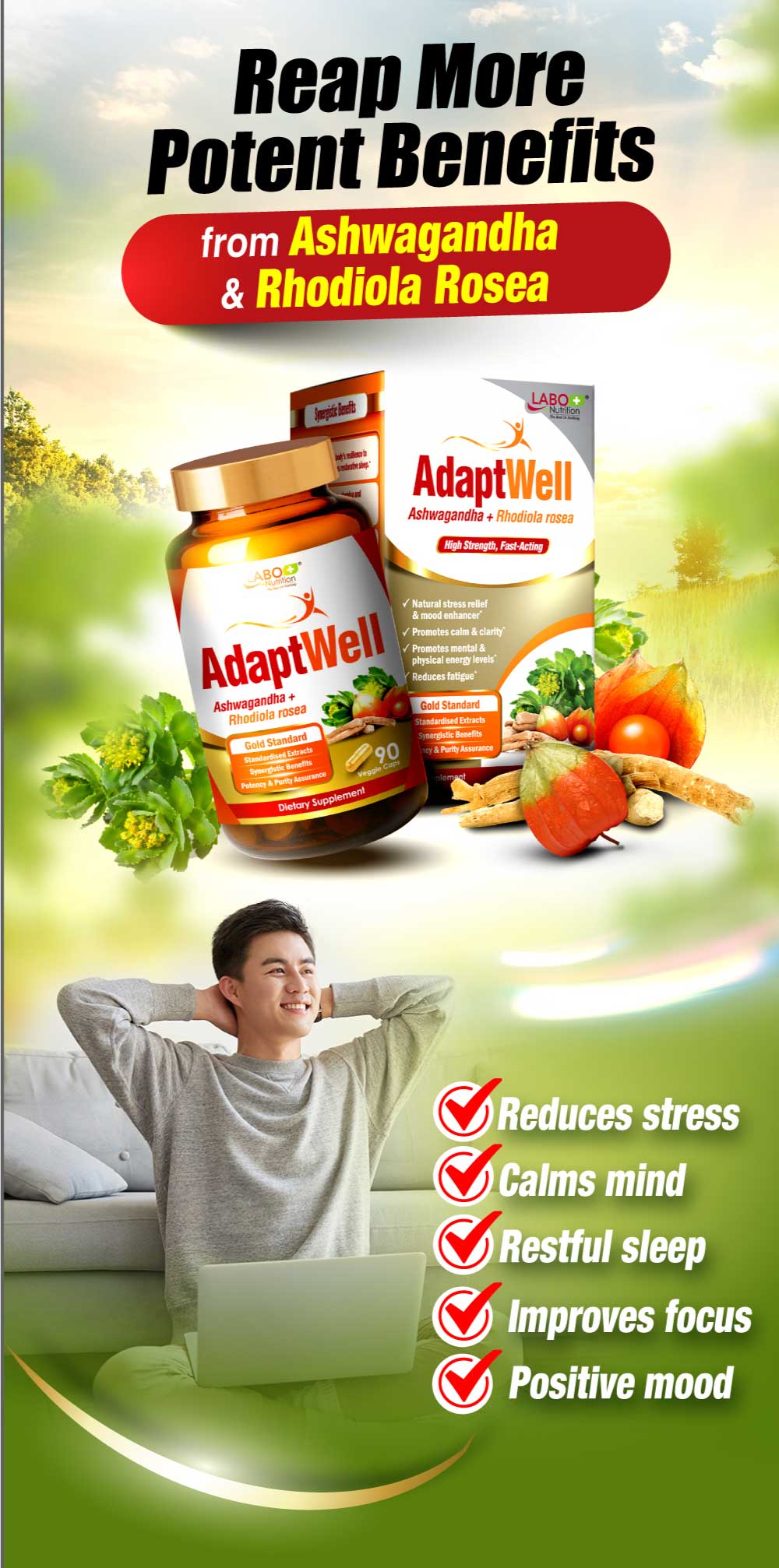 AdaptWell is highly recommended for these individuals
• Students who pulled in late nights
• Consistently stressed or feeling anxious
• Experiencing mood swings or feeling overwhelmed
• Difficulty in concentrating or being relaxed
• Suffering from high blood pressure induced by stress
• Desire to improve energy levels and performance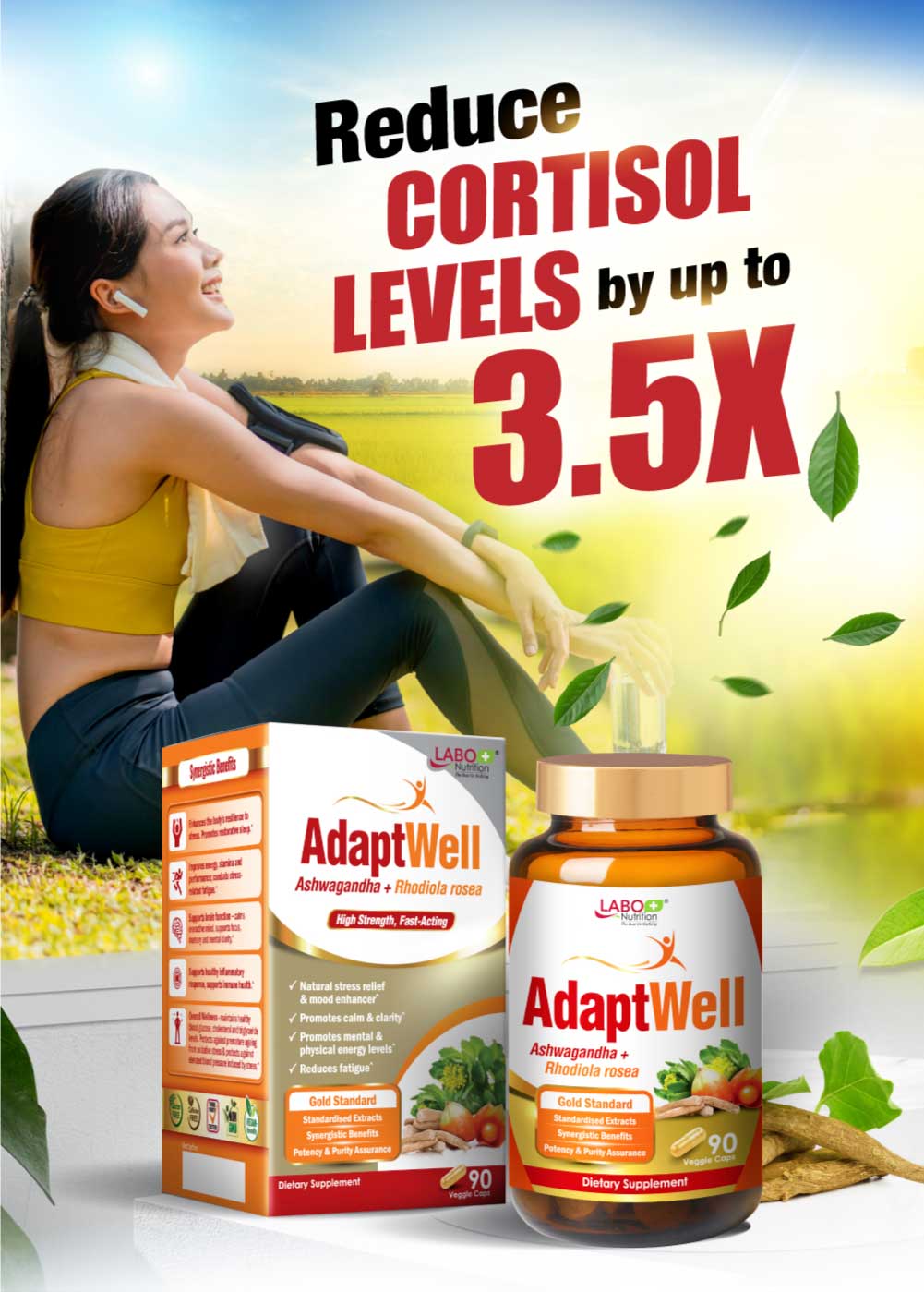 If you are stressed all the time and always in high gear, your body would be continually pumping cortisol and adrenaline. Such longterm activation of stress-response system and overexposure to stress hormones could increase the risk of developing many health problems.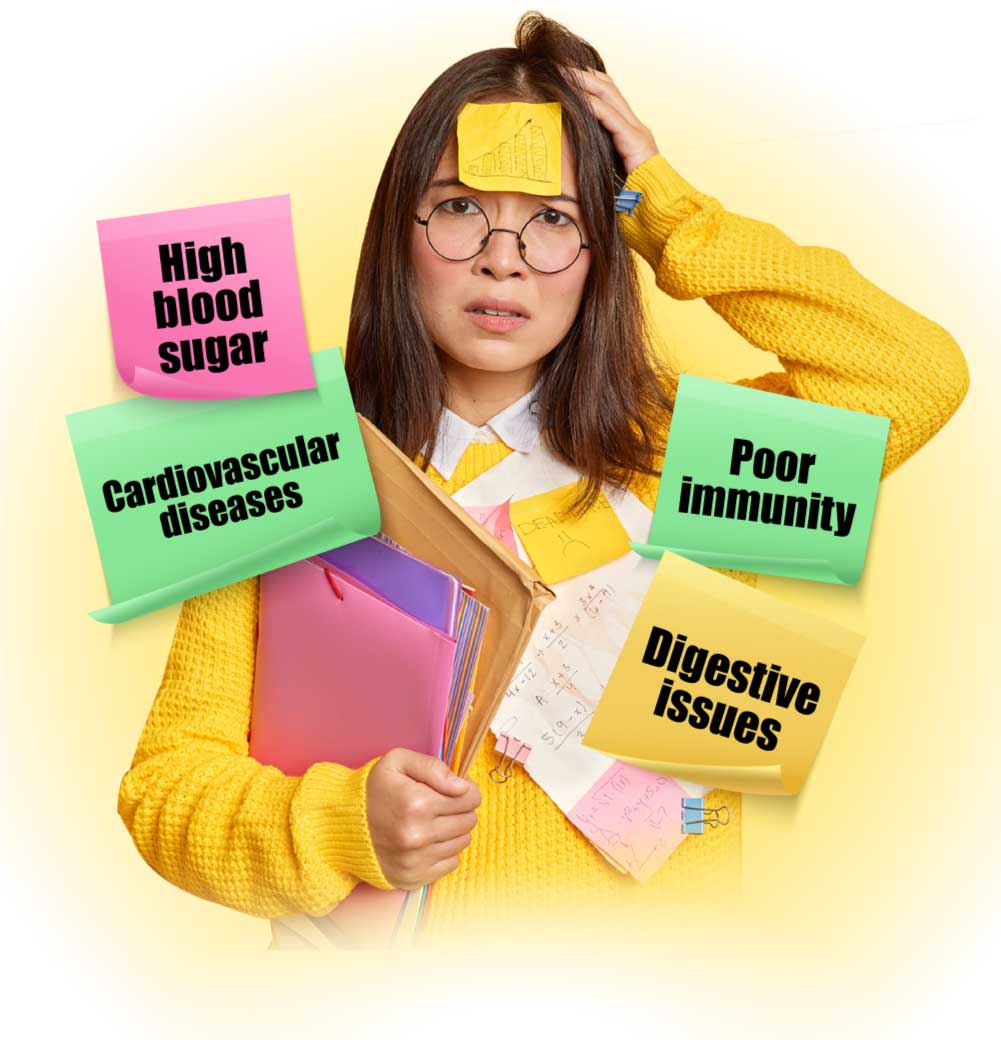 Ashwagandha is a natural adaptogen that helps the body better adapt to and manage stress by reducing adrenaline and cortisol (stress hormone) levels. Besides stress, Ashwagandha is also commonly used to fight symptoms of anxiety and depression, increase energy levels, improve concentration and manage blood sugar levels.Many of the health benefits of Ashwagandha is attributed to its high concentration of withanolides, an active compound in Ashwagandha.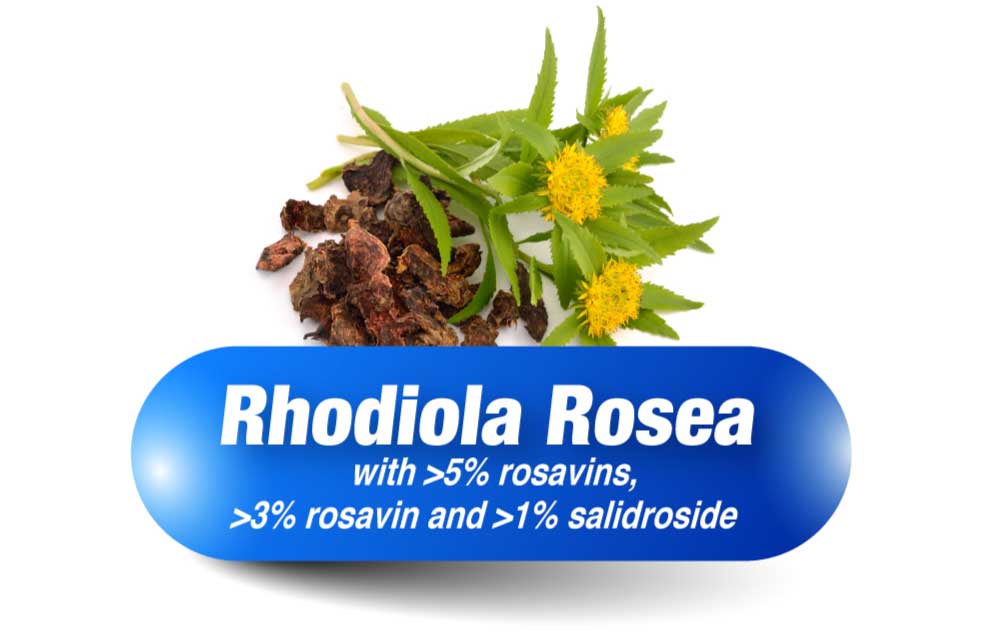 Rhodiola rosea extracts can protect cells against damage, help regulate heartbeat and memory improvement. It is an adaptogen which helps the body adapt and cope with physical, chemical and environmental stress. Rosavin and salidrosid is the most potent compounds in rhodiola root that contribute to its beneficial effects.
BioPerine® Black Pepper Extract is a patented extract of black pepper fruits (Piper nigrum) with standardised 95% piperine. Its key function is to enhance the bioavalability of the ingredients it is co-administered with. BioPerine® is able to increase the absorption of those nutrients by at least 30%.
Processor
Description
90 vegecaps